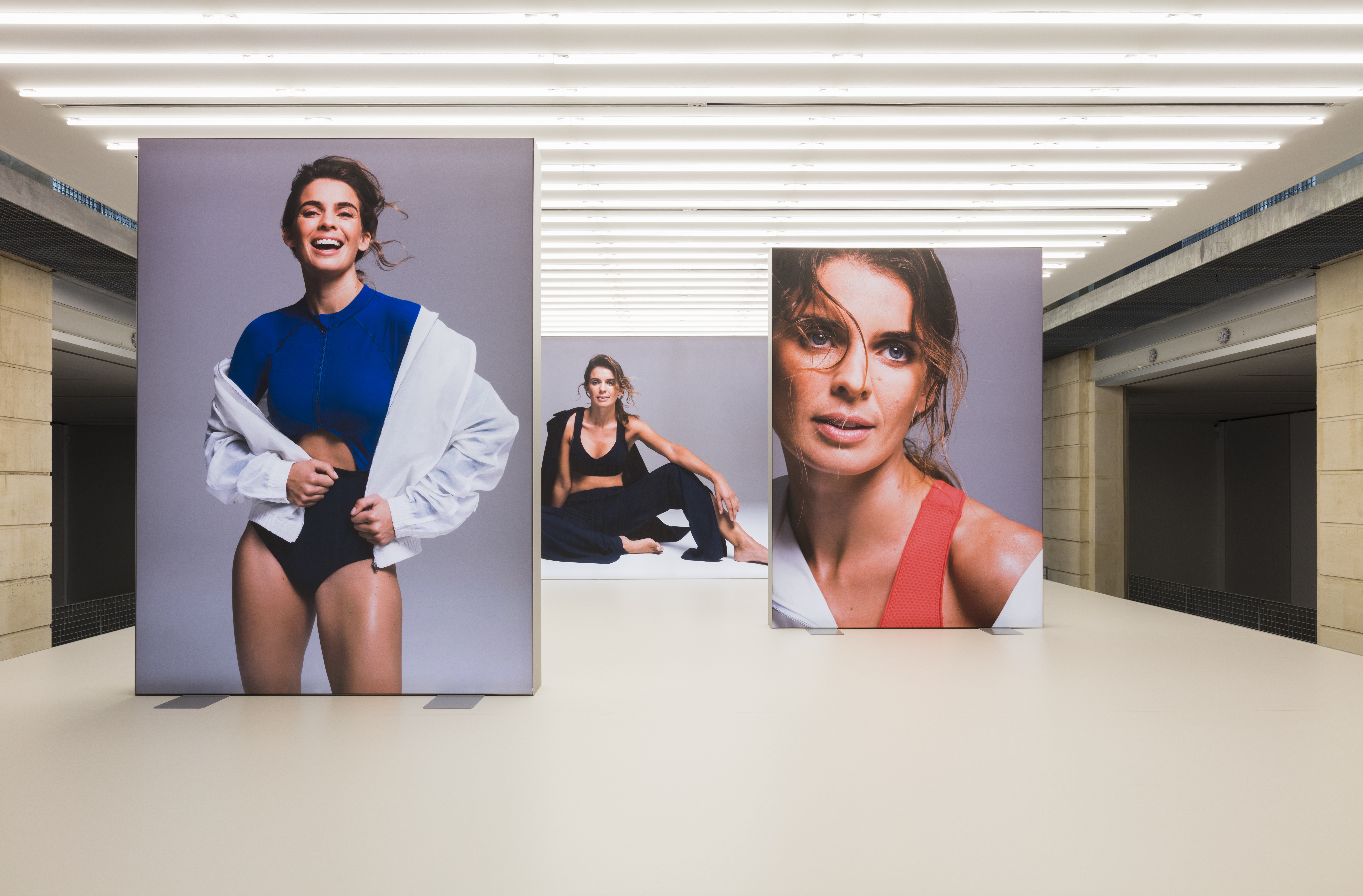 Arriving at the newly renovated Lafayette Anticipations gallery in Paris's swanky Marais district, I'm uncertain I'm in the right place. Abstract neon signage is par for the course in contemporary art venues, but the historical grandeur of the building—all crown molding and parquet floors—has been replaced with a millennial pink-tinged juice bar decked out with house plants, sleek minimal metallic interiors and some sort of futuristic ticketed death device.
At the centre of the room, art world types in amorphous designer clothing linger around an ominous grey box, staring blankly at their phones. An electronic countdown sign fixed to a bunker glares back, summoning in new victims in numbered pairs. Complete with a terrible beeping that announces each sacrifice that's ushered in by stern-faced bouncers, the exterior scene of the ironically titled Empathy I is reminiscent of a dentist's waiting room crossed with a hardcore industrial nightclub.
This strange scene is part of Revolution, British artist Simon Fujiwara's first solo show in France. For the next three months, Fujiwara's uncanny and cool-kitsch work will spill across the labyrinthine floor plan of Lafayette Anticipations. Referred to as an "exhibition tower" and "curatorial machine" by the Dutch starchitecture squad OMA—who filled its empty courtyard with a four story, 875 square-metre glass and metal tower back in April 2018—Anticipations is conceived as a modular funhouse of art magic. The floors operate on a rack-and-pinion system that enables infinite vertical rearrangement, resulting in almost fifty different spatial compositions. Mesh railing and strips of fluorescent lighting sit with classic Parisian limestone and double-height windows to create a space that feels both rugged and elegant.
Since we're all apparently masochists here, lining up for Fujiwara's torture chamber consumes the better half of an hour, so visitors are encouraged to explore the rest of his offerings during the wait. Follow the rumbles of deep bass upstairs and the tragic yet redemptive story of Joanne the art teacher/model awaits. One of Fujiwara's old teachers at a prestigious boys' school in Ireland, Joanne Salley lived a double life of acting and teaching since winning the Miss Ireland beauty pageant in 1998. When topless photos of Salley from a private photo shoot were leaked and published by the tabloids in 2006, she was damned to a life of infamy.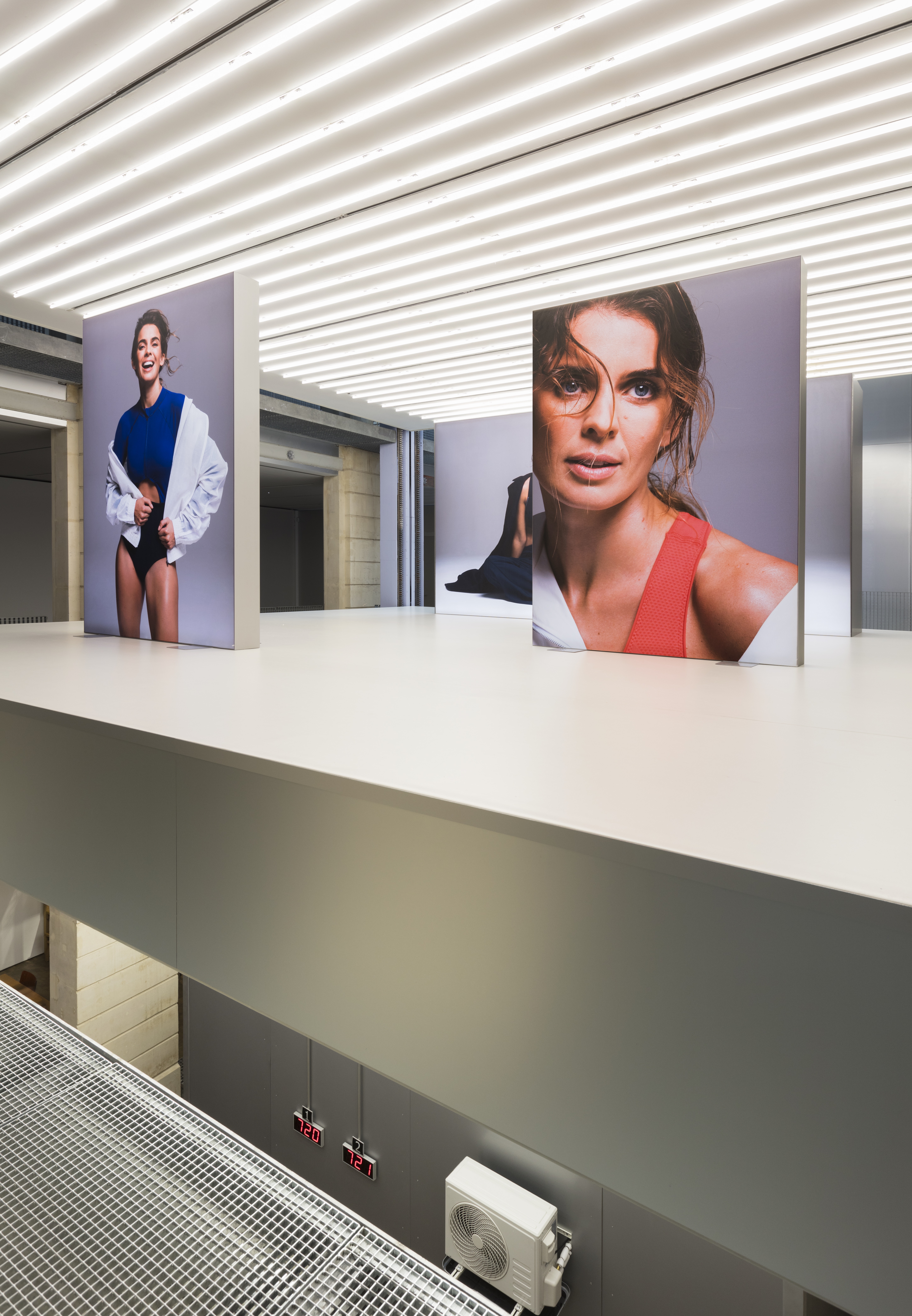 Portrayed in a triptych of three wind-swept and spray-tanned portraits basking beneath a sequence of neon strips, Joanne Salley is presented here as a paragon of health and radiance. Yet this glossy fitspo has a darker side: traversing the brushed-gold stage reveals a video installation deftly tucked behind the other side of the installation's fake wall. Through poignant interviews spliced with surreal photoshoots that riff off metaphors she conjures to express her continued sense of torment some ten years after ("I feel like a chameleon"), this latest rendition of the ongoing series Joanne reveals another side to Salley. 
The second and third floors are filled with rows of spotless vitrines advertising a mix of imaginary products and services, some more cynical than others. A BMW pacifier and a small mountain of Angela Merkel's stage make-up present a life of luxury and high-performance aesthetics; others offer boutique humanitarianism in the form of a kit for refugees, akin to those handed out by socialist governments, under the ambitious "choose life" slogan.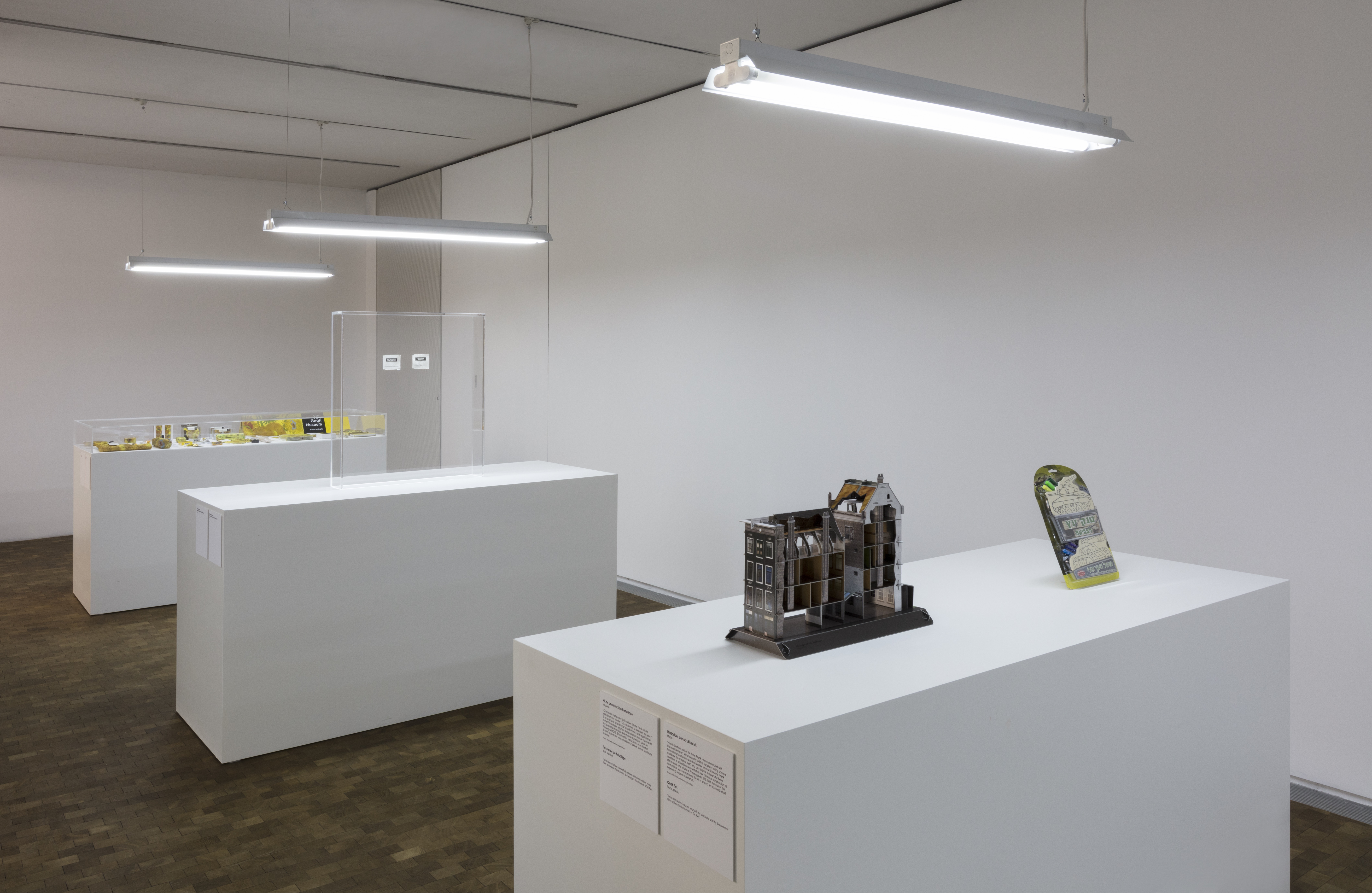 There is a woodblock Israeli tank, packaged and infantilized as a colour-it-yourself toy for children, ostensibly sold inside the souvenir store of Tel Aviv's Ben Gurion Airport. Developed in collaboration with Fujiwara's brother, a behavioural economist, The Happy Museum is vexed by its own complicated feelings toward our present condition. Both deliriously optimistic in its soft capitalist offerings and acerbic in its hot take on global politics, it's as relentless and indiscriminately vacillating as our social media streams, from which many of its not-so-fantastical products are harvested.
A terrifying body double looming one floor above is the icing on the cake of this confounding space. Even before she can be seen, the presence of the Anne Frank wax figure can be felt. One of its more marked reference points is the wax dummy found in the Madame Tussauds in Berlin, but this figure is compounded with many other deep raids into the Anne Frank archives. As if exhibiting an amalgamated replica more imaginary than real isn't enough of a trip, Fujiwara—whose role in the figure's creation is referred to as "genetic engineer and fashion stylist"—goes one step further by accosting the grinning Frank with a Bolt camera.
The uncomfortable results can be seen on two display monitors suspended a half floor above Frank, showing the camera repeatedly propelling itself toward the poor figure, poking and prodding its unyielding smile and contorted head. The style is reminiscent of frantic, haphazard genre GoPro or drone footage, caught somewhere between comedic play and violent interrogation.
Produced specifically for the exhibition, Likeness takes full advantage of the gallery's unique space. Flooded in light from the double-height windows, with the picturesque backdrop of the grandiose limestone courtyard, Frank's tranquil figure is both triumphantly on display to the outside world yet still, somehow, in hiding.
The drone's-eye perspective also features in the doom machine guarding the ground floor. Entering into the black box from the makeshift waiting room with a predictably well-dressed stranger, we are shepherded into a rollercoaster-like harness. As the attendant slips out, I soon take off from a quaint Parisian cobbled street and smash through a stranger's window. I then float between a wakeboarder's spray, a procession of hugs at a funeral and a white sand beach paradise. Buffeted by the elements, a spray gun of water and then wind stings my eyes, as one scene melts into the next and loud R&B bass shoots through a subwoofer and makes my teeth rumble.
The machine throws its users about so roughly that it's impossible to fully take in the onslaught of kaleidoscopic, fragmented images. There's a reason for this brutish sensory overload: the 5D motion simulator was originally designed as training technology for the military, and later adopted by theme parks and the entertainment industry. Empathy I is nothing short of an emotional rollercoaster, and is at the heart of Revolution's quest to dissect and parody the present in a simulated alter-reality. It distorts things, in order to illuminate how readily the human psyche slackens and adapts to the ambient insanity of the present moment. All this, while bopping along to a Top 40s soundtrack, Fujiwara-style.