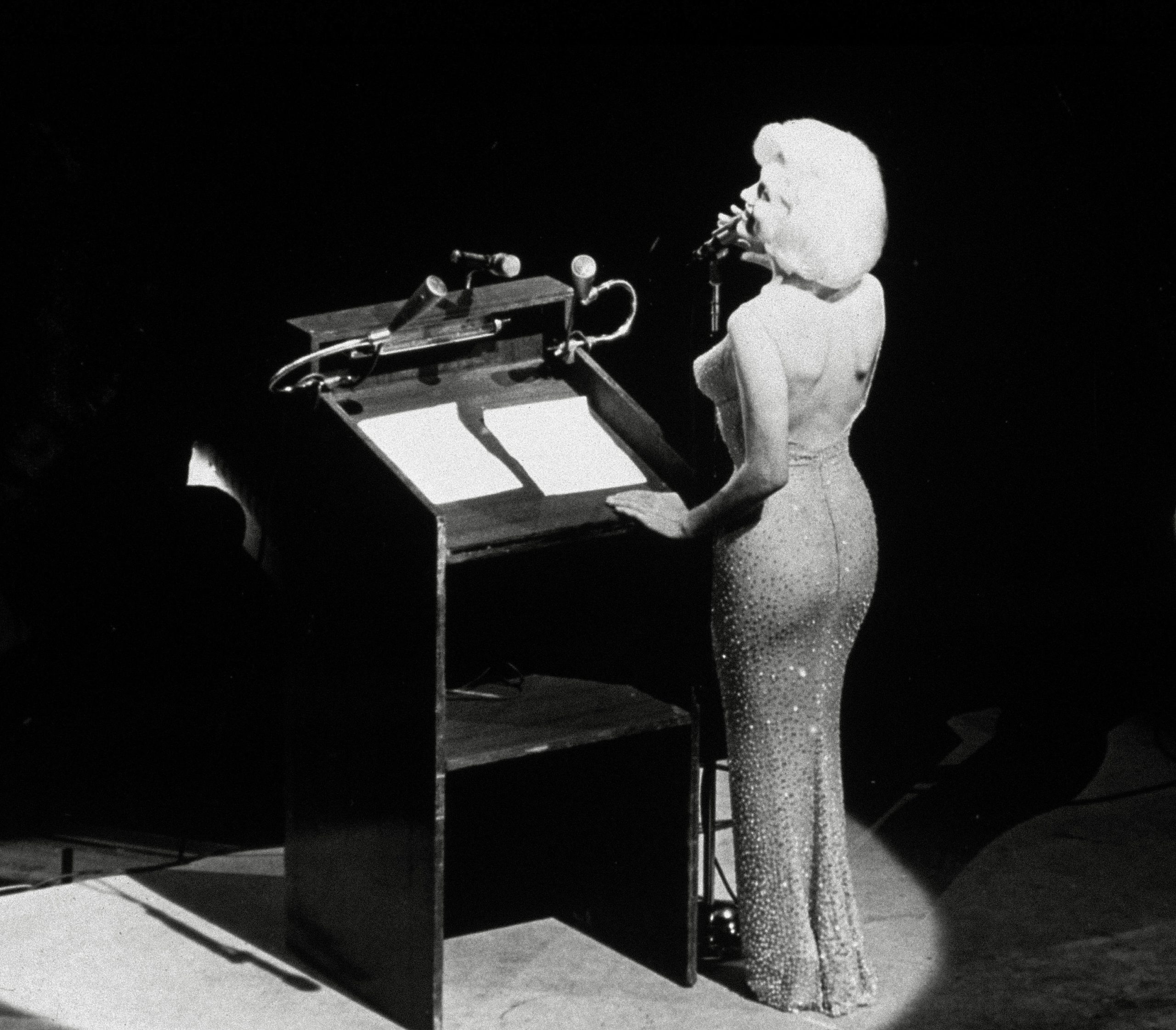 When Marilyn Monroe takes to the stage to sing Happy Birthday to President John F Kennedy in May 1962, she is all flutter and glitter. The opening joke is that she is late. The punchline is herself. After missing her first cue, an empty spotlight awaiting, she suddenly appears. Clutching her white fur tight around her shoulders, she wiggles across to the podium."Ladies and gentlemen, the late Marilyn Monroe." Three months later, after her death at the age of 36, the portentous tragic double meaning of the word will not be lost. She removes the fur and flicks the microphone; her skin-tight Jean Louis dress studded all over with winking rhinestones.
As she begins to sing, her voice a breathy parody of everything that is feminine and glamorous and suggestive of sex, she is mesmerising. "There was like a hush over the whole place when I came on to sing Happy Birthday," she would go on to tell Life Magazine, in the last interview she ever gave. "Like if I had been wearing a slip, I would have thought it was showing or something."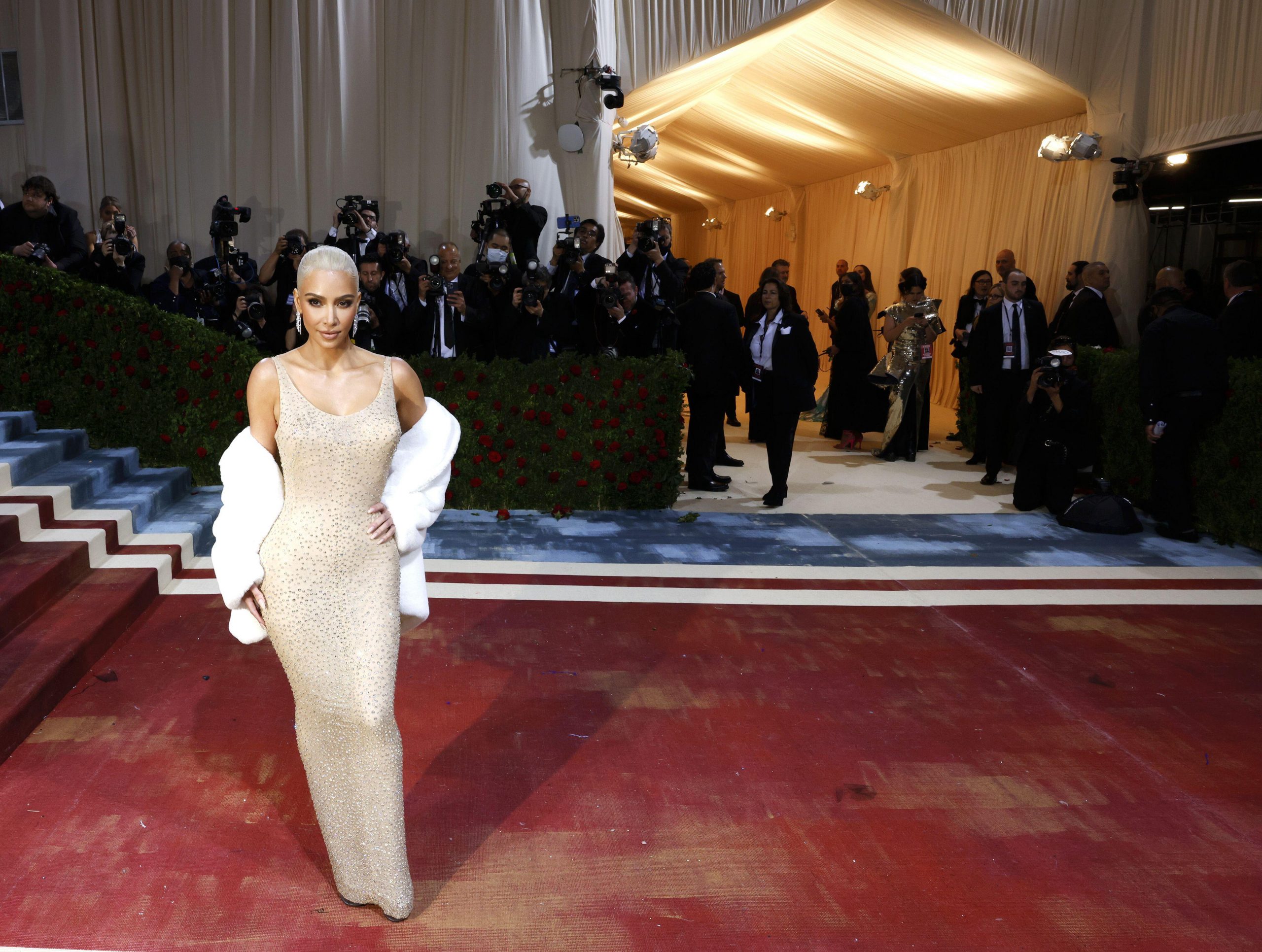 This week, 60 years later, that Jean Louis dress made another outing. When Kim Kardashian arrived on the Met Gala red carpet, the swirling rumours were confirmed. She was wearing the Marilyn dress. Not a replica. The real deal. Now owned by Ripley's Believe it or Not Museum, who bought it at auction in 2016 for nearly $5m, for one night it was set free from its carefully controlled conditions to grace the body of another monstrously famous woman.
Kardashian, who dyed her hair blonde for the occasion, spoke at the top of the Met's steps about the "challenge" of wearing it. "It was a role," she said seriously to American television personality La La Anthony as she detailed the 16 pounds she had to lose to fit into the gown. "I was determined."
"Kim Kardashian arrived on the Met Gala red carpet wearing the Marilyn dress. Not a replica. The real deal"
Much has been made of this comment, as well as Ripley's decision to lend the piece to Kardashian in the first place (she wore it only for the red carpet, changing into a duplicate after the original had been paraded for the cameras). As ever, Kardashian achieved her aim. Days later, everyone is still talking about it.
Archivists, for the most part, hate the idea of a priceless piece of costume history being exposed to the unpredictabilities of body and atmosphere in exchange for a photo opportunity. There has been widespread outrage over Kardashian's proud admission of a strict three-week crash diet to whittle herself to the dress's proportions, although arguably she was just admitting to what so many of her peers silently do year-round to maintain their place in the public eye. Ardent fans of Monroe are furious at the idea of Kardashian seriously aligning herself with the icon of the silver screen.
View this post on Instagram
The most notable part of the sartorial stunt is just how dull Kardashian looks. There is an uncanny valley feel to the photos, the dress draped seamlessly over Kardashian's sculpted figure. Monroe, too, epitomised a beauty ideal. But so much of her sexiness, her physical charisma, was located in the body beneath.
In photos and video footage from that evening in the late spring of 1962, the gown's silhouette isn't smooth. It's full of texture. The rhinestones form a suggestive second skin, accentuating Monroe's stomach, her breasts, the deep V of her back as she moves. It is a fantasy, but one that feels fully connected to flesh.
"The most notable part of the sartorial stunt is just how dull Kardashian looks"
What is the purpose of wearing a dress as famous as this? The straightforward answer is that Kardashian sees her role as that of a fellow American icon, the rightful inheritor to Monroe's diamond tiara. It is the perfect coda to her 2021 Met Gala costume. Then, Kardashian appeared clad head to toe in black Balenciaga, the implication being that we didn't need to see her face to recognise her.
This time she moved beyond herself, into the realm of celebrity cosplay. But the truth of her previous costume remains. Kim is so thoroughly recognisable by her body, which she has toned, enhanced, and skimmed into submission, that on her Marilyn's gown becomes just another dress. Kardashian cannot access its power, in part because her physical form is a product and mirror of our modern moment.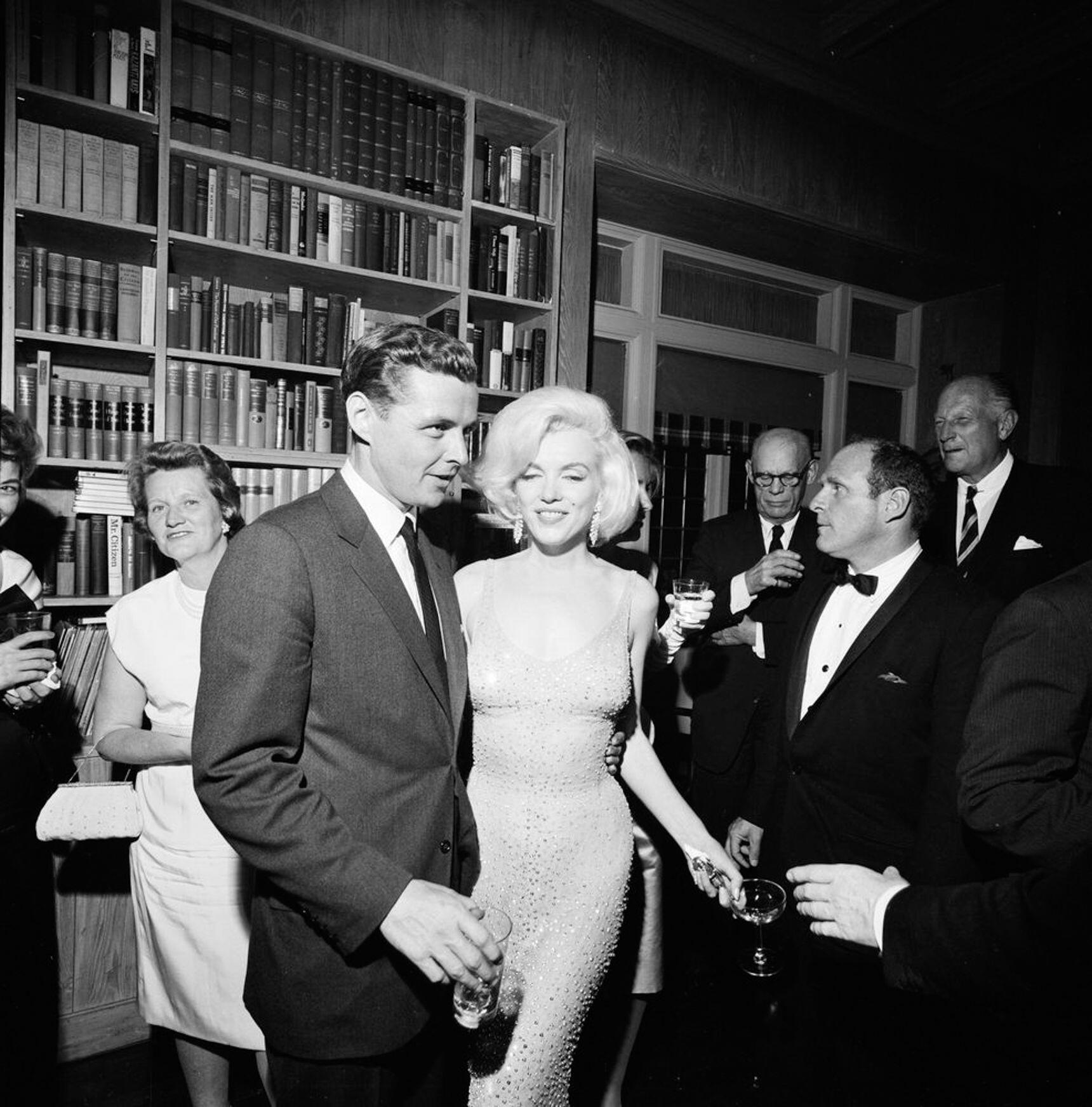 Monroe knew a thing or two about selling her own image. "It's nice to be included in people's fantasies but you also like to be accepted for your own sake," she added in that famous last interview. "I don't look at myself as a commodity, but I'm sure a lot of people have." It is a prescient reflection given the ongoing re-evaluation of Monroe's legacy ever since her death in August 1962.
Immortalised in Warhol's room-sized screen prints, his technicolour doll has frequently been seen as more image than human, more tragic symbol than complex life, more dumb blonde than highly intelligent woman. Though still frequently mischaracterised, there has been greater room in recent years for acknowledgment of Monroe's intellect, political sympathies, and deep unease at her own brilliant ability to embody a nation's (and perhaps a world's) desire.
"Monroe was, we might say, attuned to the cruel disjunction between the finished commodity and the hidden labour it conceals"
In her book Women in Dark Times (2014), British feminist scholar Jacqueline Rose writes with beautiful clarity about Monroe's unrelenting quest for self-knowledge, as well as her genuine gift for performance. "It was her unique talent to play almost every part as if it were a mockery of itself," Rose observes, characterising Monroe as sort of post-war sacrifice to optimism and consumerism. "The woman whose sexuality is meant to redeem the horrors of history."
Importantly, Rose draws out the ambivalence at the heart of Monroe's celebrity. "One of the reasons she hated Hollywood was its raw exploitation. She was, we might say, attuned to the cruel disjunction between the finished commodity and the hidden labour it conceals."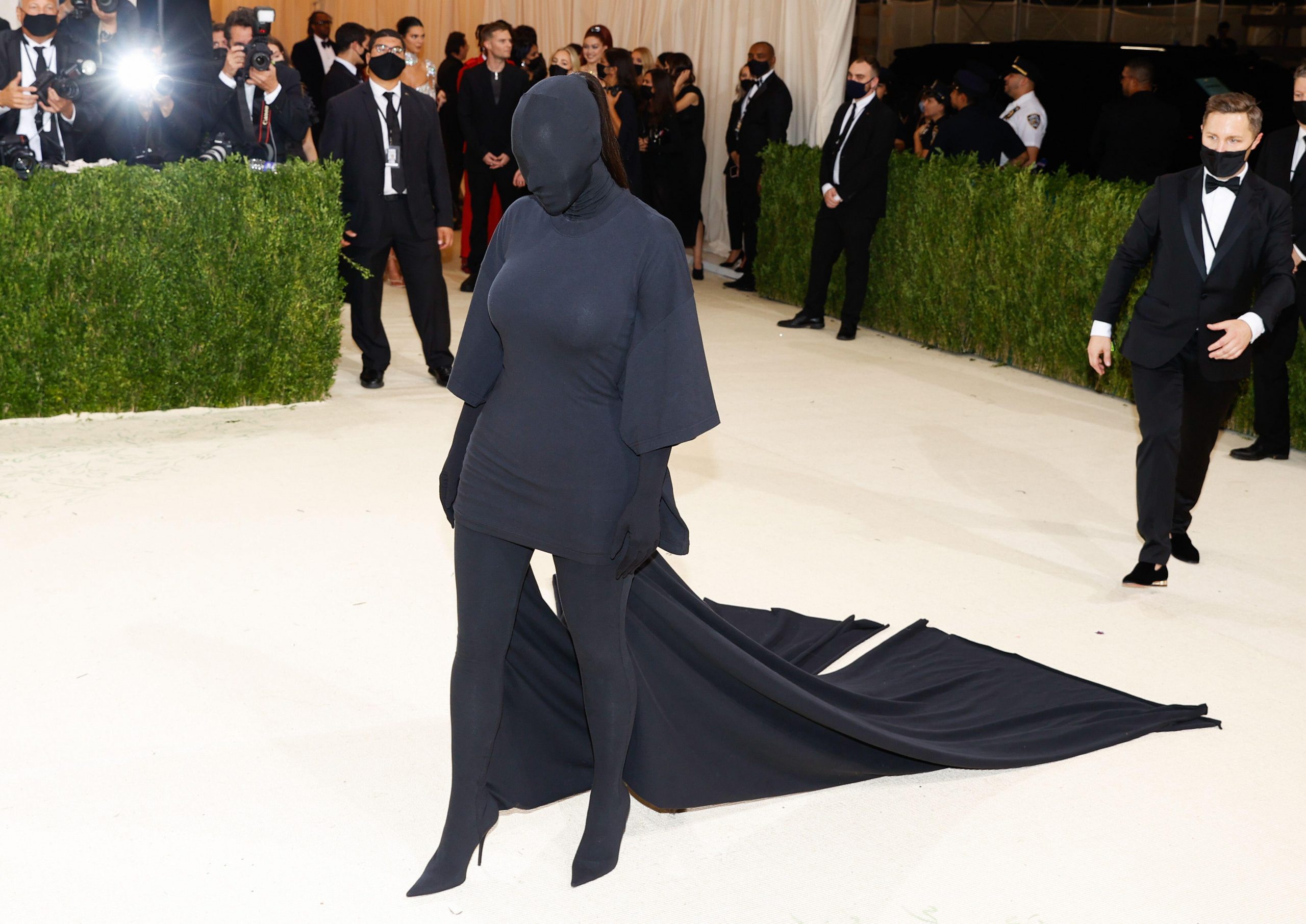 Kardashian knows herself to be a commodity too. One whose public persona is also intimately tied to sex. But there is no ambivalence about this, and little playfulness. She might lay bare her hidden labour for all to see (her weight loss, her dedication to the dress) but this is immediately justified as necessary in service to her vision. It's not just Kardashian's body that is polished but her ambition too.
In her diaristic notes, which she made constantly throughout her career, Monroe once wrote, "Discipline‒Concentration. My body is my body every part of it." In the lead up to the Met Gala, Ripley's gifted Kardashian a lock of Monroe's hair, perhaps as reward for her own discipline. Every part of Marilyn's body is no longer entirely her own body.
"Oh my god," Kardashian says in a video of her responding to the gift. "I'm literally going to do some crazy voodoo shit and channel her." But the hair, like the dress, refused to yield its magic. There are some parts of Monroe that she got to keep for herself.
Rosalind Jana is a London-based writer on fashion, art, culture, and travel
Whether you're a budding fashion designer, or just love to draw, Elephant Kiosk is the go-to destination for shopping high quality drawing supplies and art materials.