French music/visual duo The Blaze—aka cousins Jonathan and Guillaume Alric—have been igniting a buzz while remaining fairly enigmatic to date. They've chosen not to appear in any of their self-directed videos, yet they have forged a strong presence, setting their soulful, house-inflected melodies to films that explore various shades of masculinity, youth and global identities. Their first three videos have formed a distinctly intimate and intense "triptych", spanning the 2016 debut Virile (shot for $100 in a banilieu high rise), the Algiers-set Territory (which won the Film Craft Grand Prix at Cannes Lions International Festival of Creativity) and their last single Heaven (where young friends and family congregate and celebrate in a dreamy, verdant setting).
"I found a photo from when we were kids at our grandfather's house, wearing masks," murmurs Jonathan, lounging in the basement of their Paris indie label Animal 63. "We always had the same tastes; from the beginning, we didn't want to show our faces…"
The Blaze might seem reluctant to seize the limelight (they even appear silhouetted for their live festival sets), but their work does make an immediate, human connection—as evidenced by the vibrant, tender grooves of their debut album Dancehall, out soon via major label Columbia. They're also warmly easy-going company; Jonathan's earnest expressions frequently ease into a broad grin, and Guillaume sits cross-legged on the sofa beside him, contemplatively vaping while he chats.
"This has been a long process, but with simple elements," says Guillaume, reflecting on how The Blaze formed their audio-visual collaborations. "We sensed from the beginning that it would be easy to work together—we just need to spend time together in our 'bubble' and we'll find epiphanies that match our visions."
The Blaze originally sparked when Jonathan, who had been studying at film school in Brussels, decided to create a music video for his final study—and approached his cousin for soundtrack possibilities.
"I really like directors like Romain Gavras, Daniel Wolfe, Spike Jonze [all of whom became renowned for innovative music vids before their feature film successes]," explains Jonathan. "Music videos felt like a part of my culture; they're a very cool format, because you can use them to explore and be experimental, without spending too much. For my video, I needed music that could be remixed, so I called my cousin, because I knew he'd been producing tracks; it felt very natural, so it's hard to find a specific point when this all started."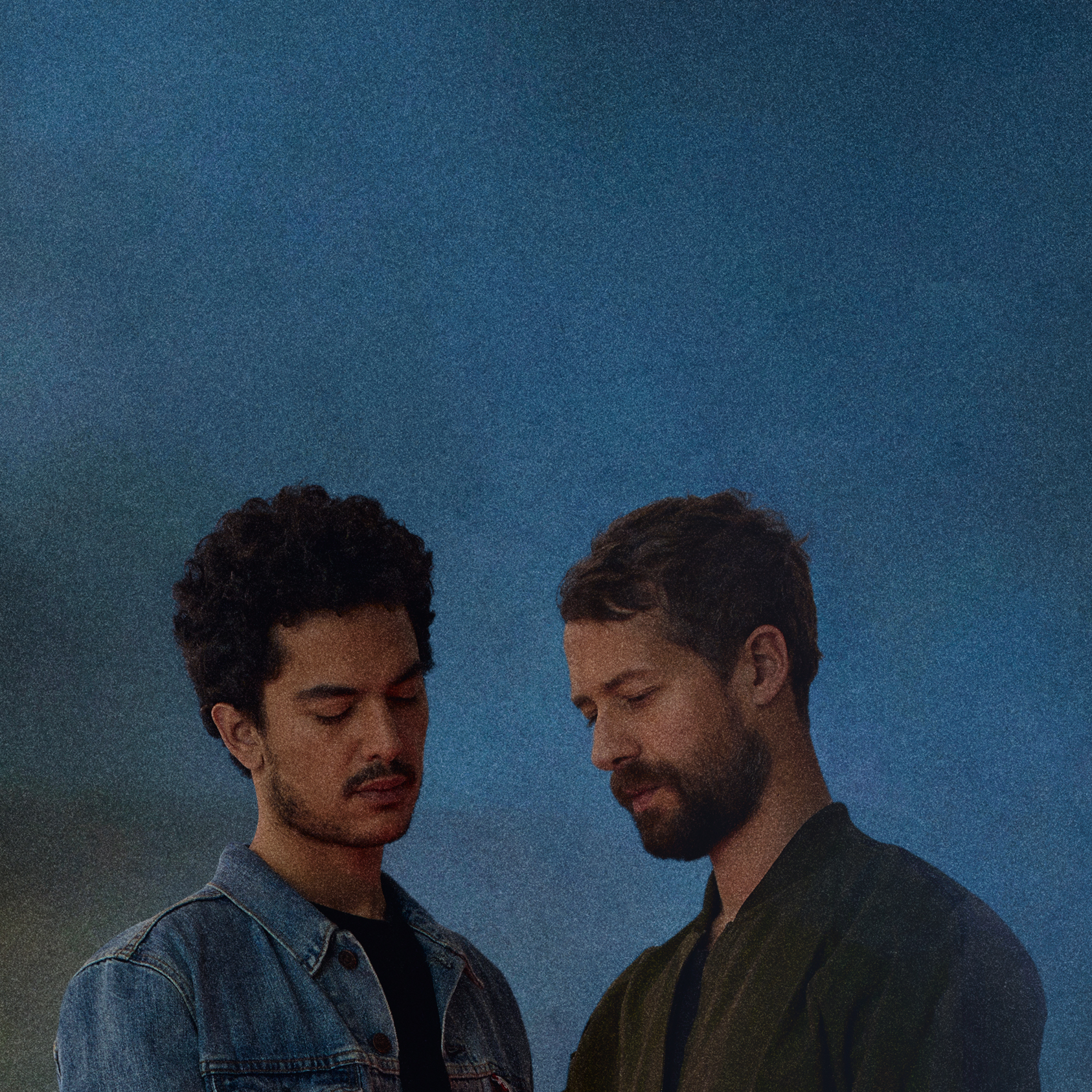 Guillaume, a few years older, had by this point been playing in bands and creating "dub electronic" productions (under pseudonyms including Mayd Hubb), as well as studying photography and travelling widely, across Asia as well as South America. "The two guys in the Virile video are like us—making music in their apartment, dancing, talking, smoking," says Guillaume. "It feels retrospective."
The ambiguity of the Virile video is part of what makes it so alluring; we're drawn right into the French-Algerian protagonists' personal space as they circle each other, in affection, mock aggression and possibly courtship. The clip also recalls independent feature films, from Celine Sciamma's youth dramas to Andrew Haigh's gay romance Weekend (2011). The breadth of possibilities extends throughout all of The Blaze's imagery; they're also notable for a focus on cultures who have historically been sidelined in mainstream depictions—here, they're multi-layered figures, expressing complex emotions.
Their videos have become increasingly ambitious, but they're still heartfelt; in Territory, we're carried along an Algerian youth's homecoming, from his poignant reunion with loved ones, to his rituals and revelry with friends, and his assertion of a sense of place.Territory won high-profile plaudits, including the likes of Jonathan's own director hero Gavras and Moonlight film director Barry Jenkins, who called it "The best piece of art I've seen in 2017. HOT DAMN!"
"It's very important to show mixed experience, and different cultures have to be explored," says Jonathan, simply. "My mother is Peruvian, my father is French, and I was born on the Ivory Coast. Territory is also about someone who travels a lot, and feels universal."
While non-actors feature most prominently in The Blaze's visuals, there is a real assurance throughout. Territory's main protagonist happens to be a Thai boxing ex-champ, who sheds plaintive tears, throws powerful punches (sharply choreographed in time to the music); his chest-beating "alpha male" gestures are played with humour and empathy, and juxtaposed with silent embraces with his mother. "We really want to talk about the craziness of youth," says Jonathan. "And we really want actors with a lot of force, because the roles in our videos are very physically demanding."
There is a sense of immersion in The Blaze's settings, and increasingly, what Guillaume describes as "an ode to nature and spirituality". It's tricky to pinpoint where their Heaven video was shot (it's actually Cape Town), but it conjures an idyllic, contemporary scene apparently inspired by both Edouard Manet's 1863 oil painting Le Dejeuner Sur l'Herbe and US film director Terrence Malick's 2011 experimental epic The Tree Of Life; such references are subtle, and never feel forced or clunky.
"We were both raised in the countryside, we spent a lot of time in the fields," says Guillaume. "You don't tend to see a lot of nature in music videos. You see the street, a lot of noise. We wanted to do something peaceful."
"We don't really like to think about the future"
Peace and passion are both at interplay in The Blaze's works. Their warmly lit images relate the strength and sensitivity (and fluidity) of human bonds, and we're brought practically skin-to-skin with the unnamed figures onscreen. They lead us to linger on each expression and subtle detail: a glance; a flash of scarred flesh; an embrace or tussle—even as the scenes keep moving. Both the visuals and the music create a refreshing antidote to banging EDM tracks and the throwaway clips (listless "babes"; wacky dances) that tend to accompany dance anthems. The Blaze's music also slows things down to a heartbeat pace with plenty of resonant bass and vocal reverb (reminiscent of Guillaume's dub roots). "It's a good tempo, because you can dance and close your eyes and fly at the same time."
The Blaze seem content to go with this personal flow. "We don't really like to think about the future," says Jonathan. "We prefer to have a crush on an idea, and say—'We really want to do this thing'."