As a child, Caroline Walker spent hours holed up in a kitchen cupboard in her family home in Dunfermline, Scotland, drawing pictures of women. They came straight from her head and fell into two categories: what she referred to as "fancy ladies" (glamorous-looking women with lavish dresses, high heels, and big hair) and thinly veiled depictions of her mother doing housework or gardening. "I had quite a polarised view of what women were," says the artist. "This figure like my mum, who just seemed to be doing jobs all the time, and also this remote fantasy figure."
It's the former that stuck with Walker, who has made a name for herself painting the everyday lives and roles of women. Based on both her own photographs and personal experience, her large luminous canvases provide glimpses of domestic interiors and often-clinical workplaces. Her subjects change pillowcases, scrub linoleum floors, cut swatches of fabric, and buff and shape nails, all the time surrounded by items that speak to the female experience. The scenes, which are tender yet unsentimental, are often framed by voyeuristic windows and doorways that raise questions about who is looking at whom, and what kind of looking it is.
"It probably stems from being nosy," says Walker. "Being delighted when I'm walking around in the evening and can see into houses, loving sitting on the bus and peering into shops and restaurants." During her masters at the Royal College of Art, she began to question her painterly preoccupation and realised that almost all the historical images of women in interiors that she had been looking at were made by men. "I started thinking about the relationship between me and my subjects, and how it's different when it's a woman looking at women."
Walker directs her gaze towards the overlooked parts of women's lives, from the work they do to the spaces they inhabit. She shines a light on daily tasks that, as she says, are by their very nature invisible because of what they aim to achieve. Take washing the dishes, something you might only notice if it hasn't been done. Early on she painted people and places that were unfamiliar to her ("I felt I needed that distance in order to have an artistic eye and be able to pick out the things worth looking at") but over time her work has become more personal.
"Our place was getting fuller and fuller, and I was simultaneously feeling rather miserable. I wanted to paint how it looked and how I felt"
While making a series of hotel staff paintings Walker began to look closer to home for inspiration. After a couple of days shadowing maids, it struck her how repetitive and physically demanding the job was. "My mum reminded me that my granny had been a cleaner, and her mum before her," she says. "It made me think about the fact that my mum had had the luxury of not having to clean anybody else's house for money, but that she had in fact spent the past 40 years doggedly cleaning her own house for no money, and that this was something lots of women do."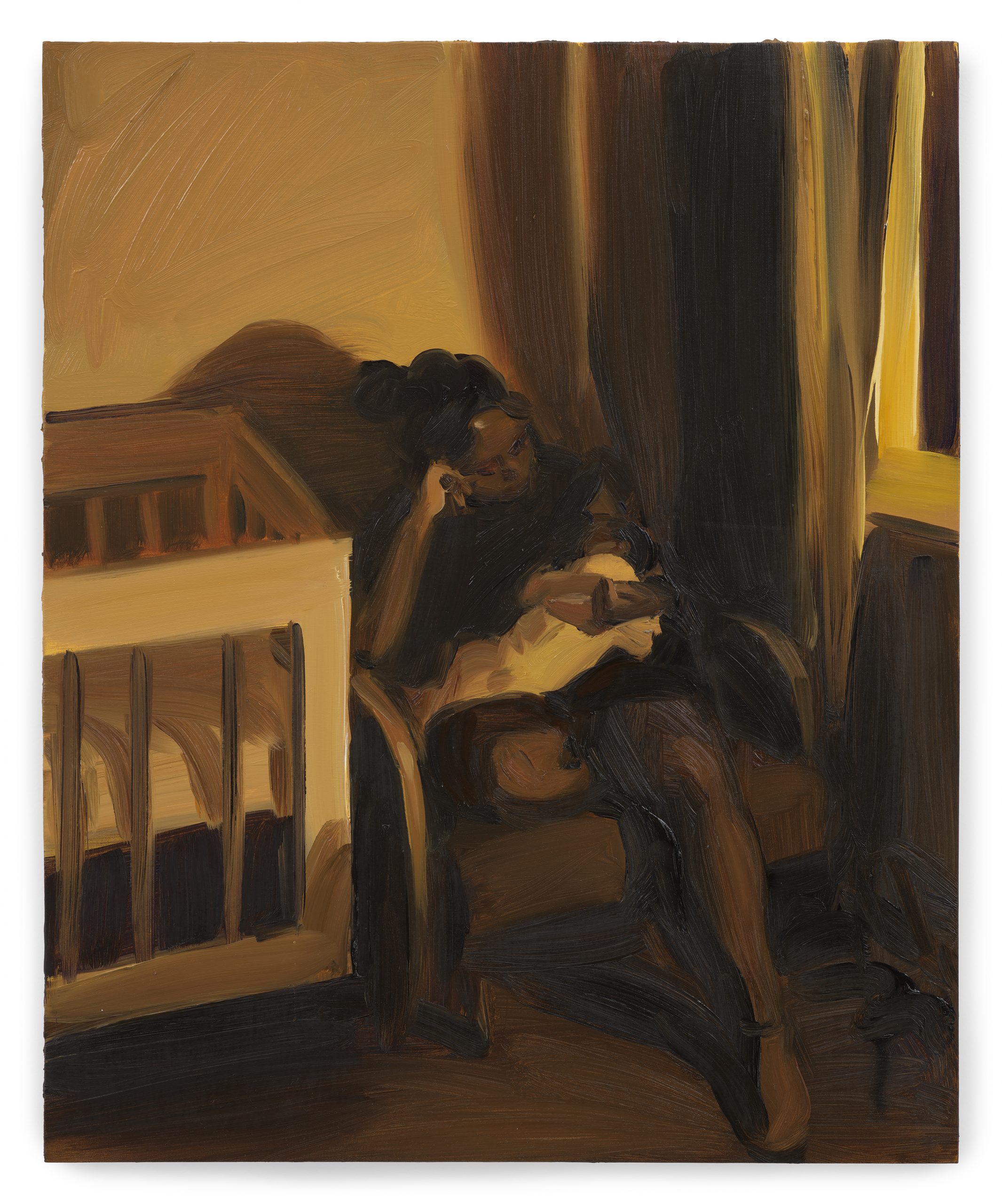 Janet shows Walker's mother cooking, tidying, table laying, and tending to her greenhouse over the course of a year, the changing seasons reflected in the garden and the light. Initially concerned that such a subject could be construed as soppy, Walker soon realised that her most personal paintings were also the most universal, making viewers think of their own mothers or grandmothers. Themselves, even.
"I hadn't seen this in art, the contemporary experience of what it's like for a woman to be at home with a newborn"
Her latest series, Lisa (on display at Stephen Friedman Gallery in London until 28 May), follows Walker's sister-in-law over a period of four months, starting when she's heavily pregnant and ending when her baby is three months old. A partner series to Birth Reflections, a collection of paintings she recently made about the maternity wing at University College Hospital, it looks at what happens when a new mother brings a baby home.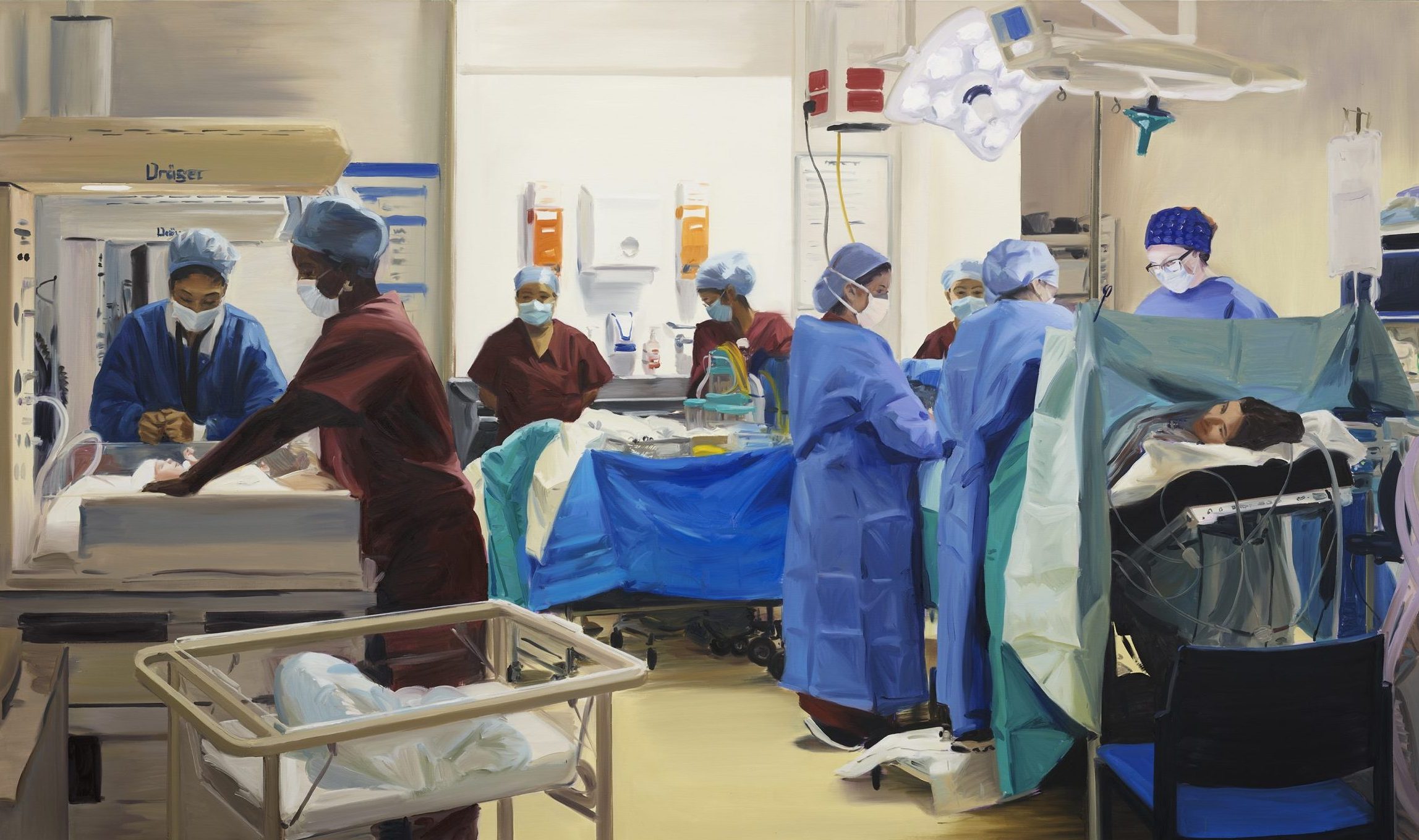 It is, of course, a transition that's different for everyone, but there are parts of these paintings that all new mothers can relate to: groggily doing a night feed in the dark; washing, drying, folding babygrows. As always, Walker isn't just looking at the figures but at the objects around them and what they mean: half-full glasses of water and orange squash collecting on a coffee table, for example, because there's just never quite enough time to finish anything.
"I needed that distance in order to have an artistic eye and be able to pick out the things worth looking at"
This interest in the familiar trope of the mother and child stemmed from the artist's own experience of sitting at home with her baby a couple of years ago. "I didn't know what I was doing, and I was feeling that slight identity crisis that I think a lot of women feel with the sudden change of role," says Walker. "I was looking around at the breast pumps, nipple shields, sterilising stuff, all this paraphernalia. The presents and the flowers. Our place was getting fuller and fuller, and I was simultaneously feeling rather miserable. I wanted to paint how it looked and how I felt."
Conscious of straying into the whole she's-had-a-baby-and-now-she's-going-to-make-loads-of-paintings-about-having-a-baby territory, Walker resisted the idea until her residency at the hospital last autumn. By that time, Lisa was almost due and agreed to being documented. Rendered with loose brushstrokes and a varied palette, these quietly charged paintings conjure feelings of great love and servitude and claustrophobia and confinement.
"I hadn't seen this in art, the contemporary experience of what it's like for a woman to be at home with a newborn," says Walker. "That's what I'm always thinking about, where things fit in some wider historical context, and whether what I'm doing is relevant and says something about what it's like to live now."
Chloë Ashby is an author and arts journalist. Her first novel, Wet Paint, is out now
Caroline Walker: Lisa is at Stephen Friedman Gallery until 28 May 2022