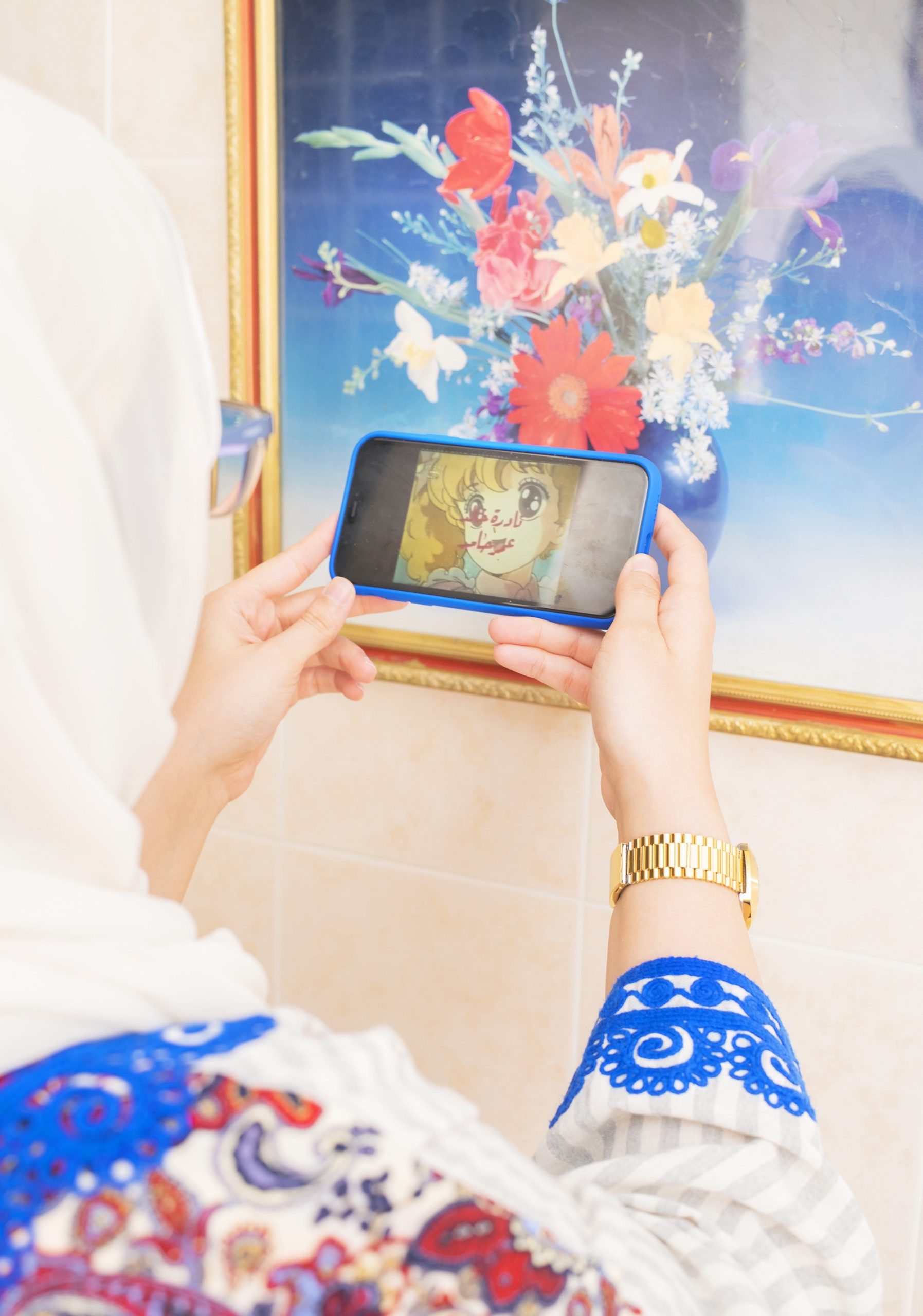 In a pale pink tiled room, a woman wearing a white hijab and holding an iPhone stands with her back towards us in front of a gaudy framed picture of flowers. Over her right shoulder a screen showing a protagonist from the anime series Lady Lady, overlaid with Arabic subtitles, is visible. Fizzling with azure blues, crisp whites and delicate pinks, the colours of this scene are both enticing and sickly. It tells a complex tale of translation, cultural mirroring and imitation.
Abu-Dhabi-born artist Farah Al Qasimi uses her camera as a means of interrogation, asking what systems, values, and messages are built through nations, and how they are developed through political and foreign policies. First released in the late 1980s, it wasn't until the 1990s that Lady Lady was broadcast in the Emirates. One of the few shows (alongside SpongeBob SquarePants) that was permitted on air, Al Qasimi watched it as she grew up. In her image it uncannily echoes some of the Persian Gulf's own narrative; of upheaval and change, and of high-speed homogenisation of other cultures at high speed.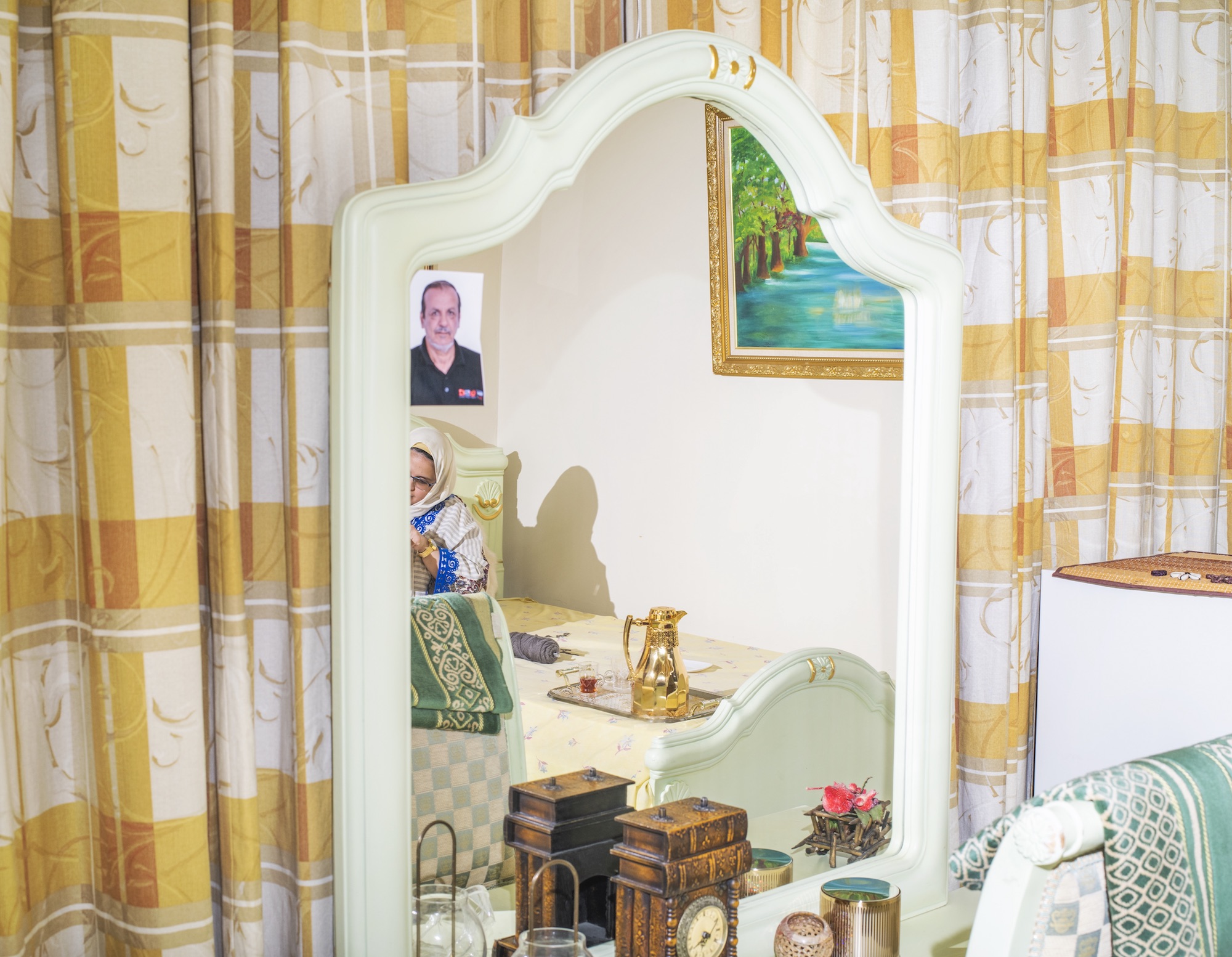 These themes cascade through the pages of Al Qasimi's first monograph, Hello Future, published as part of the 3rd Capricious Photo Award. Presented in a glossy dustjacket, complete with customisable and peelable stickers, Hello Future covers the last five years of Al Qasimi's practice alongside recent exhibition installations and grids of sequential stills from films. It is accompanied by an essay by Negar Azimi and a conversation between Al Qasimi and artist Meriem Bennani.
Born in 1991 and brought up as the United Arab Emirates was rapidly evolving, Al Qasimi was witness to the complexities of a country redefining itself after years of colonial rule. As Azimi writes here in the essay Don't You Worry: "When [Al Qasimi] was little, the Emirates were dusty desert towns populated by descendants of Bedouins, South Asian and Iranian traders… By the early 2000s the robe-clad men and their camels in the 'Welcome to Dubai' snowglobes at the airport gift shop had been swapped out for needle-nosed Blade Runner-ish skyscrapers."
"Hello Future oscillates between public and private spaces, from bedrooms and bathrooms to bodegas and shopping malls"
Al Qasimi's photographs recount the outcome of this urban and economic development, and the region's withdrawal from traditional beliefs, customs and practises. In her signature style (harsh lighting, florid colours and laser-sharp focus), the compositions combine Gulf interior design aesthetics with modern objects and conveniences.
Dollar Store Allah (2019) depicts a golden bejewelled Arabic Allah bric-à-brac next to packs of Colgate toothpaste, tubes of diaper rash paste and a children's bathtub toys on a shelf in a bodega. In A Reclining (2020), a figure in a white hijab and flowery abaya lays on floor cushions emulating Velázquez's The Rokeby Venus (1657-51) facing a mattress covered by a Minnie Mouse sheet. A dichotomy of the sacred and the profane, the joyful and the disturbing, they gesture to the complicated relationship between culture, taste, class and value.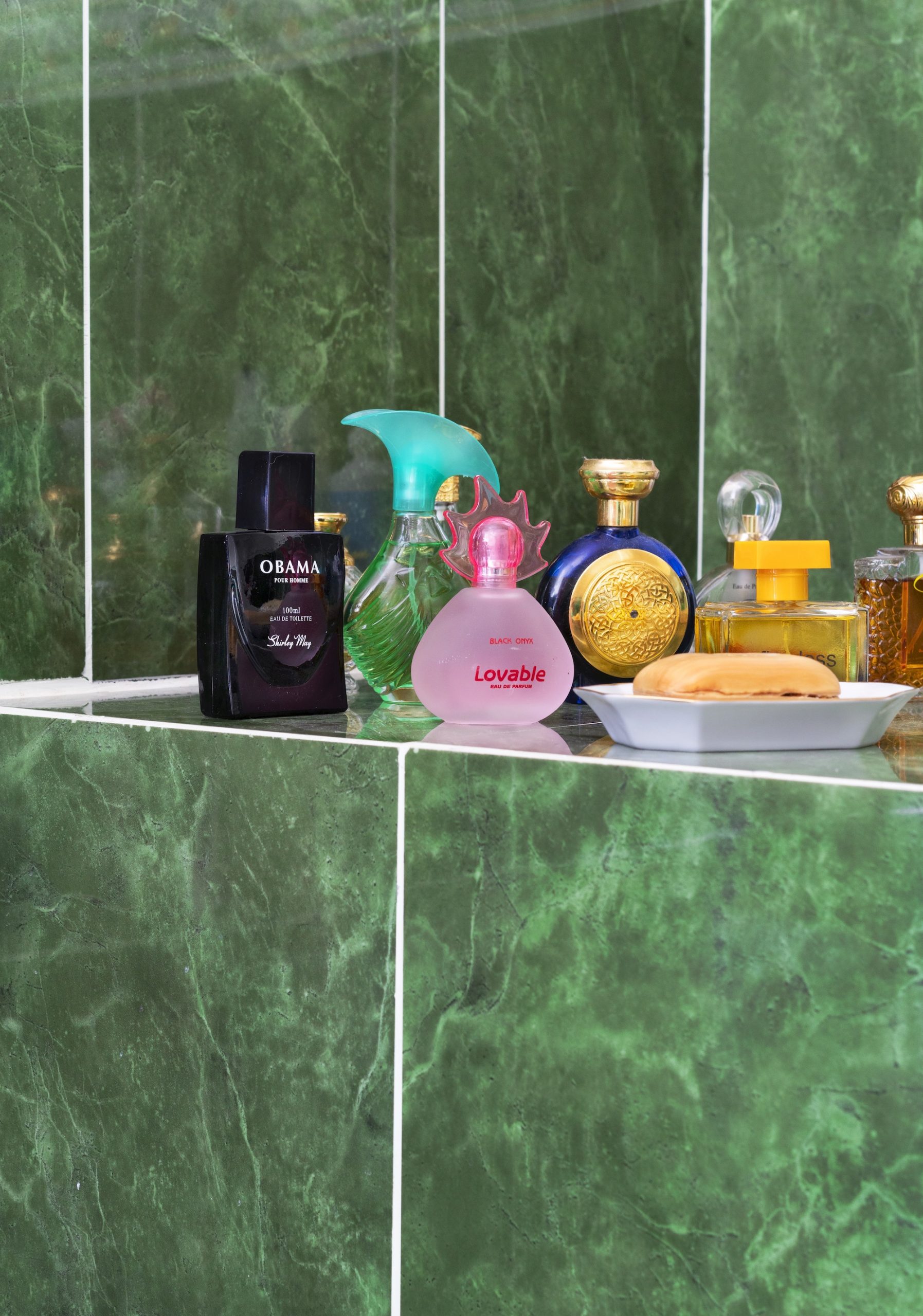 Al Qasimi has described her technique of layering patterns, colours, textures and surfaces as reminiscent of the geography in these cities. A neo-capitalist dream of gleaming skyscrapers, oil-rich Dubai manifests the idea of "the future" to the west. Yet, for a place that is so maximalist in their buildings and aesthetics, Emirati bodies are rarely wholly present in Al Qasimi's images.
"A dichotomy of the sacred and the profane, they gesture to the complicated relationship between culture, taste, class and value"
Fragmented, we see reflections of faces in surfaces, disembodied arms holding objects, feet poking out behind delicately embroidered fabrics, backs of heads covered in fabrics. In After Dinner 2 (2018), a woman ducks under a thick drape to look out of a window, concealing her own body yet maybe yearning to see someone else's.
Side-stepping reductive Western idea of Arab womanhood, Al Qasimi helps to normalise female representation while also expanding on her own experiences. She pays particular attention to the objects her subjects choose to surround themselves with, be it perfume bottles, Princess Diana dolls, fresh fruit or crystal chandeliers. The tight framing of scenes escalates a feeling of interiority and of individualism, despite the communality of some of the locations.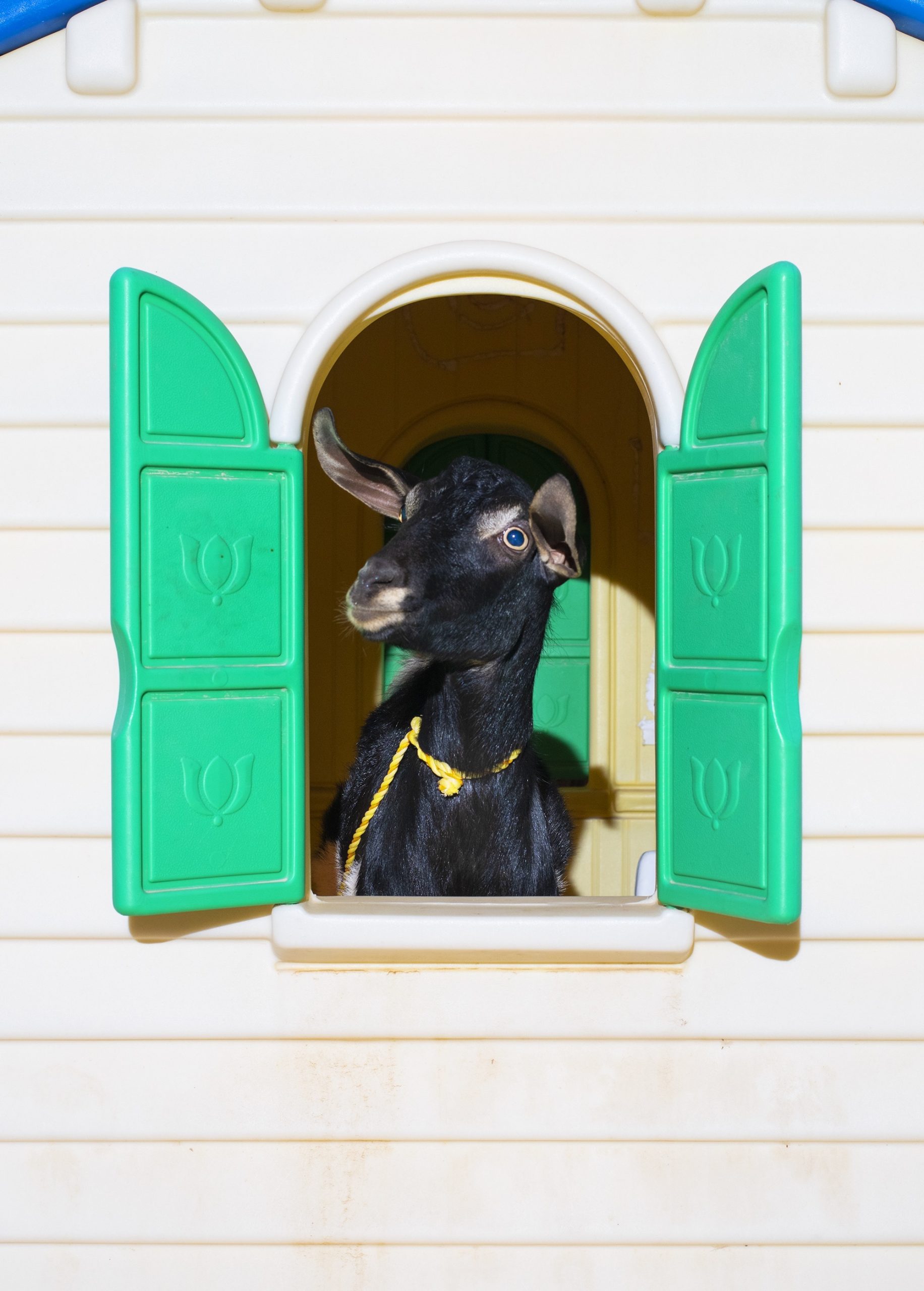 Hello Future oscillates between these public and private spaces, from bedrooms and bathrooms to bodegas and shopping malls. Abundant with glimpses of lustrous surfaces, swathes of patterned fabrics and dreamscape murals in cosmopolitan malls, domestic homes, bars and sidewalks it is easy to be swept up in its sumptuous glamour.
Yet more is at stake. Al Qasimi connects and challenges entangled histories and complex futures. She critiques the progress of the Persian Gulf at the same time as celebrating its complexities. Her work encourages us to identify and interrogate the cultures and environments we ourselves are embedded in and how they have shaped our own identities.
Rosa Tyhurst is assistant curator of exhibitions and public programmes at Bristol's Spike Island