Taking the first line of WH Auden's 1936 poem as a starting point, This is the Night Mail sees Norwegian artist Ida Ekblad select works from the collection of Christen Sveaas to present an exhibition that considers the evocative sensibilities of the nocturne. Presented at the Whitechapel Gallery (the first of four guest selections from the Sveaas collection), it include explicit references to frosty landscapes, ideas of love and longing, arduous travel and even manifestations of death. Spanning the late 19th  century to the present day, the works paint a complex portrait of a long, dark night.
Harald Sohlberg, Vinternatt i fjellene (Winter Night in the Mountains), 1911
This dreamy frozen scene was discovered by Sohlberg (a household name in Norway) during a skiing trip to the Rondane mountains in 1899. He became obsessed, creating over the years many different versions in paint, watercolour and even a print. Though at first the landscape might seem desolate, the single shining star points to a mood of hope and contemplation.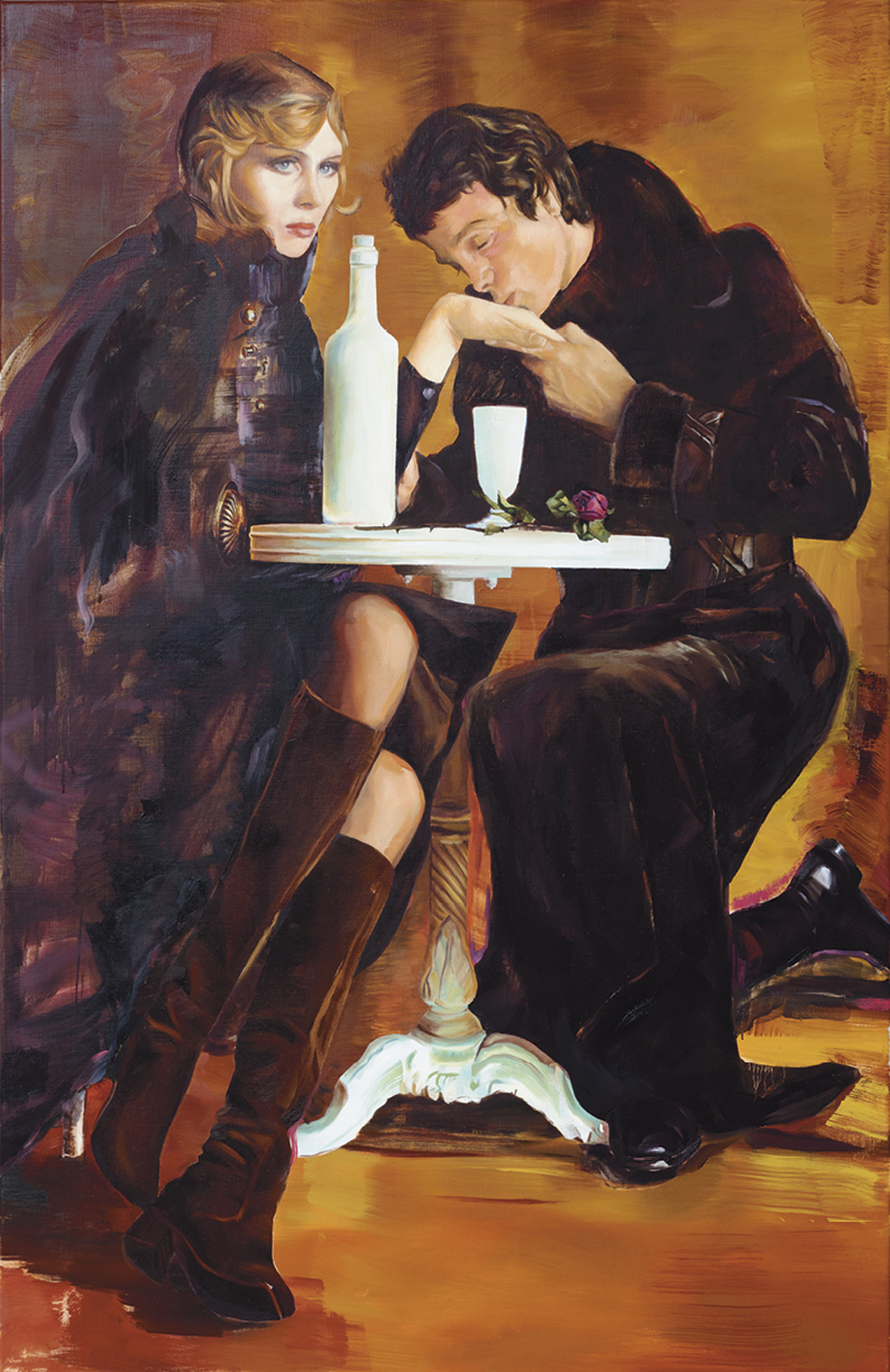 Paulina Olowska, Seductress, 2020
Given the title of this painting, it comes as no surprise that Olowska likes to riff off the glamorous tropes found within the pages of fashion magazines, blending western excess with the motifs found in late communist-era Poland. As she explains, "I like to use fashion in artworks as a tool to speak about past ideologies and allude to different movements and moments in history."
Giorgio de Chirico, Ettore e Andromaca, 1959
As the founder of the Metaphysical School, de Chirico eschewed perceived reality, instead articulating the world of the mind. He had a profound influence on the Surrealists, thanks to his melding of perspective, poetry and the power of dreams. Here, he depicts two armless humanoids in a partial embrace. They are the lovers Hector and Andromache, from Homer's Iliad, reimagined as faceless, semi-mechanised beings.
Sigmar Polke, TotenKopf (Quecksilberkosmetik), 1974
In this modern take on a momento mori, Polke draws together new connections between vanity and death. The image, painted on shimmering gold fabric, takes the form of an eerie skull, or a sketch of an Edwardian woman at her dressing table, depending on the eye's focus. The subtitle, which translates as "quicksilver cosmetics", references not only the ills of commerce, but the poisonous properties of mercury.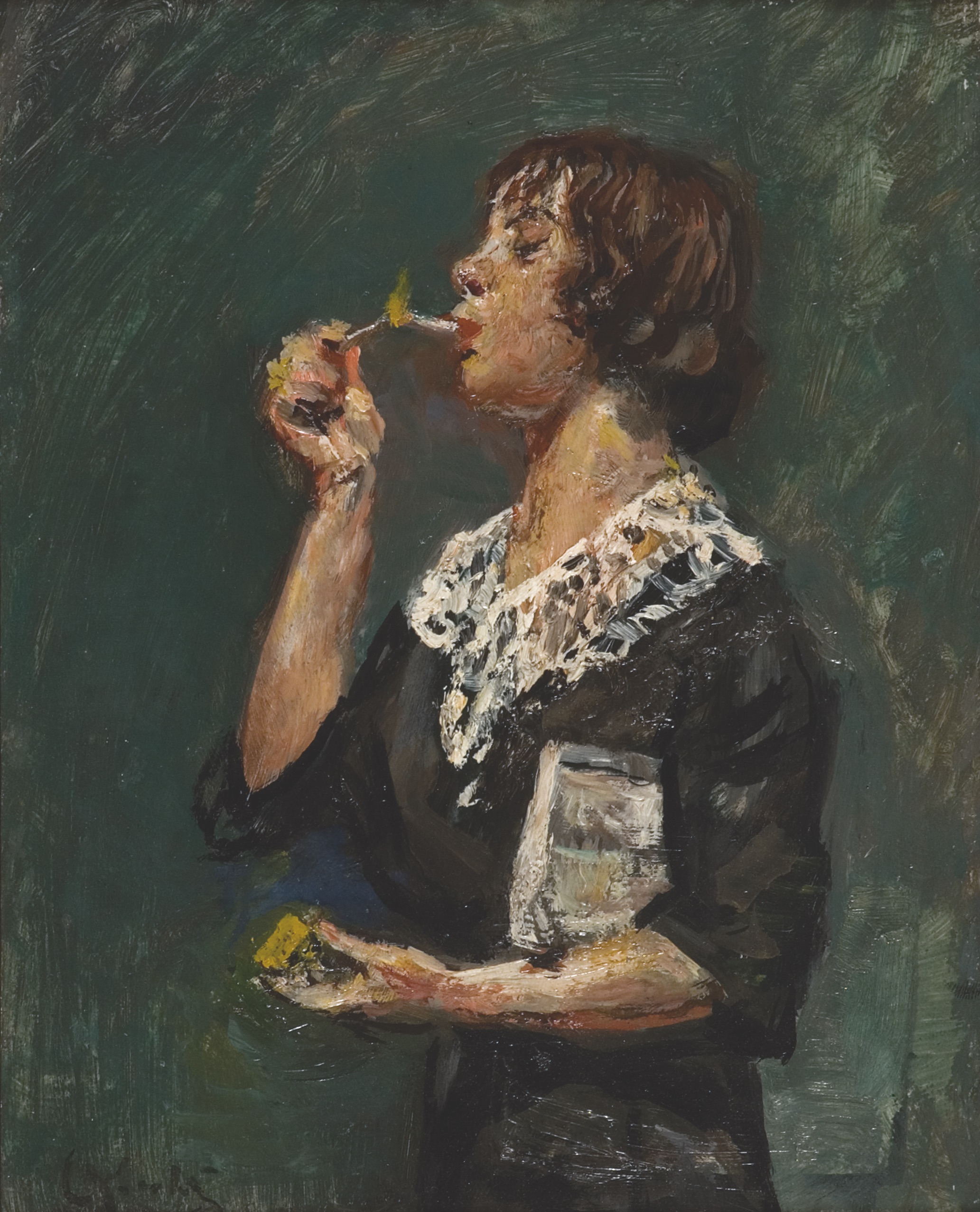 Christian Krohg, Kvinne som tenner en sigarett [Woman Lighting A Cigarette], 1912
Norwegian painter Krohg was a proponent of realism, advocating for social reform while painting scenes of everyday life and championing the "autonomy of art". His portrait of a woman lighting a cigarette is both casual yet defiant: she is not seducing the viewer directly, but simply indulging her vice in solitude.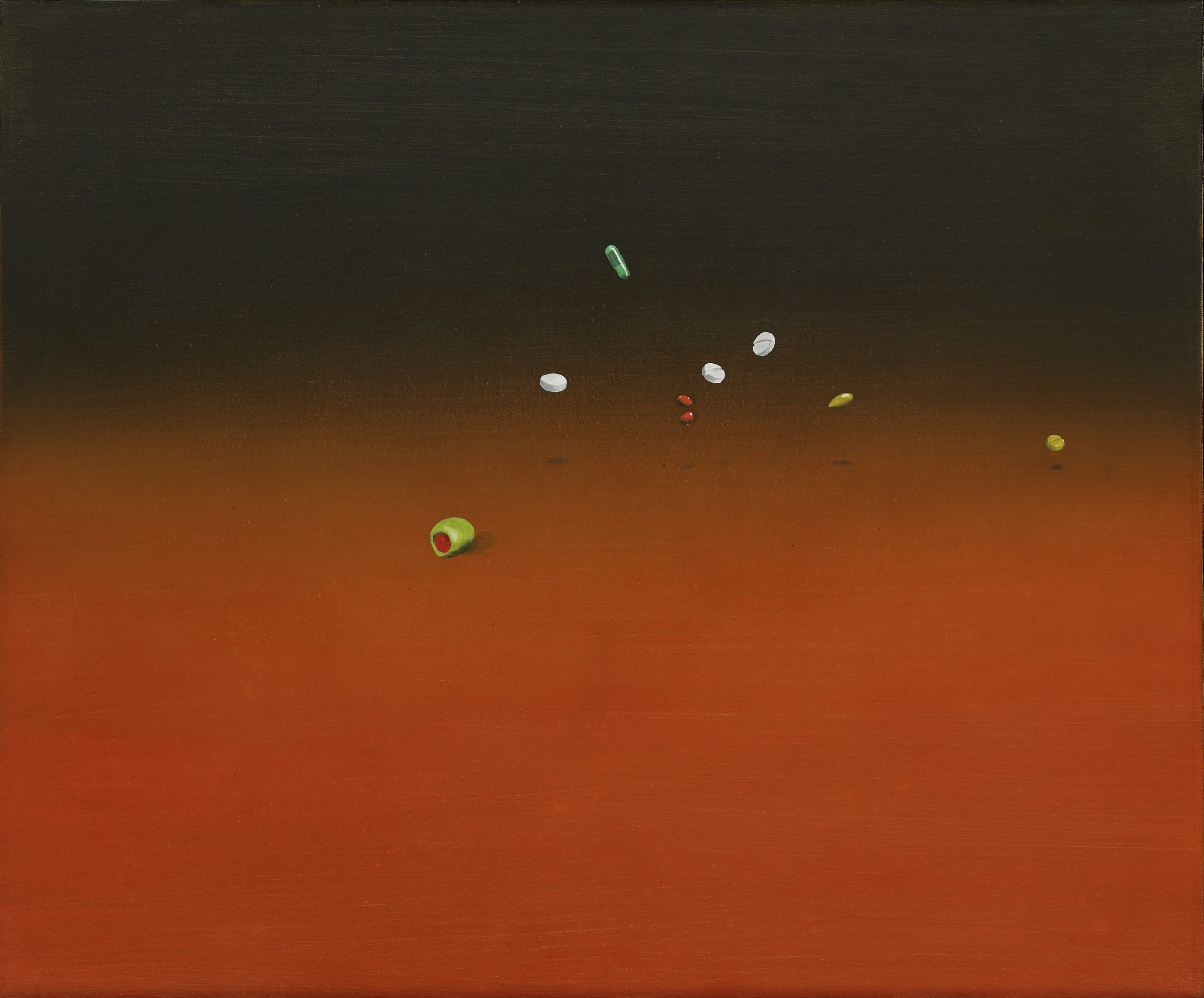 Ed Ruscha, Pain Killers, Tranquilizers, Olive, 1969
Throughout 1969, Ruscha was preoccupied with olives, creating a host of paintings that rendered the fruit with a collection of other objects, all suspended within the flattened perspective for which he is famed. What should we glean from his pairing of cocktail snacks and pills? The artist himself was not sure, declaring he had no idea why he painted them, except to harness "the raw power of things that don't make sense".
Holly Black is Elephant's managing editor
Christen Sveaas Collection: This is the Night Mail
The Whitechapel Gallery, until 2 January 2022
VISIT WEBSITE