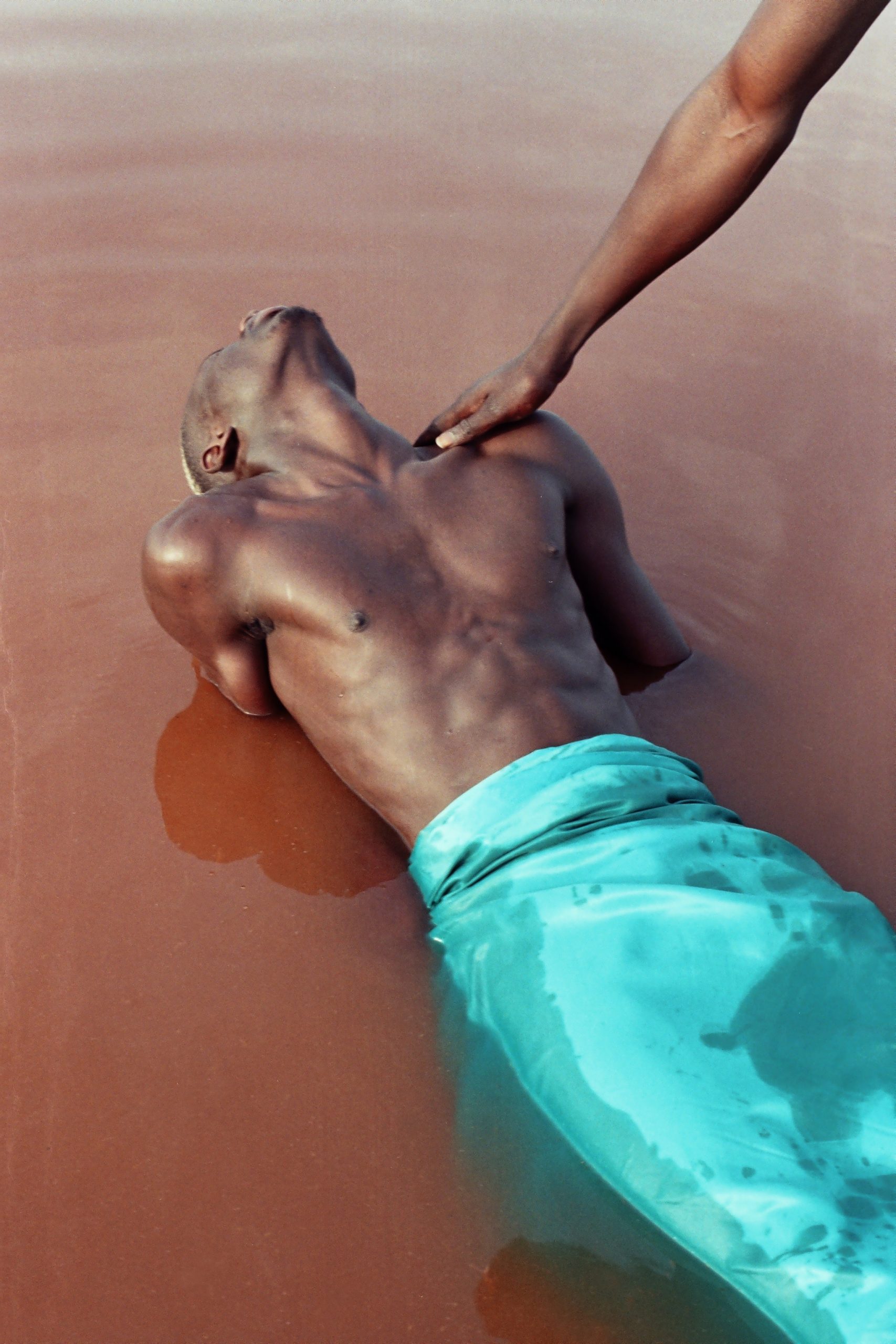 Denisse Ariana Pérez's Agua explores bodies in water as much as it does water itself. The overlap is intentional, the element best understood in relation to the species it sustains, nourishes and endangers. In shoots in Uganda, Senegal and Denmark, subjects recline and float in salty lakes, shield each other from overhead waterfalls, and wade into shallows, skin extending beyond the water's surface as if to reaffirm the symbiosis.  
The book describes Pérez's gradual, epiphanic relationship with water, which "began to speak to [her] in an almost spiritual way" as she grew older and travelled further from her native Caribbean.  
I learned how 
to say Agua 
long before  
I learned 
how to say 
Water  
The words are Pérez's from an accompanying poem. "I was born on an island. However, I never really had a profound relationship with water until I was an adult," she explains in a second text. "In my childhood, water was there, it existed, it surrounded me, it poured on me softly and fiercely, but it didn't mean more than just that, another element."
Now based in Barcelona, Peréz began shooting for the project in 2019, starting in East Africa with the plan of concluding in South East Asia. The pandemic rerouted her to Denmark, prompting a cross-fertilisation of subject matter in a familiar continent (Peréz studied interactive art direction in Stockholm). Agua's first cover depicts a man in the pink waters of Senegal, the second a woman floating in a limestone quarry in Denmark. Published in April this year by Guest Editions, 10% of the book's proceeds will be donated to Face Africa to help create access to clean water in rural communities across Africa.
"When subjects float, their heads tilt back in complete relaxation, their expressions evoking the newfound spiritual relationship" 
The photobook builds on and includes work from Boys and Water I, and Albinism, Albinism: An Exploration of Light, Nature and Albinism in East Africa. The first series captures boys in the terracotta waters and pink lakes of Saint-Louis, Senegal, a colouration typically caused by a combination of red soils and algae. Here the water's familiar transparency is replaced by an opaque, paint-like quality which obscures the submerged body parts: a turquoise garment gradually disappears as the distance from the surface increases.
A distinct feature of Agua's choreography is the extension of bodies into space: arms and legs are straightened into the water, penetrating its surface in dance-like movements. When subjects float, their heads tilt back in complete relaxation, their expressions evoking the newfound spiritual relationship that Pérez describes. A glass vase is used in several images, the collection and pouring of water alluding to its importance for agriculture, cooking and cleaning. A white horse provides a brief comment on inter-species dependence on water, but human bodies dominate, all smooth skinned and youthful.
Pérez's subjects with albinism are clothed in simple black or white tunics, the shots notable for their focus on collectivity and mirroring. Elsewhere, Perez's choreography draws parallels between cloth and water,  both flowing and enclosing subjects in continued arcs, their absence apparent when she chooses to focus more closely on the nude figure. "Water can disarm even the most armed of facades", the book's text reads. "Becoming one with water is not about rushing but rather about flowing. And flowing is the closest thing to being."
An earlier series, El Pais, substitutes the hyacinth into this role: its rapid growth over Lake Victoria in Kenya a menace to local fishermen and the lake's ecosystem, says Pérez, while also "creating the most breathtaking of sights" with its violet flowers. While Agua evokes ecstasy in its calmness, humanity's relationship to the natural world is rarely defined by total serenity. It is this exploration of ecology as fundamentally ambiguous which runs through Pérez's work, even as her subjects float in liquid bliss.