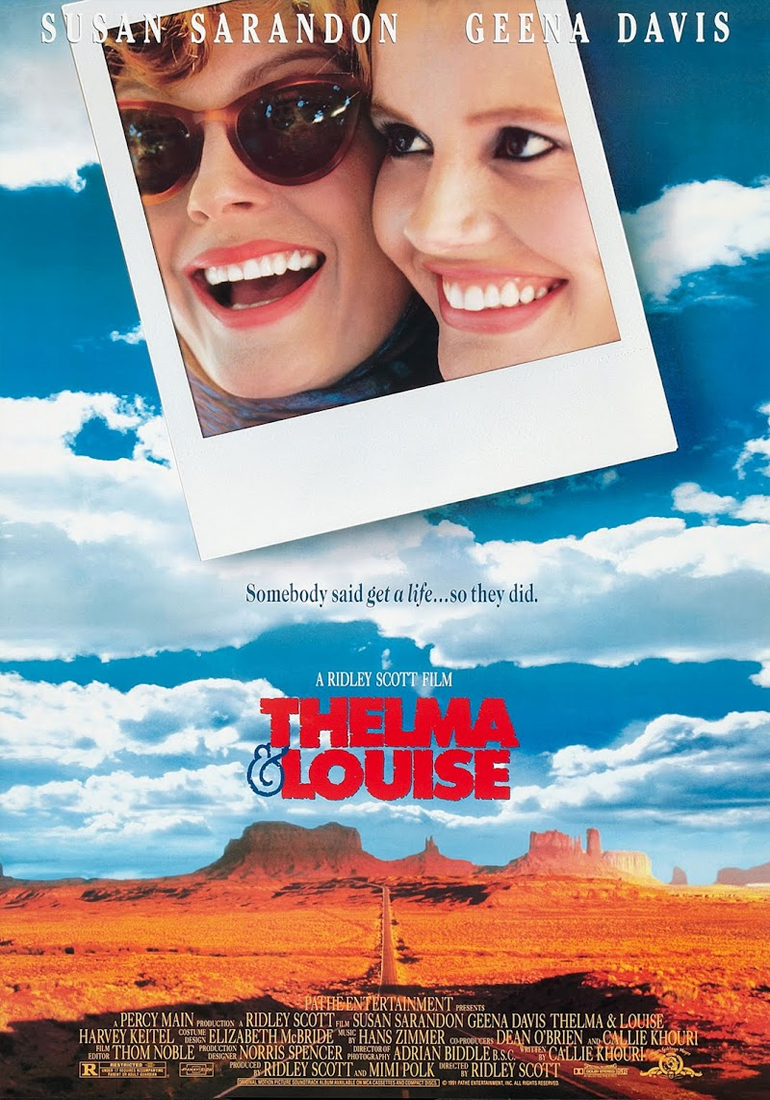 "You know, for the first time in my life I wish this car wasn't green." Louise, one of our two fugitive heroines, makes this admission midway through Ridley Scott's 1991 classic Thelma & Louise. The high-shine, turquoise-green convertible is where quarrels will be fought, tears shed and ecstatic revelations released—along with more than a few near-miss collisions on the road. This distinctive car is the beating heart of a film that puts female friendship first, where loyalty between the titular pair prevails even in a man's world. This is Bonnie & Clyde done differently, an epic crime spree retold with two women at the wheel.
What starts out as a two-night fishing trip for Thelma and Louise quickly spirals into a wild ride across three states, with the film taking in the remarkable desert landscapes of the American South—dust clouds, jagged cacti, immense rock formations and all. Louise needs a break from her monotonous diner job and non-committal boyfriend, while downtrodden Thelma is looking to escape from the confines of her housewife duties and abusive husband. The car and the endless road is their release, liberating them from the ordinary routines of life that have taken hold of them for so long.
A pitstop in a classic Western bar, complete with line-dancing and frozen margaritas, turns nasty when a flirtation between Thelma and her dance partner escalates to rape in a parking lot. When Louise steps in, placing the man at gunpoint, a heated exchange of insults leads her to pull the trigger. It is murder; panicking, the pair go on the run. And so unfurls a great American road movie, featuring roadside diners, shabby motels and any number of gas stations. This is true cowboy country—featuring a smooth-talking Brad Pitt in his first major film role—where time appears to stand still. Crowds of horses occasionally gather by the side of the road and the desert stretches as far as the eye can see to the horizon. And yet, you are never far from another cup of strong filter coffee—just one more to keep going until Mexico.
Mexico is where Thelma and Louise will no longer be objectified, repressed or taken advantage of by men, and where they will be empowered to finally take control of their own lives. As the film progresses, the pair become increasingly wild in their recklessness. Fear falls away, and they are suddenly struck by the boundless possibilities of the world that for so long has kept them hemmed in. Armed robberies, police hold-ups and one particularly memorable act of revenge on a salacious truck driver follow. 
"The car and the endless road is their release, liberating them from the ordinary routines of life that have taken hold of them for so long"
It is a timely moment to revisit this feminist rallying cry in 2018, when the Time's Up and #MeToo movements have given women a powerful voice, offering solidarity in the face of abuse that has previously gone unchecked. These often unseen aggressions give the film its defiant narrative arc, showing just what women are capable of when they step out of the subordinate position that society has shaped for them. Comic, furious and uplifting in equal measures, it refuses the ready-made endings that women are so often faced with. This is a film that truly believes in its heroines and, most importantly, shows without doubt that they believe in one another.