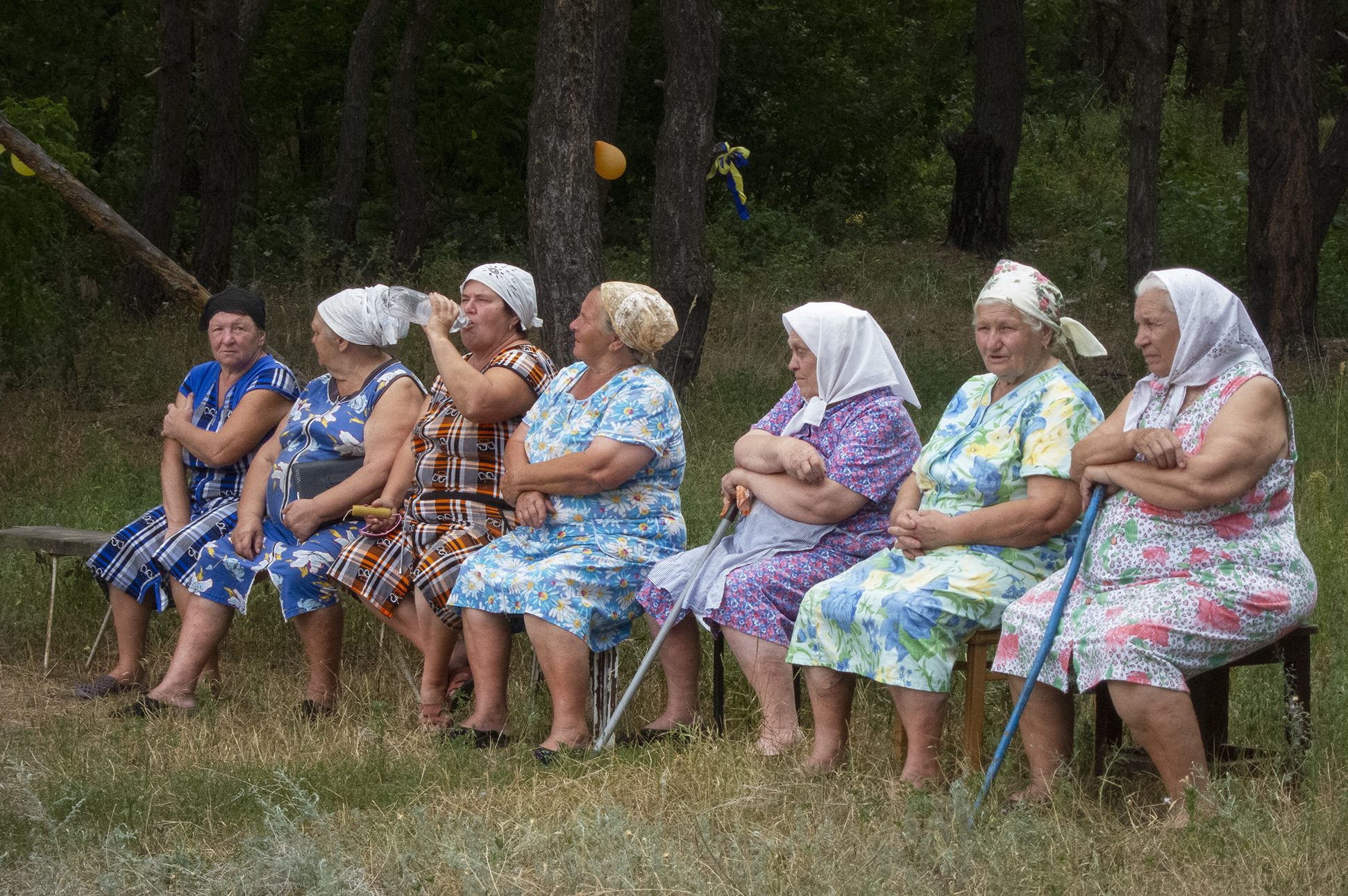 It has been over a decade since photographer Vinca Petersen co-founded the Future Youth Project, a small direct action organisation running humanitarian projects in Ukraine. The British photographer is best known for her photobook No System, a document of her life in the 1990s when she lived on the road and off-grid. She would travel around Europe with sound systems, organising free parties and informal raves, while photographing the communities and friends she met along the way.
For the launch of No System in 1999, Petersen held an exhibition in the UK where she invited visitors to bring aid and donations for a convoy of trucks travelling to Chernihiv, near Chernobyl in the north of Ukraine. "I was living in a truck and I thought, 'why don't I get involved?'" she recalls. "It coincided with the printing of No System. I thought that rather than just having a straightforward exhibition to celebrate the launch, I would ask people to bring aid and donations that I could take out." She ended up with enough donations to fill two seven-and-a-half tonne lorries.
Left: Vinca Petersen, Yalta Beach, Crimea, 2000; right: Biker Cafe, Tokmak, 2012
On arriving in Ukraine, she explains, "I really fell in love with the country." Together with friend Claire Cameron, the pair made the decision to start the Future Youth Project, although it wasn't until 2010 that the charity was finally established in Ramsgate, UK. Coinciding with Petersen's final degree show at art school, she decided to install a bus stop at the college, replacing conceptual work with real action. "Who wants to come to Ukraine?" she asked visitors.
"I took volunteers with me who gained a lot from from the journey and the ability to give to others"
The focus of the Future Youth Project is on what Petersen calls "reciprocal giving". "I always wanted it to be a circular form of giving," she explains. "I took volunteers with me who gained a lot from the journey and the ability to give to others. There were people with mental health issues; there were ex-convicts; there were people with disabilities… It seems more honest, more authentic, and also more sustainable."
On the ground in Ukraine, the project partners with Happy Child foundation to support state-run facilities for children and adults with disabilities in the country. Together they co-ordinate and fundraise for classrooms where participants learn to read and write, as well as engage in singing, painting and collaborative play.
Petersen is now raising critical funds for both organisations in response to the outbreak of war, with many of her colleagues still on the ground in Ukraine. Works from Ukraine Days, an online exhibition of photographs taken by Petersen over the last 22 years, are currently on sale for £200 each, organised in collaboration with London gallery Edel Assanti. On 4 May the gallery will host an evening of solidarity to raise funds for the Future Youth Project and Happy Child foundation, in support of their continued humanitarian endeavours.
"Babushkas are a force to be reckoned with. There's no hiding away of the Ukrainian grandmother"
The images in Ukraine Days range from beach scenes to architectural shots. They are colourful and full of life, as joyful as they are serene. A still life of a sunflower in dappled light sits easily alongside a playful shot of a row of relaxed 'babushkas', or Ukrainian grandmothers. "They are a force to be reckoned with," Petersen laughs. "There's no hiding away from the Ukrainian grandmother. They're fully part of society and often rule the roost. It made me think about their strength."
"When I first made No System, the idea for me was to create a positive look into the world of travellers, which had always been reported in a very sensationalised way," Petersen explains. "Inevitably, in this situation we're in now with a war, we see so much horrendous imagery on the news from Ukraine. So this group of images was really made to convey the spirit of the country as I see it." She concludes: "It's about the importance of family, of love, and of nature."
Louise Benson is Elephant's deputy editor