The famed Renaissance artist Giuseppe Arcimboldo painted the earliest and most elaborate vegetable faces. With mange touts for eyebrows and corn for hair, these works were likely meant as novelties to entertain a fickle royal court. To a contemporary audience, they still have the power to raise a good laugh; they are an incredibly weird sight. The paintings were created at a time when exotic, imported vegetables were associated with wealth. In the sixteenth century, maize, tomatoes and French beans had recently arrived in Europe, along with potatoes. Potatoes had fuelled the Inca empire in much the same way as they fuelled empire in Europe, when potato farming in the eighteenth century had a positive impact on recurrent famine. Marie Antoinette even wore their purple blossoms in her hair.
"With mange touts for eyebrows and corns of cob for hair, they were likely meant as novelties to entertain a fickle royal court"
The artist Jacqueline de Jong pitched to plant potatoes around the Dutch pavilion when she was nominated for the 2017 Venice Biennale. At the end of the exhibition, the potatoes were to be eaten in a special ceremonial meal. She has referred to her work as a potato language. Using the sprouts that hang down from a potato, she references the Inca's knot language, where knots tied into cords were used to communicate non-verbally.
Jacqueline de Jong, Untitled
Sadly, De Jong did not win the Venice commission, but her unrealized project forms part of a series of works she has made over the past fifteen years using potatoes, which she grows in her vegetable garden in central France. She makes paintings of potatoes; installations of potatoes arranged in a circle; she dries out potatoes and dips them in gold. Her interest has many layers and permutations, not unlike the vegetable itself. "Potatoes grow underground, you can't see what is happening, and then they come out and change. Their continued deformation fascinates me. I found out you can do so many things with them; they're so much more than food." She only uses her own potatoes in her work: "I have to have my own potatoes because of their colour, the colour of the potatoes counts a lot," she says.
Her book Potato Blues shows images of potato plants from their beginnings in a patch of earth, through harvest and being dried out in the artist's thirteenth-century cellar, right up to the moment they become alien-looking forms with long tentacles hanging from their shrivelled centres. De Jong draws eyes on them to turn them into little monsters. She dips dried-out potatoes in gold to make objects which, with the addition of a chain, become very fine necklaces. Her potatoes mutate and evolve, their possibilities seem limitless. They leave the earth as humble, muddy lumps, transforming through monstrous forms to become luxurious, desirable commodities.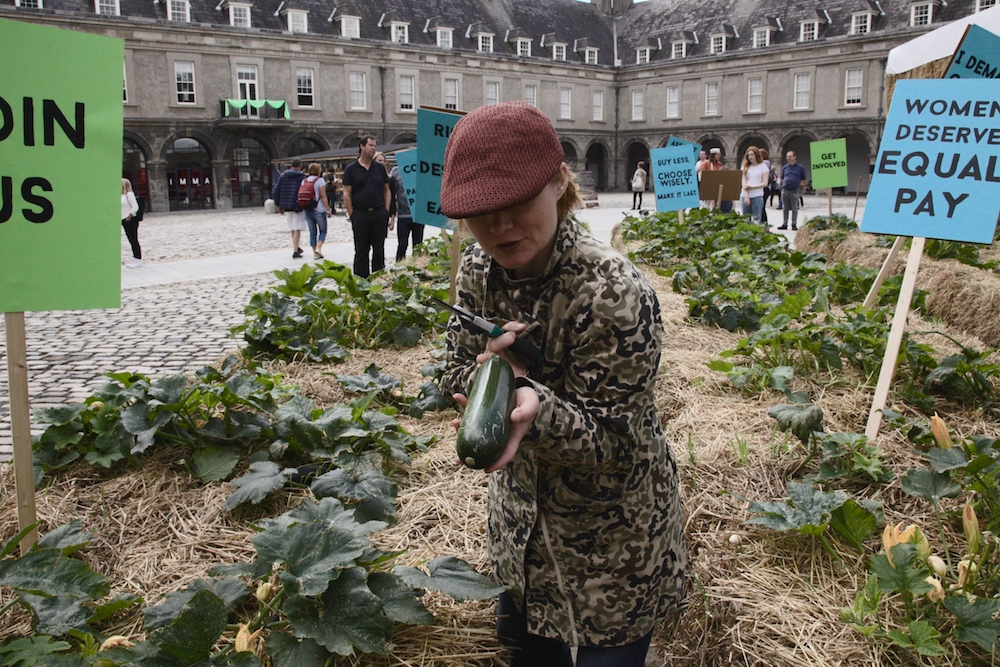 Grizedale Arts, an organization and residency programme based in Cumbria, has created a series of projects where the team constructs a miniature society with courgettes as the prized commodity. At the Design School in Pforzheim, Germany this year, the group will make their fourth model village with a courgette economy where courgettes grown in urine-soaked straw bales become the basis of all food and products; aprons are printed with patterns from a cut courgette, vessels are moulded from them, currency is made from button coins imprinted with courgette flowers, meal times are devoted to courgettes: risotto for lunch followed by the vegetable's deep-fried flowers for pudding.
"Underlying it all is making the best of the resources you have"
It is a symbolic endeavour, one that pokes fun at what we value as well as exposing the structures of how a society might work. "Underlying it all is making the best of the resources you have," says Grizedale's director Adam Sutherland. "Courgettes grow fast and are highly productive. You can eat all parts from stems to leaves to flowers and fruit. We try to illustrate the art of everyday living, infused with a creative approach which includes cooking. It is disappointing when art becomes so specific, everyone knows what art looks like and how to make it, but art has always been about living. Making art is the last thing you need to think about, it is making the structure around how you live which is more important. It generates everything else."
A Fair Land at Irish Museum of Modern Art in Dublin in 2016. Courtesy Grizedale Arts
Grizedale has a pragmatic approach. Its belief in art as a useful endeavour puts vegetables at the centre of what it does. "They are essential. To eat well, you have to grow your own veg," says Sutherland. Aiming to be entirely self-sufficient, the institution grows 500 species of plants, fruit and vegetables on the side of a hill with a farmhouse that was the former home of the nineteenth-century critic and social reformer John Ruskin.
Like potatoes, courgettes originate from the Americas. Yet carrots were first cultivated in Iran. In Laure Provoust's film Stong Sorry Vegetables, carrots (along with onions, lemons and tomatoes) fall from the sky—the fantasy element of her film is brought down to everyday reality with these very ordinary vegetables, the ones available at the most basic store. They ground her films, make them even funnier, with not even an aubergine or an artichoke present to spice things up with.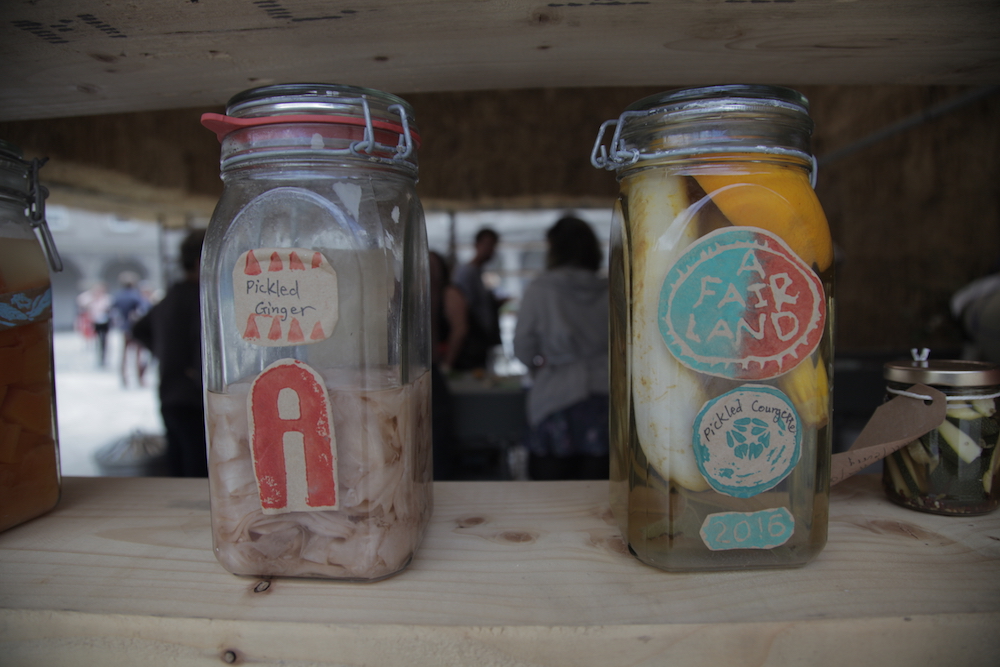 "Pearch's carrot, an oversized mutant thing, reflects on humanity's relationship with nature"
"The carrot feels like it is quite modest," says artist Hamish Pearch, who used mushrooms and a single oversized carrot in his inaugural show at Soft Opening in London late last year. Pearch uses mushrooms made of resin rather than real ones to suggest the spaces humans ignore or abandon, such as a self-storage lock-up or the back door of a roadside hotel. "These are liminal spaces, the middle between city and countryside, the bit around the back where no one goes. I find these areas interesting," says Pearch. For him the carrot, like the colour beige or toast, embodies a kind of banal Britishness. His carrot, an oversized mutant thing, reflects on humanity's relationship with nature and what it might, in a dystopian vision, become. "In the future this thing could exist, when humans colonize the natural world," he says. "There's only one type of pineapple now. We got rid of all the other species to make the perfect pineapple. There's a huge hole between us and the things we surround ourselves with."