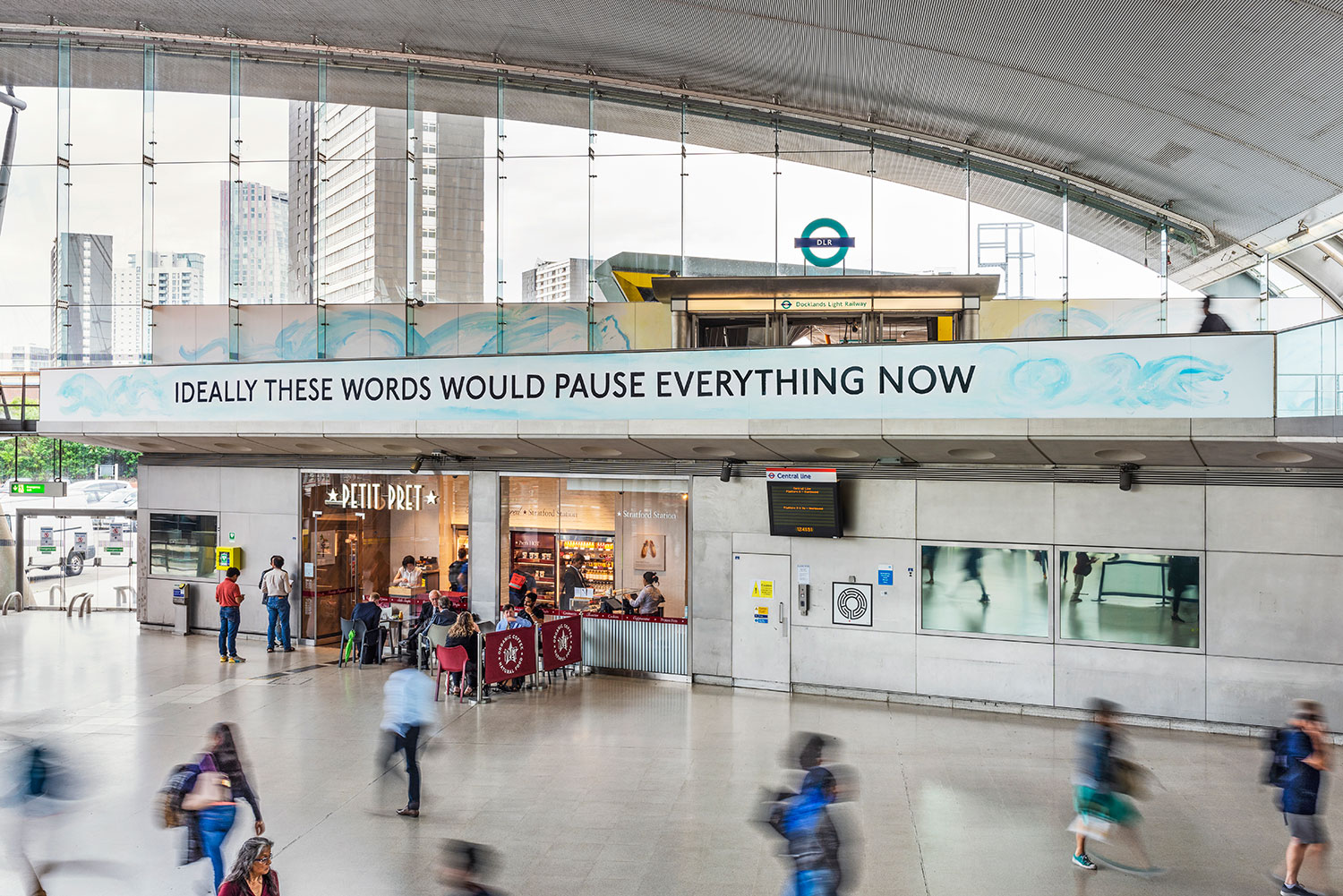 It's pretty rare to see people smiling—let alone grinning and clapping their hands in the air—at Stratford station. For all its post-2012 London Olympics hubris, the area has remained a pretty depressing place: a hodgepodge of shiny, labyrinthine Westfield hell; towering, polished-glass new builds that seem, for the most part, vacant; a heartbreakingly pervasive homelessness and substance abuse problem. The station itself is, for many, nothing more than a sticky, stressful junction—a tawdry commuter necessity (Underground, Overground, DLR, she's got it all). As with so much of London, Stratford and its locale is a distillation of the fissure between a vapidly gentrified shopper's paradise and those who've been totally let down by a society and government that isn't giving them the help they need. 
All this is to say, cheers, Laure Prouvost, for making Stratford a bit more joyful. Her work, commissioned by Art on the Underground as part of her broader network-wide series You Are Deeper Than What You Think, opened on 20 June and gazes over Stratford station's Jubilee Line platforms, offering a simple typographic message: "Ideally these words would pause everything now". The lettering is inspired by traditional sign painting, deliberately bearing the precise yet rugged feel of the letterer's hand. The message itself is slightly oblique: we should "pause", as in take a little time for quiet reflection? Is she demanding that commuters (and TFL services) come to a brief standstill? "Pause", as in the end of the world we know it—or at least as we know it now?
Laure Prouvost, You are deeper than what you think, Stratford station, 2019. Commissioned by Art on the Underground. Photo: Camilla Greenwell.
"All this is to say, cheers, Laure Prouvost, for making Stratford a bit more joyful"
Then there's the "words": are "words", here, a proxy for "art"? Or is she saying that words are powerful enough to "pause" all the bad things? We don't really know, but as with much of Art on the Underground's commissions; the piece is certainly doing its job: it's art, it's democratically there for everyone who passes; and it's non-didactically letting us take from it what we want. That mystery is exactly what the artist was aiming for in the piece; hinting at the idea that as we (unexpectedly, for many) approach the prospect of the UK leaving the EU, she's asking us to stop and question everything. 
At the launch day (this is where we come to the grinning and clapping bit), a choir appeared gradually, one by one walking to the front of the level that overhangs the Jubilee platform 13. This London Transport Choir, named Shards, sang a truly joyful number—unabashedly optimistic and infectious—written by Prouvost as a sonic celebration of London, the UK and the future of our relationship with the EU. If you were watching; you were smiling: something so simple and even a little daft is a beautifully welcome riposte to the elbowing and tutting that punctuates any normal commuter experience. Many were baffled, or just ignored it, but that's ok, too. Most of all, it was funny—humour is central to much of Prouvost's work, and the absurdist nature of the piece, for all its more serious undertones, certainly shone through.
The Stratford piece and the accompanying artworks comprising You Are Deeper Than What You Think are Prouvost's first public commission in the UK. Alongside the Stratford work she has created other major typographic installations at Bethnal Green, Notting Hill and Heathrow stations, effectively bookending London from East to West. Her work will be further seen on advertising sites as print posters and digital screens across all 270 London Underground stations; as well as on the covers of the six million pocket Tube maps that are distributed by TFL. 
Her imagery across all aspects of the projects is typographically focused, drawing on her personal tradition of sign painting while simultaneously referencing London Underground's early hand-produced way-finding signage and graphic design. Each of Prouvost's posters is a digital reproduction of a hand-painted sign complete with a sentence devised specifically for the Underground in its recognisable Johnston typeface, with even the corporate logos rendered in paint.
"The whole commission reflects Prouvost's playful manipulation of language as a tool for both commutation and imagination"
Alongside her longstanding use of humour as medium, language has long been a key tool in Prouvost's arsenal—and her work makes it at once poetic and strange, revelling in the fact that English is her second language. Take the poster reading "you are deeper than what you think", for instance. The piece lives underground—pretty deep, then—but it also plays with the wearisome tropes of motivational messaging memes while actually, quietly becoming one itself. Either way, like the rest of the series, we feel as though we're being spoken to directly, addressed as a person, not just a faceless crowd tapping in and tapping out.
The whole commission reflects Prouvost's past works across installation, video, sound and performance in its playful manipulation of language as a tool for both commutation and imagination. Non-linear narratives are eschewed for more reverie-like imaginative connections, creating new images and meanings weaved from the artist's personal experiences and memories and known references to historical art and literature. Their power is in making you pause—just as she tell us in Stratford—and even if just for a second or two, to furrow our brows in thought. And isn't that just what we need to weather the misery of trying to get around London? 
Laure Prouvost, Art on the Underground
On view across the capital until 15 December 2019
VISIT WEBSITE