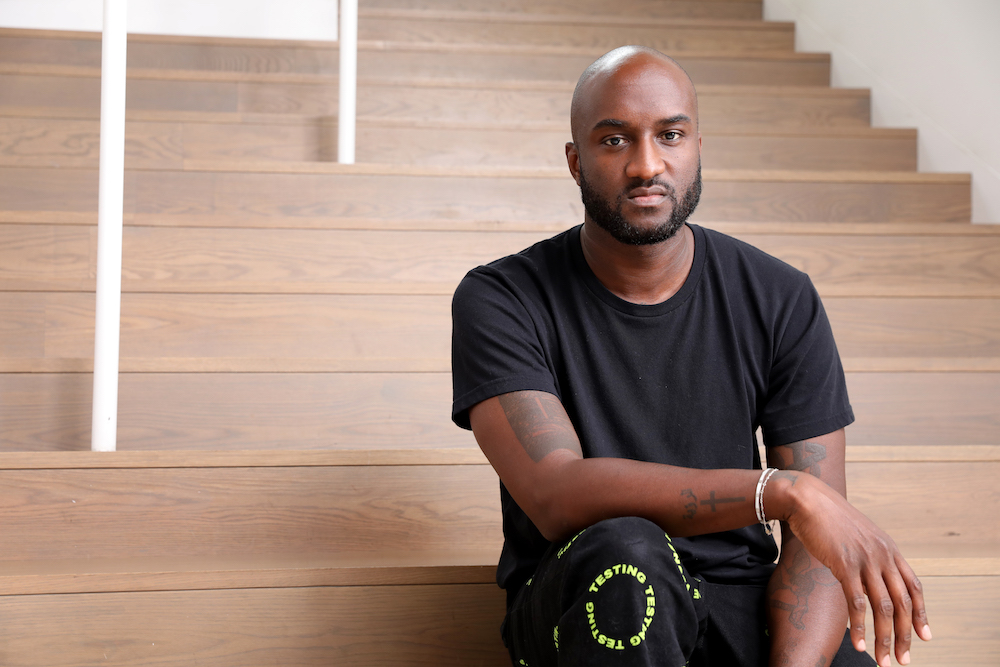 "I'm looking out the window now, and I'd guess that ninety-five per cent of the people coming in are making their first visit to a museum of contemporary art. I get the feeling that they're very creative people, too…"
Virgil Abloh is watching visitors approach "Figures of Speech", his newly-opened exhibition at Museum of Contemporary Art Chicago, while we talk. Abloh's descriptions—a vivid intersection of fresh audiences, grand institutions, radical new potential—could be directly applied to his own work; for over a decade, this Illinois-born designer/entrepreneur/DJ has spanned a dizzying array of realms: architecture to streetwear, skate culture, music and high art/fashion.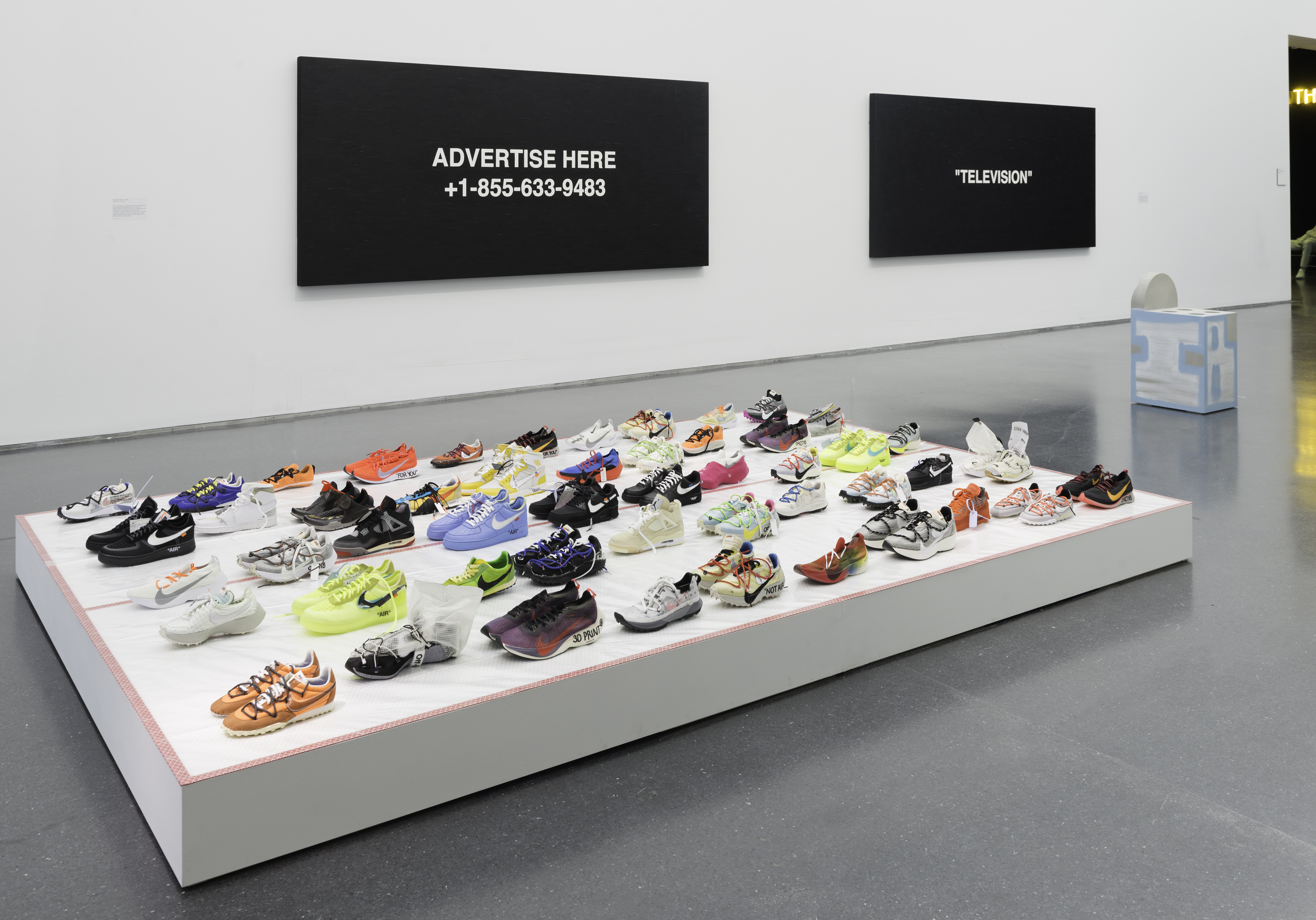 In 2007, Kanye West hired the hotly-tipped Abloh to work with him, extending his vision beyond music; in a slightly surreal work experience break, the pair interned at Italian luxury fashion house Fendi together. Abloh also became creative director of Kanye's own DONDA agency—directing artwork for blockbuster projects including 2011 collaboration with Jay-Z, Watch the Throne. Abloh has created highly coveted designs for his own companies Pyrex Vision, and latterly Off-White (the titular quote marks in "Figures Of Speech" are an Off-White motif). Since 2018, he has also been the artistic director for Louis Vuitton menswear. At last summer's Paris Fashion Week, Yeezy clasped Abloh in a tearful hug by the runway; US hip hop stars including Playboi Carti were also among the models.
"The architecture background gave me the art history basis to create permanent work"
"Figures of Speech" is described as Abloh's "mid-career retrospective", and he also insists that it has been "easily the most difficult project I've created". There's a characteristic blend of scale of ambition, meticulous detail and self-assurance to its content and presentation. Various figures (including MCA curator Michael Darling) have likened Abloh to a new-gen Warhol. This exhibition does create its very own scene, within an immersive setting co-designed by Samir Bantal (director of AMO—the creative think-tank founded by architecture don Rem Koolhaas).
"The space is very dynamic; it has an architecture of its own," says Abloh. "It's designed as a multi-layered mixed-media experience, making one big circle, connecting where I started to where I am now. There's a Pyrex Vision video piece, a hall of fashion, a hall of my work related to music, race, fine art and design. The exhibition is very rooted in my art practice, including our relation to brands and commercialism. What makes my practice unique is that it stretches across boundaries of race, youth culture, pre- and post-Internet."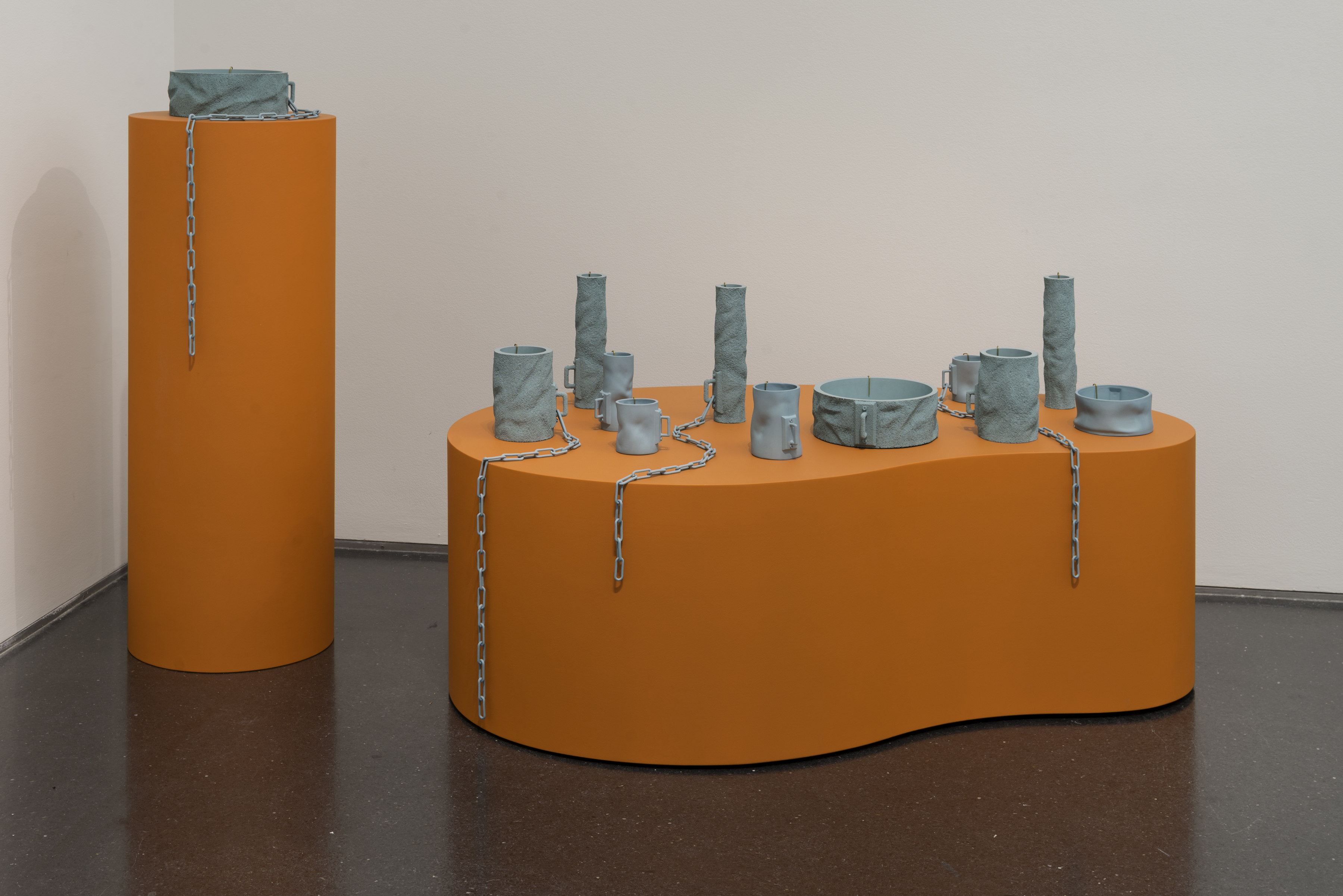 Abloh's practice frequently nods to his personal youth culture, too—as a teen, experimenting with street art and travelling to NYC to visit skate fashion stores, and as an architecture student at Illinois Institute of Technology.
"The architecture background gave me the art history basis to create permanent work," he says, adding of his college experience, and his gravitation towards design and fashion: "I had a lot of quiet time to develop… I didn't fit the stereotype, so I had a lot of time to think."
"I am a kid from the nineties; I grew up around lots of big cultural advertising moments: Pepsi, Coke, Michael Jordan"
He comes across both as an intensely concentrated thinker, and a prolific doer. In conversation, he'll make reference to a multi-generational array of "artists in cultural or political moments", from Caravaggio (whose early seventeenth-century altarpiece The Entombment of Christ was screen-printed on Pyrex Vision shirt designs—grand vision/limited edition) to Duchamp, Factory Records designer Peter Saville, and also prime-time sporting heroes and contemporary megabrands (Abloh's designs have extended from couture to a new concept range for IKEA). Various set-pieces within "Figures Of Speech" resemble avant-garde boutiques, while the artwork transcripts and glowering neon quotations ("You're obviously in the wrong place") bring to mind Jenny Holzer. The MCA exhibition will also feature a pop-up store, "Church & State", where ticket-holders can peruse and purchase retrospective and new Off-White editions. Overall, it poses questions that have long played on Abloh's mind: are we consumer or creator, "tourist or purist"? It offers a sensation that somehow feels simultaneously exclusive and locked into social media mass experience.
"I am a kid from the nineties; I grew up around lots of big cultural advertising moments: Pepsi, Coke, Michael Jordan," says Abloh. "I value the tangible in art, but I can also draw a parallel to Supreme making a T-shirt with Damien Hirst. I'm also fascinated by the strength of art, and the impact of the viewer on the scene, and how they're interacting with it, whether they're seeing a pair of sneakers, a painting or a film."
Abloh is on home turf here, but he is also constantly on the move; at present, his other commitments include DJ dates across the States and Europe, as well as advising further music artists on their creative directions: "I'm mostly playing house and techno right now," he says. "Music is the heartbeat of culture." Across all of these spaces, you get the sense that he is entirely in his own element. He laughs: "I feel comfortable with the pressure, but also… I do love a conundrum."
"Figures of Speech"
Until 22 September at MCA Chicago
VISIT WEBSITE