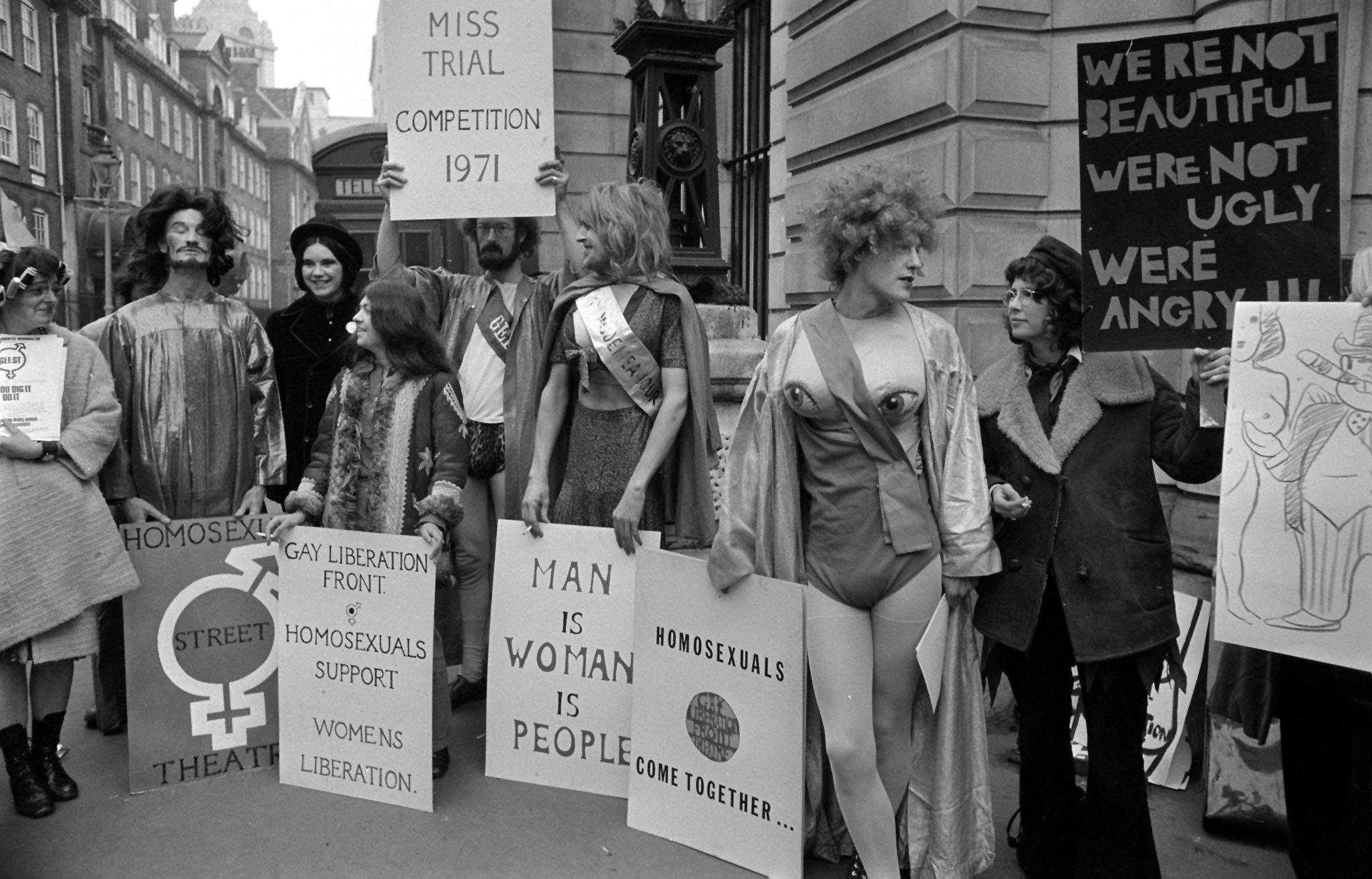 On 4 February 1971, a crowd gathered outside Bow Street Magistrates Court in London, with many dressed in drag and causing a stir among the Covent Garden throng. They came bearing placards that decried the incarceration and subsequent trial of members of the British Women's Liberation Movement, who had flour-bombed the 1970 Miss Word competition in protest of the inherent sexism of the event. These women caused chaos at the enormously popular and BBC-televised production, moments after host Bob Hope had joked about the glitzy "cattle market" where he had personally inspected the "calves".
In this photograph, one man sporting a sash and leopard print underpants, holds a sign aloft. It reads "Miss Trial Competition 1971", the official title given to this protest-performance, where characters such as Miss Taken, Miss Judged and Miss Conception gave their opinions to the compere. These individuals were members of the UK Gay Liberation Front, a hugely influential organisation that organised the first pride march in the country.
According to Stuart Feather, GLF member and co-curator of an incredible photo archive currently on show at Queercircle, the group managed one performance, before being pelted with rotten tomatoes by porters from Covent Garden fruit and veg market. Feather is seen in this photograph, wearing breasts with strategically placed eyeballs and standing next to fellow activist Angela Mason, who had called for solidarity with the feminist cause.
The group managed one performance, before being pelted with rotten tomatoes by porters from Covent Garden fruit and veg market"
For Feather, the presence of drag in protesting the objectification and oppression of women was vital. "Radical drag can be defined as women's clothes worn by gay men, without falsies; or pretence, or parodying women," he says. "It displays upon his body a fully determined political and social provocation that confuses sex and gender rules as laid down by compulsory heterosexuality."
At a time when drag has arguably entered the mainstream, it is important to remember that this form of performance has its origins in protest, as a way of upsetting the status quo and rebelling against the conformities of gender for men and women alike. As Feather says, "Heels are good not just for gait and fashion sense, but for the feelings of restriction and vulnerability… drag viscerally proclaims its message to the entire street. There is no mistaking its content."
Holly Black is Elephant's managing editor
The Queens' Jubilee! is at Queercircle, London, until 8 September 2022