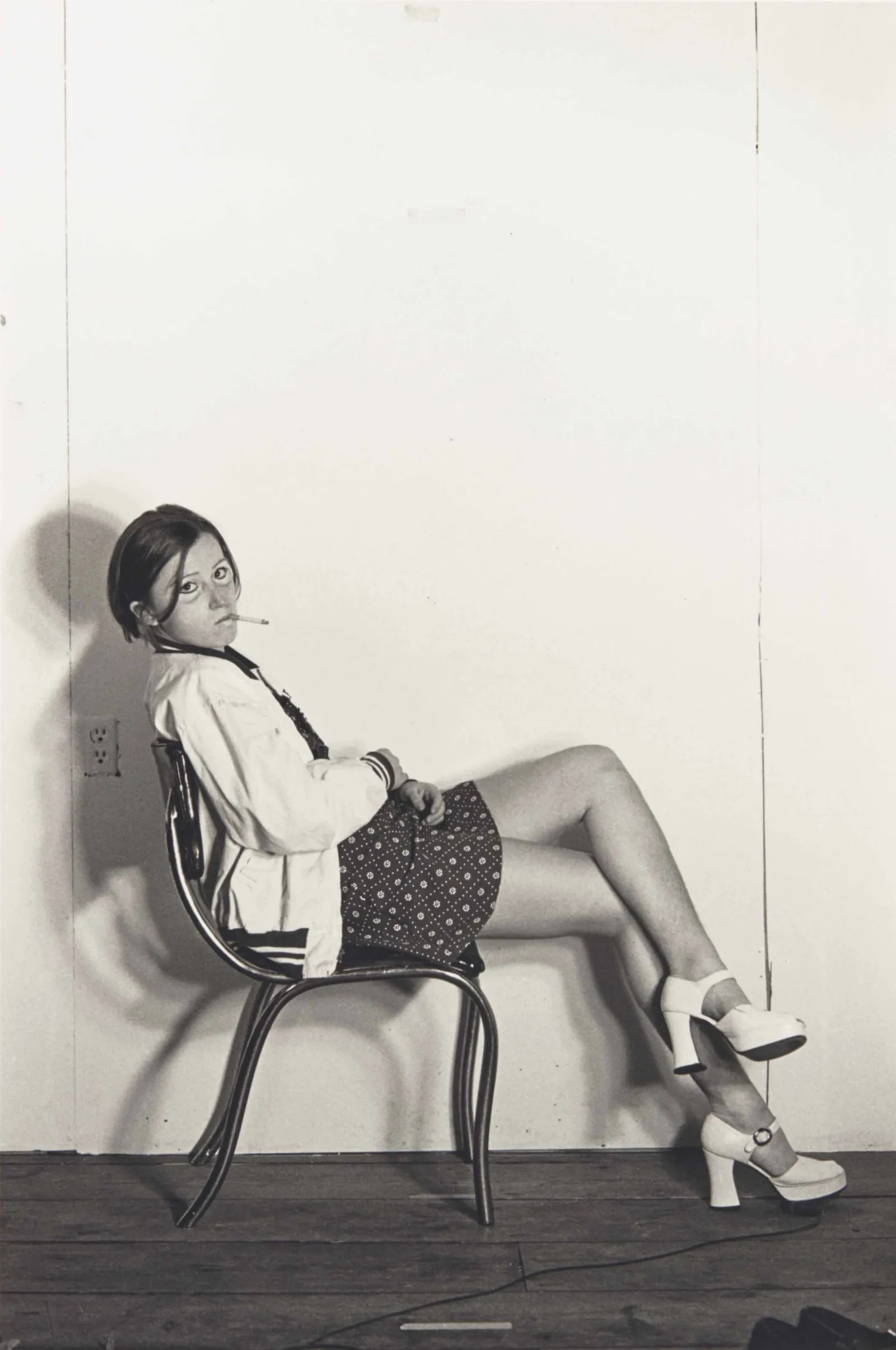 "The female spirit and experience has been a strong focus of my work from the beginning," says Irish fashion designer Simone Rocha. "I am always pushing to make something traditionally feminine in a modern, off-kilter world." Rocha's interest in femininity, and her deep connection to art practices, combines in her first contemporary art exhibition as a curator: Girls Girls Girls, showing at Lismore Castle Arts in County Waterford, Ireland.
Girls Girls Girls seeks to reflect the female gaze through a cross-section of artists who "inspire, challenge and engage with femininity and its subversive characteristics". Covering art, sculpture and photography, the practices on show are as varied as the perspectives. Depictions of femininity range from the sorrowful to the humorous, the uncanny to the empowering, the dreamlike to the blisteringly real.
Various threads connect the artists, who hail from different countries and generations. Some align through an interest in the natural world, others through their use of self-portraiture, and others through their incorporation of textiles, reflecting Rocha's work as a designer.
As with any attempt to capture something as elusive as femininity, Girls Girls Girls lets you settle at certain moments, before pulling the rug from beneath you at others. Here are some of the highlights.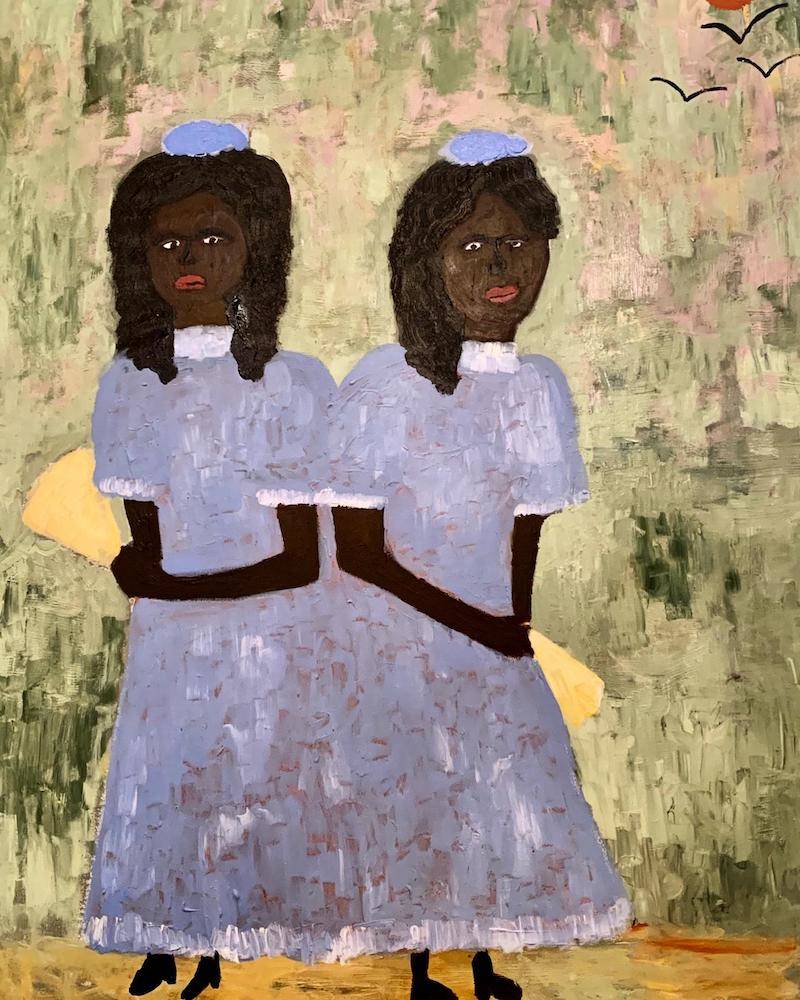 Cassi Namoda, Conjoined Twins in Soft Blue Dressing, 2020
Cassi Namoda is known for abstracting the mythologies and histories of life in post-colonial Africa into narrative-driven paintings. Among the recurring figures in her works are conjoined twins Millie and Christine McKoy, who were born into slavery in the US and sold to a circus freak show. In this painting, pretty pastel dresses and a vibrant floral backdrop initially distract from the anguish on their faces, demanding more careful consideration. "I was thinking about enfreakment and how Black bodies aren't always our own," Namoda has said of her subjects.
Sophie Barber, Kim and Kanye by Juergen Again, 2021
It's difficult to discuss the contemporary female gaze without at least one reference to Kim Kardashian. This work by Sophie Barber, whose focus pivots from the wilds of her native Sussex coastline to Instagram and celebrity culture, feels particularly timely. On unstretched canvas, Barber recreates a staged kiss from photographer Juergen Teller's bizarre 2015 photoshoot of then-mega couple Kimye. It's a tongue-in-cheek rendition of a star-studded, mass-consumed romance (without the tongue), shrunk to the size of your hand.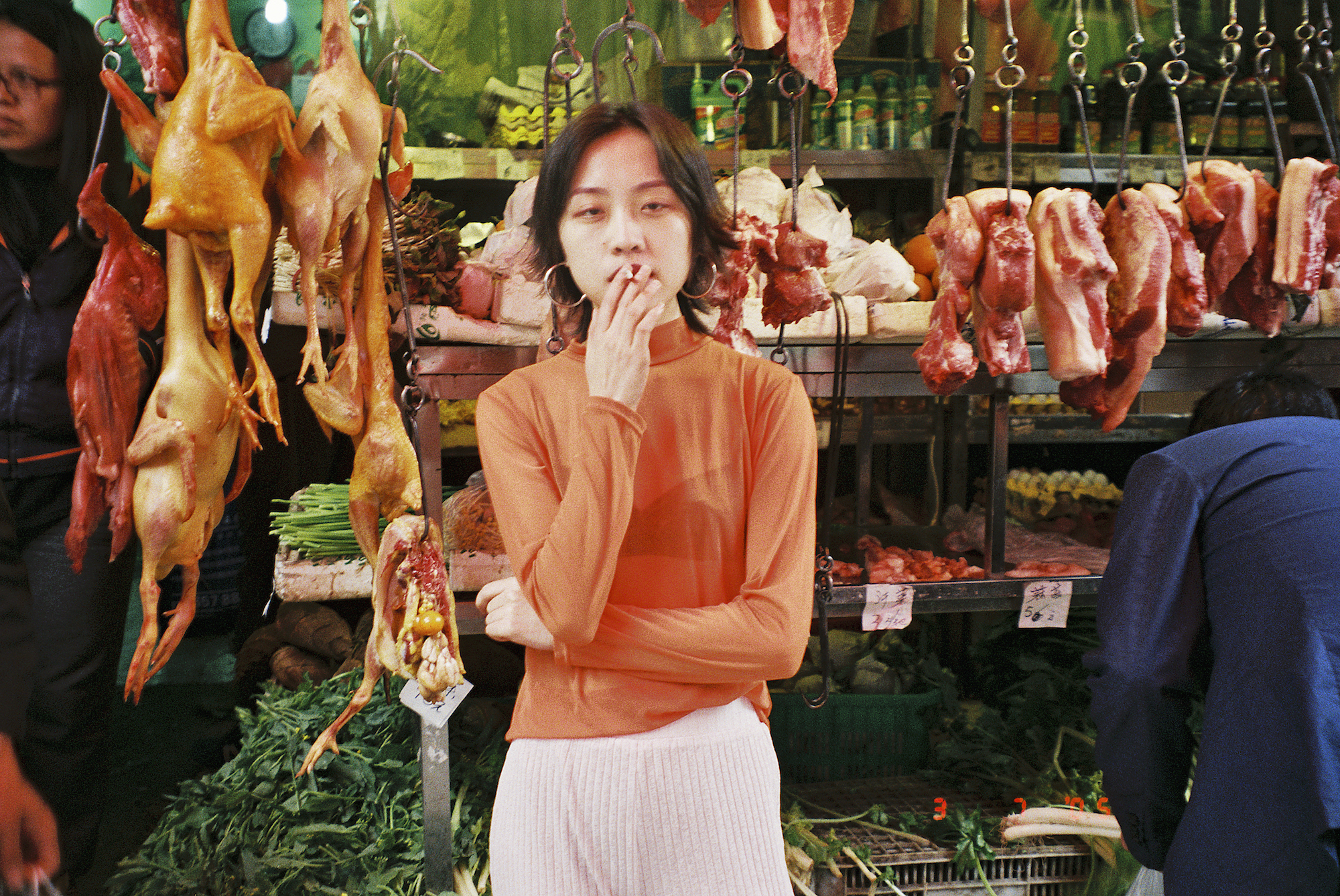 Luo Yang, Jian San, 2017
This photograph is pulled from GIRLS, Luo Yang's decade-long exploration of contemporary Chinese female identity. Yang's portraits are stylish, subversive, and raw, a quality that becomes literal here, as the warm hues of San's clothing blend with the carcasses and meat chunks hanging around her. Like many of Yang's subjects, San stares back at the viewer, somewhat indifferent, somewhat defiant. "I portray women as they are, and present what I've seen in them, this private inside of them which is strong, wild, sad, lonely, free, independent and brave," the photographer explains.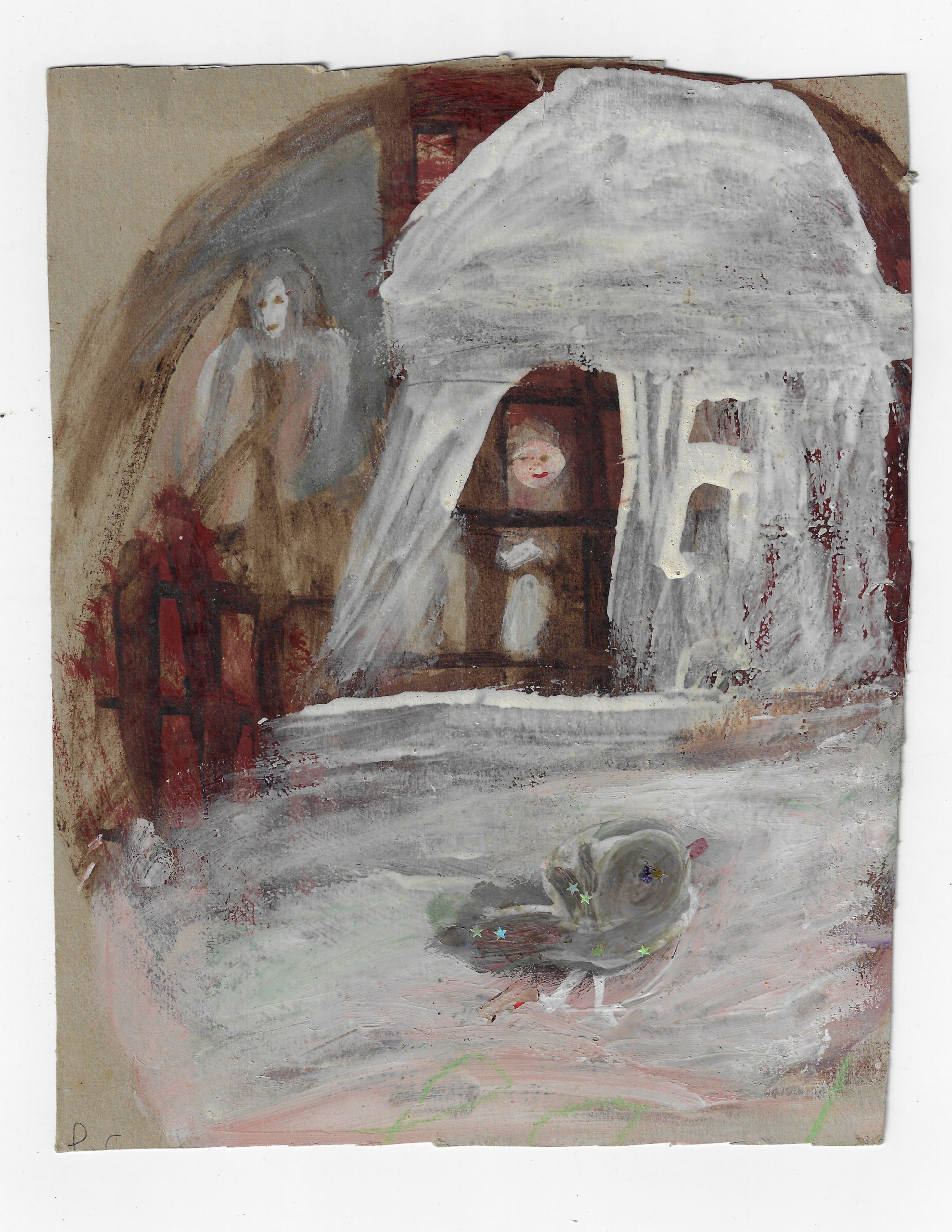 Elene Chantladze, The Ice Cabin, 2014
Growing up, Elene Chantladze would paint storybook characters onto the stones she found on the shore of Georgia's Black Sea. To this day, her work retains that sense of naïvety and connection to the natural world. With its soft palette, milky brushstrokes and sequin stars, this whimsical scene seems to have been pulled from a fairytale. It's hard to tell if this painting portrays some kind of domestic refuge, or if there's something more sinister lurking at the edges.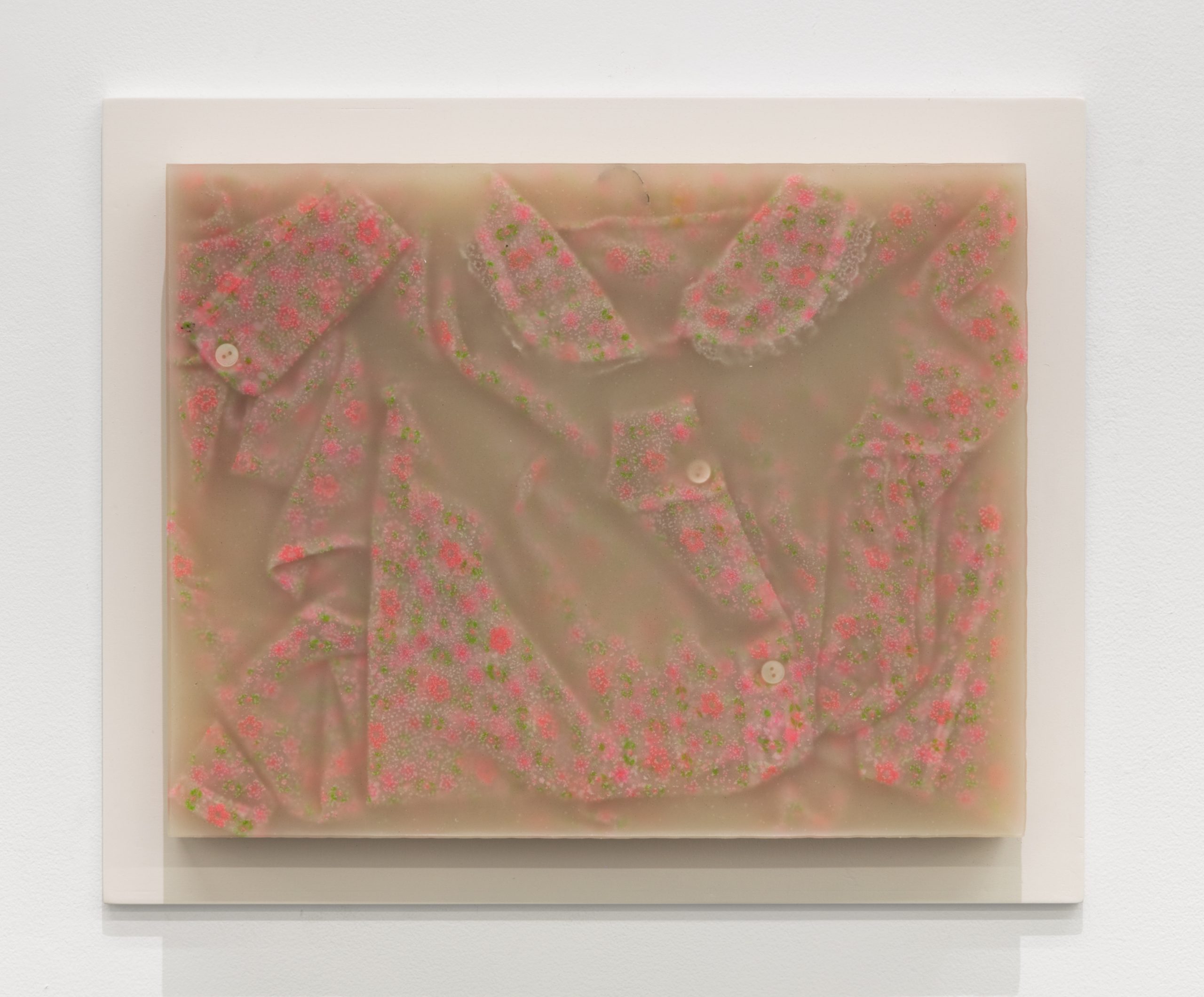 Iris Häussler, Tochter der Schwester Der Mutter (Niece), 1999
In the early 1990s, Iris Häussler began encasing "vulnerable and intimate materials" like this floral dress into melted wax. Her ongoing Wax Inclusions project is a tactile exploration of memory, conservation and personhood. "I use laundry because it is in closest contact to the body, because it touches the most intimate areas," Häussler has said. "It symbolises an 'inside' and an 'outside'. Where do we start as humans and where do we end?"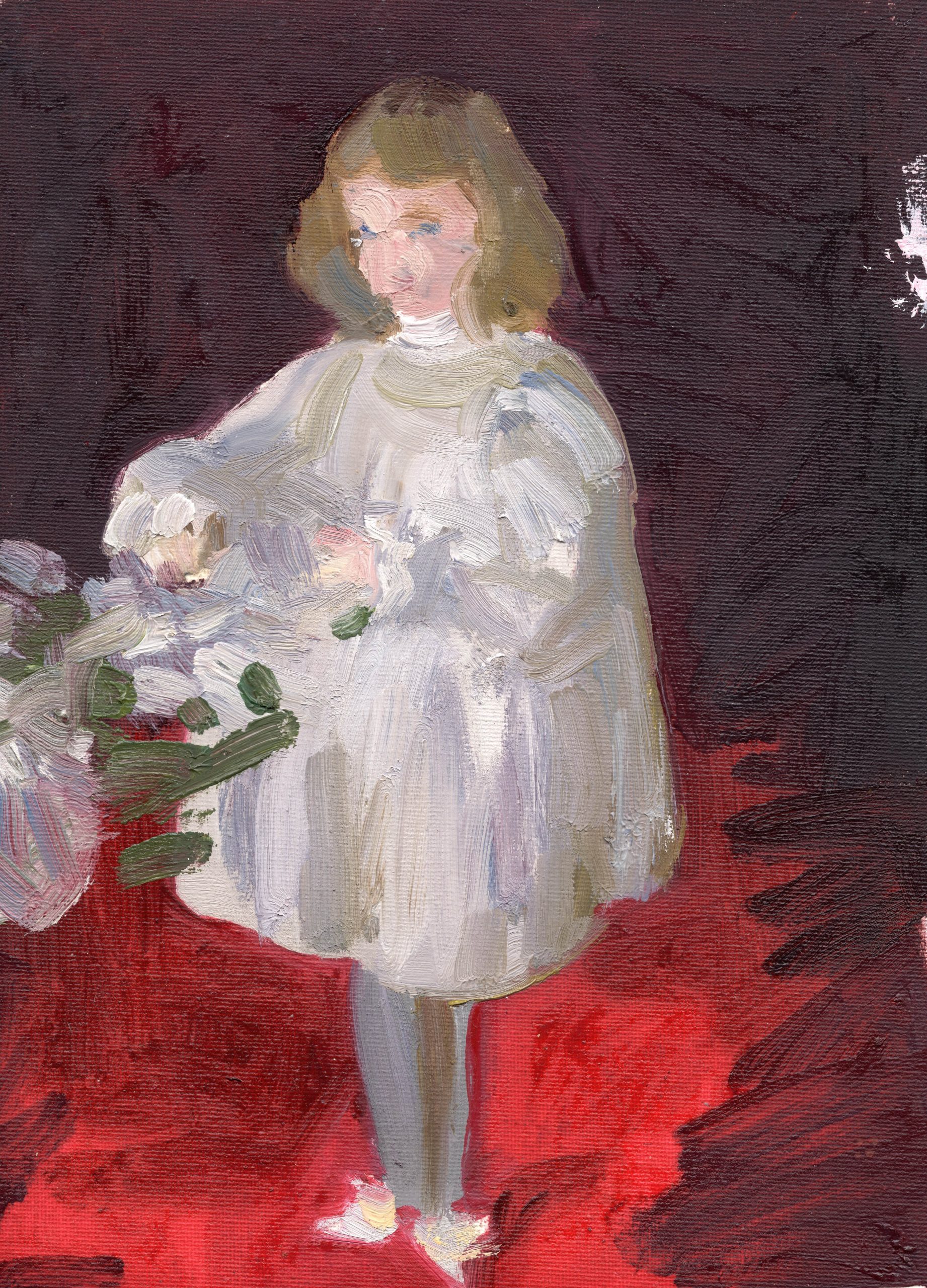 Sian Costello, Wishful Self-Portrait II, 2020
Irish multidisciplinary artist Sian Costello focuses on representing the corporeality of lived female experience. With an eye to art history, she draws on traditional depictions of femininity, such as those of the Old Masters. A culturally ingrained feminine softnesses materialises in the billowing gown that subsumes this doll-like figure. Interested in the performativity of portraiture, Costello positions herself as the subject, constantly considering the relationship between artist, model and viewer.
Dorothy Cross, Stilettos, 1994
If you begin to get lost in the dreamy worlds of some of Rocha's selection, Dorothy Cross's Stilettos is sure to bring you juddering back down to earth. Covered in cow hide with cow's teats for toes, it's a grotesque take on the stiletto heel, a fraught icon of feminist debate, riddled with connotations of sex, power and oppression. The teats are a tender yet disturbing reference to motherhood in all its forms, as Cross refuses to let us separate this fashion item from the flesh and blood animal it's made from.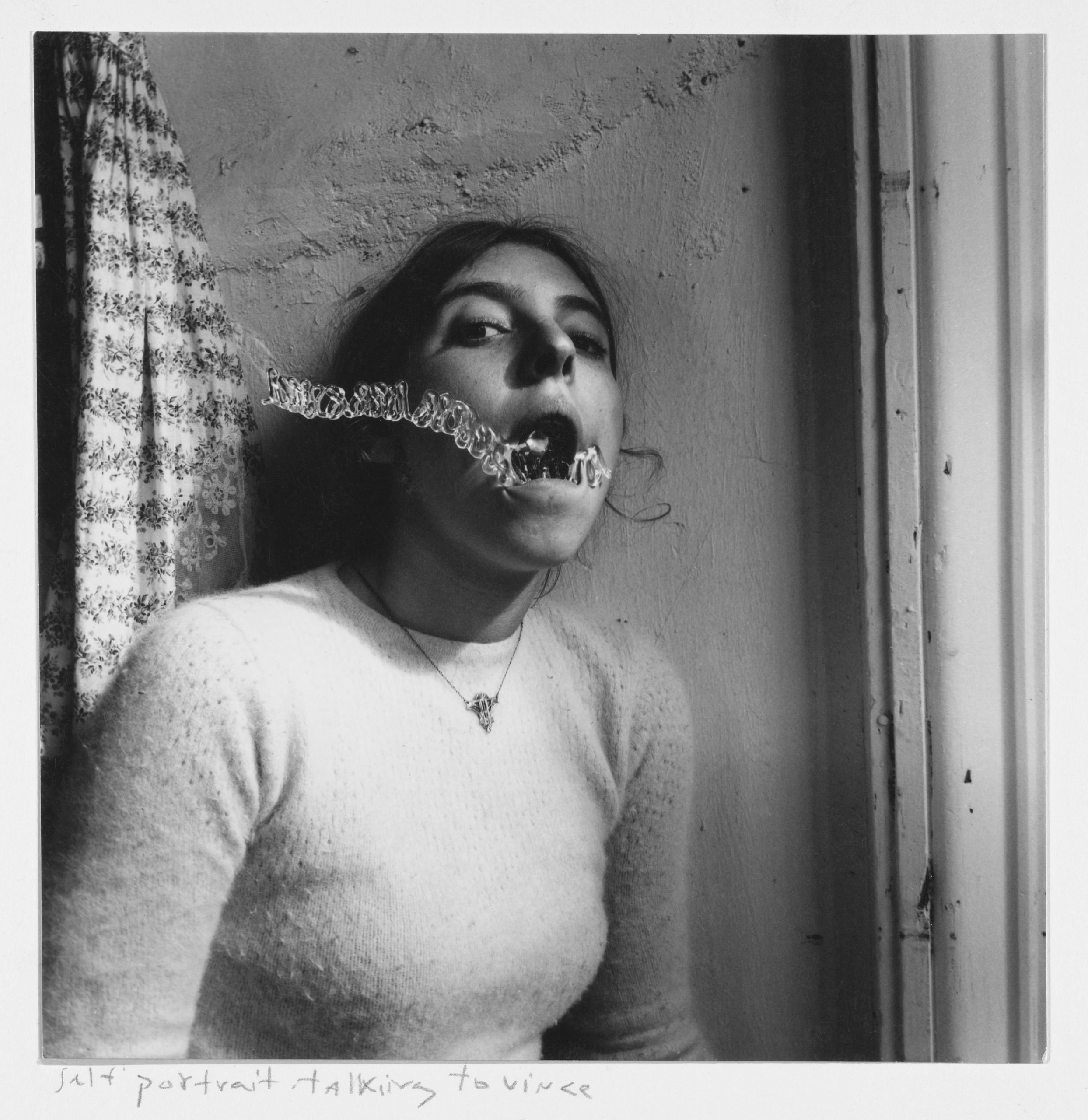 Francesca Woodman, Self Portrait, Talking to Vince, Providence, Rhode Island, 1975–1978
Francesca Woodman's self-portrait carries hints of the abject. Wide eyes gazing down at the viewer, a sinewy object protruding from her gaping mouth, she challenges you to keep looking as something within her is drawn out (is it speech, as the title suggests, or something more visceral?). Part of the photographer's trailblazing interrogation of embodiment and the self, this image resonates with what she wrote shortly before her death: "I was inventing a language for people to see the everyday things that I also see, and show them something different."
Madeleine Pollard is a Berlin-based journalist specialising in culture and current affairs
Girls Girls Girls, Lismore Castle Arts, Ireland, 2 April – 30 October
Elephant introduces the best group exhibitions from around the world
READ NOW