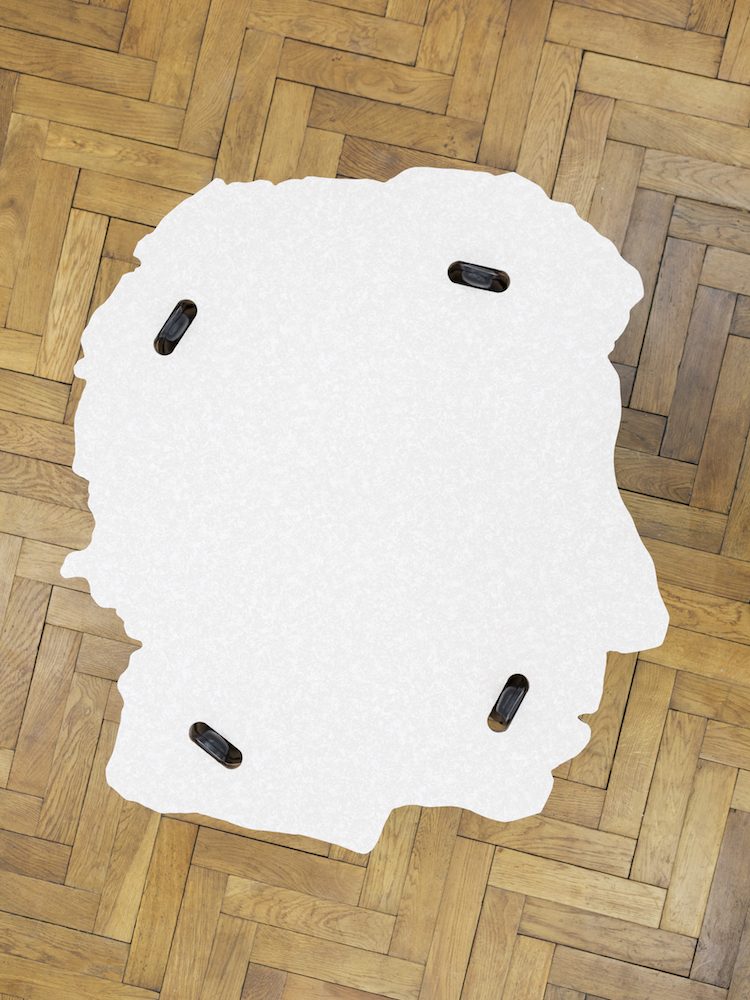 Can you tell me a little about the work that will be shown in Gusto?
For sometime now I have been interested in how the Mediterranean culture of making is respected throughout the world; the status that comes with a product or construction technique that is planned, manufactured and packed in that country. I have always been absorbed by modes of making and the significance of domestic and personal objects (also replicas) we buy, own and use.
When in Italy this summer I saw amazingly bad trompe l'oeil marble walls in a small chapel, heavily plastered surfaces with deliberate neatly crafted holes exposing the brick work underneath and numerous fabrics replicating nondescript materials. This became a starting point for the works on show at Studio_Leigh; I have made a series of portrait sculptures — facial profiles cut from glass or wood and Formica that act as tabletops. Propping these tops are casts of different types of 'Italian Wedding Shoes', bought on Ebay. These are all size 9 loafers. The casts are coloured with earthy tones and then shined with shoe polish.
Accompanying the loafer tables are fifteen bare polished plaster panels; these are made from standard skimming plaster and polished with shoe polish and car wax to attempt to replica the Venetian plastering technique. They are hung in a formation to create an alter-like, sobering tone in contrast to the profile sculptures.
What appealed about working with Polo Maldini shoes in particular?
The Polo Maldini shoes were not advertised as any specific brand when I bought them. The brand was insignificant. The eBay listing was —  'NEW MENS SMART OFFICE WEDDING SHOES ITALIAN DRESS WORK CASUAL FORMAL PARTY SIZE'. Maybe this on its own starts to answer the question. I wanted to use casts of loafers to support the glass tops, these ones in particular were so appealing because of their lost status. They had such versatility according to the description that it I felt like I had to look closer. Once I clicked on the advert images the shoe had a mottled faux leather texture with a soft square toe. They were so enticing because they had such an awkward and ambiguous identity.
"The quality is in the eyes of the beholder…." is used in the style forum discussion around the shoes, and could well be applied to much of the items you create — the intended feel, obviously, not the pieces themselves. What is it about taste and quality that interests you?
I am interested in how taste is defined through social groups and the objects we own. Domestic objects carry intrinsic identities and I am interested in how 'things' are often designed to mimic more expensive, more exclusive versions.  The consequence of this obscures social positions or revealing a desire to belong. I always question the truth of these ideas, where people attempt to replicate or intentionally disguise wealth (and occasionally the opposite). For this show I have used materials that allow me to playfully manipulate and reposition, creating work that has an ambiguous identity.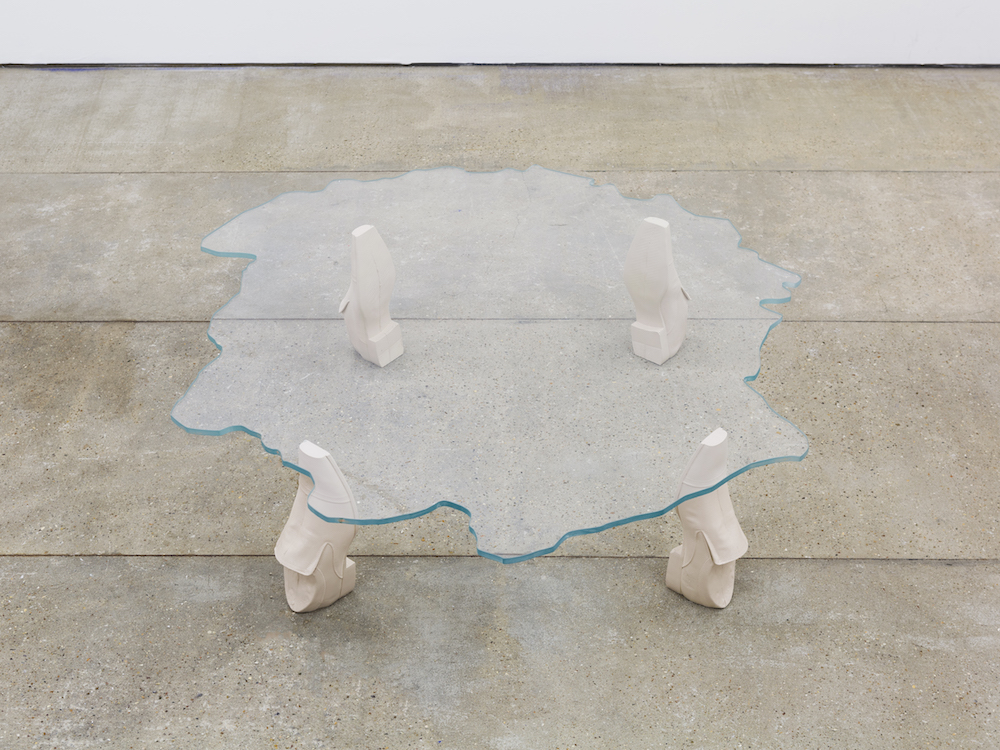 There's often one material masquerading as another in your work, which could fool an onlooker initially. How convincing do you hope for these material tricks to be?
I'm happy for that to happen initially but I don't want there to be too much illusion. There are always clues, the shoes, for example, are not hollow as they have been filled with clay prior to casting and I have left the seams from the mold making process deliberately. They have also been cut to create flat surfaces to balance the glass on. The aim is not to create objects that pretend to be something, but to use the component materials in the work that on their own mimics the real.
What tends to be the starting point of a work for you? Do you begin thinking of initial objects or materials, or of the general area of cultural significance your final object will have?
Starting points vary; I use objects, images, materials, furniture, buildings — I use making as a way of thinking and believe that combining seemingly basic, yet sophisticated ways of fabrication can help embody the social or cultural significance. Thinking about the cultural history of these objects is constant when it comes to the making of my work. It is an awareness of this that helps me select materials and objects to bring together; the selection of these is an illogical and complex process that feeds the final works. I also consider malleability, tone, texture, original use and scale.
Matt Ager 'Gusto' shows at Studio_Leigh from 10 November until 14 January 2017. Images courtesy Studio_Leigh