A current show, Trees, at Fondation Cartier is entirely dedicated to exploring the role of these commanding plants in art, science and the world at large. Trees call to mind ancient myths, and childhood stories where whole universes exist within enormous trunks. They also make us think of deforestation and industry, of human politics and destruction. Trees have been given human properties in culture—marching forth in the worlds of Tolkien and Shakespeare (involving war in both cases, and varying levels of human intervention), and the forest as a whole is often used symbolically in the arts as a place of both discovery and threat. As rainforests burn in Brazil and the global conversation about climate change becomes ever more urgent, trees hold a hugely symbolic place in the collective consciousness.
It feels fitting then, that Ai Weiwei's latest Roots pieces, created last year while the artist was working in Brazil, should be on show right now at Lisson Gallery in London. The weighty works, though created in orange rust-coated iron, look as though they have been dragged in straight from the forest, a chunk of sliced-up nature coming to nestle within the clean internal and external walls of the gallery space. The works appear both wild and tamed, powerful but cut down; a strong reminder of our human role in the changing face of nature, and a reminder of how powerful nature is.
Of course, we only see this view of a tree when it has been uprooted, it's usually safely hidden from view. This connects again with human intervention, and with the life of the "uprooted" artist—since he was allowed to leave China in 2015—and the lives of refugees around the world who have suffered at the hands of destructive human forces.
"The works appear both wild and tamed, powerful but cut down"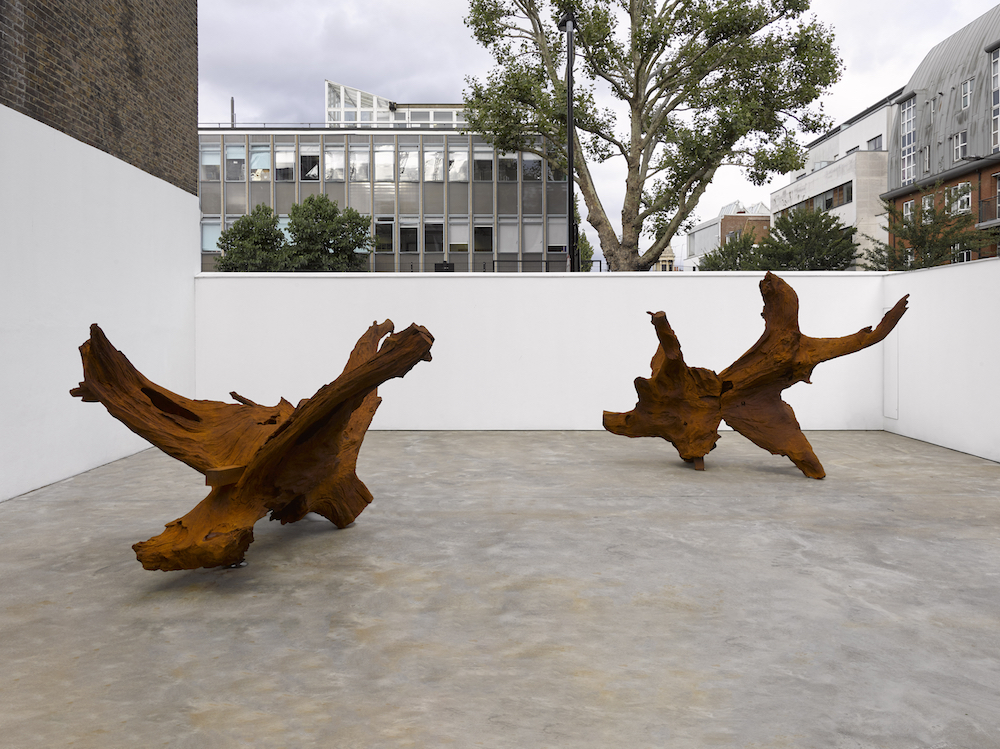 The works also reference the admiration and imagination that trees provoke. "While some resemble great jungle beasts or fantastical creatures, such as the three- and four-legged works Flyand Level, others including Party and Martin (all 2019) consist of shattered, exploded root forms radiating outwards from a central nexus," says the gallery. "The titles all came as suggestions from Ai Weiwei's young son Ai Lao, based on his personal observations or connections made when visiting these tree remains with his father, adding to the sense of surreal displacement and alien disjointedness."
The artist has been working with tree forms for some time. These particular works are cast from the roots and trunks of the endangered Pequi Vinagreiro tree, sourced with the help of locals and communities across Brazil. A film downstairs in the gallery shows the detailed process that is behind the works.
Ai Weiwei: Roots
Until 2 November at Lisson Gallery, London
VISIT WEBSITE