Malawian artist Billie Zangewa uses rich, luxurious materials to chronicle her everyday life in Johannesburg. She combines vibrant silks, gems and occasional haberdashery trimmings in meticulous textile pieces that celebrate relative mundanity as well as her own identity as a woman of colour. She name-checks fashion houses and famed institutions such as The Ritz as often as she depicts bustling crowds and cluttered living rooms, thus producing a literal tapestry that shows the fullness of quotidian existence, whether that be dreams of Paris, or lying in bed with a lover. Her labour-intensive processes recalls the historic implications of "women's work" but remain a steadfastly contemporary interpretation of lived experiences.
Your work has been described as "silk painting". Could you tell me a little about your working process?
I start off with some research photos from which I make my initial line drawing on newsprint paper. Then I pin the paper onto silk and cut and place the silk cuts onto a background piece of silk. Finally, I hand sew it all together.
What draws you to using raw silk in your work, and how did you first come to it as a material?
It's an incredibly seductive, sumptuous and generous material. I came upon it purely by accident while accompanying an interior designer friend who was sourcing fabrics. I was attracted to the Dupion silk and collected swatches of it everywhere we went. At this point in time I could not afford to buy any—the swatches were free. When I got home I had a look at all the samples together and they called to mind the glass panels of the buildings in Johannesburg's Central Business District. So, I assembled them to make my first cityscapes. At a certain moment, my work began to interrogate experiences I'd had in the urban setting and through them I found healing and understanding. The silk that I was seeking was also seeking me.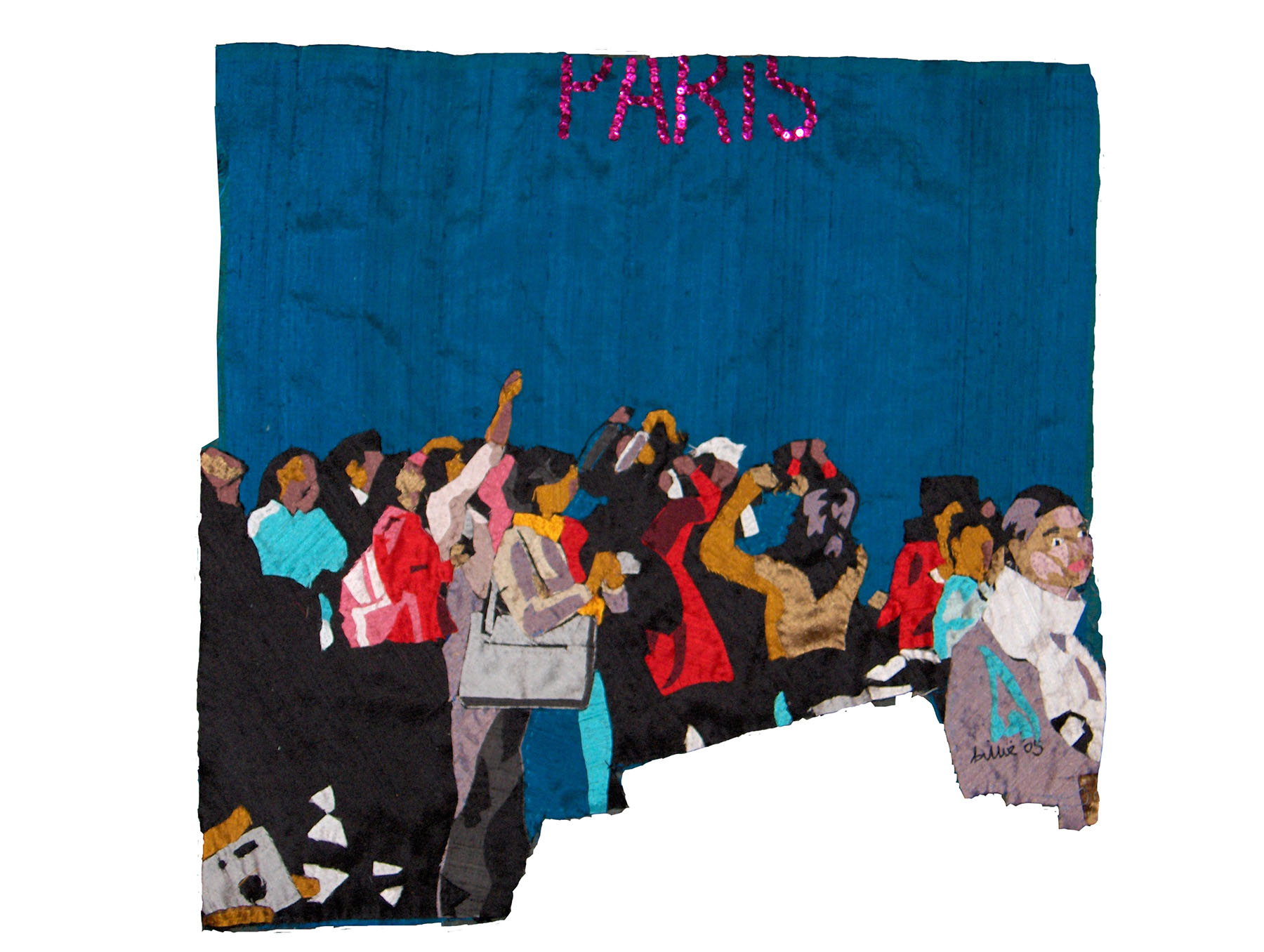 You often position yourself as the subject of your pieces. What themes would you say you're dealing with?
I'm dealing firstly with identity, as well as sociopolitics around gender and skin tone, in a gentle everyday manner. I'm also exploring the different roles that women play in society, including motherhood and the impact that it has individually and collectively.
After completing your fine art degree you worked in the fashion industry, before transitioning back in to the art world. What were the challenges involved with this transition? How far do you feel the worlds overlap?
Financial independence was a very important factor. It is the reason I found myself in the fashion industry. As time went on I made some connections and could find work as a part-time model, fashion assistant and I also got singing gigs. This allowed me to pursue my dream without financial restraints. For me the two worlds overlap as I take my visual inspiration from fashion photography and garment design. I also see fashion as addressing and reflecting sociopolitics and there is great creativity involved, as with fine art.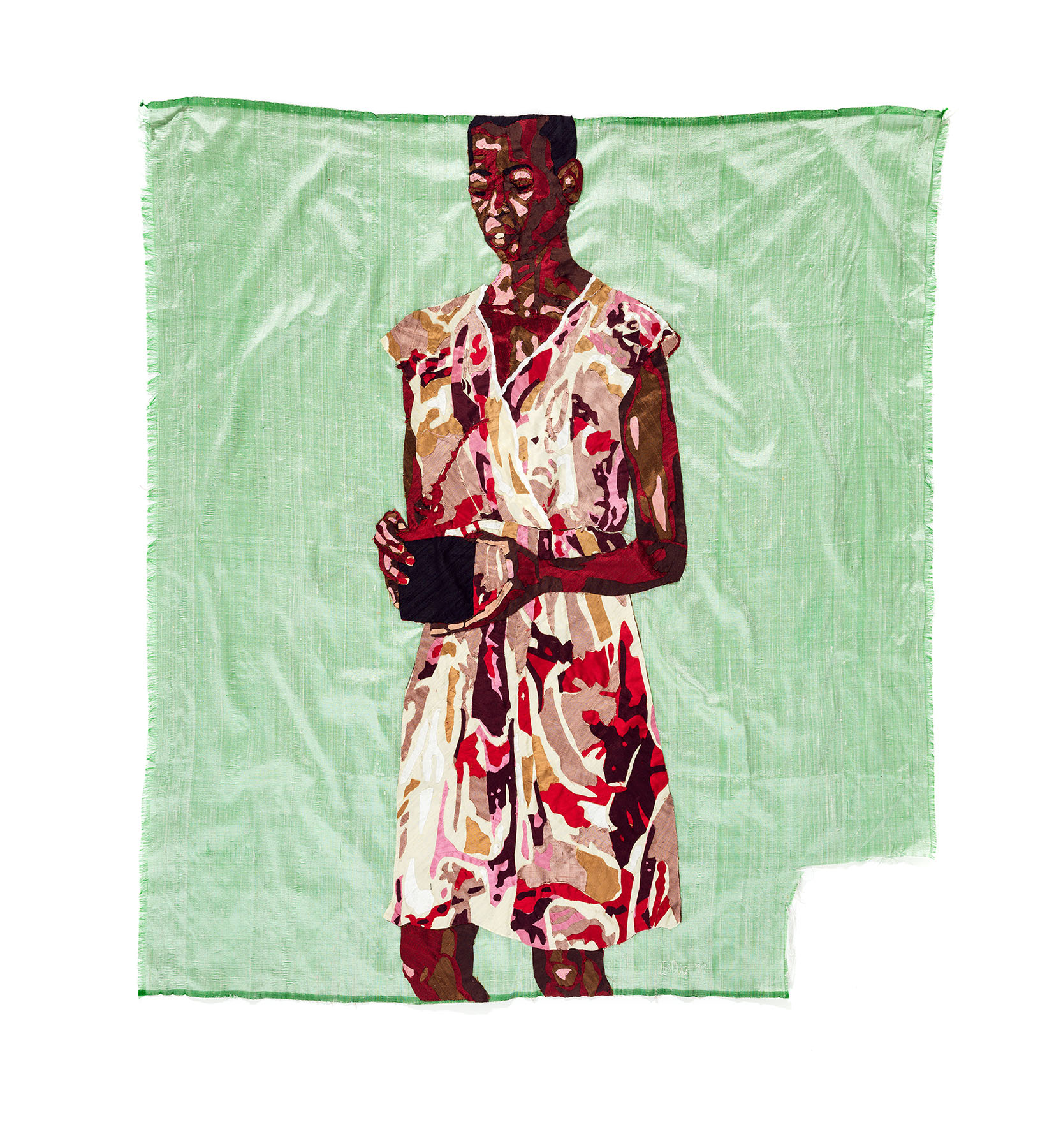 Some of your work has a strong narrative. Do you ever illustrate real life events?
I derive all my narratives from actual personal experiences either mental, physical or visceral, so yes, on different levels I am documenting personal history, so to speak. I have always been drawn to different visual narrative forms such as cinema, graphic novels, photography etc. Telling my own story is a kind of personal empowerment; taking charge of my own story and using my voice. Historically this has been very difficult for women in general, but for women of color in particular, with many social obstacles to overcome.
All images © Billie Zangewa, courtesy galerie MAGNIN-A, Paris