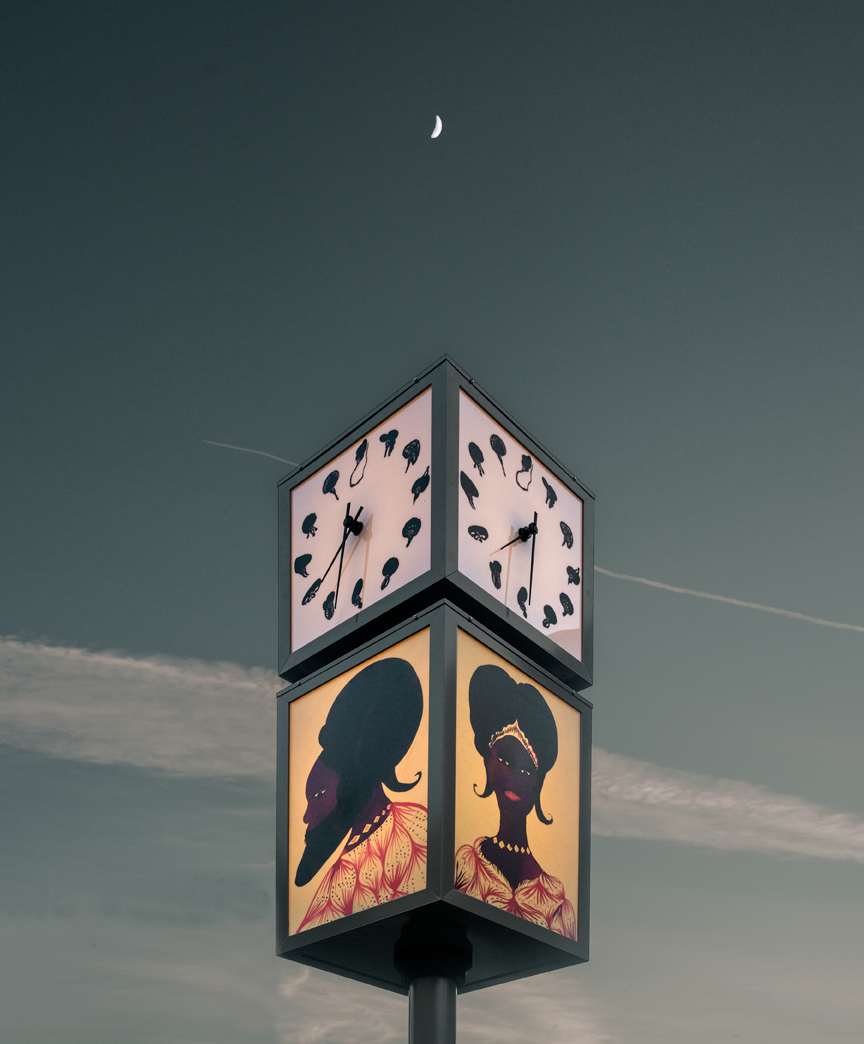 Last year, while taking a familiar shortcut through Hoxton Street in London on a particularly beautiful evening, I found myself in front of an enormous clock on the newly regenerated pavement that flanks Peer gallery, on the south end of the road. This twelve-foot installation, comprising two boxy segments, features site-specific works by Chris Ofili, the Turner Prize-winning artist known for exploring black culture, history and beauty, as well as issues of exoticism and police violence.
The clock, titled Black Hands, sports tiny "Afrohead" pencil drawings on its face in place of numbers, and underneath a gently revolving box displays four illuminated "Afromuses". These fluid, vibrant watercolours depict black figures in brightly coloured, heavily adorned outfits, which seemed to shine brightly against the darkening sky during my chance encounter. The four portraits are part of an exhaustive series of imagined personalities that the artist produced over a ten-year period. He considers them a form of "intimate gratification", where he can simply set his mind free, explaining: "Really it's about a formal exercise––the enjoyment of the type of paper, the consistency of the watercolour, the softness of the brush, the way the paint will soak into or flow across the paper."
However, as part of the clock, these watercolours become far more than a simple artistic excercise. They take on a new form of semi-functionality, in one way becoming embedded as part of the street furniture, but also offering an accessible form of "high art" that can be enjoyed by the local community. For Peer, who commissioned the work, this chimes perfectly with their "core ethos to make the experience of the highest quality art part of everyday life" and Ofili chose these particular works in response to his personal connection to the bustling high street. The clock also formed a defining part of the gallery's refurbishment, which includes a small public garden commemorating Khadija Saye (the artist and former Peer intern who died in the Grenfell Tower fire) as well a circular bench and bicycle rack; no doubt in the hope that passers by will feel encouraged to stop and contemplate the installation.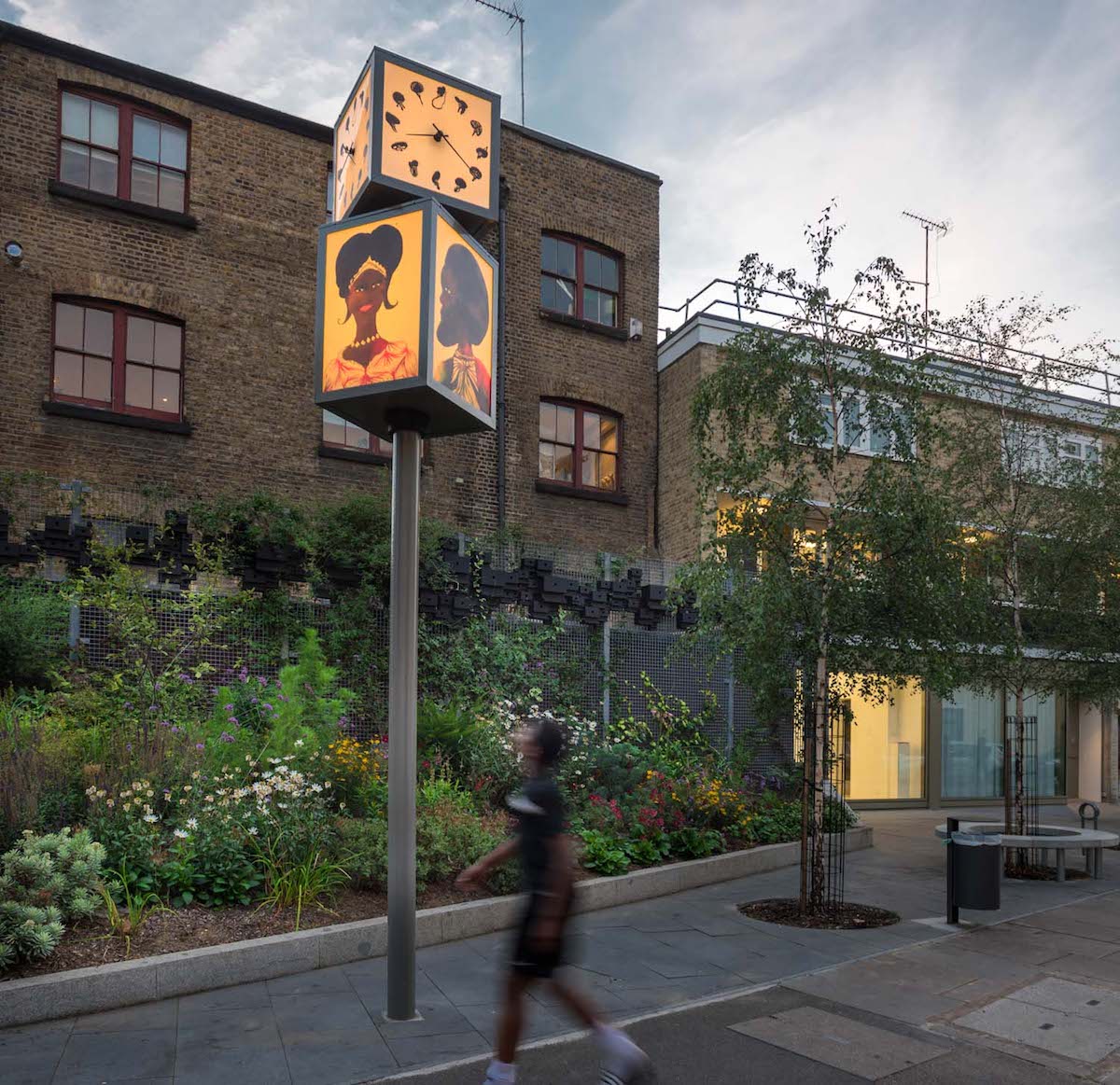 In reality, even a moment of brief recognition can be considered a triumph for any piece of public art, and these vivacious paintings certainly seem to hold more relevance and appeal than much of the corporate abstract sculpture found down the road in Shoreditch and the City. Portraiture is reasonably rare in public sculpture (if you discount statuary) and images of non-white figures are even rarer, so it is refreshing to see Ofili's glorious celebration on a street that has traditionally been home to first and second-generation families and businesses.
Originally, Black Hands was meant to be the first of a series of annual commissions, giving different artists the chance to make the clock their own. However, there's been no sign of his work being replaced and the gallery has stated that the schedule is now looking "more flexible". I can't help but hope that this version will remain a permanent addition to Hoxton Street.
Images by Denis Guzel