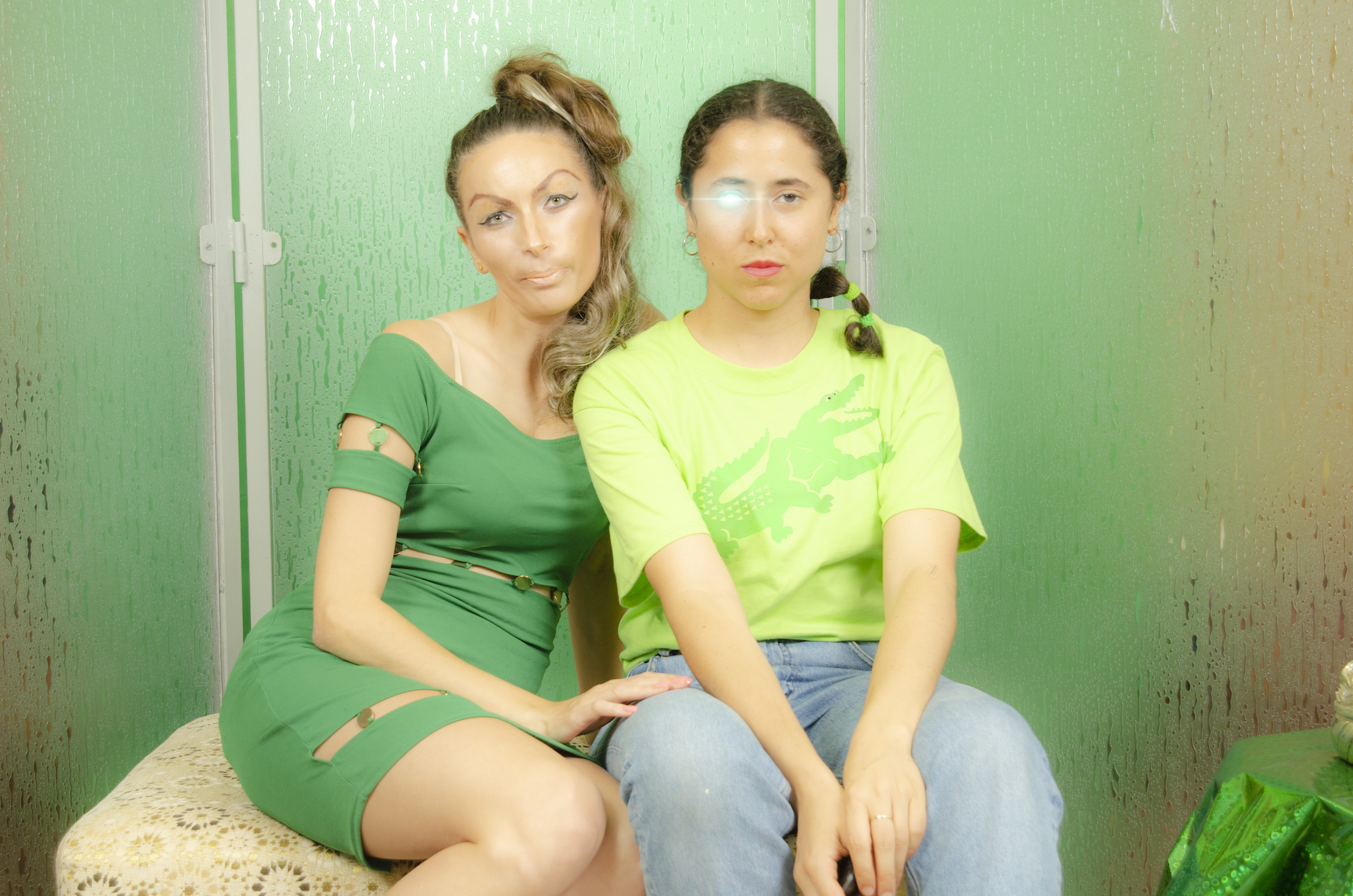 In the dystopian first days of the pandemic, an era defined by a moratorium on skin contact and cities that were reduced to empty stage sets, one hot take broke the internet. Unusually, it featured no humans at all. In New York-based Moroccan artist Meriem Bennani's online video series 2 Lizards (2020), a band of 3D rendered anthropomorphic animal characters, including cheetahs, mice, raccoons, and the titular pair of reptiles, roamed the streets of New York.
Together, these unlikely protagonists narrated the politics and feelings of lockdown in New York (the weirdness and ennui, the chaos and the eerie calm) as it unfurled in real time. Released in a drip-feed over Instagram, the episodic project (made in collaboration with Orian Barki) quickly became an art world sensation, racking up hundreds of thousands of views and later being acquired by MoMA.
For Bennani, 2 Lizards embodies the fear and vulnerability that characterised the early Covid era, but cuts through it with a sense of lightness and humour—a kind of emotional balancing act that's central to her practice.
In a world that's grown increasingly turbulent, and with large swathes of our recent history occurring online, Bennani's mode of SFX-laden storytelling has become a unique cipher for the present, not by making sense of it, but rather by resonating with its nonsensicality. Her work has been shown widely in recent years, with presentations ranging from the Whitney Biennial in New York to the Biennale of Moving Images in Geneva (both 2019), as well as solo shows at MoMA, the Renaissance Society in Chicago, and an upcoming sculptural debut for New York's High Line this summer.
"I'm a professional amateur," Bennani explains, while discussing the sci-fi thematics framing the recently completed CAPS trilogy, which she has worked on since 2018. "I learn quickly about one thing and then tie it to something else I've dipped my toes into, but to me, it's only interesting if it resonates with what we're going through in real life."
Bennani speaks quickly, with a sharp but roaming focus. Our conversation moves fluidly between topics like teleportation and life extension experiments with rodents; metaphysical borders and the possibility of uploading consciousness across bodies; the relationship among technology, philosophy, and capitalism; queer transhumanism, generational trauma and tornadoes. All this in under an hour.
"I'm a professional amateur. I learn quickly about one thing and then tie it to something else I've dipped my toes into"
With a background in animation, Bennani is at home with the time-sensitive medium of video, but is more interested in using the format like a carrier bag that can hold multiple stories rather than a singular, sealed narrative. Her work is emblematic of a new narrative turn in video art that abandons neat transitions and linear progressions in favour of episodic, multimedia storytelling. Unfurling through a multiplicity of human and nonhuman perspectives, her narratives unspool across hallucinogenic and layered architectural environments, often with no clear beginning or end.
"For me, the storytelling is the emotional trajectory and the people that I'm working with: it doesn't fit into one single style or genre," reflects Bennani. "I think about genres more like containers. I'll adopt whatever visual language best fits the scene at hand."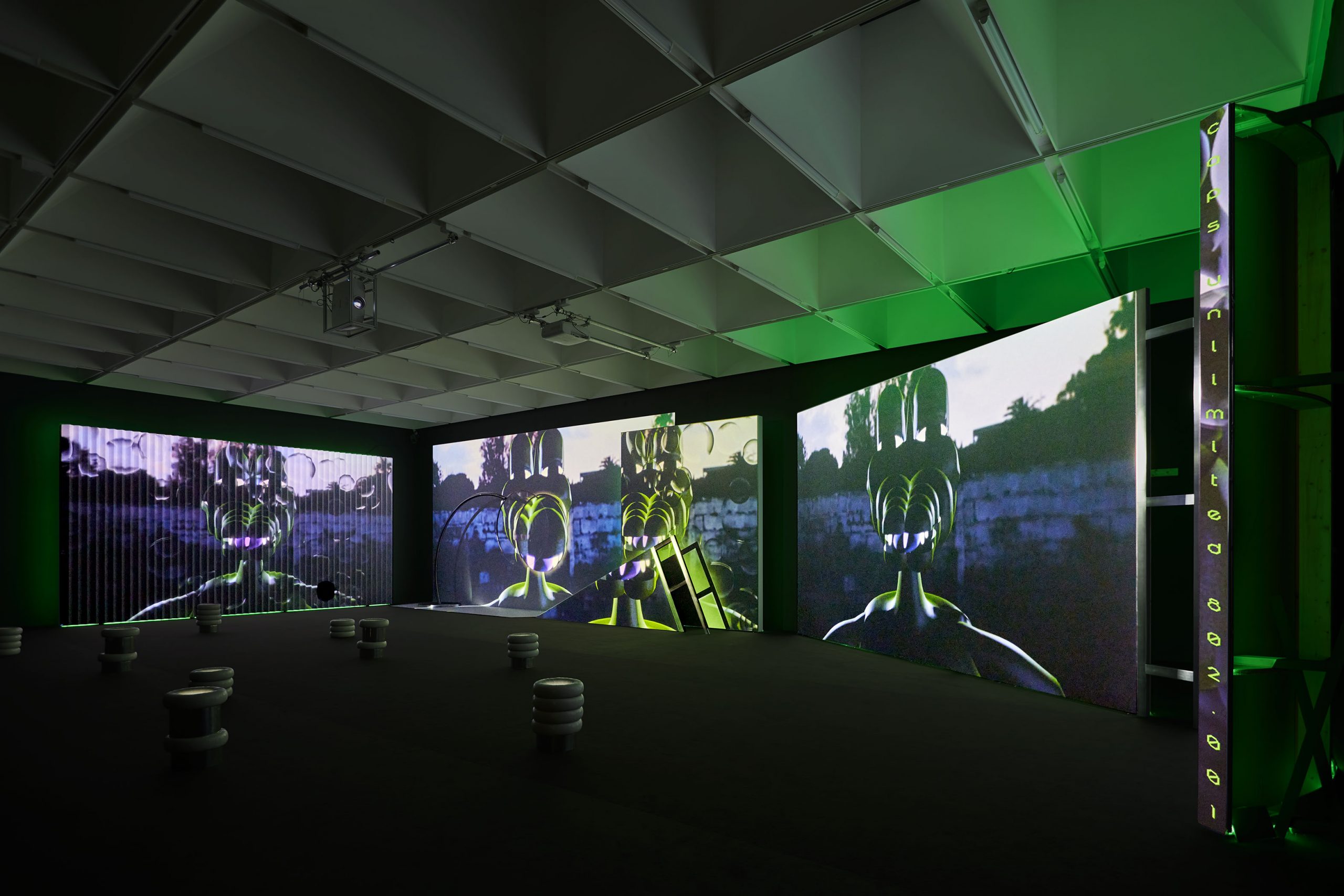 The artist's sprawling video installations teeter on the knife's edge of total chaos and controlled maximalism. They typically feature numerous film projections amid a playground of sculptural interventions, creating immersive video landscapes within the gallery space. Though the aesthetic quality of Bennani's films is equally porous, with a dreamy, polyphonic narrative that curdles cosmologically from one scene to the next, they're also supervalent: the artist puts a single subject under a microscope and inspects it from all angles.
For Bennani's CAPS trilogy (2018-2022) (the first and final films of which are currently on show at Nottingham Contemporary, after premiering at the Renaissance Society in Chicago earlier this year) this tentacular topic is teleportation. Set in a speculative future where teleportation and body-switching have replaced air travel, the three-part story revolves around a fictional island called the CAPS.
"I think about genres more like containers. I'll adopt whatever visual language best fits the scene at hand"
Located in the middle of the Atlantic Ocean and controlled by a magnetic forcefield and American drone troopers, the island's resident migrants (known as CAPSi) all underwent the same traumatic experience of being intercepted mid-teleport to the United States. This sense of disruption and perpetuated transition manifests through a number of technologically-wrought mutations, most prominently 'plastic face syndrome'.
The first video, Party on the Caps (2018-2019) is presented in Bennani's typical multi-channel cacophony. Its narrative is spread across eight projections of varying size, and includes one screen which shows a gigantic magnifying glass that distorts and turns mouths into monstrous, wet black holes.
Meriem Bennani, Party on the CAPS (film stills). Courtesy the artist
The film features multiple characters played mostly by Bennani's friends and family in Morocco, including a cyborg rapper, a souped-up senior inhabiting a twenty-something's body, and Bennani's mother, who plays her real-life role as a pharmacist, but translated into the CAPS multiverse.
Their lines are mostly ad-libbed. Occasionally, we hear Bennani herself behind the camera, posing interview-style questions that briefly tilt the work into a pseudo-documentary. We're later thrown into a reality TV-style birthday party in the Moroccan district of the CAPS, where ladies in transfigured bodies gossip about green M&Ms, illicit love stories, and various body-swapping procedures.
"My process is less character-building, more true character translations. The characters are the story"
"My process is less character-building, more true character translations," explains Bennani. "The characters are the story. I work in an intuitive way with people who interest me: I translate them into the narrative, and build the world out from there. In the filming process I have to be very alert and flexible, but also very open."
The human touch of these improvised scenes punctures the doomsday undertone of the work. Amid the brutality and technological meltdowns that characterise the CAPS multiverse, Bennani's stories are also distinguished by a rare quality: hope. This is particularly true in Life on the CAPS (2022), the final chapter of the trilogy, which is presented as a single-channel work, a new direction for Bennani. Set to a transcendent, gently gothic score created by musician and producer Fatima Al Qadiri, the film feels monumental yet weightless, oscillating between crocodile-filled CGI backstories and real-world environments.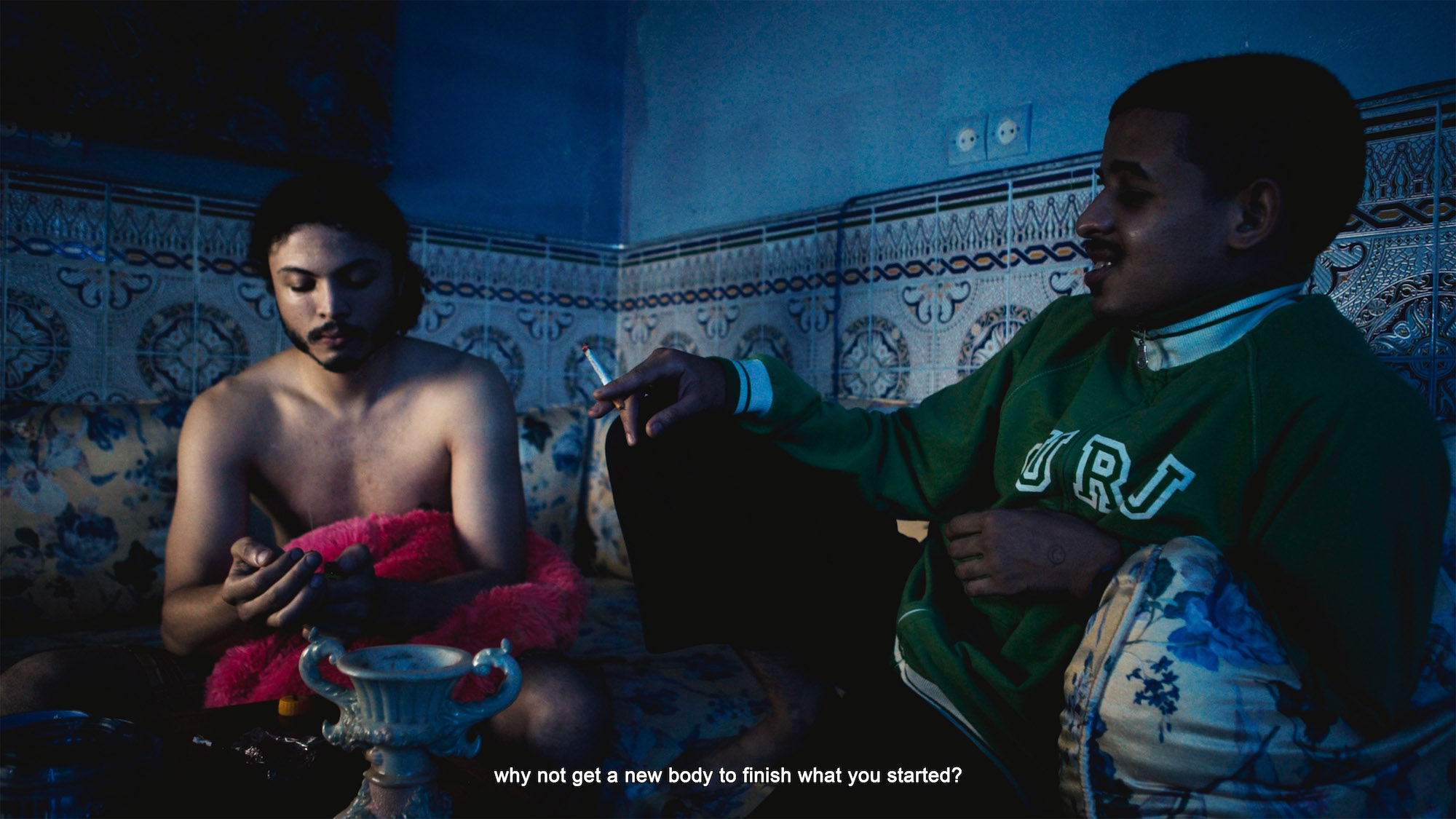 We encounter a series of characters, including musician Amyn and his 65-year-old uncle Kamal, who has acquired a new body in order to fight for an imminent CAPSi liberation movement. Under these transhumanist metaphors of teleportation and body upgrades, boundaries between individual and collective identities, bodies and politics, and the mythic and the real melt together in Bennani's signature style of disjunctive storytelling.
Life on the CAPS concludes with a group dressed in green performing a protest ritual in the ruined lobby of a postmodern American car dealership: their chanting and clapping first rivals Qadiri's score, then melts into it. Just as the scene is poised on the edge of a breakthrough, the film fades out, leaving us to speculate on its revolutionary outcome.
"It's a future that's more queer, where bodies are not functioning in the same network of signifiers"
While the trilogy's finale hinges on multiple states of possibility (political, bodily, collective, technological) it never strays too far from the familiar, which dilates to become otherworldly. "The final video is definitely a hopeful attempt at imagining CAPS in the future," shares Bennani. "It's a future that's more queer, where bodies are not functioning in the same network of signifiers."
Writer Ursula K Le Guin, who likewise rejected the constriction of genres, once suggested that science-fiction and its speculative offshoots should be understood as a descriptive, rather than a prescriptive, practice. Zooming out beyond the CAPS trilogy, Bennani's larger practice seems to suggest something similar. Its urgency, beauty and humour reflect on the political and social realities of a hybrid and metamorphic present, rather than any kind of future-casting.
"So much art focusing on protest or political issues tries to have an aesthetic authority or more realistic approach that recreates the side it's on," reflects Bennani. "Without any space for dialogue, it quickly becomes very boring. That's not what I'm trying to do. I want to keep things open-ended."
Alice Bucknell is a North American artist and writer based in London. She is the organiser of New Mystics, a platform exploring magic, mysticism, ritual, and technology
Meriem Bennani: Life on the CAPS is at Nottingham Contemporary until 4 September 2022
Discover Elephant's in-depth examinations of important artists
EXPLORE NOW