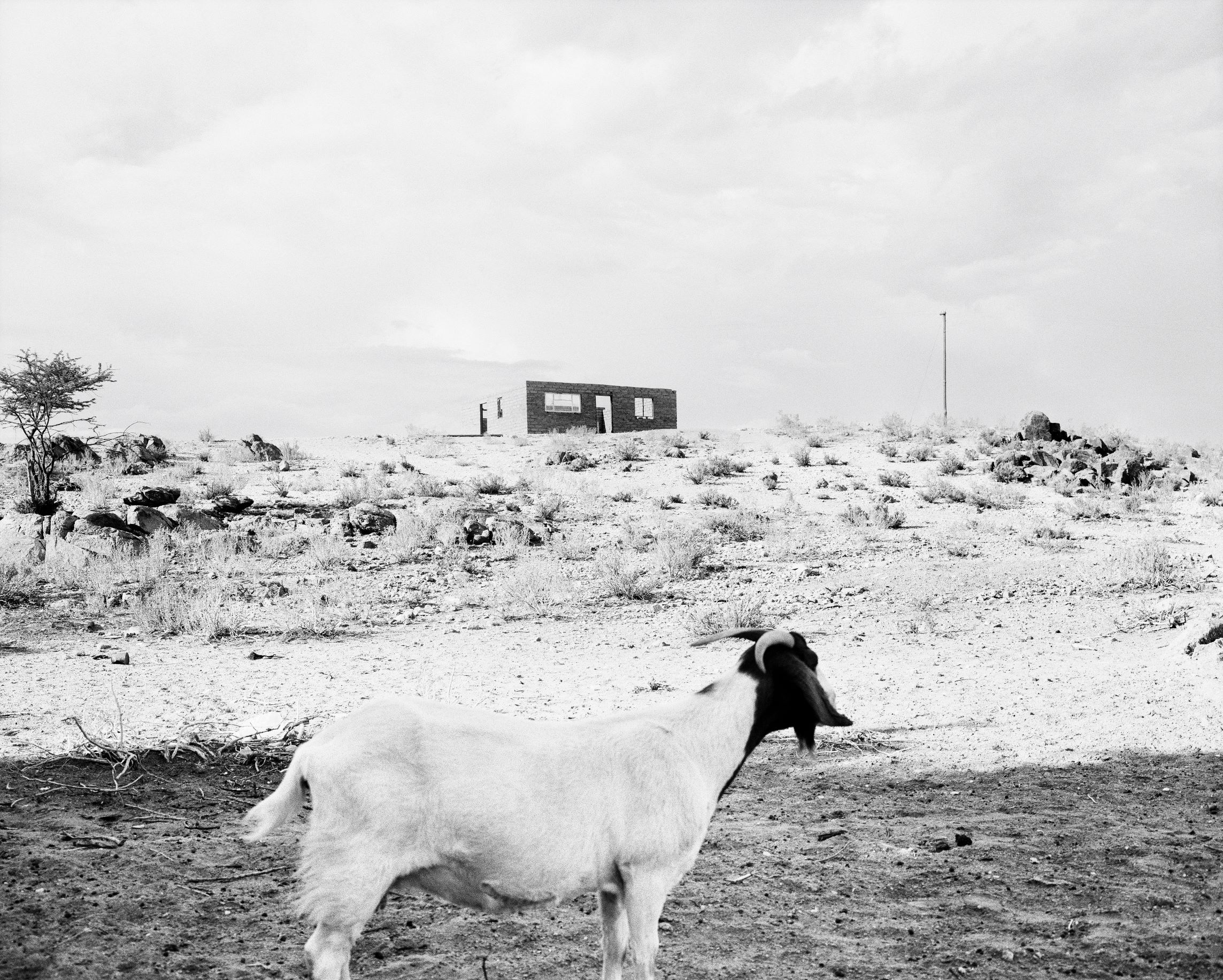 Jo Ractliffe has been photographing her native South Africa for nearly four decades, tracing the latter stages of Apartheid through her quiet and restrained analogue image-making. Ractliffe reads between the faint and contested lines of South African modern history, documenting not the actors in this national story, but its setting, the land that keeps the score and bears the scars of conflict. 
This image, taken from Ractliffe's The Borderlands series, depicts Riemvasmaak, a Northern Cape settlement lying close to the Namibian border. Occupied by the South African Defence Force, the region was used as a military testing site between 1975 and 1994. The arid palette and preference for non-human motifs are typical of Ractliffe's style, an insistence that focusing on the detritus and aftermath of conflict can reveal as much as photographing its molten centre. Many photographs were shot while traversing the N1 Highway that connects Cape Town and Johannesburg.
"The arid palette and preference for non-human motifs are typical of Ractliffe's style"
At The Photographers' Gallery in London, where Ractliffe's Photographs 1980s – now is nominated for the Deutsche Börse Photography Foundation Prize, images from the period show surface-to-air missile bunkers at a Cuban base in Namibia (which was under South African administration until 1990), and a dilapidated military building in Lobito, Angola, from 2010.  
Both are the remnants of the Angolan Civil War and South African Border Wars. The intertwined (and often overlooked) conflicts became Cold War proxies as Cuba and the USSR supported the eventually victorious People's Movement for the Liberation of Angola (MPLA), against the US and South Africa-backed National Union for the Total Independence of Angola (UNITA). Ractliffe's achievement is to distil this geopolitical complexity into single moments, where costume, advertising, crippled buildings, and most of all, the dry, semi-desert landscape hold the violence and hopes of a generation within them.  
Ravi Ghosh is Elephant's editorial assistant  
Deutsche Börse Photography Foundation Prize 2022 is at The Photographers' Gallery until 12 June