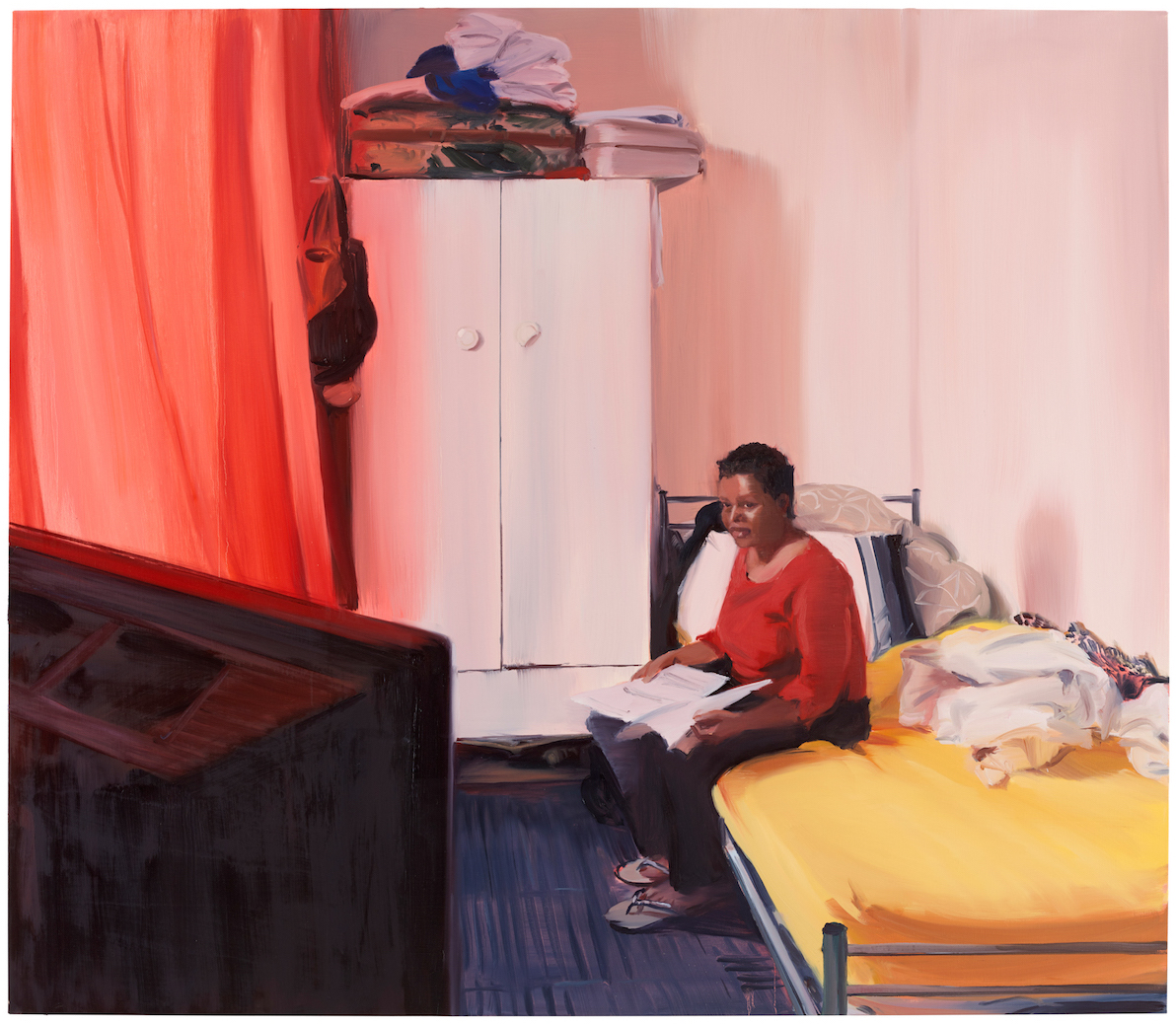 For your latest commission at Kettle's Yard you have worked with a refugee charity to produce portraits of women who are living in various temporary accommodations. It is quite a departure from your recent work, which often involved fictional domestic scenarios. How did this project come about?
This body of work is about real people and their real lives, whereas a lot of the time I'm working with models and it's a narrative generated by me. I've painted five different women, in whatever accommodation they were in during the summer of 2017. Andrew Nairne [director of Kettle's Yard] asked me if I'd be interested in making some work in response to the refugee crisis. I said "Ok, I'm interested in the subject," but it could have potentially been very different from the work that I usually make. So as part of the research we went to the Calais Jungle about a week before it was dismantled and worked with a charity for a day, to get a sense of what was going on. It was quite an affecting experience, but not necessarily in an artistic sense. So, after a few months of thinking I came back and said, "For me to do this it has to be about women and it has to be in London."
What was your experience like working with the charity and the subjects in question?
I did some research and began working with Women for Refugee Women, who are based on Old Street, down the road from where I live. They offer a network and community, as well as campaigning against detention, but the main activity is providing services. They offer language classes and legal advice, that sort of thing. I had the idea to work with the notion of "home" and paint women where they were staying, because a lot of my work over the years has looked at domestic spaces and its relation to femininity and women.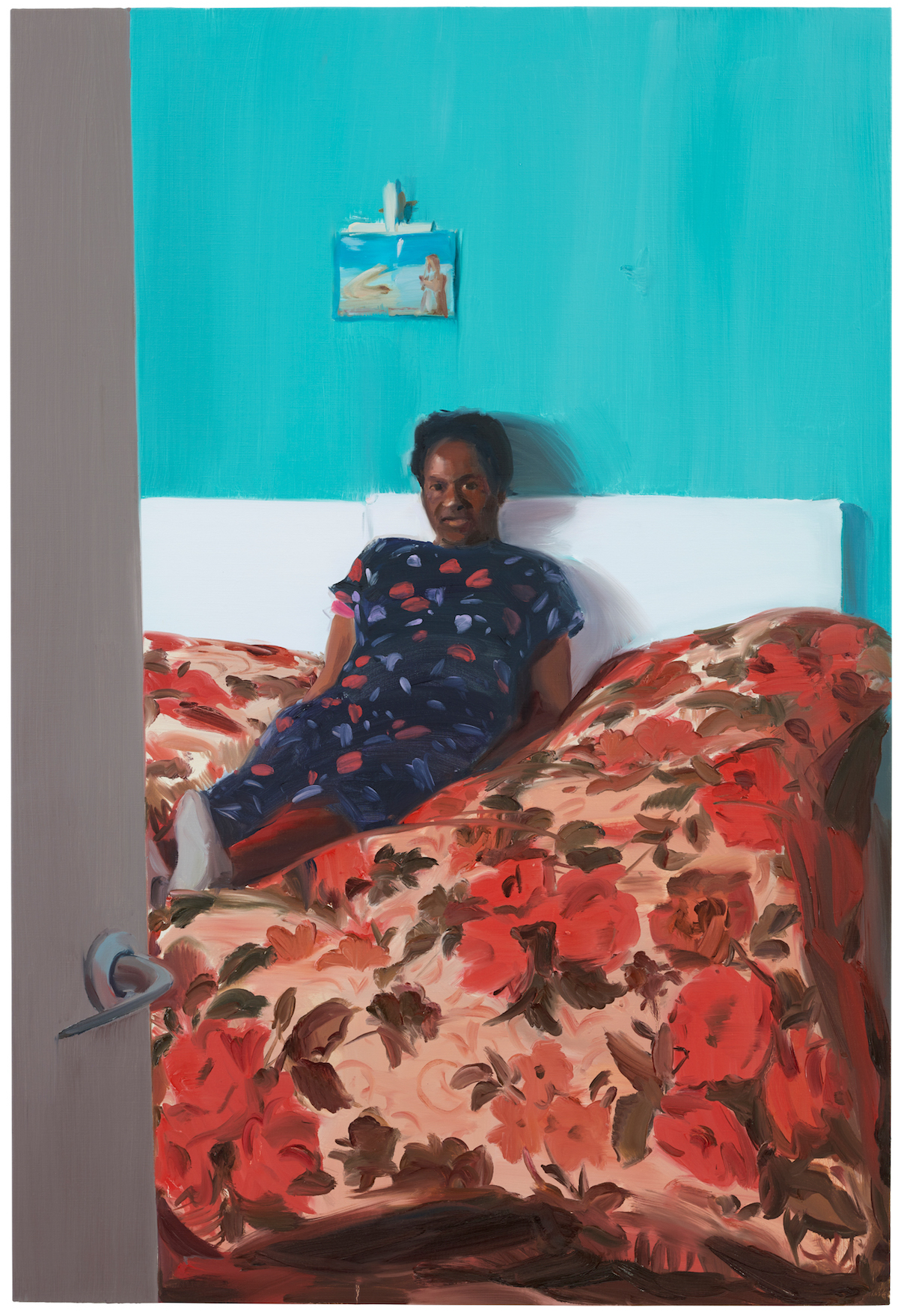 How did the community react to the idea of an artist engaging with their lives?
The reaction wasn't all positive. Some women looked at my paintings and said "How does this relate to us? Your paintings are really beautiful, we don't want our lives represented like that––what's in it for us?" and those are all very valid questions. So, I was worried about my position as an artist, and whether it was appropriate to produce this work. I went back to Andrew and he was very supportive and gave me the opportunity to do the research with no pressure to produce the show. That made me a lot more relaxed. In the end five women let me into their homes. To begin with I went for tea with one lady, accompanied by a representative from the charity. We had such a nice morning and I came away feeling that I could make work from it, because it was so visually compelling and I was very interested in her story.
"The five women I painted are all in quite different circumstances"
What about the homes themselves?
Once I started making the work I realized that when you take away the context of who these women are––in terms of the political climate––they are just images of people in their homes, doing their own thing. There's something gentle and subtle about that. The five women I painted are all in quite different circumstances. At the time, [Abi] was staying in the basement of a church; she'd been there for a couple of years, I think. She's been in the UK for fourteen years and trained as a midwife, but something happened and she lost her flat and became homeless. The church offered her the room, but there was no privacy or anything, it was just a basement used for storage. Since I painted the piece she has moved into sheltered accommodation.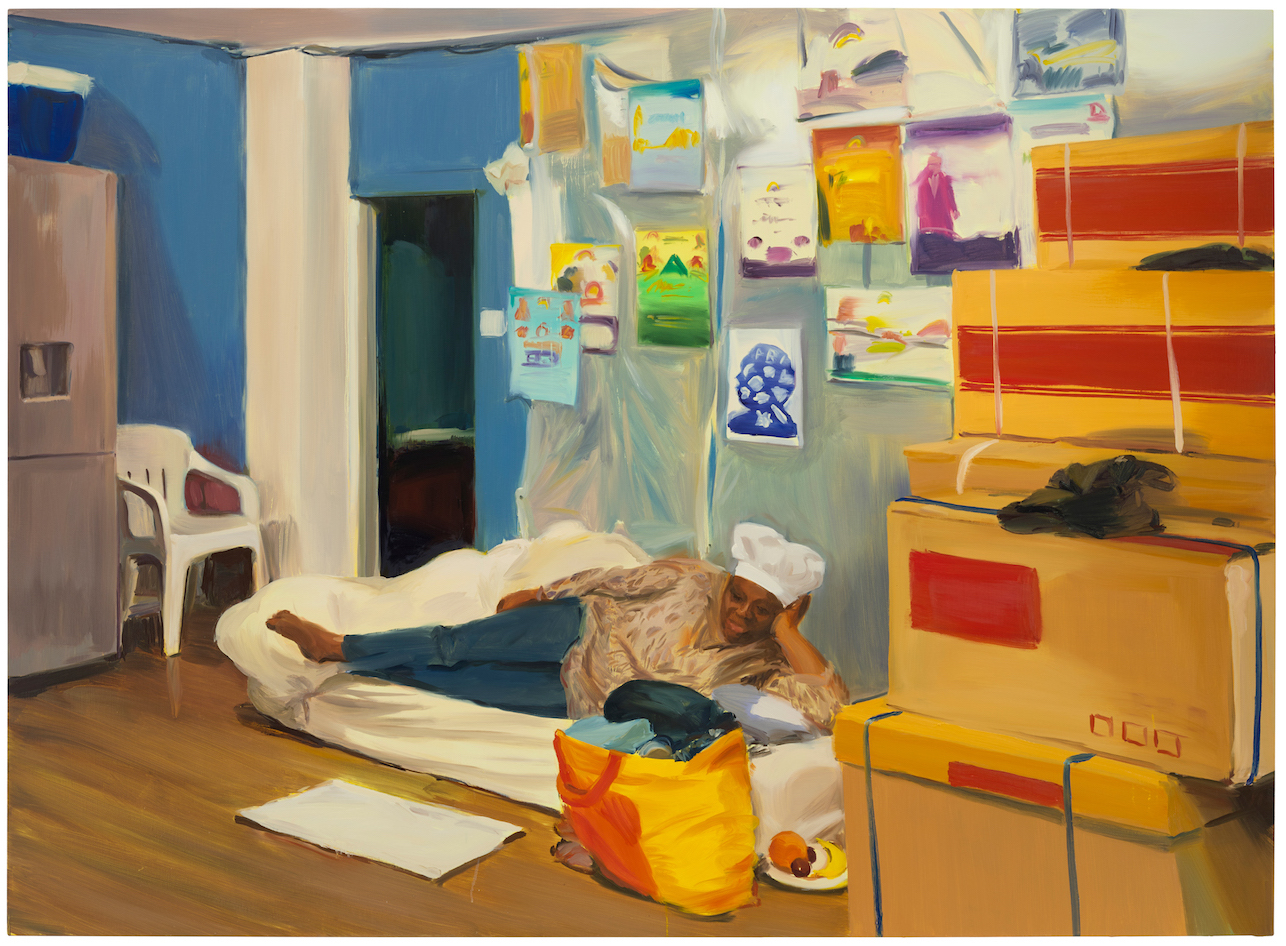 You have worked in a variety of scales, between huge canvases and much smaller pieces. Have you conceived the paintings in different ways, depending on the size?
I make the smaller ones on board, almost like looking through a keyhole. But in the large pieces I really think about how you encounter the works. For example, in Joy, the door handle is at the correct, realistic level. It is as if you are really [opening the door and] standing at the foot of the bed. I'm often thinking about how paintings position you as a viewer.
All images courtesy the artist
Actions. The Image of the World Can be Different (Part 2)
11 April until 7 May 2018 at Kettle's Yard, Cambridge
VISIT WEBSITE