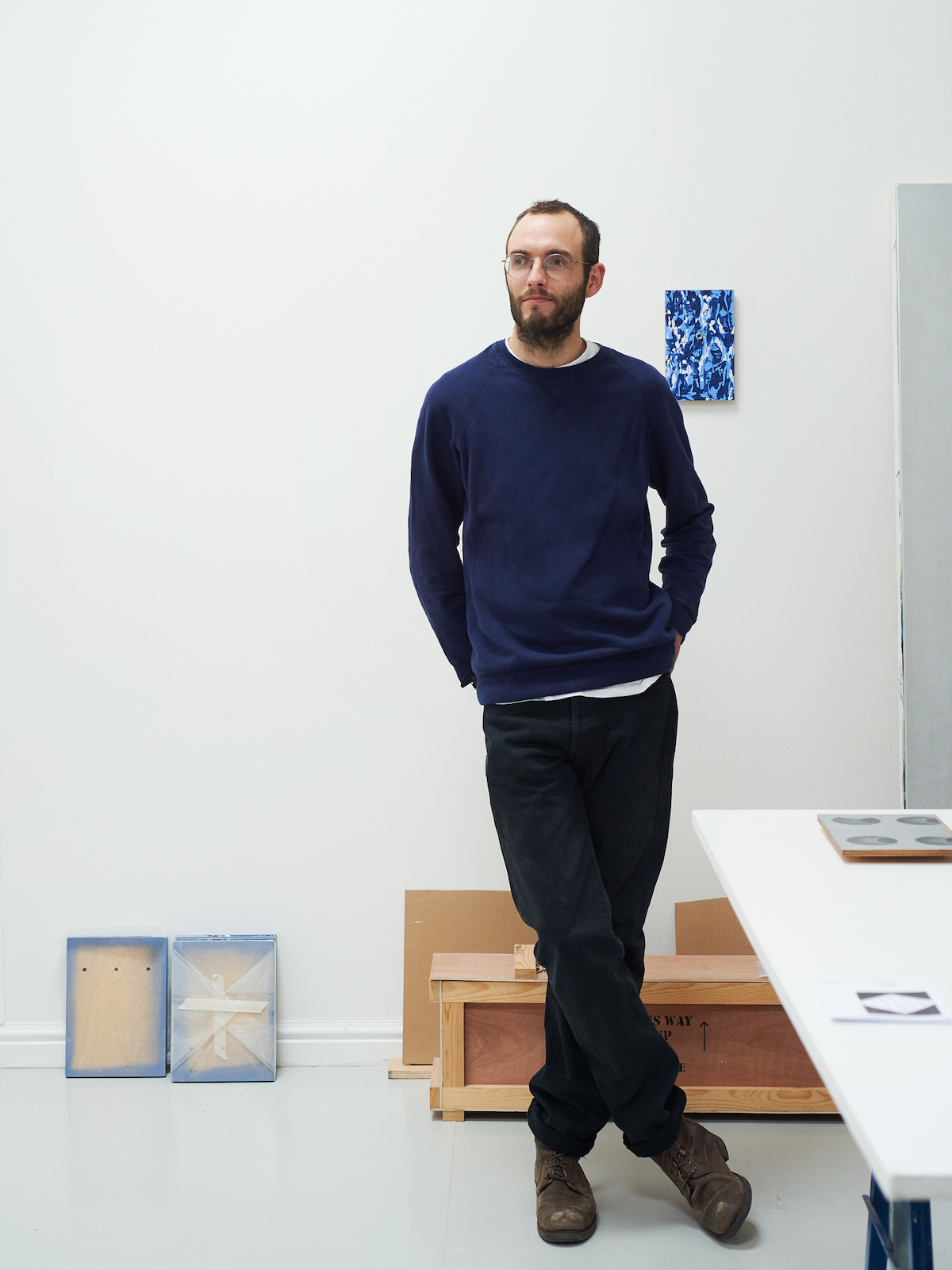 Christopher P Green isn't one for planning. His spontaneous practice marries traditional materials such as oil and acrylic with more domestic, everyday items; producing delicate, precise works that you would assume include labour-intensive preparation. I met him in his east London studio, ahead of a new exhibition at Alma Zevi in Venice, opening this summer. His astonishingly tidy workspace gives way to unusual collecting tendencies, including mouldy paints, pots of glitter and fake oregano.
You have created something of a mini exhibition space in your studio, with works displayed in groups. Is that an important part of your process?
I tend to put my finished pieces up on one wall, while working on others. A lot of my work overlaps, because I always make my paintings in groups, simultaneously. Things do naturally pass over from one piece to another and often I'll put something away for ages if I can't work out how to finish it, before reintroducing it to a new group. It's all a bit tangled, but in the most positive sense. It's about keeping that flow and stopping things from stagnating; a way of dealing with the writer's––or painter's––block. That happens enough in general when you're thinking about art and what things mean, which is counterproductive to making, a lot of the time.
There's definitely an idea of making in my practice––I "make" paintings. They aren't planned out, despite the fact they often end up looking quite tight. There tends to be a little reference point from the outside world that somehow filters through via the materials that I work with. There's some direct references in the pieces I have in here at the moment. One is Solaris, the Andrei Tarkovsky film from 1972. There's a scene where the protagonist is standing in front of some kind of abstract expressionist painted shed and I've recreated that, in a way. Similarly, some of my weird drawings came from a poster advertising a Charles and Ray Eames exhibition.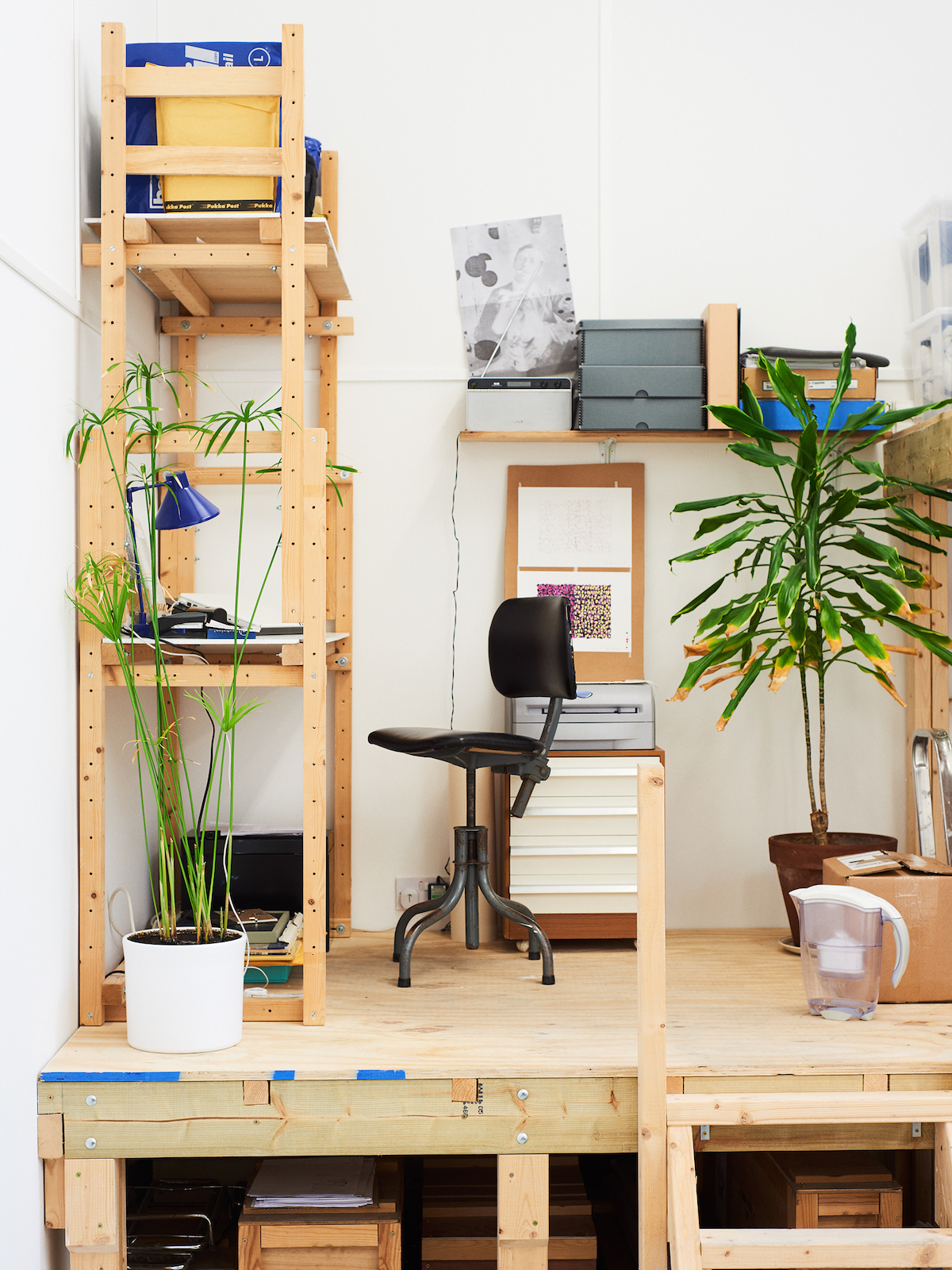 All of the pieces here also use very specific dimensions, can you tell me about what led you to this decision?
It's an important point. I started making pieces in a particular size after discovering I couldn't work with the square formats that I had prepared. So, I divided them up into a weird, almost paper size, somewhere between A4 and A5. It has a book quality and I enjoy the particular challenge of making small paintings. Also, you can handle them very easily, which I guess is an attraction. I built these crates that look like weird ammunition boxes and the works all fit inside perfectly. It means it's very easy to take them out and swap them about. Often people will think they're a lot bigger, especially when I show jpegs on my phone. Again, it's quite funny because the paintings suit the screen dimensions, so there's something in that.
It's an interesting point, because these days people make assumptions about what they're viewing digitally. That is why so many online auction platforms have the option to view the works of art on a gallery wall, so you have an idea of what the piece would look like in a particular space.
I actually made some pieces that were frescos, which played with the idea of where a piece might ultimately end up. I would choose a painting at random and then ask whoever owned the property or exhibition space to describe a colour to me, often in the most abstract way. I'd then attempt to mix that colour and paint a wall, and the painting I had chosen was hung on top of it. It was often very jarring, sometimes it turned out really ugly. One of the people I asked didn't really understand and kept saying "red and black", so the result was pretty messy.
I put together a book, in order to try and explain the work. It has very little text but it's full of pictures that have been stored on my phone and feed into my practice in one way or another. I don't have a sketchbook, I never have, but I do have all of these digital cut-outs that I don't know what to do with. So, the publication is a way of arranging all of that information and contextualising it.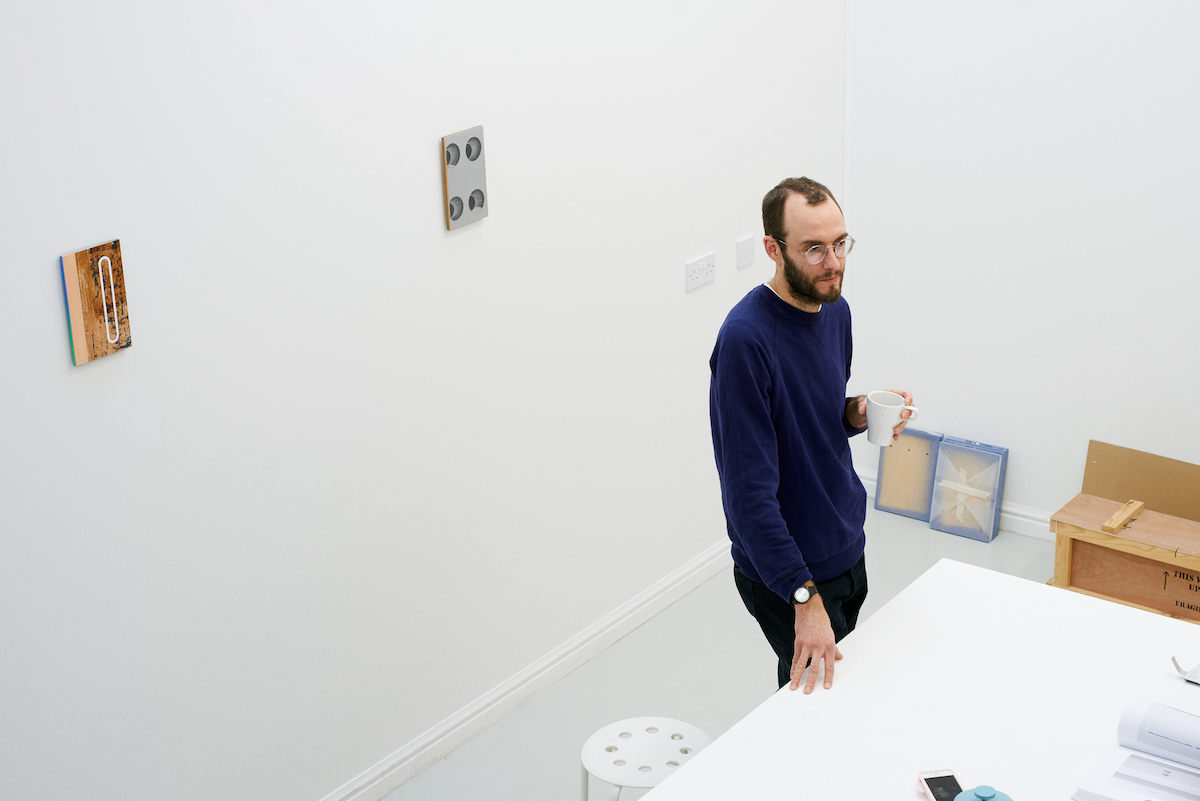 "Often, I just come in and sit down, not doing a lot, and I will end up just looking at paintings or reading; trying not to put the pressure on"
Speaking of books, you have a nice compact library in here. Do you read a lot when you're in the studio?
Often I just come in and sit down, not doing a lot, and I will end up just looking at paintings or reading; trying not to put the pressure on. It's just a few selected art books and novels; part of a much bigger collection! I used to have a big dictionary and I always liked the idea of it, but I never really used it. It's horrible to have to use your phone to look up a word, especially if you're reading a real printed book, so I guess a pocket-size dictionary would be best. I have the habit of reading things translated from French or German, so I'm forever looking up words, some of which are bizarrely archaic.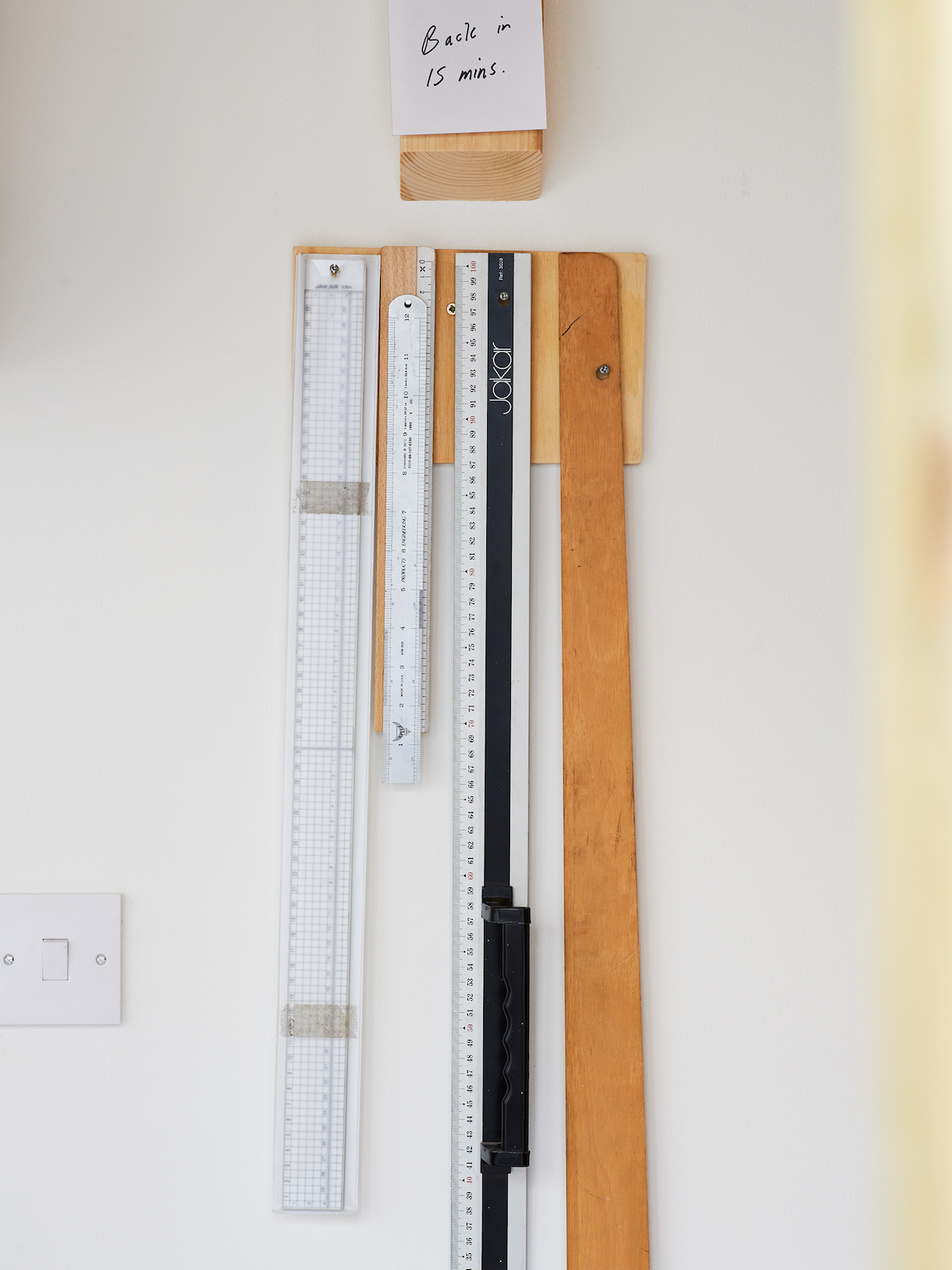 Can you tell me about the materials you use? There's a lot of paint, but some other strange things too.
I mostly use acrylic, but I really use a whole lot of different things. For instance, I've got this bag of so-called oregano that smells like mint (it's so not oregano) but I want to use that in a painting. I recently made a work involving powdered spirulina too. I've got so many old paints (some of them have even gone mouldy), bits of sandpaper and even a whole lot of glitter, which I used a while back. I love using strange additives and pastes and I'm a bit of a crazy collector. I have a whole selection of palette knives and some paintbrushes from when I was sixteen. They're ruined, but you get used to them being crappy. They have their own quality and I like using things that I have accumulated over time, as if I'm working something out. It's a resourcefulness. I think of it as a "professional salad", you're just trying to make the best out of what you've got.
Photography © Tim Smyth