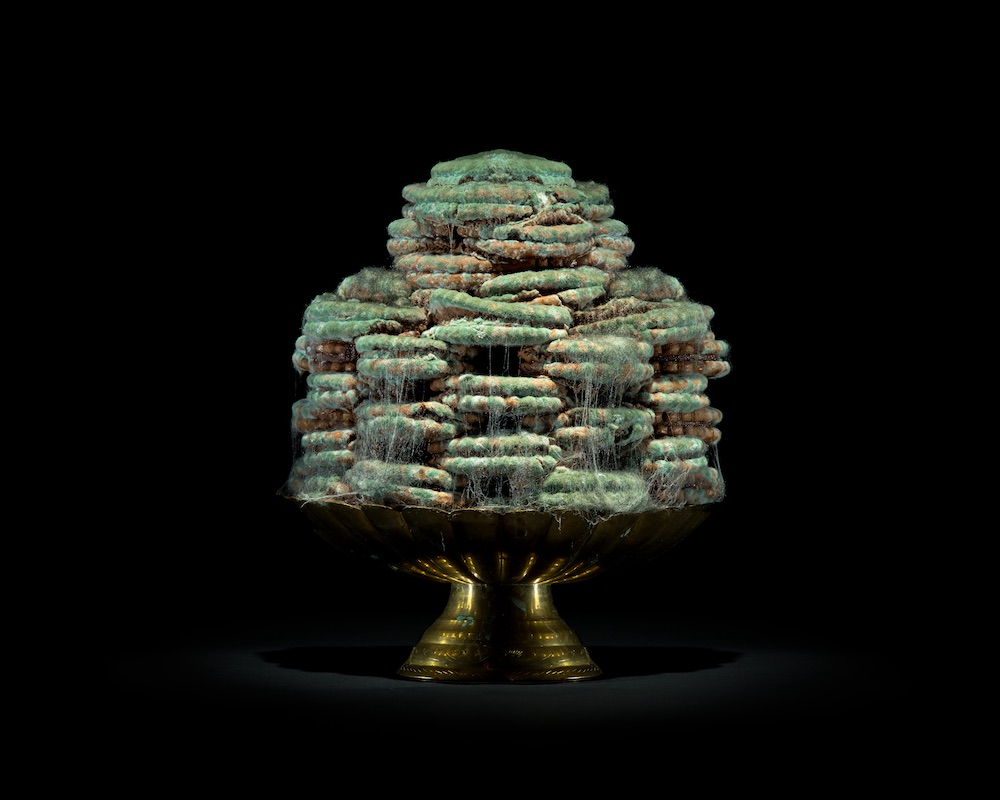 Rotten food has long been used by artists for all its suggestive potential. Historically, mould was depicted in still life paintings as a symbol of human death and decay. There is something gruesomely appealing about a perfectly painted plateful of rotten fruit, coated in a delicate layer of green fluff, oozing smelly-looking liquid substances, perhaps garnished with the odd maggot. The attention to detail required to capture the foulness of mouldy food in paint has something quite exquisite, albeit appetite-killing, about it. Artists in recent years have also turned to rotting food in their work, often presenting it via the camera lens, and the theme has been blown wide open.
Klaus Pichler, Barbecue Sausgae, 2012 (left), Cauliflower, 2012 (right)
Kathleen Ryan, Emerald City, 2019 (left); Sour Spot, 2019 (right)
Some artists completely subvert the natural disgust that we have towards mould: for her works Semi-Precious Bone, Fool's Mould and Sour Pearls, Kathleen Ryan created lemon sculptures covered in beads; yellow glass for the healthy bits of the fruit, and luxurious materials for the mould that clings to it. "For all three works, the value is in the mould," she tells Alice Bucknell in the current issue of Elephant magazine. "The yellow parts are just glass beads, but the bits that have 'gone off' are made from luxurious yet natural materials—crystals and semi-precious and precious gemstones; there are also freshwater pearls and carved bone and coral beads."
"Fruit is dying, but mould is thriving, by using natural materials for the mould it has this energy to it that you can feel"
The mould in this case is beautiful and delicately formed. "All the works have something to do with mortality—like in vanitas paintings; ivy vines, shells, fruit, depicting decay and death and rot—but they are very much alive. Fruit is dying, but mould is thriving, by using natural materials for the mould it has this energy to it that you can feel. They lemons are dying but they're also suspended in this buzzing aliveness."
Antoine Bridier-Nahmias, Magical Contamination, 2013
Antoine Bridier-Nahmias doesn't even translate his mould into a different material to highlight the beauty that lies within it—on his Tumblr page Magical Contamination, he simply presents photographic images of Petri dishes containing different mouldy substances. In these images, glorious patterns are revealed, showing the ordered structure that makes up these different forms. "I use different lab media in my plates but all the micro-organisms that grow on them are perfectly random contaminations," he answers one visitor on his page, "I don't 'do' anything per se to achieve particular patterns."
As to the science of it all, Bridier-Nahmias is more interested in the look of it. "I can tell you in that in general those are molds (fungus), bacterias and yeasts," he tells another visitor. "In order to know which organism is living on each plate one could perform some test (from the simple API gallery to the genome deep-sequencing) but my interest for now is only visual." The visitor feedback throughout Bridier-Nahmias's page is resoundingly positive, full of phrases such as "utterly divine", "absolutely stunning" and "beautiful bastards".
Perhaps, once mould is separated from an item we may ordinarily like to eat, we can appreciate the truly artistic nature of its tiny individual forms.