The painter Gabriela Giroletti has just completed her month-long residency at Elephant Lab, a programme to support emerging level artists with experimental materials-based practices. Elephant Lab provides materials from some of the world's top art brands, technical knowledge from our in-house innovators, support from Elephant's contemporary art experts and a studio space. Due to the current Covid-19 restrictions, the residency went digital.
Giroletti, (born in Brazil, 1982) is a graduate of the 2018 MFA Fine Art Painting program at the Slade School of Fine Art, London. Her large-scale paintings incorporate the gestures and movements of her body, searching for a more intuitive and instinctive form of expression in painting, translating her daily experiences and encounters into canvases. On the cusp between figurative and abstract, Giroletti touches on the conventions of painting and vies with them, a knowing and defiant dance.
Gabriela Giroletti, Soft Spot (a world in a world) [progression], 2021. Courtesy the artist
What made you want to do this residency now, and how has it been affected by the pandemic?
I have followed Elephant Lab for some time and I love the process and material-based approach of the residency. My work is rooted in the materiality of painting, that is the beginning and also the end of it, with meaning pushing its way in the middle. What drew me to applying now was the protected time I would have to work on my painting practice, the generous materials allowance, the possibility of using the studio at Elephant lab and getting feedback on my work. I'm a huge fan of Winsor & Newton and Liquitex products and I wanted to make very experimental surfaces to paint on, and to see how those surfaces dictate the finished work.
I would have loved to be physically present in a new environment and to have the Elephant lab technicians and the rest of the Elephant team to speak to during my time doing the residency, but in the end my experience was close to what it would have been had I physically attended the studio. I think, overall, the only thing I missed was the spontaneous conversations that could have happened because all my tutorials, critiques and studio visits had to be meticulously arranged—but that is what everyone is facing now.
"My work is rooted in the materiality of painting, that is the beginning and also the end of it, with meaning pushing its way in the middle"
What have you learned about your practice as a painter these last few weeks?
Just perseverance and learning every day, perfecting my craft. I came to the studio every day, Monday to Friday, and worked. Sometimes something new, sometimes incorporating that new idea into what I was already doing…I enjoyed materials that I had not the chance of using before, like some Liquitex mediums. I used them to prepare the surfaces of a large painting and a group of smaller works. It gave me a very gritty, coarse surface to work on, retaining a lot of paint.
Have there been any difficult days—and how do you overcome those in general as an artist, and what keeps you moving?
There were definitely some difficult days. The sub-zero temperatures we had at the beginning of the month were very challenging. My work is concerned with movement and physicality but I think that, in order to keep warm, I was moving even more, all the time, and this shows in the work!
I have worked large-scale for some years, and I enjoy the physicality of working so big, as well as its challenges. Large-scale paintings speak to the whole body; a painter uses their whole body to work and the viewer uses their whole body to interact with the work. Big work is more immersive and it is a quality that I want my work to have. It turned out really well, and I was surprised that I managed to do so much in four weeks. 
But, generally speaking, what keeps me going is the work itself and seeing the progress I'm making. Painting is an activity that gives a lot back. To me painting has a lot of purpose and meaning, so it's hard work but very rewarding at the same time. 
"I have worked large-scale for some years, and I enjoy the physicality of working so big, as well as its challenges"
Could you discuss one of the works that you've completed during the residency that you're particularly pleased with?
The work called Soft Spot (A World in a World) is a 190x150cm painting that I completed during the residency. The title is cryptic, I know, but there is a reason. I'm quite happy with it. It started out as a pale pink textured painting and it became stronger and more ambiguous as I worked on it. I don't want to be literal as to what it is and what I represent because I like to leave the meaning open, so people can interpret my work using their own life experience.
I had a line drawing of a composition inspired by something I had seen during a walk and I used that as a starting point. The work borrows from outside but it goes back to itself. It's about letting the process take over and accepting and deciding things along the way. I work with some opposing ideas in my work that I think help retain its openness: simplicity x complexity; accident x intention; micro x macro; abstraction x figuration; painting x drawing.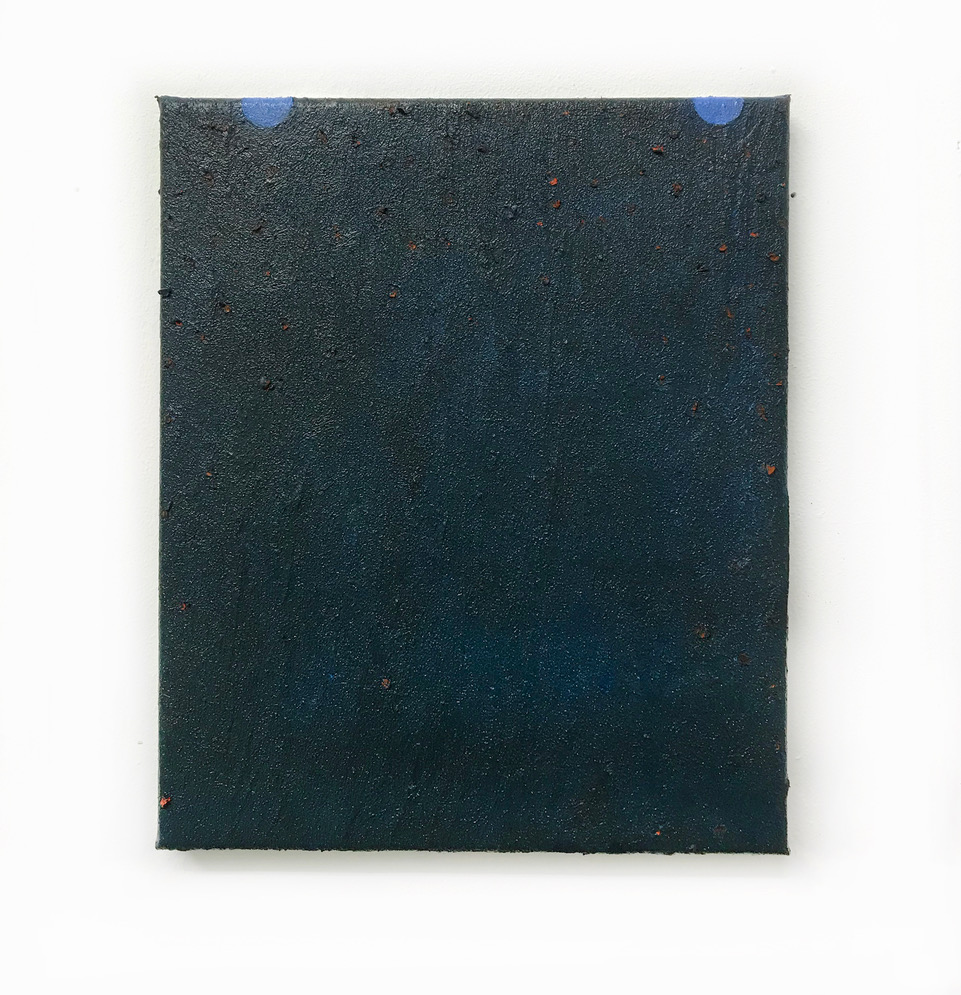 What's next for you?
I am working towards my solo show in June (at Studio Kind in Devon) and am participating in a group show in May at Kristin Hjellegjerde gallery in London Bridge. More than anything I'm excited to see the end of lockdown, to see people and art, and finally to be able to open the windows of my studio when it's warmer.
Elephant Lab
Proposals from practising artists are reviewed quarterly in February, May, August and November
APPLY NOW