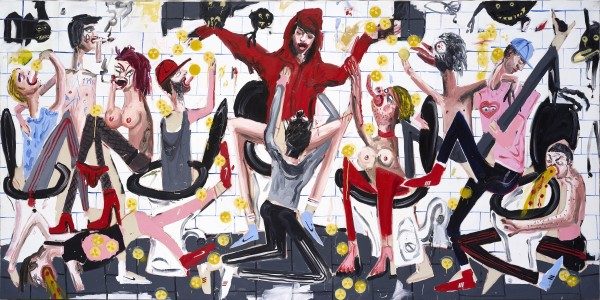 Dale Lewis, Edel Assanti, London
Dale Lewis's work is always hard to miss: a tangled mass of bodies, gruesome lifeforms and debauchery, they draw on memories he has of lived situations–with a fair amount of artistic licence taken. Case in point, one particular work reimagines the wedding of a friend and depicts a baby that crawled around under the table as a slippery octopus, tentacles grasping underfoot. Bratwurst, meanwhile, is his largest and most chaotic work at Expo Chicago, showing a vomit-laden public toilet orgy that is at once ecstatic and grim. The work was inspired by the bathroom in a German club and depicts revellers at points throughout the evening, the central figure throwing pills to fellow party-goers. Breasts and genitals suggest at specific biological genders, though in the tangle of limbs and half-dressed pleasure-seekers it really doesn't matter who identifies as what–a body is a body, and everyone's invited. The work was also inspired by Dürer's Feast of the Rosary.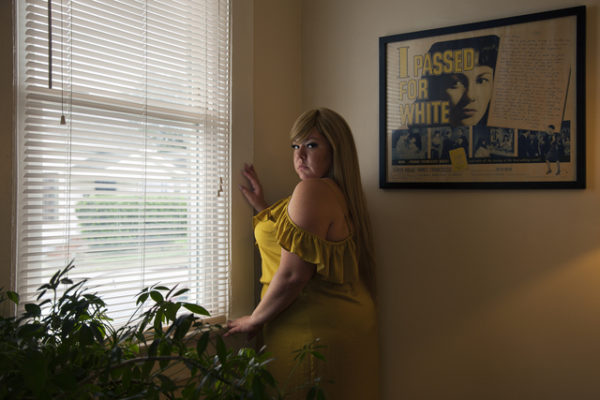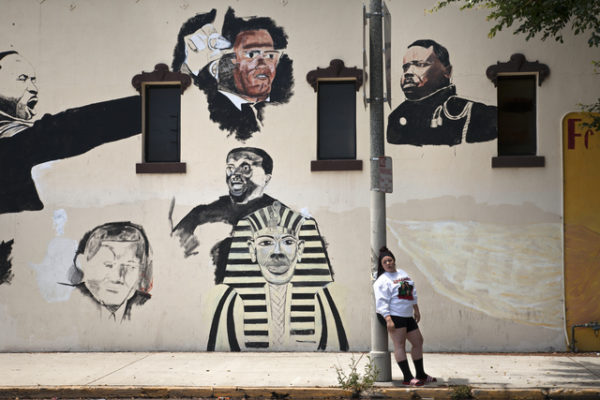 Genevieve Gaignard, Shulamit Nazarian, Los Angeles
Featured in our brand new Issue 32 (currently previewing at Expo Chicago), Genevieve Gaignard morphs into many different characters to explore notions of identity, gender, race and the expectations that come with each. Her solo booth comprises photographs and small wall-hung installations. As she tells Charlotte Jansen in Issue 32, "I'm embracing myself while critiquing society's standards. I'm still going to photograph myself even though I don't fit the ideal of what beauty is."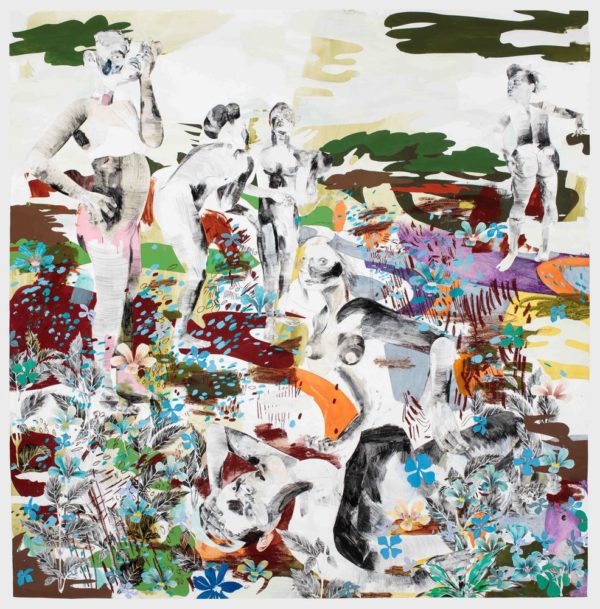 Wardell Milan, David Nolan Gallery, New York
Milan's large painting, like Lewis's work, depicts multiple naked bodies in a pleasurable situation–although there is a decidedly more utopian vibe here, a sexual heaven to Lewis's hell, perhaps. The new sun will warm our proud and naked bodies is a beautiful work that conceals its subjects to some extent behind delicate floral forms and more abstract areas of deep red and vivid purple paint. Within this, we see faces in states of ecstasy, naked buttocks and reaching hands, depicted in a soft, pencil-like grey scale that removes a full feeling of solidity from the bodies. Once again, gender does not seem to be an issue in this world. The bodies appear simply to be there for one another and for their own pleasure.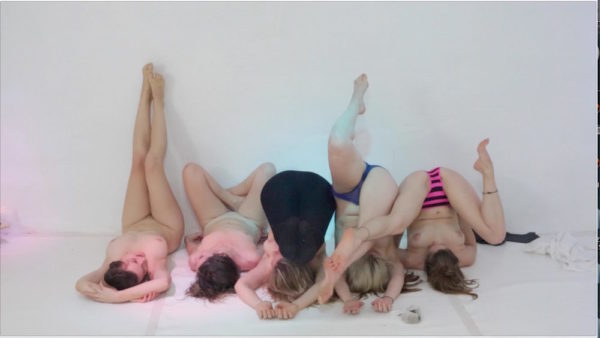 Melanie Bonajo, AKINCI, Amsterdam
I first saw Melanie Bonajo's Night Soil: Economy of Love on a cinema screen in London. For Expo Chicago, AKINCI is showing the film on a smaller screen, along with some stills. It's a liberating but conflicted film, one that pushes against the understanding we have of gender, feminism and sex work. The film follows a Brooklyn-based movement aimed at empowering female sex workers to take control of their role within a male dominated realm. The film is beautifully shot, moving from the street-lit night of the city to sun-splattered rooftops, on which a group of rainbow-painted friends form a naked pile.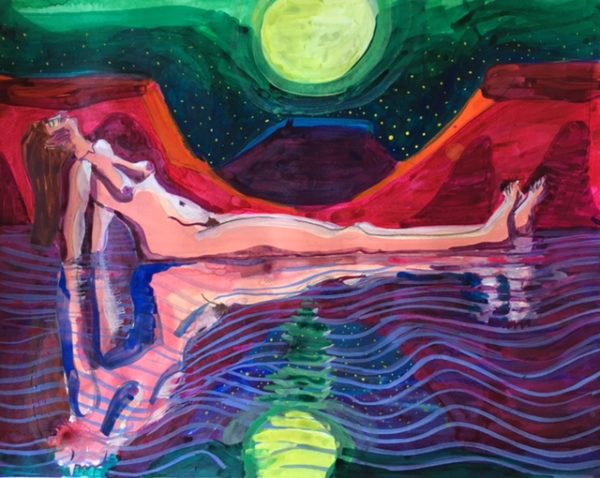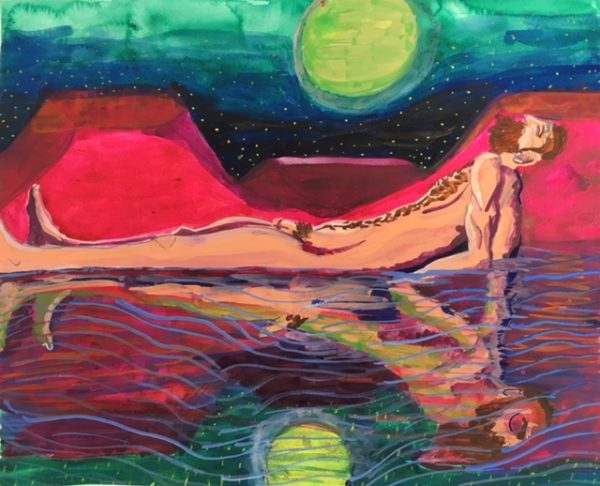 Ryan Schneider, Richard Heller Gallery, Los Angeles
Ryan Schneider's works also explore the ecstatic, depicting the male and female forms in a manner that is undeniably sexual, yet not to the point of perversity. His male and female subjects get the same treatment, often with arched backs, receiving the welcome glow of sun or moonlight in a hyper-lush natural setting. Two works at Expo Chicago (Infinite Man and Infinite Woman) sit above one another, showing a man and woman reclining in shallow water under a full moon that hangs in a deep green sky. The water ripples away from them and the hills behind them are soaked in a bright pinky red. They appear to be returned to their natural form, away from our cultural ideals of man and woman.
'EXPO Chicago' runs from 13-17 September at the Navy Pier, Chicago. expochicago.com