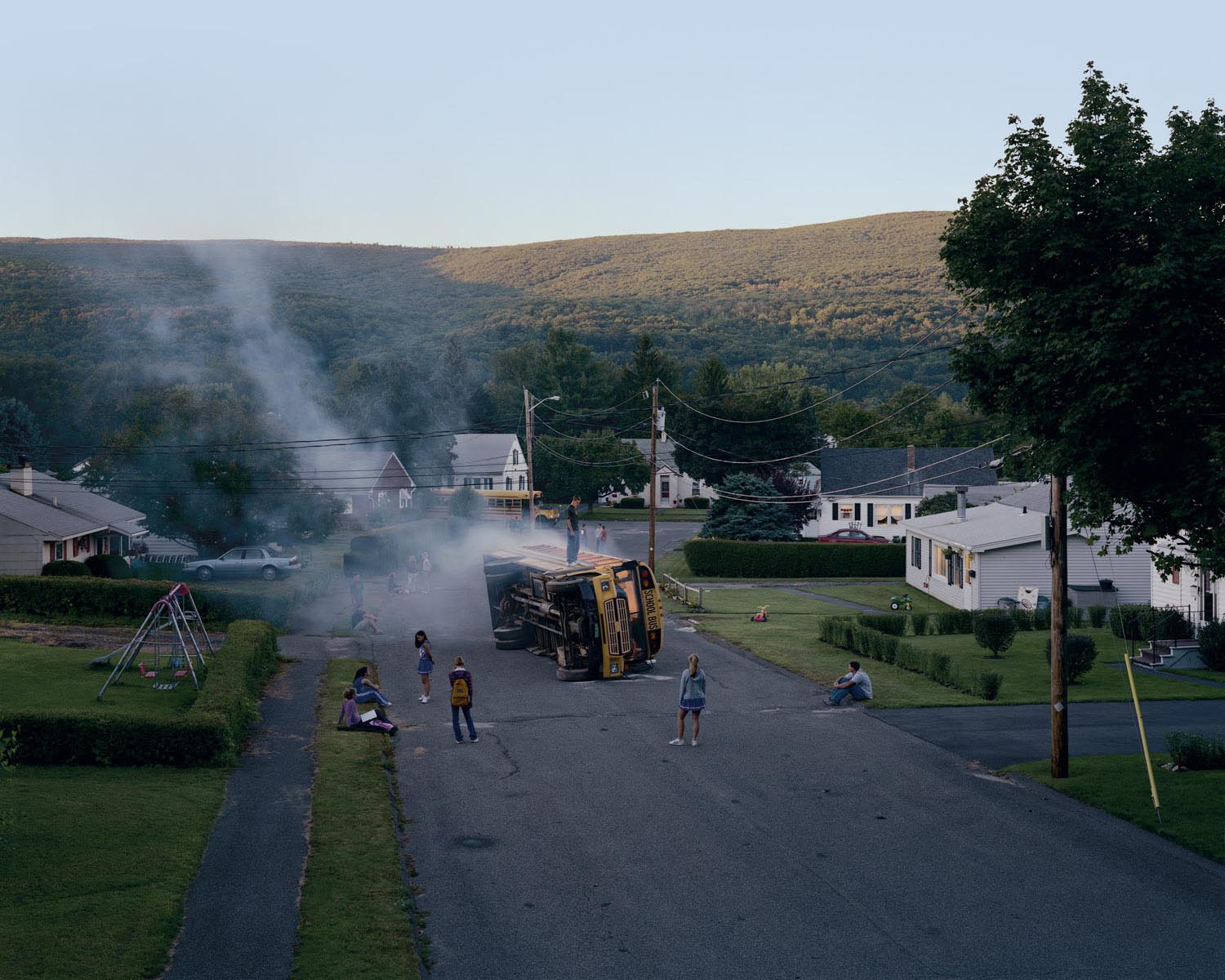 "My childhood was picket fences, blue skies, red flowers, and cherry trees—but then I would see millions of little ants swarming on the cherry tree, which had pitch oozing out of it," David Lynch famously remembered in a 1982 interview. The correlation between the iconic director's films and Gregory Crewdson's vision of American suburbia have been widely commented on, and Crewdson has recalled that after first seeing Blue Velvet in the mid-eighties, "I had the distinct feeling it would change me". In Twilight, Crewdson takes the pitch oozing from the cherry tree and injects it into countless scenes synonymous with American Suburban life.
Shot entirely in and around Lee, Massacheusetts (Crewdson would later base his series Cathedral of the Pines in the nearby town of Becket), an area that looks like a pretty standard film set of a non-descript suburbia, Crewdson does not simply present us with the American landscape, but unearths a place located within the American psyche.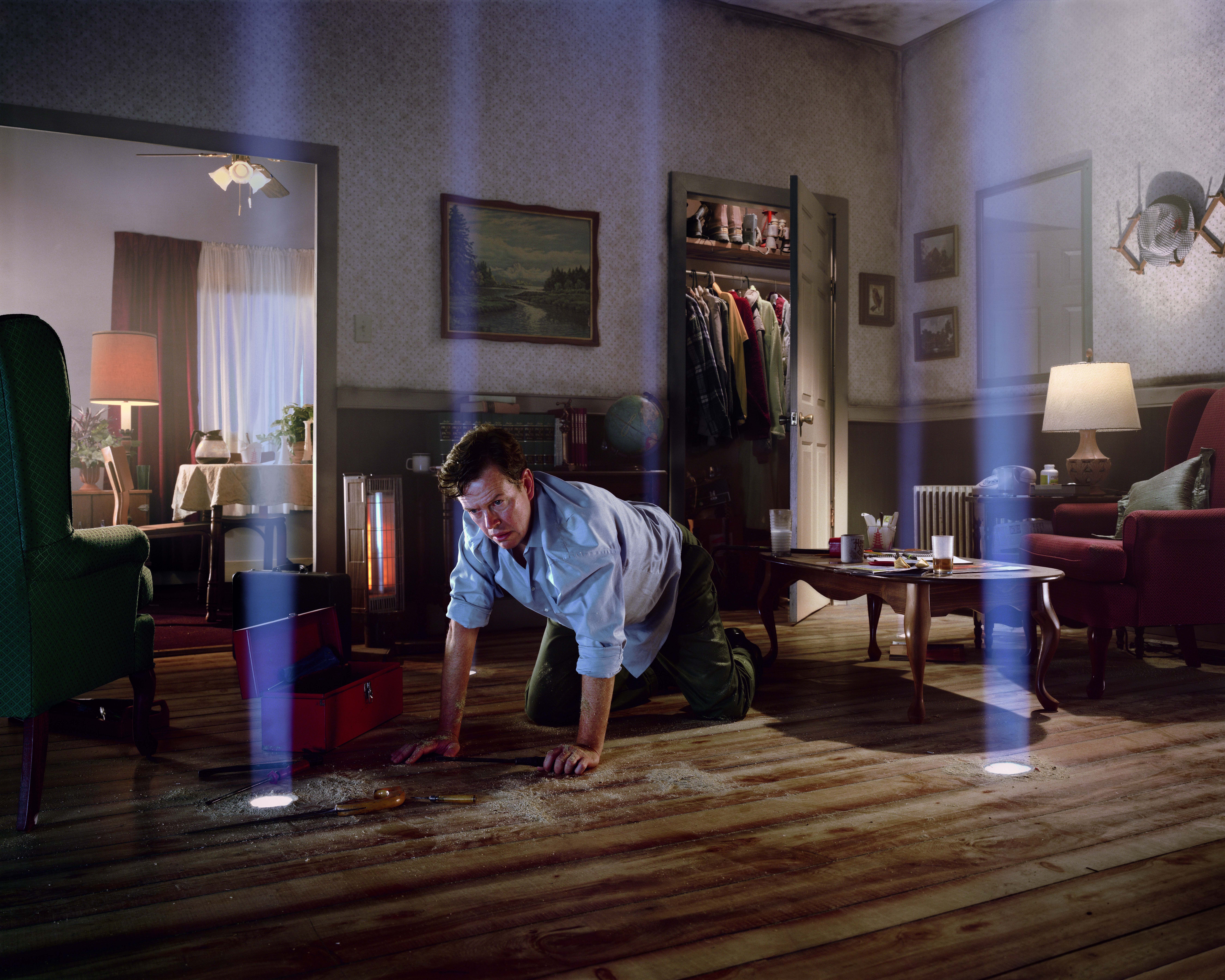 Twilight lodged itself deep within my brain when as a child I saw his 2006 exhibition at the V&A. At that time I could not see the references to Sci-fi films, Lynch or Hopper, but I could feel a huge stillness, a glowing mystery and loneliness that haunted me all the way home. When I later discovered the enormous crews and meticulous staging these photographs required, I felt almost cheated—like he'd duped me into believing this construction really was America. But I was missing the point.
"the horror that lurks below the surface of Shirley Jackson's The Road Through the Wall persists within Crewdson's frame."
Within the artist's process, his fusion of fact and fiction, lie notions of the rapid post-war suburbanisation that have echoed down through twentieth century American art and literature to such an extent that I believe in them as truths—despite my non-existent first-hand knowledge on the subject. The damning portrayal of dysfunctional family life in Richard Yates's Revolutionary Road and the horror that lurks below the surface of Shirley Jackson's The Road Through the Wall persist within Crewdson's frame. For all its attempts at being the ideal place to start a "perfect" and "normal" nuclear family, suburbia cannot escape the dirt of real life, its own murky past, or indeed, the darkness of American history as a whole.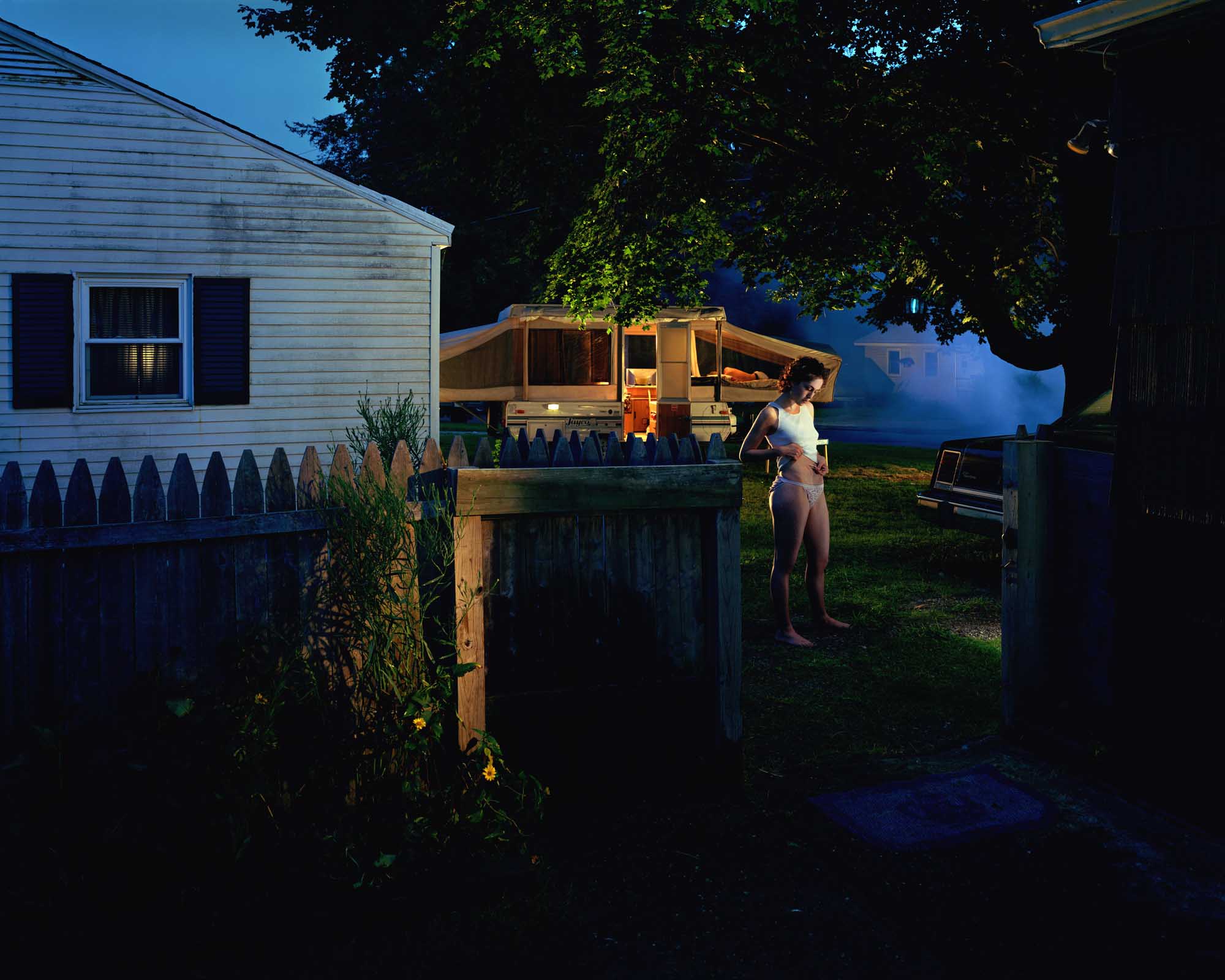 Dust lingers on a window pane, the only portal through which a woman can view the world outside her clean, sparse room. A man kneels on all fours amidst alien light beams shooting through his floor boards. The feeling is one of entrapment right in the heart of what you're trying to run from.
Yet there are also more light-hearted photographs in the series: a man stands on a sidewalk among empty cans, caught in a search light, or the light from a UFO. It is unsurprising that the image features on the cover of Yo La Tengo's album And Then Nothing Turned Itself Inside-Out, which is a hazy ode to summer nights.
Untitled, 1998-2002, Digital Chromogenic Print © Gregory Crewdson. Courtesy Gagosian.
Untitled, 1998-2002, Digital Chromogenic Print © Gregory Crewdson. Courtesy Gagosian.
"Part of what I try to get at is having the feeling of the uncanny: something that's both familiar and strange at the same time," explained Crewdson when I spoke to him in 2017. "There're no signifiers of contemporary life in my pictures: the are no cell phones, no contemporary clothes or cars. It all kind of exists outside of time, really, and that's purposeful." One might remember Twin Peaks' surreal blurring of eras: Audrey swanning into school dressed like she's stepped out of the 1950s and the distinct eighties-ness of Lucy's knitted jumpers, that keep the tiny town just a little out of time.
"the recent Area 51 meme (they can't stop all of us), sets Crewdson's work in a new context"
Post-Twilight this same timelessness resonates in the work of young photographers like Petra Collins, who shot to fame creating nostalgia-saturated images of her teenage friends. She conjures a similar suburban yearning stillness, as girls stare into the middle distance in glowing highschool corridors. Like Crewdson, her models are almost always those she knows, but the awareness of cinematic history that goes into the construction of her work moves it away from strict documentary. Many of her images could have been taken anywhere between the 1970s and yesterday.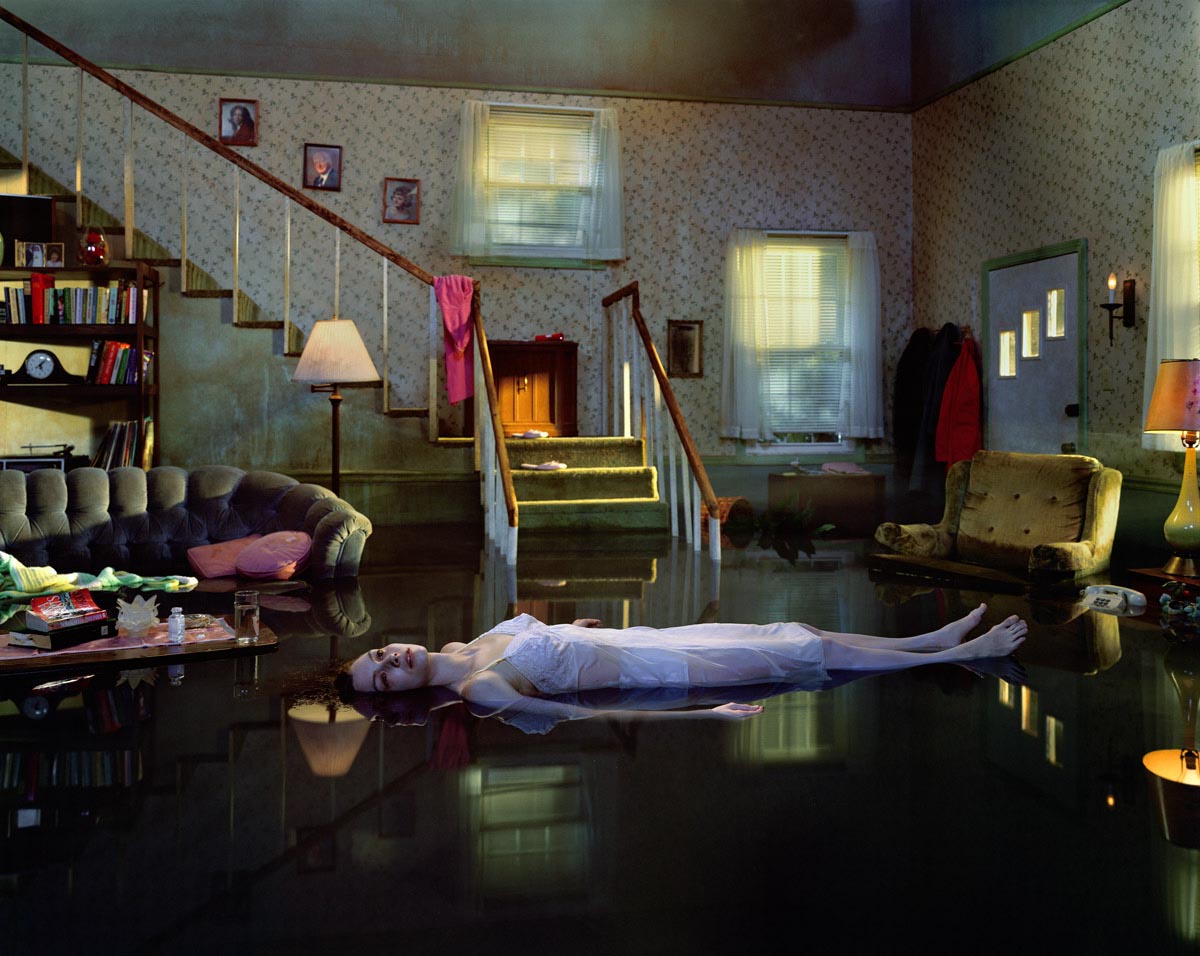 Yet outside of Crewdson's world, the clocks keep ticking. Twenty one years after he began work on Twilight, and two years after a much-anticipated Twin Peaks revival, America's got a lot weirder. The immensely entertaining phenomenon of paranormal television, the enormous popularity of Netflix show Stranger Things, and even the recent Area 51 meme (they can't stop all of us), set Crewdson's work in a new context. It is one where the pitch oozing from the trees is impregnated with conspiracy theories, hallucinations and fears, whipped up by a president unconcerned with separating fact from fiction.