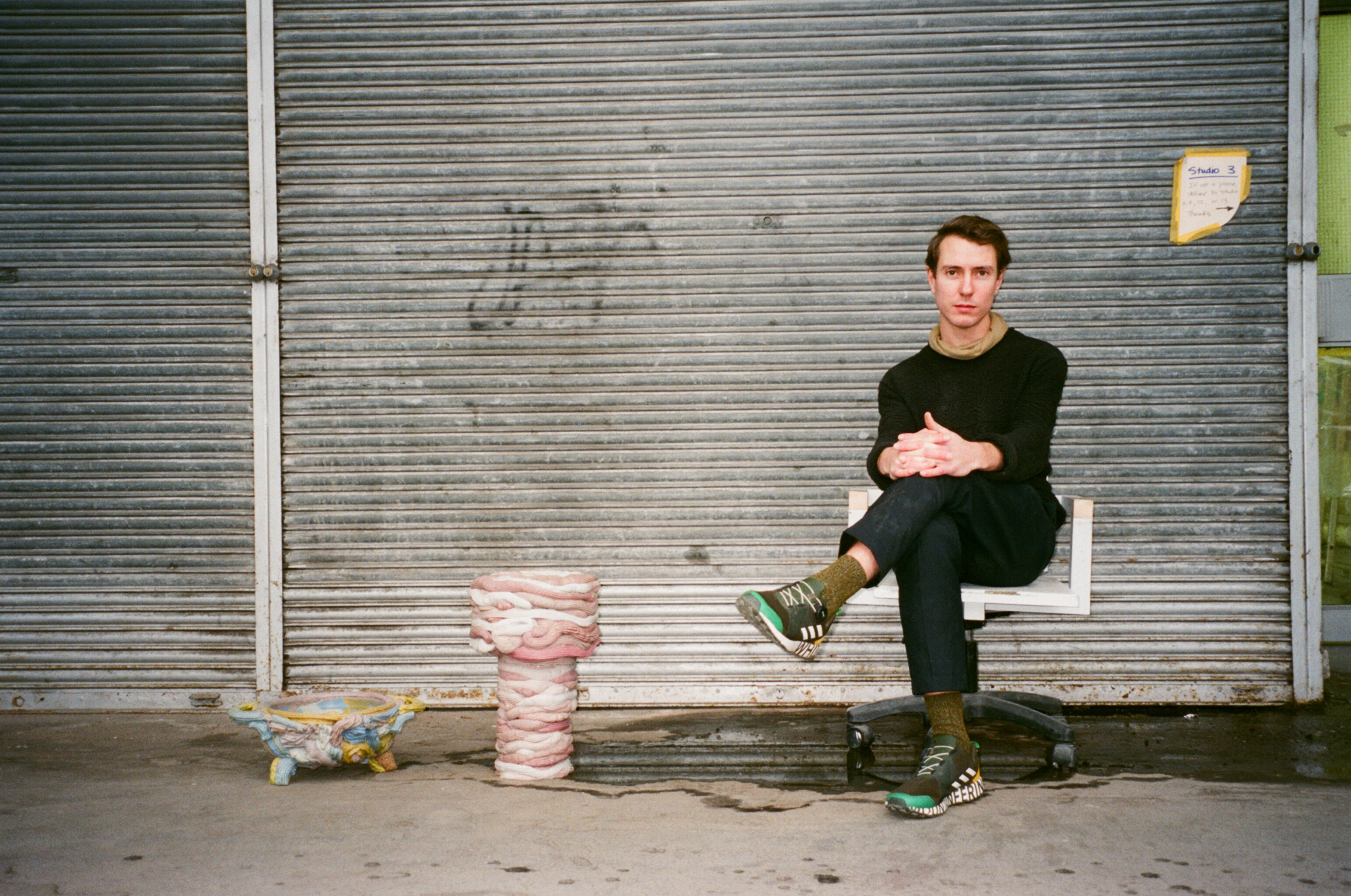 James Shaw makes domesticity look sexy. His quirky bespoke designs, that he's shown at the V&A and the Design Museum in London, use tactile textures that appeal intuitively to the senses, with humour embedded in their form: chairs covered with hairy cushions, a light that looks like it's made of molten wax, fleshy plant holders and furniture that looks like its fashioned from gravel. It's as much fun to interact with these items as it is to look at them, and each piece has unexpected weights and functionality. At Shaw's busy studio, communal thinking is important, as is playing with materials, and of course, eating together. On a rather grim mid-winter morning, I visited Shaw at his studio off the Old Kent Road.
Can you tell me about your studio, and what's in here?
The studio is in an old shop unit on the second floor of a Brutalist building, one of the infamous streets in the sky; it's kind of amazing because it represents some of those utopian dreams of the post-war period which are considered to have failed. In fact, the building is marked out by being the place where Tony Blair made his first speech back in 1997, where he said he would do away with places like that. Now twenty-two years later he's gone and it's still standing…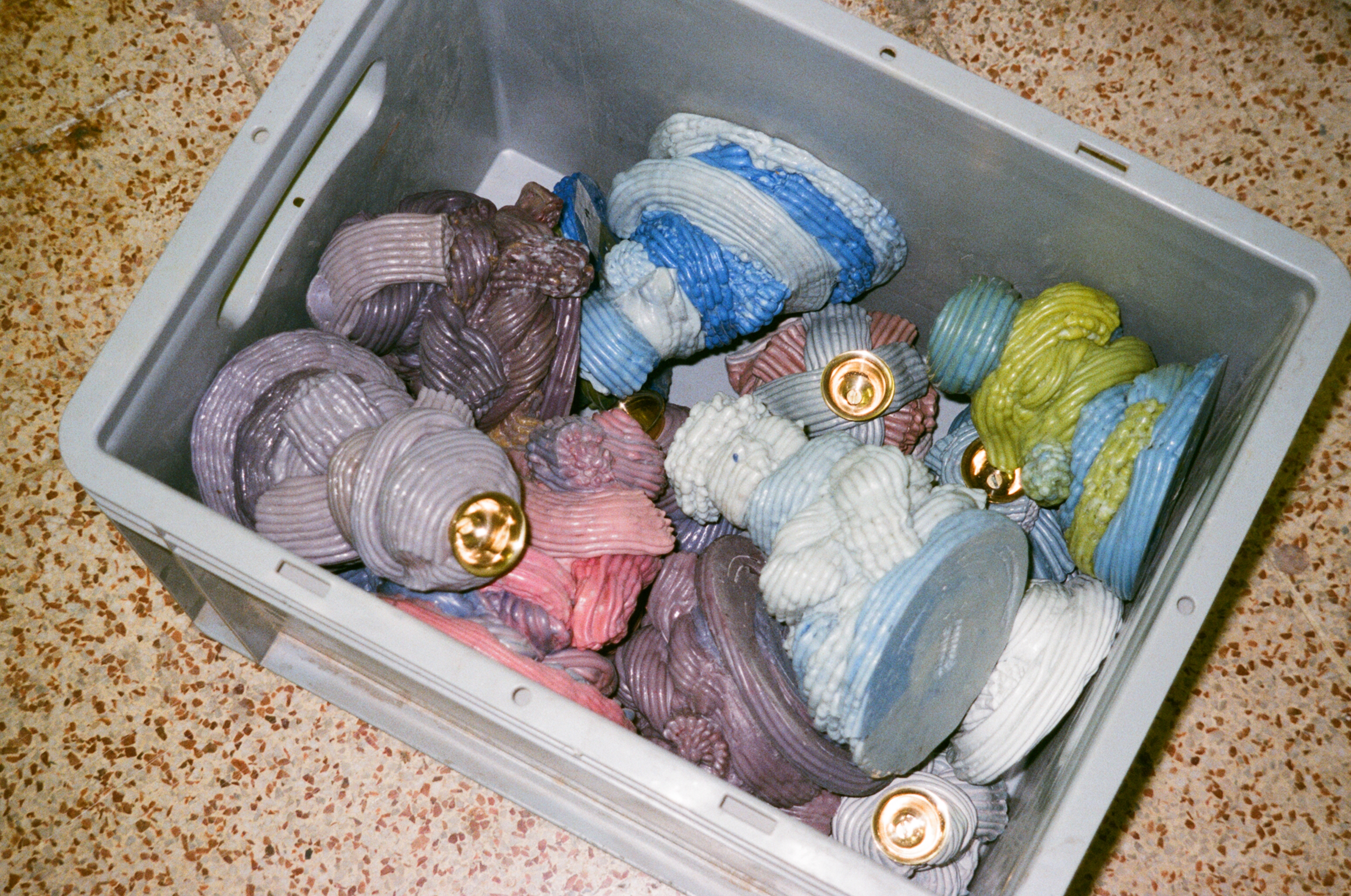 Inside the studio we have two floors, downstairs is a sort of clean space and upstairs is the workshop where the fun stuff happens. There is also the walkway/balcony/street in the sky outside which we spread out onto when the weather is good and chat to the residents of the building as they pass by. I share the studio which means we fluctuate from just a couple of us in quiet times to up to ten when we are busy and have assistants in. But we have a full kitchen and probably spend a bit too much time having lunch there.
How and when did you come here—how did you find the space? How much rent do you pay?
I've been here for nearly five years now, which I find hard to believe. I've had a variety of different studio mates and so the space has changed quite a bit through that time. I think I got pretty lucky in terms of finding it, it was one of the first places I viewed and knew pretty much immediately that it was the one. We were the first to occupy it after it being derelict for many years, so we had to do a lot of work on the place. I think we have a pretty good rate for its size and for how central it is: we pay just about £200 each per month which makes my practice possible.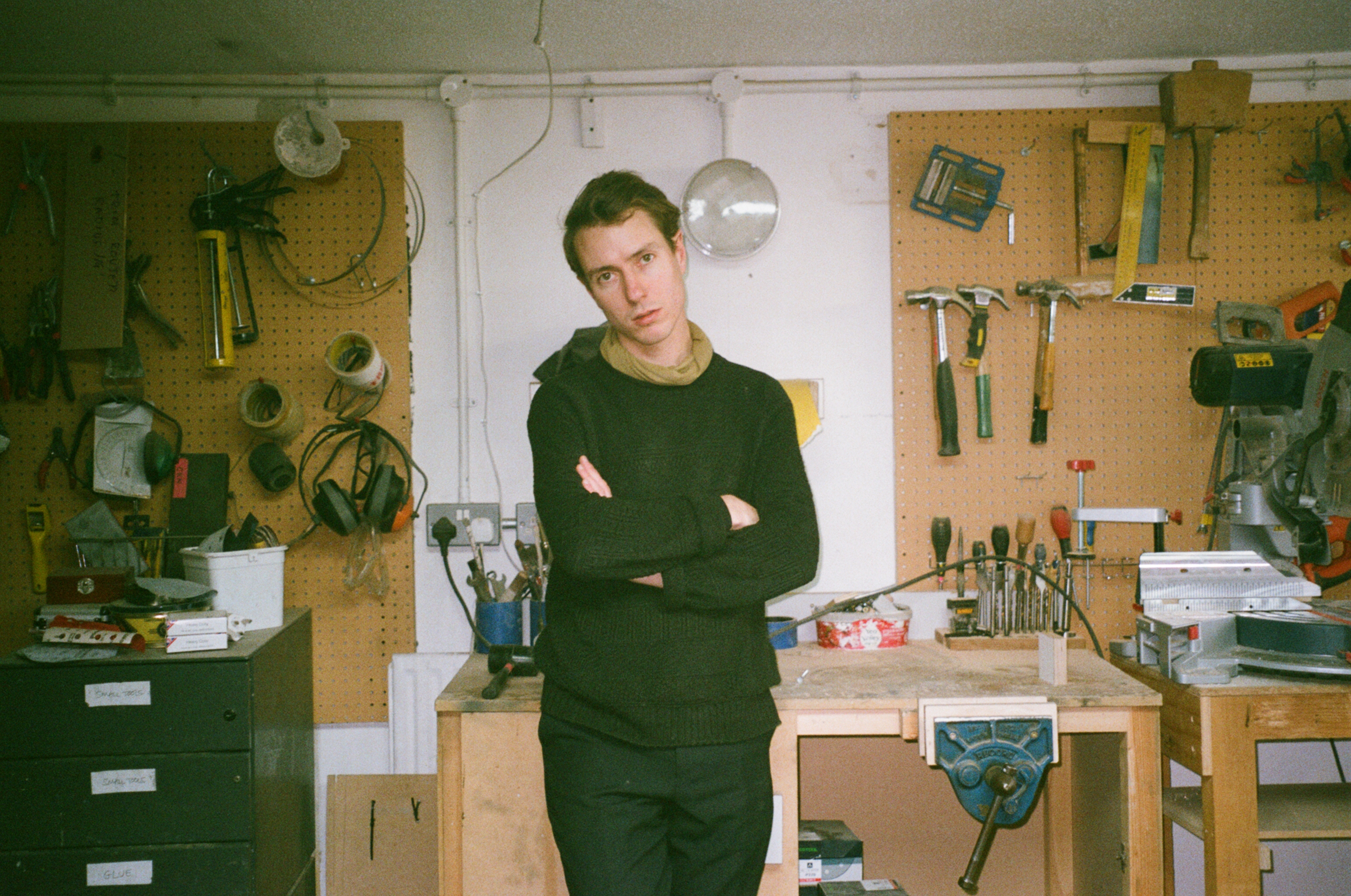 What elements of your studio are really important to you, for you to be able to work well?
For me, as someone who makes things, I need to have space but also the ability to make mess, and sometimes loud noises. It might seem obvious but those things can be hard to find in the middle of a city and also I think being in the middle of the city is important to me right now. I'm not quite ready to be a hermit in the woods yet.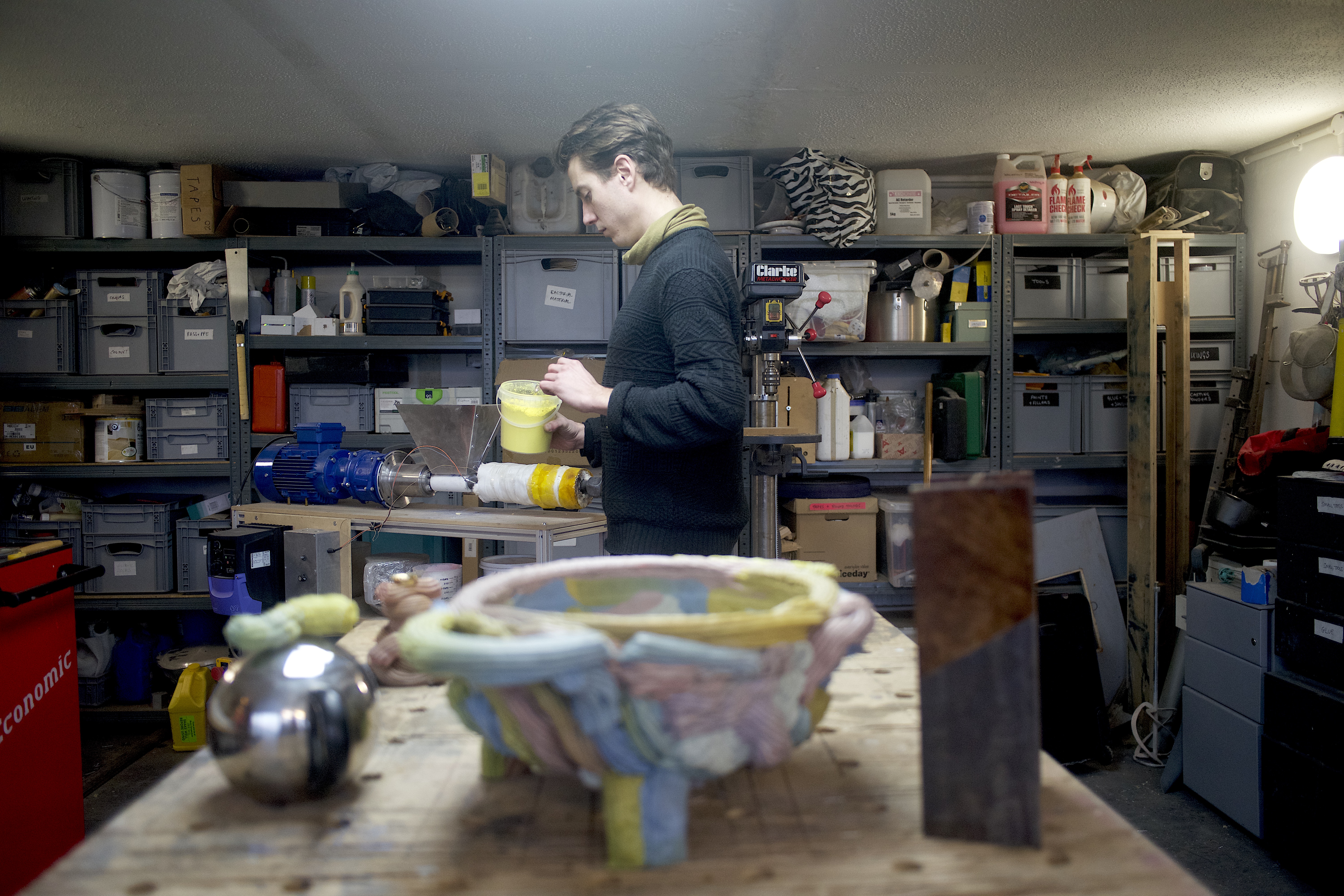 What's a typical day like in here?
It really depends because I tend to work in different phases and I might spend long periods working in different manners or even other places. Right now, for example, I am working on this project up in King's Cross—a sort of school slash shop we are running up there, and so I have barely been at the studio in the past few weeks. Then there can be times when it is extremely reclusive and just locking myself in the workshop for days on end making stuff, or at other times we have a non-stop stream of visitors coming. Though as I say lunch is usually quite a focal point of the day. We all make a point of sitting down to a proper shared cooked lunch, so that is pretty much a constant.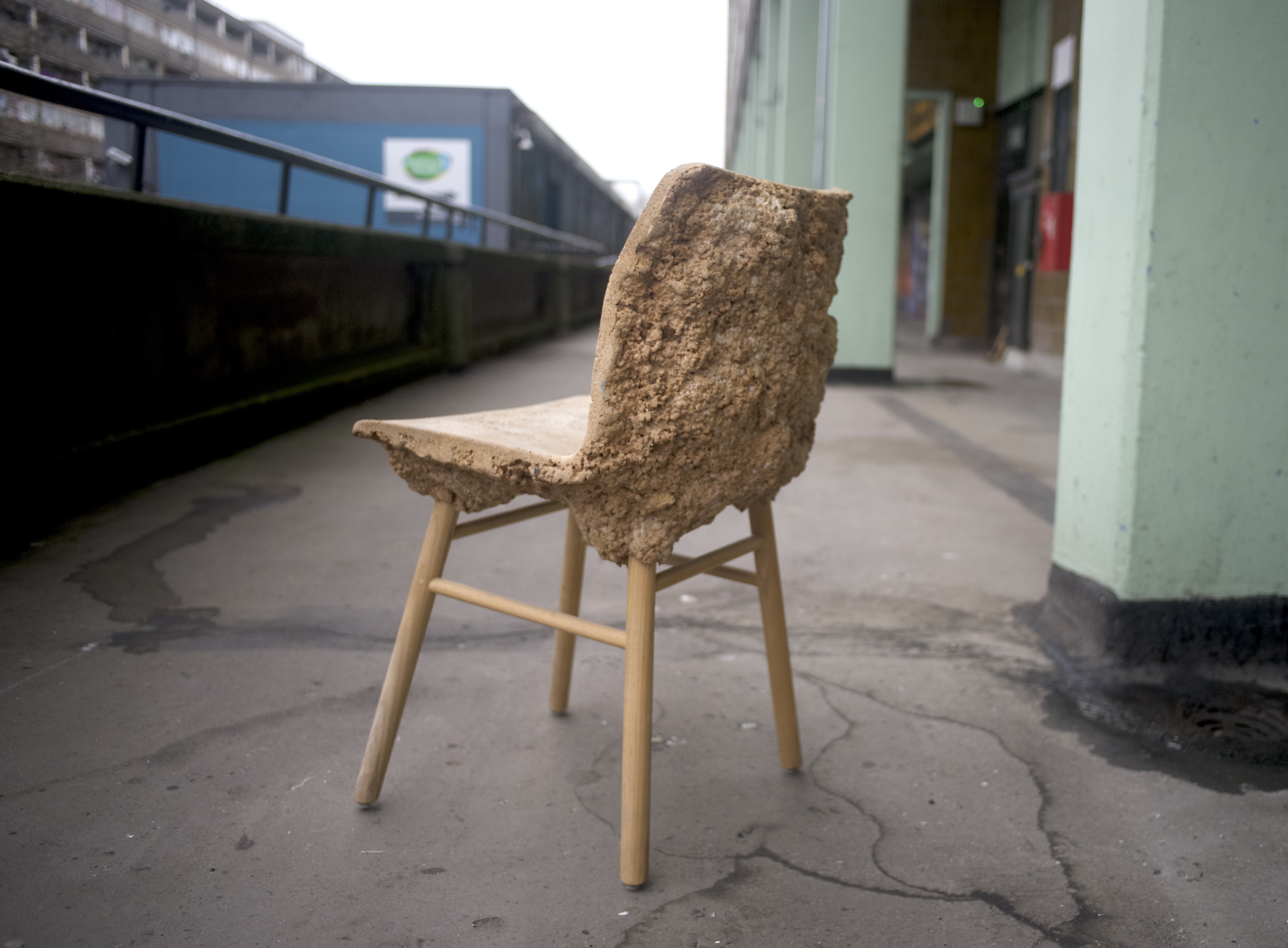 How much do you think your space influences your practice?
Well, I think quite a bit. I mean, one pretty fundamental thing is size, we have a small door on the front of the studio which restricts me to only making things which can fit through it. I had a couple slapstick moments with that when I first moved in. So I guess that is a pretty defining feature of the space, also as the workshop is upstairs I have to plan if I want to make anything which can't fit down the stairs… It's a funny limitation to have as it means I always have to stick to a pretty domestic scale, but I think in a way it's been quite nice.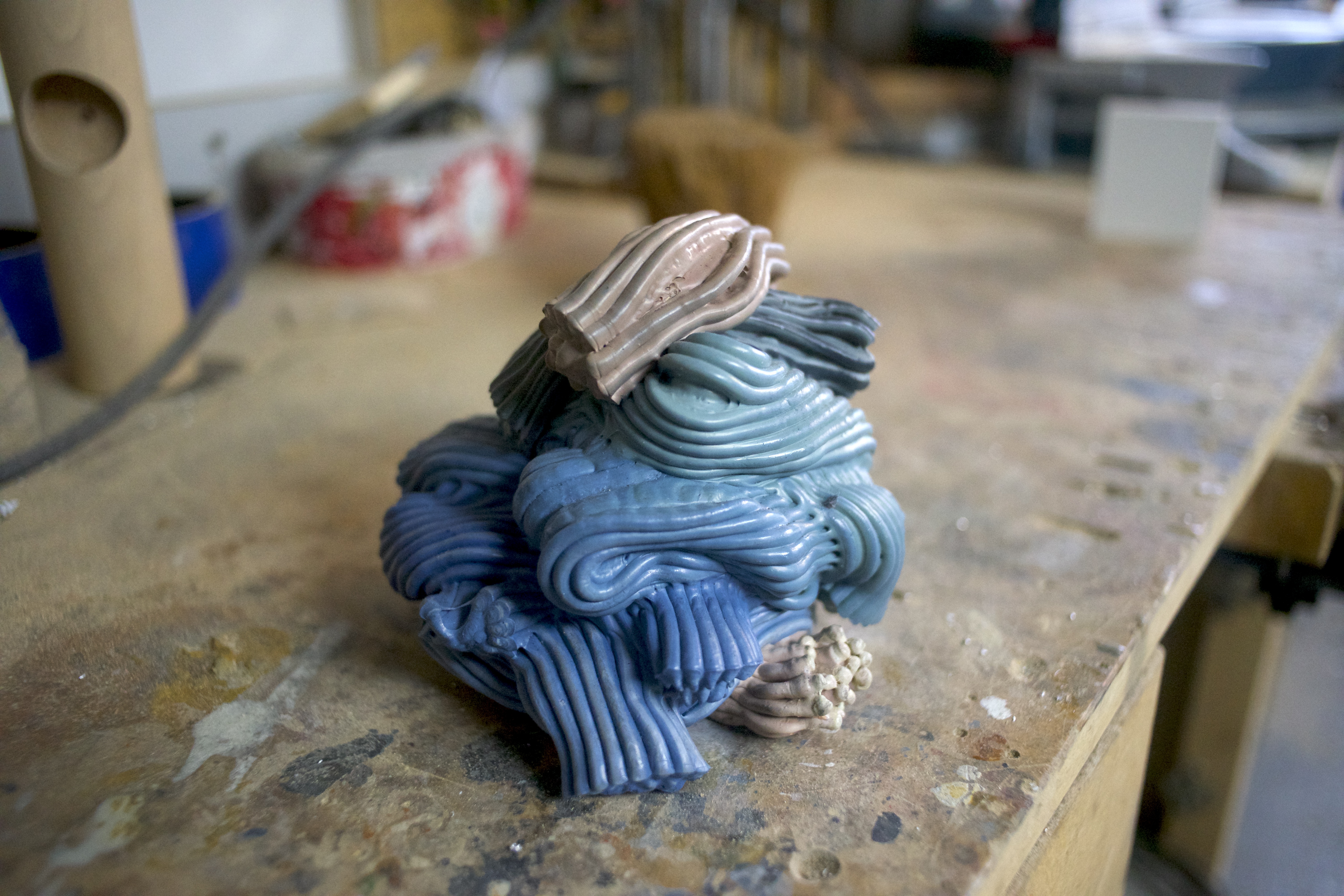 "Experimentation is a big part of my work, playing around is important doing the things you aren't supposed to do"
You make some very materially varied stuff. How much do you experiment before you come to a final product or design?
Experimentation is a big part of my work; playing around is important doing the things you aren't supposed to do. When I am working with a new material or process there is a long experimentation phase before I get to a finished piece, sometimes this can last months or even years. But for my process it's very important to sort of sketch in 3D with actual material and objects, as although drawing is a big part of my practice there is often a disconnect between how something seems on a page and how it feels in real life. Often it's not until something actually exists in front of you that you finally realise it should be upside down or cut in half and those are the real breakthrough moments.
"I am very interested in the functional things that come into close contact with the human body"
What are you working on here at the moment?
I haven't been in the studio so much in the past month or so as we have been setting up the Store School in King's Cross, but I have been making some furry iPhone cases, and I have an ongoing set of cutlery I am developing which has been really interesting. I am very interested in the functional things that come into close contact with the human body such as door handles, and cutlery is the ultimate example as we actually put it in our mouths. Eating and food rituals for many of us have become a moment of art and culture in our daily lives.
What's the most important thing for you in your day, when you're working at the studio?
Having other people around in the studio to make stupid jokes and ask their opinion on how two colours go together.
If you could have one thing in your studio that you don't have, what would it be?
A bigger door… And more natural light, I'm obsessed with sunrise and sunset which are often hard to find in London. And more tools, you can never have too many.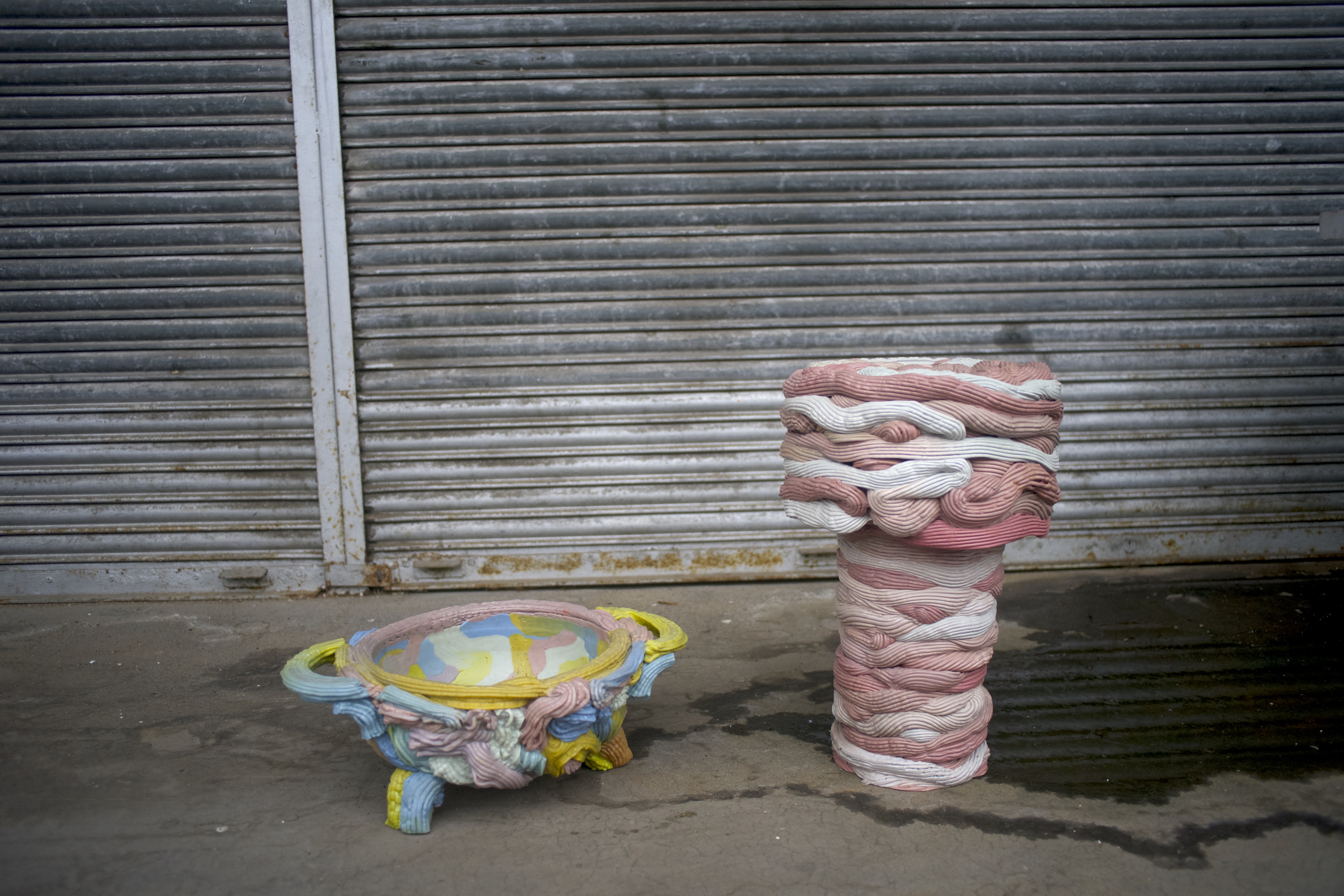 Photography by Bar Alon