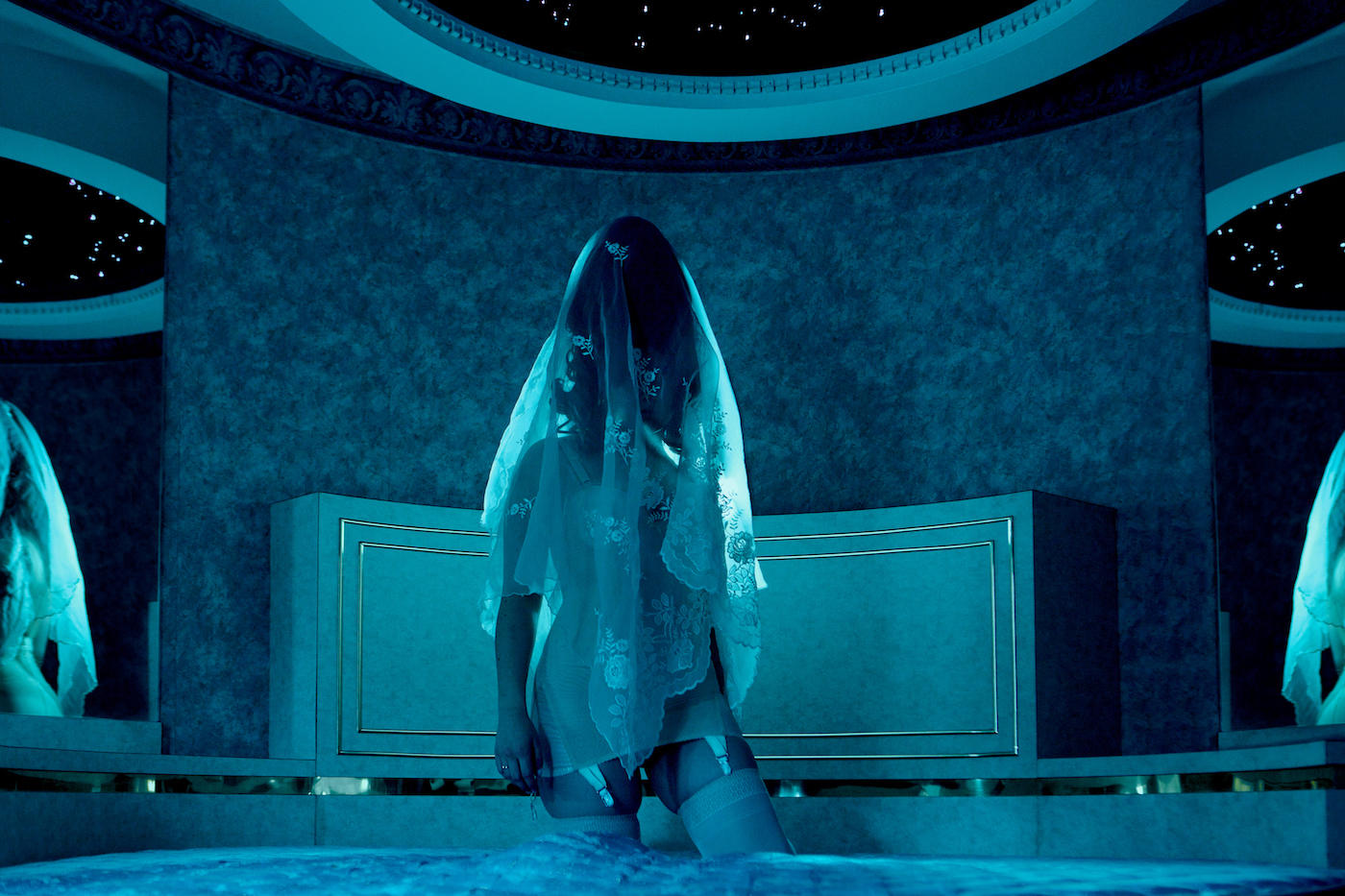 Dalston-dwelling, twenty-something photographer Juno Calypso's award-winning series of 2015, The Honeymoon Suite, is undoubtedly one of the iconic photographic works of our time. When the images of the series (famously shot solo in a love hotel in Pennsylvania, US, Calypso posing as a travel writer to gain access to various suites) began to proliferate online, Calypso was hailed as "the new Cindy Sherman", a pro-women art idol for millennials. Although Calypso is definitely of the digital age, unusually, she released the series slowly and hasn't created an independent new body of work since. The Honeymoon Suite has now been circulating online and out in the world (in physical form, the works have been shown all over, from Amsterdam to Lagos) for two full years, allowing it to percolate current cultural discourse.
Yet discussions have centred around two or three impactful images in the series, (The Honeymoon Suite, and A Dream in Green). Just as intoxicating is the lesser-known The First Night, in which a shrouded character directly faces her own camera (rather than the mirror, as in other images of the series) her face concealed by a bridal veil and wig, the surreal blue light casting a sci-fi atmosphere around the female figure. The picture's protagonist, Calypso has suggested, is not necessarily the same woman who appears in the other works in the series; nor is her solitary performance intended to be ironic. As Calypso has said of the work, "there is an underlying sense of sadness and seriousness about it."
While The Honeymoon Suite as a whole can be read as an exploration of fantasy and desire, particularly female, in the contemporary age, and a comment on the industry that has commercialised ideals about love, romance and loneliness, in this particular image Calypso contemplates the idea of what she calls the "looped gaze": the exchange that goes on between photographer and camera, subject and object, body and image. Paradoxically she is faceless (and therefore, gazeless) when she invites this exchange, perhaps a suggestion of the impossibility of seeing oneself through others' eyes. This is a wedding night photo that allows the bride, Calypso's anonymous creation, to complete her own fantasy, to experience her nuptial night exactly as she wants, through image alone.