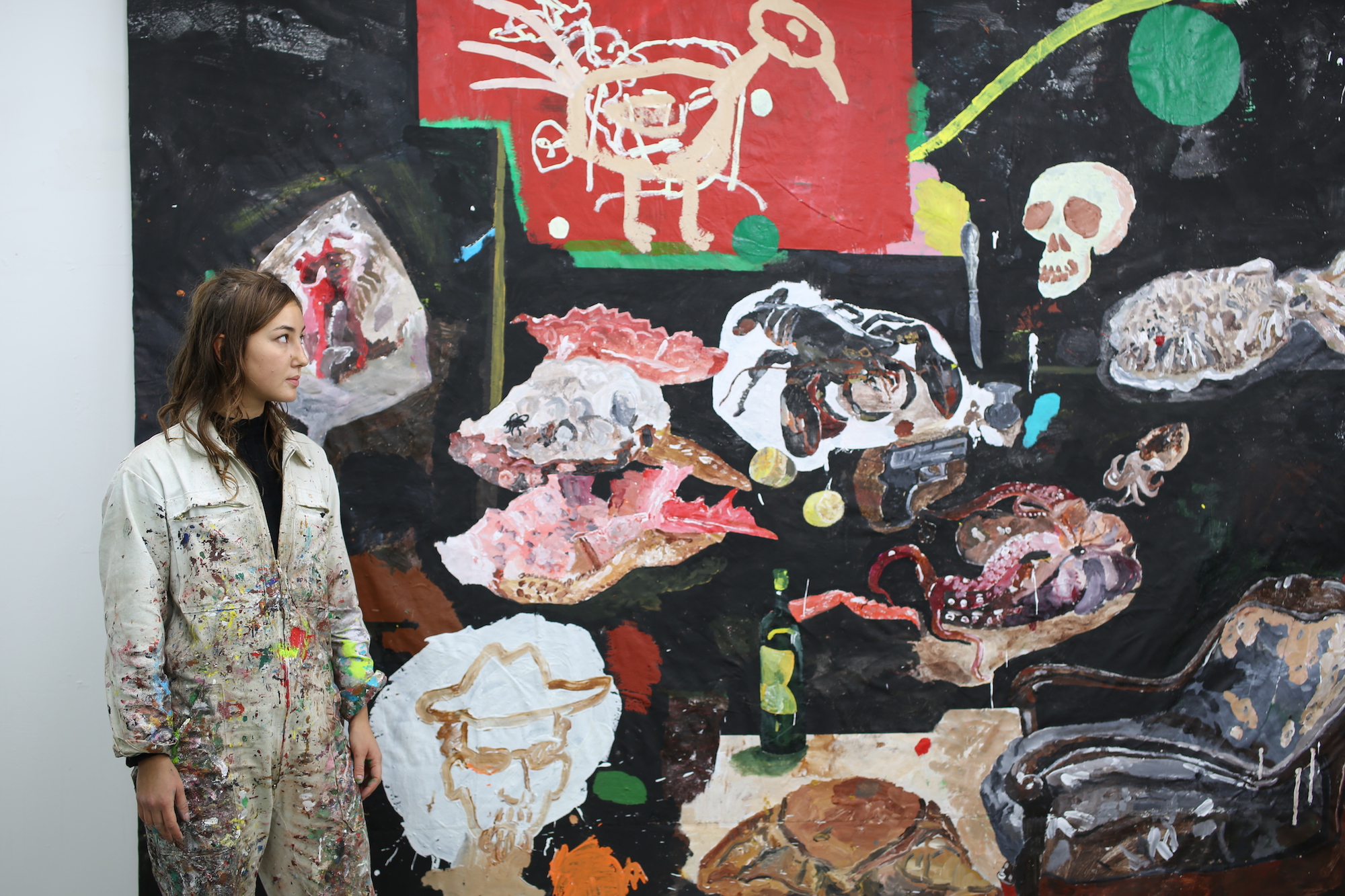 There is a heartiness to Maïa Régis's paintings that hits you instantly—her canvases are rich in material, with layered objects and icons conjuring a heady mood. For her recent residency at Elephant Lab, the RCA graduate first created a group of loose and rapidly painted portraits, taking inspiration from the Cuban street photography of Andre Serrano. Her central painting, a large and engulfing piece, features motifs from art history, seafood markets and more—a reference to Chardin's ray floats alongside a gun, an opened bottle of red wine and a group of fleshy coloured sea creatures, grounded against a dense, matte black background.
"There is an atmosphere in markets that you can't find anywhere else"
Régis's paintings don't offer up any easy solutions, but they call to mind a wealth of narrative possibilities. She is very influenced by the energy and organic matter that exists within Sicilian markets, and similar places around the world. Here, visitors can feel overwhelmed by the visual and sonic cacophony, as items for sale, faces and voices clamour within spaces that are both joyful and resolutely authentic. This is not a romantic approach, she tells me, but a celebration of something entirely contemporary, which sits happily at odds with the standardized experience we usually encounter when we consume.
What have you worked on while you've been here?
In the first week I was just doing small portraits. It's quite hard to focus straight away in a new place, and I was doing smaller pieces before I came here also. This helped me to get into the mood to do the bigger stuff. They are made much more rapidly than the big paintings. A lot of them are based on photos, a lot from Andre Serrano photos. I feel like I have a similar aesthetic and subject matter to him. He did a series in Cuba and I like the way he photographs everyone in it—the poor, the rich, and everyone who makes the country what it is. And he always has such interesting atmospheres in his photos; he makes you guess things.
I feel that with your paintings—it evokes a mood rather than leading to a really clear understanding.
Yes, exactly. And that's why I am very drawn to Serrano's work too.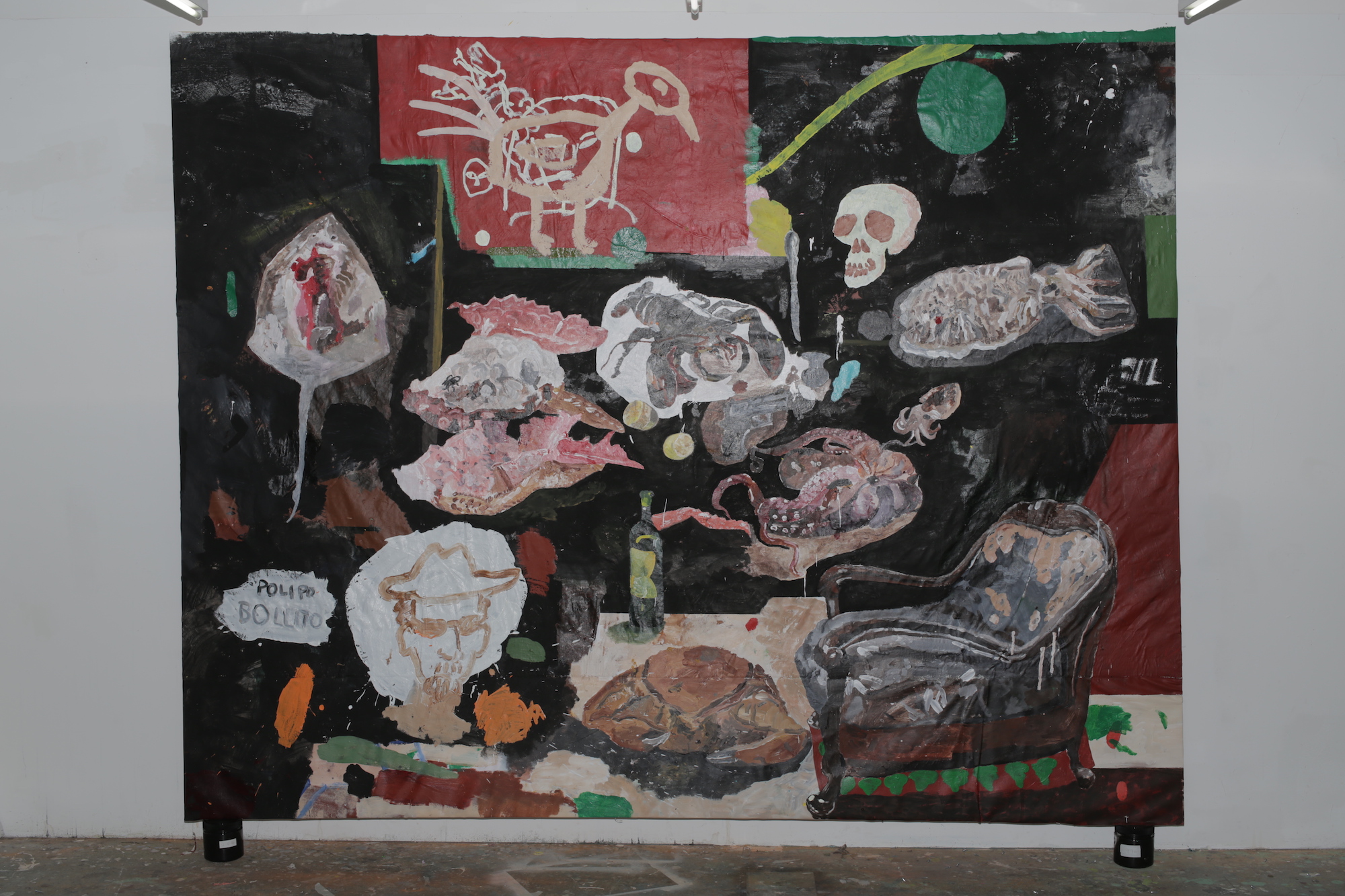 Do you ever paint from life, or are you very set on painting from photographs?
I paint from photographs and also from my imagination. But never from life. The last time I did that was in life drawing when I was younger. It just feels more direct if I do it this way. It's a whole process to bring someone into your studio and make them pose. I change my mind all the time, so I don't want someone there.
With the larger paintings, do you have quite a set intention when you start? Are you quite controlled, or do you feel your way through it?
It's not controlled at all! I try to figure it out once I am making it. There is random stuff but there is also very considered stuff. That comes more at the end of the process; the control of the painting.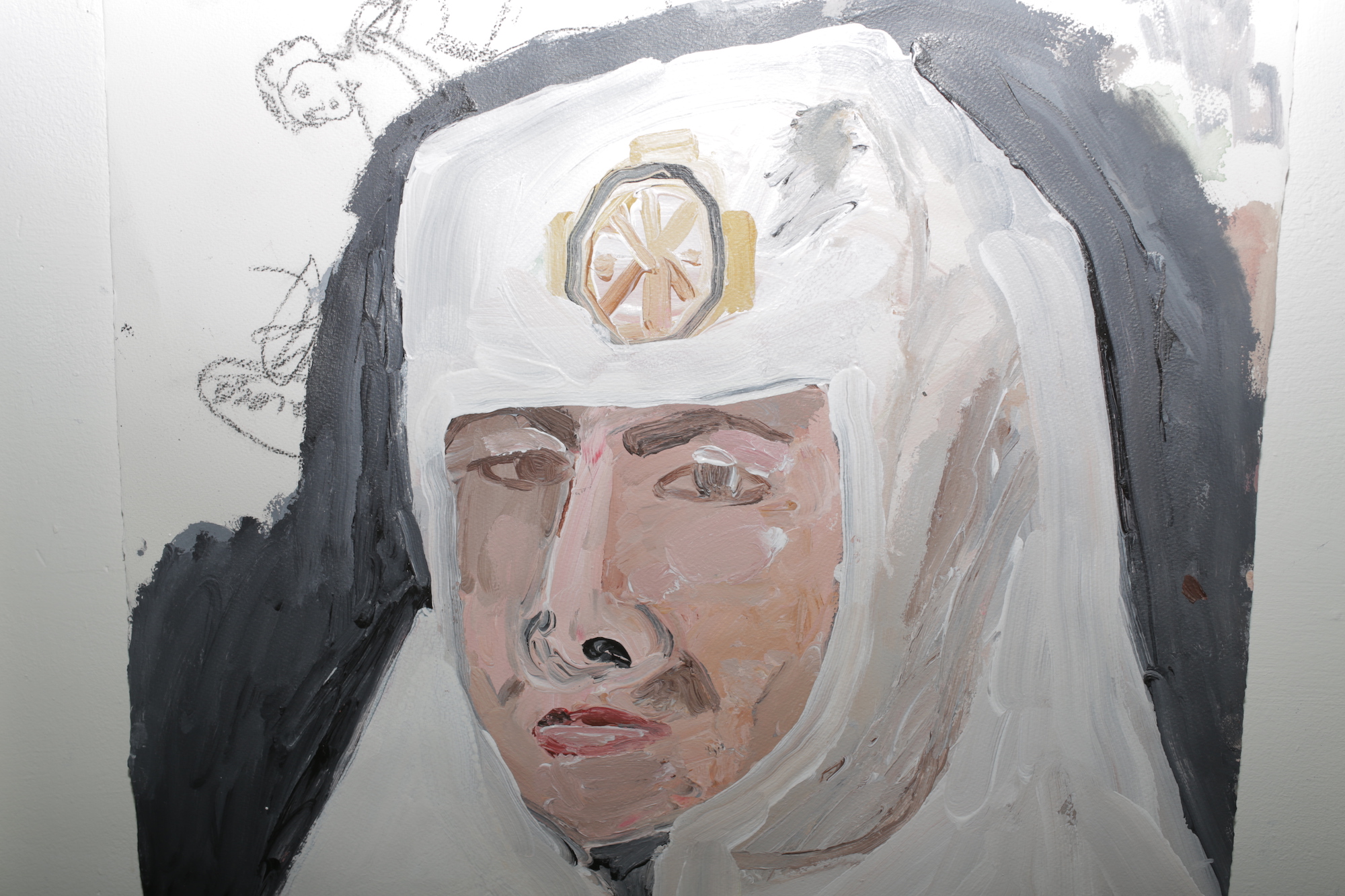 Before you started this residency, you were planning to visit the local markets for inspiration. How have you found them?
The markets in West London are very different from Brixton Market and the ones that inspire me—Portobello Road market is… I'm more interested in lively markets. There are lots of elements from markets in my works, I like the raw organic matter. There is an atmosphere in markets that you can't find anywhere else, especially markets in Sicily, and Brixton, even Brazil and places like that. There are lots of smells and people yelling, it is very whole.
"It becomes underground to have these places that are really authentic and lively"
Do you feel there is something romantic about the way you explore those spaces in your work?
No. I try to stay away from "romantic". It's not looking at it from a nostalgic angle, it's very contemporary to me right now because it's in opposition to the standardization of everything. And also it becomes underground to have these places that are really authentic and lively.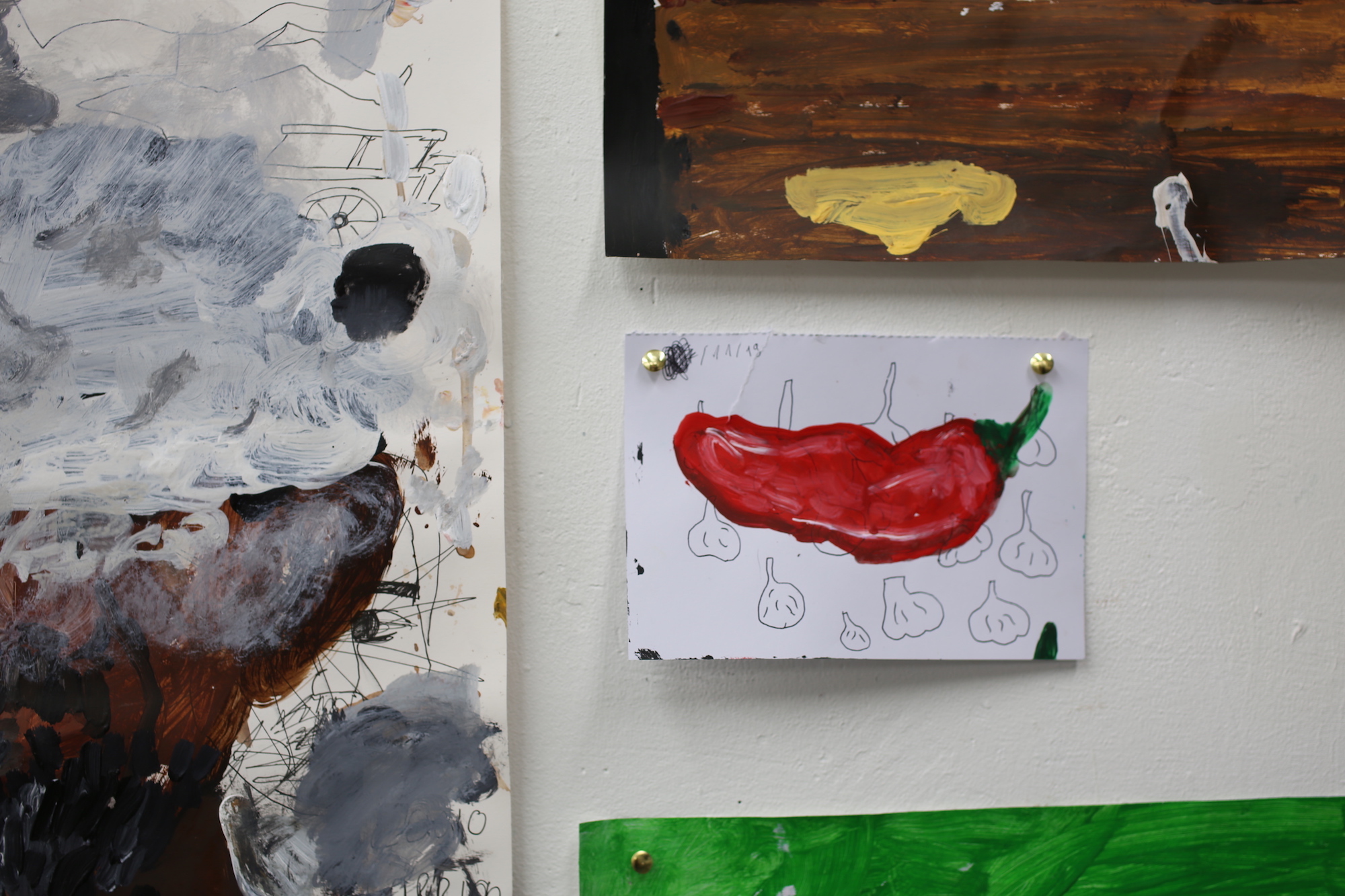 In some of your works there is the suggestion of a human presence—a glass of wine, the outline of a face, a chair pulled out at the table—and in others the entire focus is on the people themselves. What kind of balance are you looking for?
For the big painting, I approached it as a still life. So it was very classical to begin with, the white table cloth with things on it. I looked a lot at classic still life, like Chardin. I was interested in how you make something classical, but then transform it into something else.
How have you worked with the lab while you've been here?
I tried Le Franc Bourgeois Flashe paint for the first time, and it was really good. It's super matte, and that's what I'm looking for. There is something chalky about it. It feels more organic, less plastic. I like that look of when you draw with white pastels on a blackboard, it's very materially.
You graduated from the RCA in June, how have you been finding things since?
So far, so good!
All photography © Louise Benson
Residencies at Elephant Lab
Practising artists are invited to make proposals for a one month residency at Elephant Lab
APPLY NOW