Earlier this year, the first signs of pandemic "lockdown life" were the closure of physical communal spaces: schools and colleges, galleries, museums, theatres, music venues, bars and restaurants. Self-isolation quickly amplified every element of life, jolting the rhythm of the everyday, which skittered between torpor and high tension. As many countries now find themselves out of lockdown to some extent, a discomfort remains around spaces which support mass gatherings, and music venues have been some of the worst hit.
In place of people not being able to get together physically for live music events, a digital flurry of online gigs, film clubs and album-listening parties have emerged. Earlier in the year, stadium-sized acts started to stream intimate "living-room" sets and invited questions from the global crowd. On the grandest mainstream scale, there was Lady Gaga, at the helm of a World Health Organization online concert One World: Together at Home, in support of under-protected and underpaid healthcare workers.
Christine and the Queens livestream
Technology sparks connections and simultaneously creates dissonance; often, this remote community feels bittersweet (seeing a blur of friends' faces at my first "Zoom rave" just made me feel melancholy). Occasionally, it feels off-key: nobody needs to endure a string of US celebs simpering their way through a John Lennon singalong. But most significantly, remote collaborations and communities suggest new possibilities that should resonate far beyond this highly unusual year. This has been a time for independent spirits to thrive, and it's been galvanizing to see and hear innovative artists create their own makeshift gigs. They include Soweto Kinch's politically charged "Lockdown Sessions"; Christine and the Queens' endearingly surreal "Version Confinée" performances; and a blaze of turntable battles hosted on Instagram Live.
"I use culture as my vehicle to connect communities, cultivate creativity and celebrate human diversity"
Artists have arguably always collaborated remotely, whether exchanging and shaping ideas by letter or digital forms. In the mid-nineties, US media artist and programmer Nora Farrell and composer William Duckworth launched pioneering "internet band" project Cathedral. It was described by Duckworth as comprising three components: "the website itself, which features a variety of interactive musical, artistic and text-based experiences; the PitchWeb, which is one of the virtual instruments designed for the site to allow listeners to play together online; and the Cathedral band, a group of improvising musicians that gives periodic live performances from venues around the world". Similarly, at the beginning of the twenty-first century, indie super-group The Postal Service were famed for their old-school means of communication: bandmates would initially post CD recordings to each other, adding their own parts. And let's not forget, archaic social media sites such as MySpace were once hotbeds of musical connection.
"The collaborative spirit is my eternal spirit," says multimedia innovator Michael Barnes-Wynters. Growing up in Bristol, the eldest child of three in a Jamaican household, young Barnes-Wynters' creativity was encouraged by his mother, who allowed him a section of wall on which to "doodle" ideas. He recalls: "Giving me that opportunity manifested itself into my finding neglected, overlooked and unsanctioned spaces to instigate opportunities for folk to step into these found spaces and collaboratively create magical moments."
By early adulthood, he was living in an infamously musical house-share on Bristol's Cheltenham Road (name-checked in music histories such as John Robb's book The Nineties: What the F**k Was That All About?) alongside seminal producer-engineers Rob Smith (Smith & Mighty) and Dave McDonald (Portishead), and using his pre-digital communication skills to make art collaborations happen. It was a technique that continued when he moved to Manchester in 1993, where he developed his Doodlebug platform, associated with "bedroom talents" turned major stars including Mr Scruff, Twisted Nerve's Andy Votel and singer-songwriter Alison David.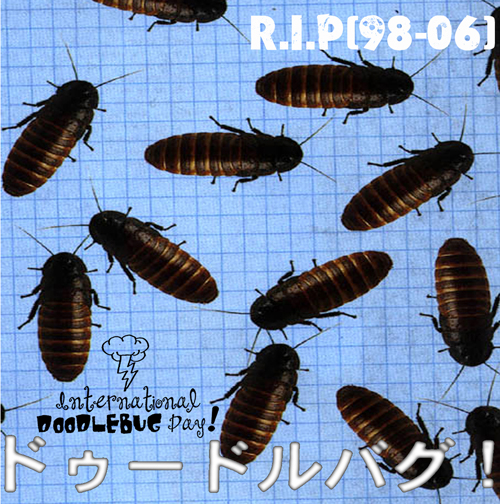 "Working collaboratively in the mid-1990s with the then-unknown Andrew Carthy (aka Mr Scruff), using our telephone contacts, fax machines and the post, proved successful as we were able to create a world in which we invited everyone to enter with his first release, named after one of my limited-edition club nights, the Hocus Pocus EP [1995]," says Barnes-Wynters. "I use culture as my vehicle to connect communities, cultivate creativity and celebrate human diversity, to ultimately empower 'the underdog' to become today's future creative entrepreneurs and community leaders; this philosophy is at the heart of everything I do."
Barnes-Wynters's prolific creative flow has pulsed across genres and scenes ever since, whether it's connecting global artists in his liaison role for the Womad festival; creating annual International Doodlebug Days (1998–2006) across Manchester, London and Tokyo; or as a senior curator of independent artist platform Contact, and "community-based radical arts space" Niamos.
Now based in Hull, one of his latest projects, Take Back Control TV, was originally developed for The Lowry gallery in Salford, but takes on a new online life of its own, drawing from the febrile history of public access and community-television programming, and inviting new submissions to the mix. Barnes-Wynters relates the Chinese-language interpretation of the word "crisis" as comprising the symbols for "danger" and "opportunities". This is, he says, "the lane in which we creatives live and flex".
Self Esteem portrait by Charlotte Patmore