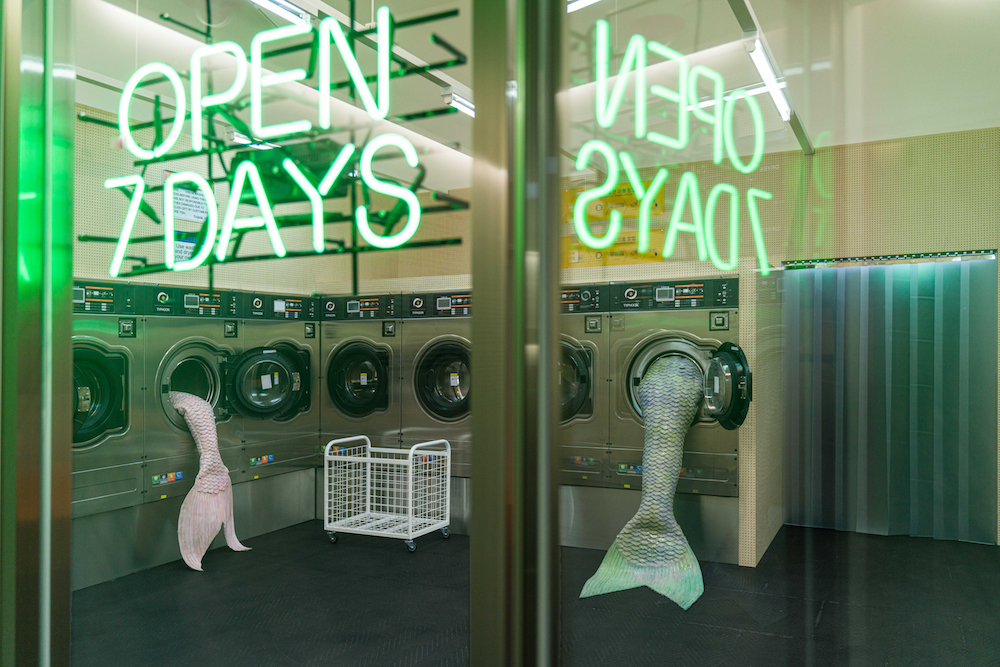 How do we define the limits of a creative space? An ongoing exhibition at Daelim Museum Seoul brings together ten independent arts platforms from around the South Korean capital. Each of them in some way redefines the traditional gallery model, and their inclusion in the same show explores the possibility of togetherness without homogeneity. The Gucci project, curated by Myriam Ben Salah, took its cue from creative director Alessandro Michele's reflections on eterotopia: an "other" space, which could be seen as a physical manifestation of a utopia.
"The laundromat is a microcosm for the economic and socio-political forces that clash in the everyday"
One of five artists to show alongside the independent arts platforms, Olivia Erlanger has recreated a work previously housed in a Los Angeles laundromat. Ida, Ida, Ida! features a surreal line-up of mermaid tails hanging from the open doors of washing machines. Their hindquarters are flopped towards the ground with all the nonchalance of an item of clothing spilling out. But there is something overwhelmingly sublime about the piece too, a slice of mythology in the most practical of spaces.
Erlanger utilizes the mermaid's form as a "pre-gender archetype", and explores notions of mobility and aspiration through both the mermaid's physiology and the work's setting. "The laundromat is a seemingly 'democratic' site," the American artist tells me. "It is a microcosm for the economic and socio-political forces that clash in the everyday, from the housing crisis and disparate development to gentrification."