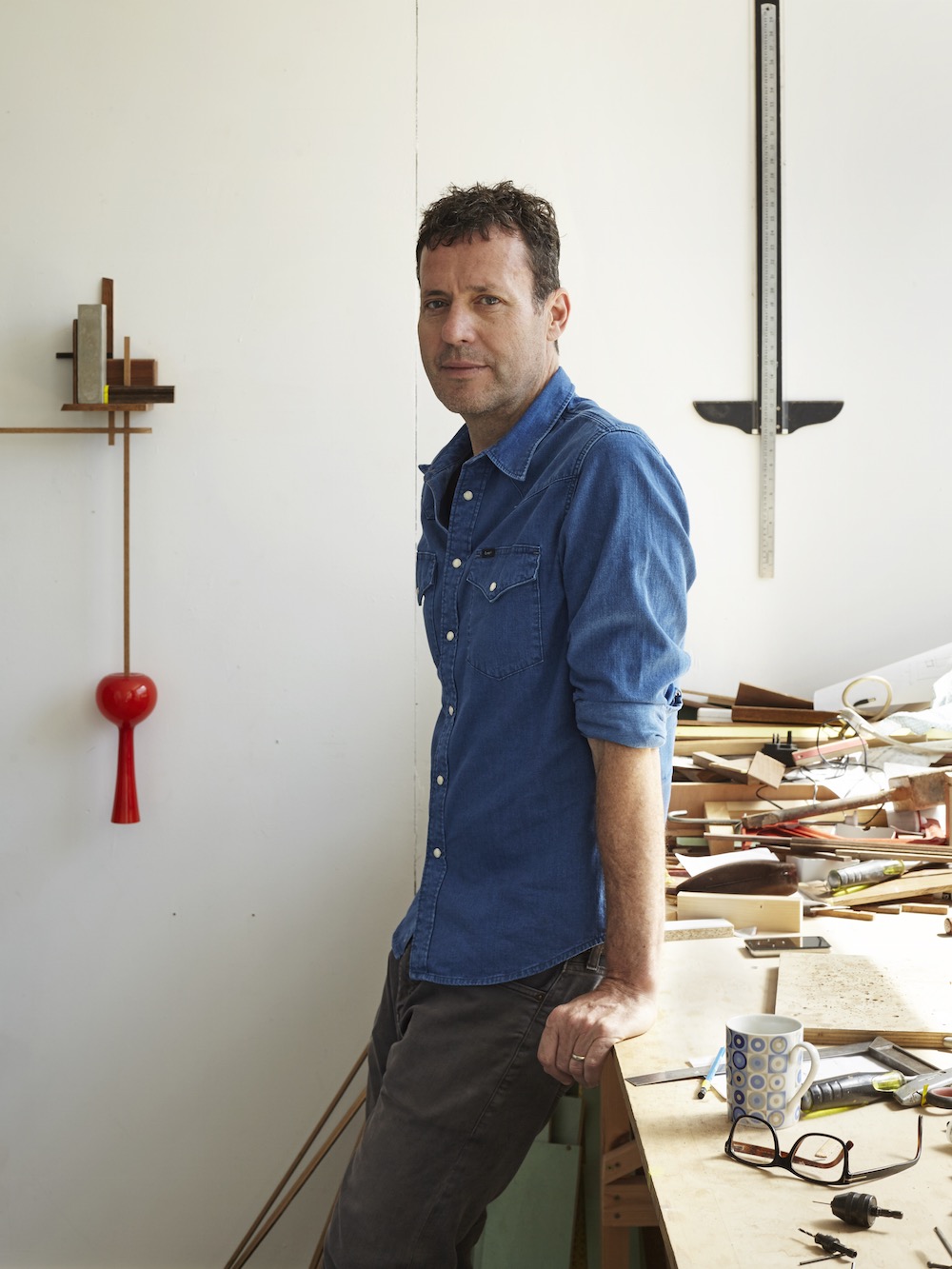 Parlour is the artist's first foray into immersive work, and will include a seated area — Scandinavian 60s design, of course — surrounded by art books for viewers to engage with. There is also a mix of large scale and more intimate works, with two large, natural-coloured screens made from rather delicate sections of wood, that are not too dissimilar in composition to modernist paintings. Smaller works range from intricate, wall-hung wooden pieces, to precarious floor-to-ceiling works, with narrow items teetering one of top of the other. The works in progress had a more pared back look than some of Samuels' previous works, with fewer colours, simpler lines and a more complete move away from the objects' original forms.
How long have you been working on the pieces for Parlour?
Not too long, I like to keep it a little bit fresh and I'll probably still be working up until the show. In the last show I had at Rokeby, I showed a huge, 9m piece called Tragedy of the Commons which was just a big grill of 1960s furniture. I was in a small studio then, so it didn't really get put together until we got to the gallery, which is kind of how I like to work. So, for this show, we'll edit it when we get there. Artists aren't always the best at hanging their own work, at some point you have to relinquish your control freak-ery and let someone else have a look! Otherwise it just becomes about the ego.
It looks as though the work has moved away from the more literal construction of furniture.
Yes, it's about a hint of it. You might not necessarily know the provenance of where it's come from, or that it might be an Ercol table. I'm more attracted to the history of the wood, and the imperfections and the scuffs that it already has on it. I'm very conscious of the textures, whereas before it was about colour and so on. The immersive work is new for me, which came about quite naturally. This is a very immersive studio, and quite often we get together. Everyone comes in at lunch and we have coffee, so it's become very social. It's a really nice thing to do, which harks back to the salon era. I wanted to create that in the show. I don't want that stark white environment where you just go and look at the work. I want to try to encourage people to sit down, they can look at the books, or just sit and talk. I want it to feel slightly familiar and make you feel a little bit more at ease. Because I'm using furniture that's entirely domestic, it makes sense to create a domestic environment.
Do you enjoy working in chaos or do you prefer a tidy studio?
Sometimes the desk is just covered in bits! I spend so much time in the day trying to find things. There can also be quite a lot of dust. When the wood goes through the big yellow saw it burns a little bit, and it's just the most amazing smell! Like tobacco, or one of those smells, that you don't really come across any more. It's nice going home messy.
Is there a part of the process that you enjoy the most?
I like working out how to do things. The taking apart is good, but I really enjoy the working out how to do something or how to put something together with no screws or glue, where the piece just clicks in. It's very satisfying. I like using materials. I limit the tools even, the yellow saw is a new addition, but I do like to limit it. I could have laser cutting equipment and everything like that, but I like to keep a basic approach.
When you began collecting 60's furniture, did you know you were at the beginning of a long line of work?
Not at all. I started using furniture quite a while ago as something other than a plinth, when I was making work which was more process led because a plinth has this historical baggage. But then it became this use and reconstruction of furniture. With the formica I was using this limited colour palette which is so 1960s, and now it has become more pared down, with just the concrete and the timber, and the splash of colour is the glass. I wouldn't say I'm always going to work with this material, but at the moment it's very satisfying. It's a bit more like a painterly practise, I have to make things to be satisfied. I'm always looking and taking bits off. There are always disasters along the way, but I'm very conscious of making decisions that are intuitive.
Were you thinking about modernist painting when you began working like this?
Last year I began by making one screen, then of course people began to pick up on other artists who have worked with screens and that modernist approach. I don't think it was intentional, and often the less I think about it, the more successful it is. But there is always going to be someone who is going to contextualise it and give it a reference to art history in some way. I rely a little bit on not knowing too much. I enjoy that aspect. Three or four years ago when I started deconstructing items there was always a Kurt Schwitters reference, but I think it changes.
Once you've got into an artistic practice do you feel as though you have to keep going down that route, or do you still feel the freedom to keep experimenting?
I definitely still feel that freedom. Obviously you become less employable as the years go by! But you have to change. The moment you land on the winning formula, you're not exploring and you're not satisfying yourself in any form. But the experience of going to the studio and building or changing or moving the work is the thing for me. There's a point where you need to move your practice. It's about making, and along that line you realise that most of the year you make stuff that isn't successful. But that's what keeps you going, it's a vicious cycle of trying to achieve that really amazing bit of work.
Michael Samuels: Parlour is showing at Rokeby from 26 August until 16 October 2015. Photographs © Tim Smyth.