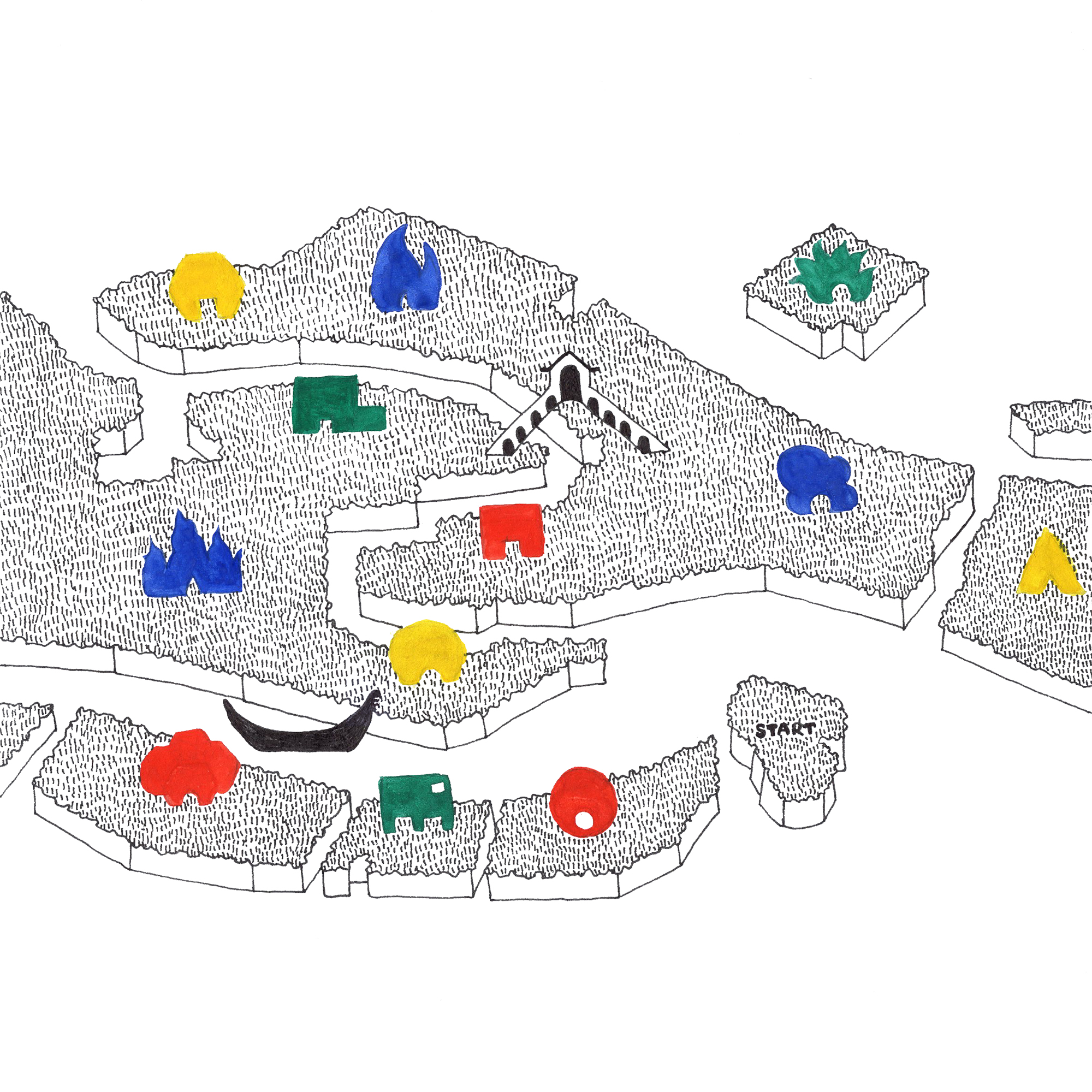 Behold, La Biennale di Venezia, the grande dame of the art world calendar. On a tiny stretch of sinking ground, the artists of the world come together in a cultural showcase that takes over the entire city every two years. A Great Exhibition of sorts, the Biennale's nationalistic structure (each country presents in a pavilion of its own) feels undeniably archaic. After all, this spectacle has been in place for over a hundred years, since 1895.
But beyond its history, the Venice Biennale vernissage remains a modern-day hotspot for every art-world luvvie, socialite and influencer from around the globe, who converge with artists and curators in the city's cobbled back streets and rickety piers. For a first-timer, the experience is overwhelming, bordering on madness. Enter unprepared at your peril.
1.
It is difficult to anticipate quite how many exhibitions, artists and events can actually be crammed into such a small island. They pack 'em in. Do your research before you arrive, and identify the shows you cannot miss. You might think you'll be able to figure it out on the ground, but the temptation of just one more Aperol spritz will be greater than you imagine.
2.
Next, the inevitable conundrum: what on earth to pack? Even the most experienced party-goers have been known to crumble at this first hurdle. The vibe is glamour-meets-comfort-on-the-riviera. Easier said than done. Cue countless ill-advised, suitcase-crumpled linen suited gentlemen (and ladies) swarming San Marco. Forget about looking cool and collected in linen; pack a suit only if you can truly pull off the artfully dishevelled look. That aside, it's trainers not heels; a good waterproof; lots of jewellery.
3.
Don't be surprised when it all starts at the airport. It's inevitable that seemingly every other passenger on your budget airline flight will be a half-remembered face eager to compare plans for the week. "Where are you staying?" they will coo. "Will I see you at the British pavilion party?" Spare yourself the potential awkwardness of two hours of small-talk by travelling with a friend. Order a G&T.
4.
Party FOMO begins now. Get used to it. As Geoff Dyer describes in the satirical Jeff in Venice: "This was it, the start of the Biennale proper: the onset of party-anxiety and invite-envy, the fear that there were better parties you'd not been invited to, a higher tier of pleasure that was forbidden to you." Hear a mention of a party you've not been invited to? Follow up with a few oh-so-casual requests for details, but remember…
5.
Any parties that you do score an invite to will inevitably come clustered on a single evening, forcing you to suddenly choose between them. Meanwhile, the nights when you are completely free will remain untouched by invites. But of course.
6.
Keep tabs on which square will be the designated hangout for Biennale stragglers either done with their parties or never invited at all. Campo Santa Margherita is a good bet, located in the student quarter. Otherwise, head to the esteemed (cough) club Piccolo Mondo, where disco has been the soundtrack to ill-advised late nights since 1963.
7.
Accept the unavoidable fact that you will get horribly lost at least once a day, and try not to cry with frustration. Forget Google Maps, whose geolocation becomes patchy amidst the narrow streets. Prepare for wrong-turns and dead-ends in the maze-like twists and turns of the floating city. Slowly breathe in… and out.
8.
When all else fails, water taxis are an unrivalled pleasure, while water buses make for a highly enjoyable ride too. Neither mode of transport is much quicker than walking, but they can be lifesavers for tired feet.
9.
Be prepared for queues, queues, queues. Outside every party, in the foyer of exhibitions, for the bar, the loos… And that's not to mention the congestion of Biennale-goers, cruise-liner tourists and infuriated locals in the streets. Yes, you will even queue to cross the Rialto bridge.
10.
Cicchetti are small snacks served in traditional Venetian bars. Follow this simple rule: one can never eat too many cicchetti. Besides, they make for a good supplement to the canapés served at each party, which inevitably leave you still hungry at the end of the night. Beware, lest you find yourself resigned to a late-night pizza slice from the type of seedy joint you wouldn't look twice at in daylight hours. Even in Italy, you will be surprised by just how bad pizza can get.
11.
Keep a couple of favourite pavilions in your conversation arsenal. Choose an obvious one: Britain, America or Germany, each of which dominate the entrance to the Biennale. Be sure, though, to keep a few obscure pavilions in your back pocket for a smattering of surprise. This will dominate every chat you have, morning, noon and night; try not to nod off halfway through.
12.
Be camera ready at all times. It's not just about keeping your pout out in anticipation of the countless snaps for Instagram, but keeping your eyes peeled for the inevitable famous faces you will see. Sure, your blurry photo of them was taken from across the room; the important thing is that you now have proof.
13.
The Venice comedown hits you hard. Upon returning to the airport, you will suddenly remember that you haven't seen in a car in days, and be forced to face the fact that champagne is not always given away for free. As you put your case down in your messy bedroom at home, it's back to reality and all its unglamorous chores. Our best advice for a case of the Biennale Blues? Sleep for a solid twelve hours, and dream of the watery paradise that, for a few short days, was all yours.