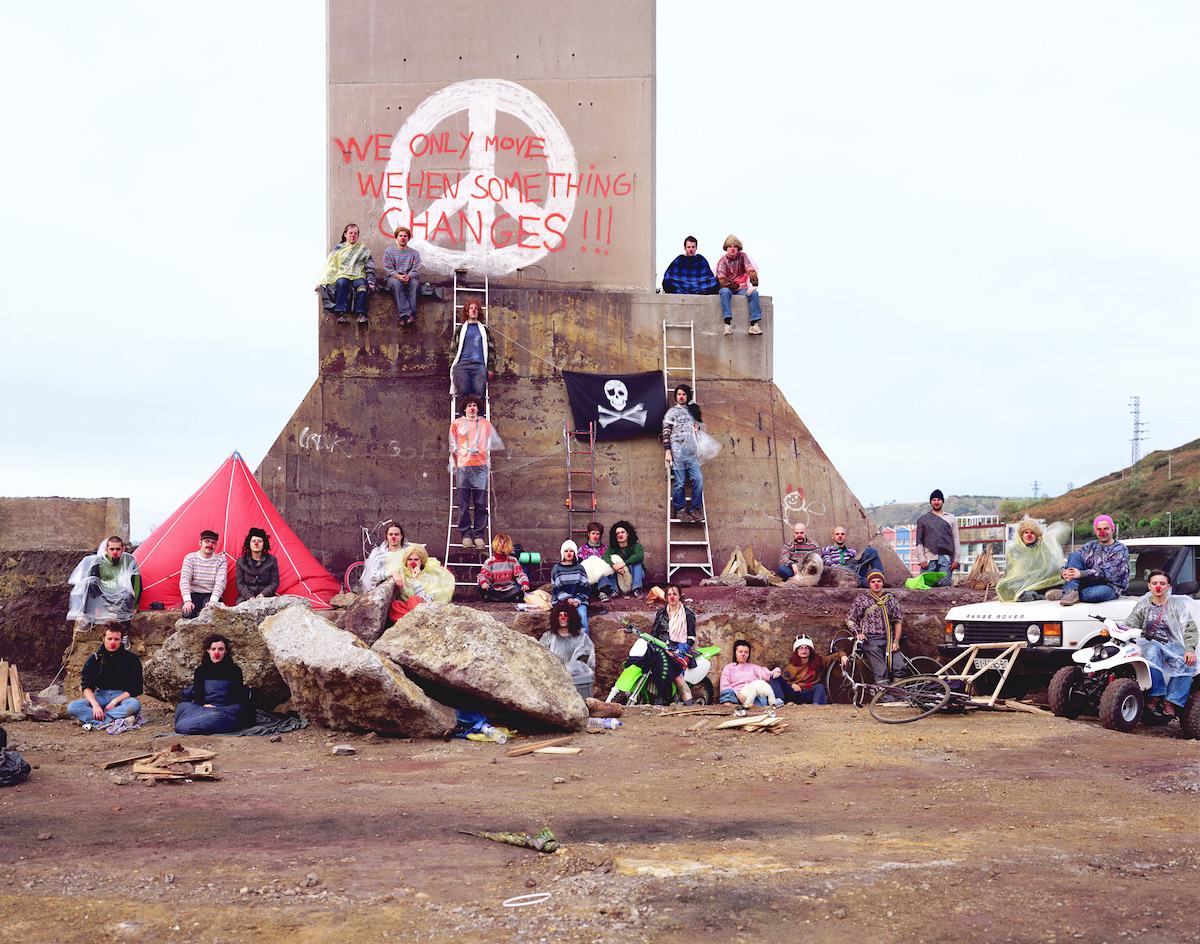 When I imagined Hauser & Wirth Somerset, I pictured its two white cube spaces on Savile Row copy and pasted into the rolling green hills around Bruton. What actually resides there, is a farm-turned-art-complex, a space that feels more like a cosy, wood-fire heated institution than a commercial gallery. At the time of our arrival, finishing touches are still being put onto curator Adam Sutherland's enormous exhibition The Land We Live In – The Land We Left Behind. The exhibition attempts to dig a little way into the enormous ground covered by the theme of humanity's relationship to the earth and Sutherland aims to address a broadly negative attitude towards rural people that has existed historically and persists as cities become more and more densely populated—in the process, engaging with the life around its setting in Somerset.
Although Sutherland, who is director of Grizedale Arts in Cumbria, describes the show as "kind of a thumbnail sketch of a huge subject", The Land We Live In – The Land We Left Behind is far from restrained. It spills out of the stone walls of its four gallery spaces and into the courtyard, where the Fernando García-Dory / Hyatsu Architects designed Goat Pavilion waits longingly to be climbed upon by real-life goats, who are supposed to use the structure to "socialize" on. Alas, after hearing rumours of their arrival we went searching for them, and they were nowhere to be seen.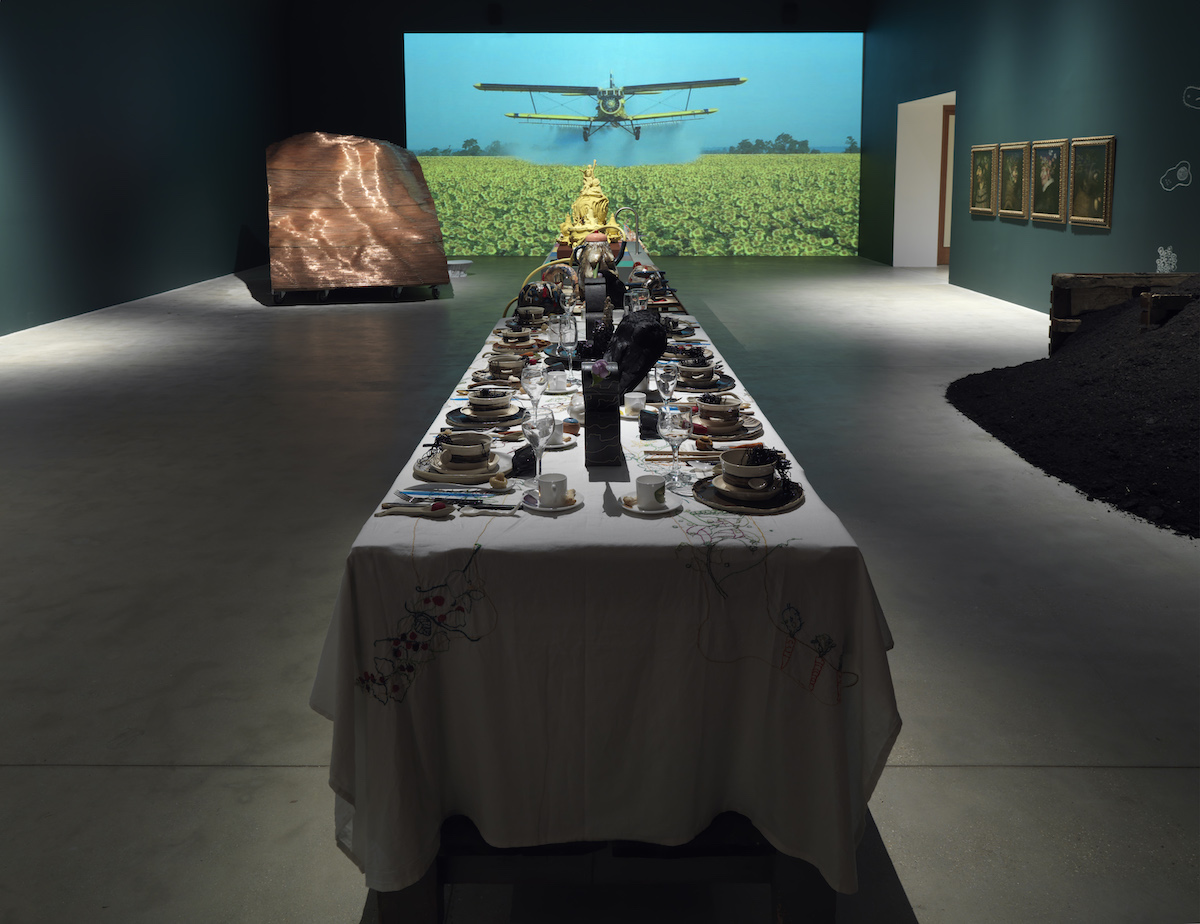 A wall-sized projection of Nikolaus Geyrhalter's video work, Our Daily Bread is a grounding weight in the whirlwind exhibition. In the dimly-lit Rhoades gallery, it acts as a dramatic backdrop for a banquet table piled high with Mad Hatter's tea party-esque ceramics by an array of artists including Laure Prouvost and Bedwyr Williams. A documentary piece filmed in food production companies and factories around Europe, Our Daily Bread illustrates the mechanized farming that produces the food we eat. Despite the fact that these less tasty aspects of food production have been widely documented for years (the film itself is from 2005), footage of a worker staring ahead dreamily as she uses pliers to chop the hooves off cow carcases on a conveyor belt, or intestines sliding down a shiny steel chute, remains deeply uncomfortable. Watching the film, it becomes urgently apparent that a large proportion of the planet's population should probably become vegetarian (coming from someone who said as a very fussy child "I can't be a vegetarian 'cos I can't eat any vegetables". I maintain that stance today).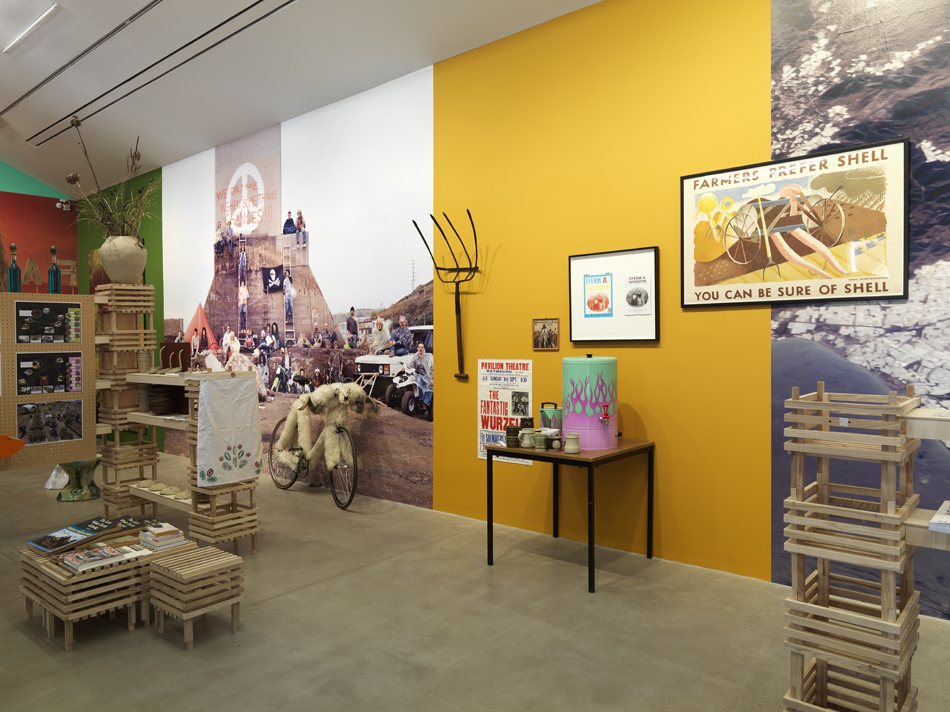 Walking through the exhibition is a little like having a conversation with someone who is pouring out obscure references, and you're scrabbling around trying to note them all down, and it's a lot of fun. At the end of the walkthrough, the Bourgeois Gallery acts as a kind of reading room, scented by Simon Fairlie's three haystack totems and full to bursting with books and pamphlets, such as the incredible and very 1970s Last Whole Earth Catalog. The publication is a bible for hippies, giving tips on tools and techniques for working the land, as well as other snippets of wisdom and even prayers. The walls have been turned into a room-sized scrapbook, pasted with a collection of commercial and art images of the landscape: a 90s DAKS advertisement, an ad from the 1930s claiming that farmers prefer Shell, a photograph by Olaf Breuning of a group of anti-globalisation protestors—there is no singular narrative or message here, just an illustration of the ways we have exploited and worked to protect our home planet. After all, Sutherland explains, "it's not really about the rural, it's just about human nature".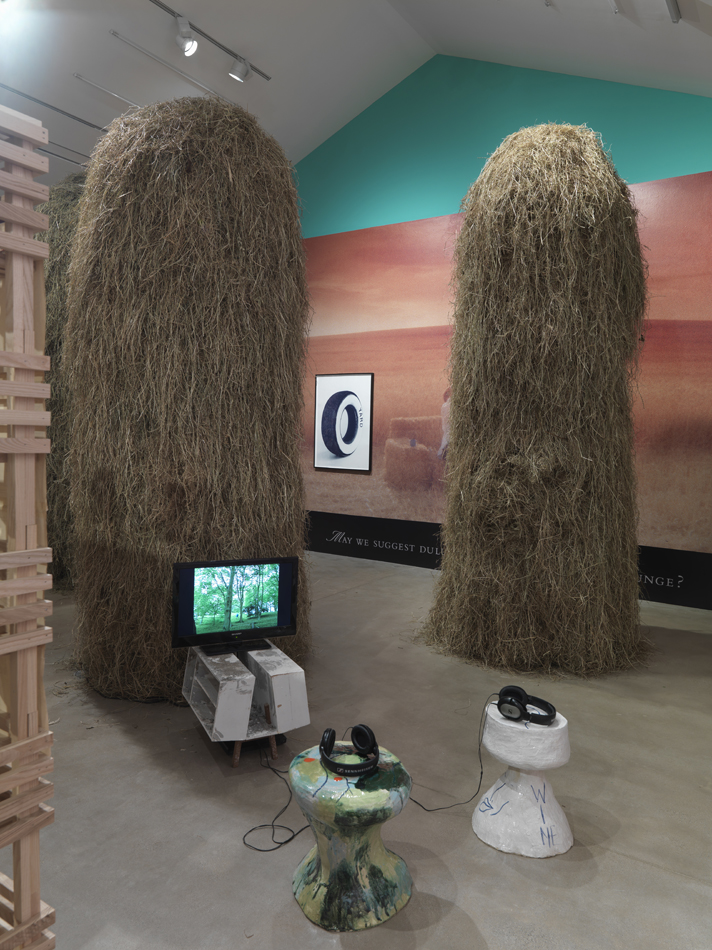 Pinned onto one of the MDF display boards in the gallery are A4 prints of Kultivator's twelve Post-Revolutionary exercises. A favourite is nr. 8: Reclaim Technology, showing "Jesse Scott, media artist from the Memelab, showing 'Sonic drift' a first version of an Android smart phone app that will detect GPS and allow users to record and playback information from the environment." The Swedish art-farming project was set up in 2005 by artists Mathieu Vrijman, Malin Lindmark Vrijman and Marlene Lindmark and farmers Henric Stigeborn and Maria Lindmark.
The exhibition is eclectic, to say the least: a survey of different and often contradictory ideas surrounding the fantasy of a "return to nature", with an energy and a humour threaded through. In the train toilet on the journey back to London, I watch the greens and blues and browns of the landscape rush past the frosted window. I think of the train from the outside—a machine and a container of humans, cutting through the landscape on tracks laid into the earth.
All images installation view The Land We Live In – The Land We Left Behind at Hauser & Wirth Somerset, Courtesy of Hauser & Wirth, photography by Ken Adlard, unless otherwise stated.
The Land We Live In — The Land We Left Behind
20 January-7 May 2018, Hauser & Wirth, Somerset
VISIT WEBSITE