Animal pictures, especially those where their furry subjects are effortlessly anthropomorphized in scenes more typically associated with humans, are a publisher's dream: a surefire, innocent clickbait in a swelling sea of content, both digital and print.
This means it takes something pretty special to stand out among the other four-legged memes-in-the-making. Martin Usborne's images do just that, as demonstrated in the recently published book from Hoxton Mini Press, The Silence of Dogs in Cars. The series was originally published as a large-scale art book with German publisher Kehrer Verlag back in 2013, and Usborne—who co-founded Hoxton Mini Press with his wife Ann—struck up an agreement to republish it as a smaller, more affordable publication. The Hopper-esque plaintiveness of the images make now, amidst lockdown, a more perfect time to do so than most.
Martin Usborne, The Silence Of Dogs In Cars
Usborne's hounds take on the haunting presence and patina of art history: his works look incredibly painterly with their lucid, languorous brushstroke-like texture and the dramatic use of chiaroscuro to drive home the darkness that underpins these images. While hilarious and awwww-inducingly cute at first glance, take a second to drink the pictures in and there's something altogether more haunting at play here. Who knew that a dog in a car could reveal so much about the human condition?
"The quietly doleful nature of these images are a fluffy yet moving proxy for the 'black dog' of depression"
These images don't just show a couple of nice pooches in cars, they paint a portrait of loneliness. Suggestive of the manmade prisons in which we isolate ourselves (current enforced isolation notwithstanding), they give the sense that, sometimes, life seems to be but little else than gazing into the distance, plagued with an intense yearning for something we haven't quite worked out. 
It's no coincidence that Usborne used dogs as his four-pawed subject of choice: the quietly doleful nature of these images are a fluffy yet moving proxy for the "black dog" of depression; and the photographer has previously spoken openly about his own battles with mental health, and of how his images aim to bring a little humour back into the bleakest of times.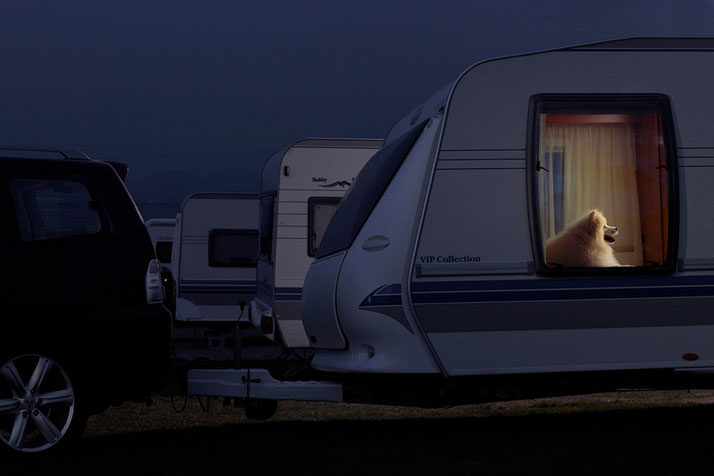 It's little surprise to learn that the images are staged, and were inspired by a moment in Usborne's childhood that well and truly seared itself into his memory. He was once briefly left alone in a car, but was overpowered by the feeling that he might just be left there—that no one would return for him. Like the dogs in the images, he was left silent and powerless. It was also around this time that the young Usborne fell in love with dogs, feeling a sort of kinship in their stoic, powerless silence.
That's not to say, however, that this series is all darkness and sadness: recalling the work of William Wegman, there's a natural undercurrent of affectionate humour, as pretty much any series of pictures of anthropomorphized, highly stylized dogs will be in possession of.  The photographer has spoken of the work as a gentle reminder to not always take ourselves too seriously. After all, it's surely only the most stony-faced of us who can't raise a smile at the sight of a large, fluffy dog seemingly living it up in a cosy "VIP" caravan.