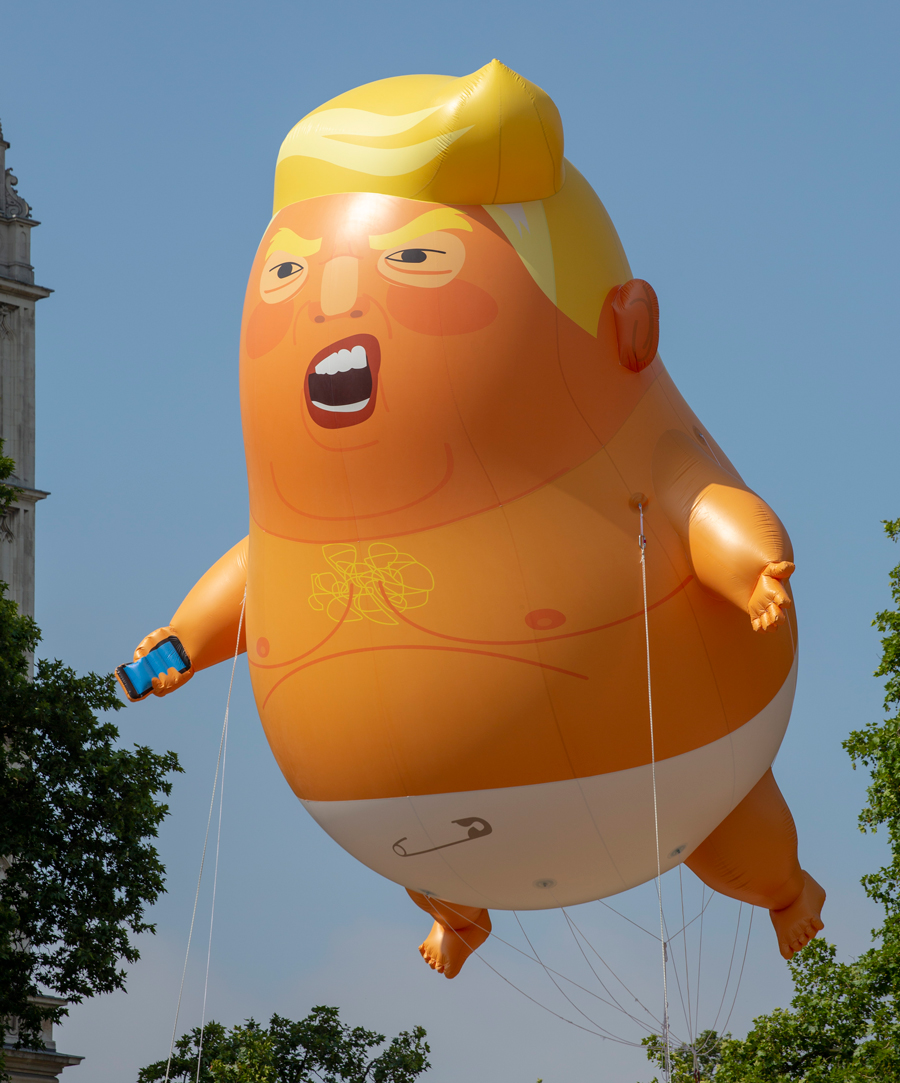 Political satire becomes increasingly challenging in times of crisis, when the comic device of exaggeration can land too close to reality to be truly funny. It is often said that we live in an age that is "beyond parody", and there is no greater testament to this than Donald Trump. With his orange tan, unreal blonde quiff and unfiltered Twitter diatribes, he is a gift to cartoonists. Trump's distinctive physical appearance makes him the perfect punchline. It is the ease and simplicity of these visual cues that have led to countless caricatures of the US president, including the creation of an inflatable that was quickly dubbed the "baby blimp".
Six metres tall and clad in a nappy, with tiny hands clutching a smartphone, the blimp was immediately recognisable when first flown in London in 2018. Trump is immortalised with an open-mouthed snarl, while his trademark tan is rendered in a Pantone shade of reddish-orange. Created by designer Matt Bonner to protest the president's visit to the UK, the project started out as a joke between friends. A crowdfunding campaign raised almost £18,000 to pay for the fabrication, and more than 10,000 signed a petition seeking permission for it to fly over Parliament Square. London mayor Sadiq Khan granted it, stating that the politics of the protest had no bearing on his decision.
Original designs by Matt Bonner. Courtesy the artist
"Trump's physique lends itself perfectly to a balloon, absurdly rotund with skin taut and arms haplessly outstretched"
The blimp took flight at 9:30am on 13 July 2018, as crowds gathered to watch its ascent. I was there to observe, looking on as it bobbed slightly in the wind. The mood was jubilant, like a shared, slightly silly joke in the school classroom. Thousands of smartphone cameras reached upwards, angled for the perfect shot. Trump's physique lends itself perfectly to a balloon, absurdly rotund with skin taut and arms haplessly outstretched. "We're using this language of mockery, because this is a language that he understands," Bonner stated at the time. "So we're giving him a taste of his own medicine."
The blimp has since become something of a staple at anti-Trump protests, with designer-approved reproductions popping up everywhere from the United States to Argentina, Ireland, France and Denmark. Its design is deliberately simplistic, partly the result of the restrictions of working with an inflatable, which limits the complexity of its shape and colour palette. Imagine Inflatables, a specialist company that manufactures blow-ups (including the  clouds used in the opening ceremony of the London Olympics in 2012), were responsible for making Bonner's 3D designs a reality.
Some commentators, on both ends of the political spectrum, argued that the blimp takes a cheap shot at the physical appearance of Trump. A piece published in Open Democracy observed, "Liberal mockery of Trump's copious flaws only serves to entrench his supporters' loyalty and bolster Trump's persecution narrative." Others argued that it offers nothing more than easy laughs and a brief snigger of recognition. But protest art is necessarily big and brash; artworks must rapidly communicate their message through the simplest and most stripped back of means in this context, and nuance is lost amidst a crowd.
"The Trump blimp continues a long lineage of mockery of those in power, allowing for laughter as a form of subversion"
Effigies of politicians are increasingly common at political protests, while the recent return of Spitting Image to British television screens reignites the art of mimicry. The Trump blimp continues a long lineage of mocking those in power, allowing for laughter as a form of subversion. "I think that there is a strong link between art and politics. It's a very powerful tool," Bonner stated.
Since the blimp launched, both the British Museum and Museum of London have expressed interest in acquiring the original. It is a reflection of the growing recognition within institutions for the active role that art can play within society. As the American elections approach, these tools for subversion—however simplistic or silly they might be—become more important than ever. During these turbulent times, the rightful place for the baby blimp is not in a museum vitrine but out in the streets, bobbing upwards into the sky.
All photographs © Matt Bonner