Ask the average passer-by what the defining image of London is, and you'll probably get a checklist that resembles a chocolate box tin—all black cabs, red phone boxes and silhouettes of Tower Bridge. But the city is so much more than a chintzy tourist destination, it's a dense, multicultural metropolis that continually defies our expectations. Here, we bring together a selection of artworks that get under the grimy skin of what London really looks and feels like, through the eyes of a variety of artists who have called the city home.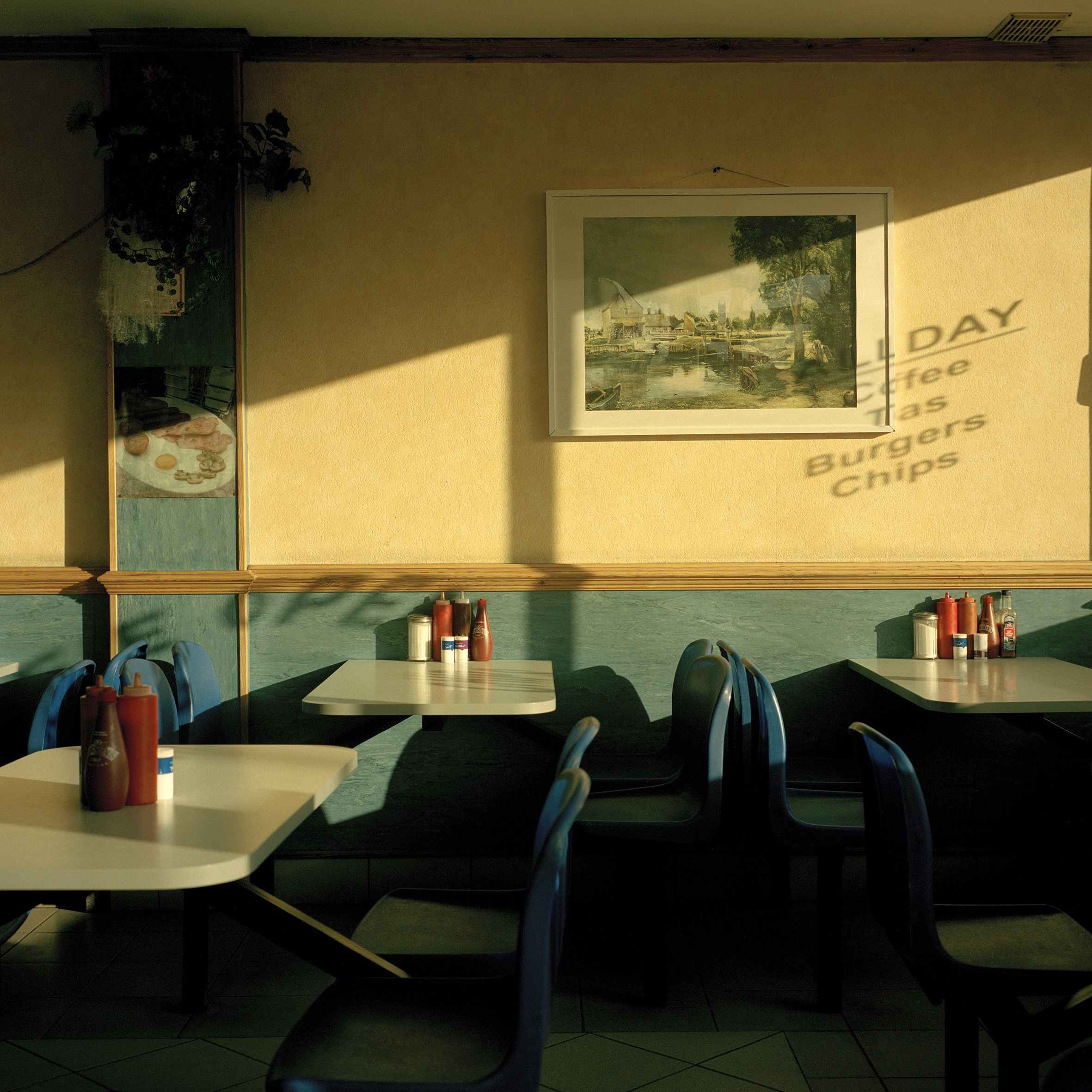 Niall McDiarmid, Summerstown, 2016
This shot of a greasy spoon café, bathed in golden sunlight, could easily be mistaken for a romantic image of fading Americana if it were not for the thoroughly British signifiers such as bottles of Sarson's Malt Vinegar, a poster advertising a fry up, and shadowy lettering that promises teas, burgers and chips. The Scottish, London-based photographer Niall McDiarmid has been building a portrait of the lesser-known side of the city for over two decades, as an antidote to the swathes of coverage documenting newly gentrified areas such as Shoreditch, Hackney and Peckham.
He took this photo in 2016, as he explains: "I had driven by the café many hundreds of times and never really noticed it. However, one Sunday the low light and heavy shadows jumped out at me like a south London, Edward Hopper painting. I didn't look at the image for more than six months and it was only as I began to edit for my latest book Southwestern that I realized that it was central to that series. Summerstown is a somewhat lost area of London that sits between Earlsfield, Tooting and Wimbledon which until recently was mostly made up of light industrial units and railway sidings."
Caroline Walker, Study for Floors, Room 324, 2018
Caroline Walker searches out the hidden stories of the city in her luscious, luminous oil paintings. She often walks the streets to catch glimpses of London life through its windows, focusing her eye predominantly on working women, whether it be a Savile Row tailor or a department store assistant. However, for her series documenting the hidden labour of housekeeping staff, she was granted permission to shadow various workers as they cleaned.
In this particular painting the sterile, monotonous interior speaks to an indistinguishable hotel chain, while the skyline beyond is suggestive of London's more familiar, postcard-ready architecture. With her back turned, this housekeeper conceals her identity, and is defined only by her labour—a fact that is compounded by her innocuous dark uniform. The result is an image that speaks to isolation and anonymity in the heart of the capital, where people who keep the city going are often rendered invisible.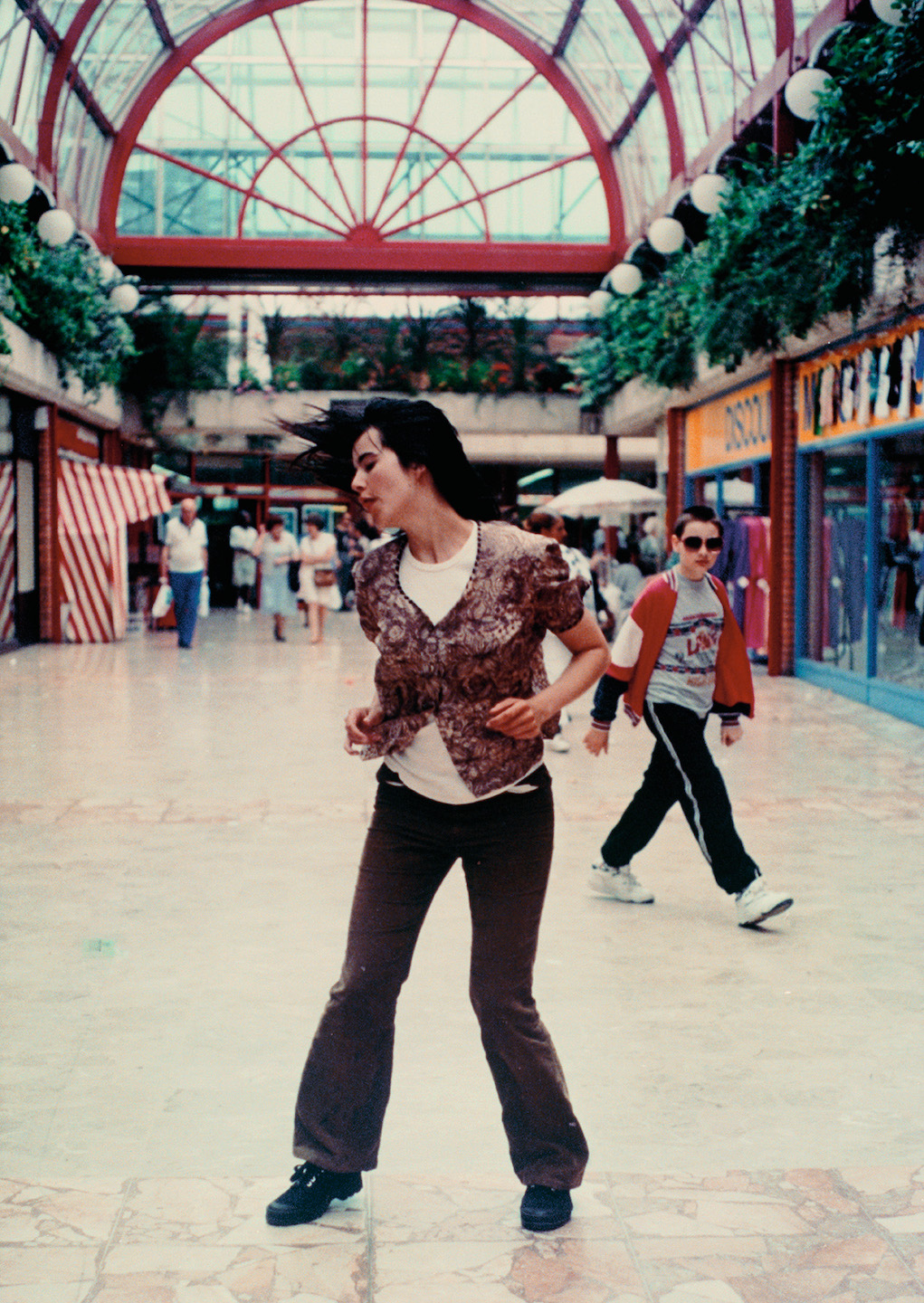 Gillian Wearing, Dancing in Peckham, 1994
In this self-explanatory film, Gillian Wearing dances like no one's watching to a seemingly imaginary soundtrack. The artist listened to her favourite music including Nirvana, Queen and Gloria Gaynor to prepare her various moves, but was originally inspired by a lone woman pulling shapes at the Southbank Centre while a jazz band played. Wearing's version of this impulsive, idiosyncratic act is set in a south London shopping centre, where she draws nothing but the odd stare from Londoners going about their errands.
Her madcap dancing speaks to the wild, free-spirited actions that can often burst out of assumed urban monotony, while the muted public reaction is symptomatic of a hardened attitude that demands you take everything in your stride. The general state of the shopping centre also points to the changing landscape of London, as older centres are now crushed under the weight of swanky new mega-malls. Its plastic foliage and bulbous lights speak to the municipal buildings of yester year, and the sight of a vacant, fly-postered unit alludes to creeping obsolescence.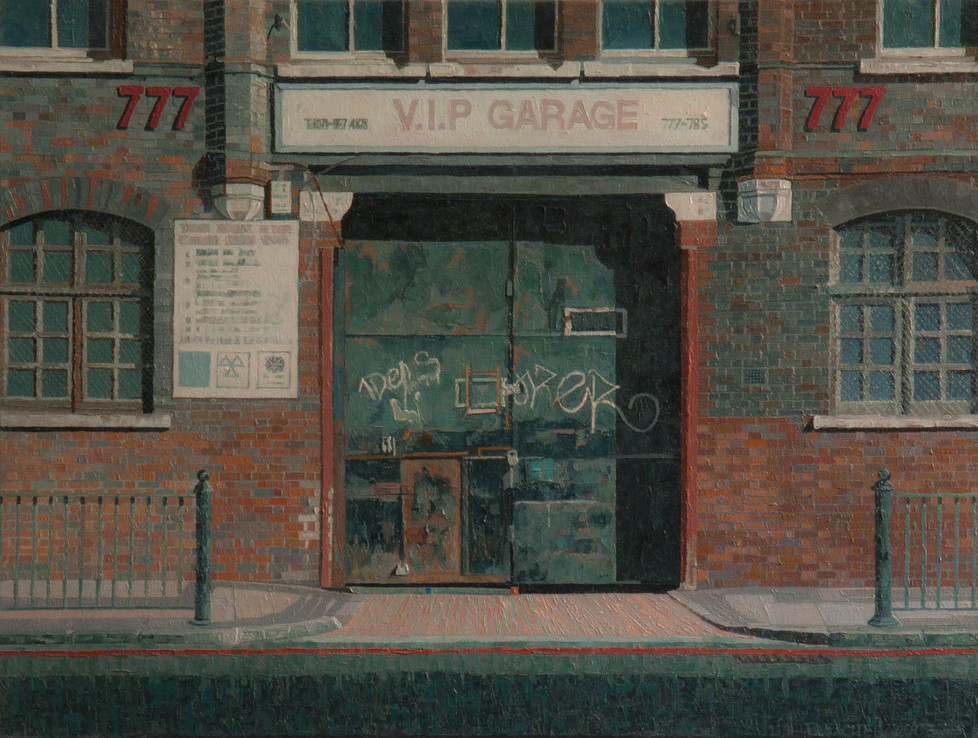 Doreen Fletcher, VIP Garage, Commercial Road, 2001
Doreen Fletcher's paintings of London are stunning both for their detailed articulation of the minute elements that define the city, and their strange, atmospheric other-worldliness. Her pictures rarely include people, as the artist explains their existence is more suggestive: "You can't have buildings without people, and habitats are the evidence of that presence, living on in the fabric and structure, marks and patina." Instead, she focuses on elements that make the streets so distinct, a classic East London street sign, for example, or the slick wet tarmac after a rain shower. In this case, a faded garage sign, complete with an out-of-date phone number and a padlocked door signifies former industry, on a road that serves as the main artery that cuts through Whitechapel and Limehouse.
Fletcher's visions of these sites function almost like a memory, where unexpected, banal aspects of a beloved location come into stark focus. Her vibrant palette also speaks to the small beauties found in a city that can sometimes be accused of being drab or monotonous, particularly the wonders of natural light. As the face of the capital rapidly shifts, Fletcher's paintings serve as a record of so many sites that could easily be forgotten or committed to fractured memory. Although she is not adverse to change, she does "intensely dislike the destruction of historic buildings and local vernacular in order to make way for today's obsession with spreadsheet architecture—anonymous generic structures that lack identity; the physical embodiment of a paper exercise where people become units." Gazing at her works will almost certainly galvanize a viewer to take a closer look at the world around them, before it disappears.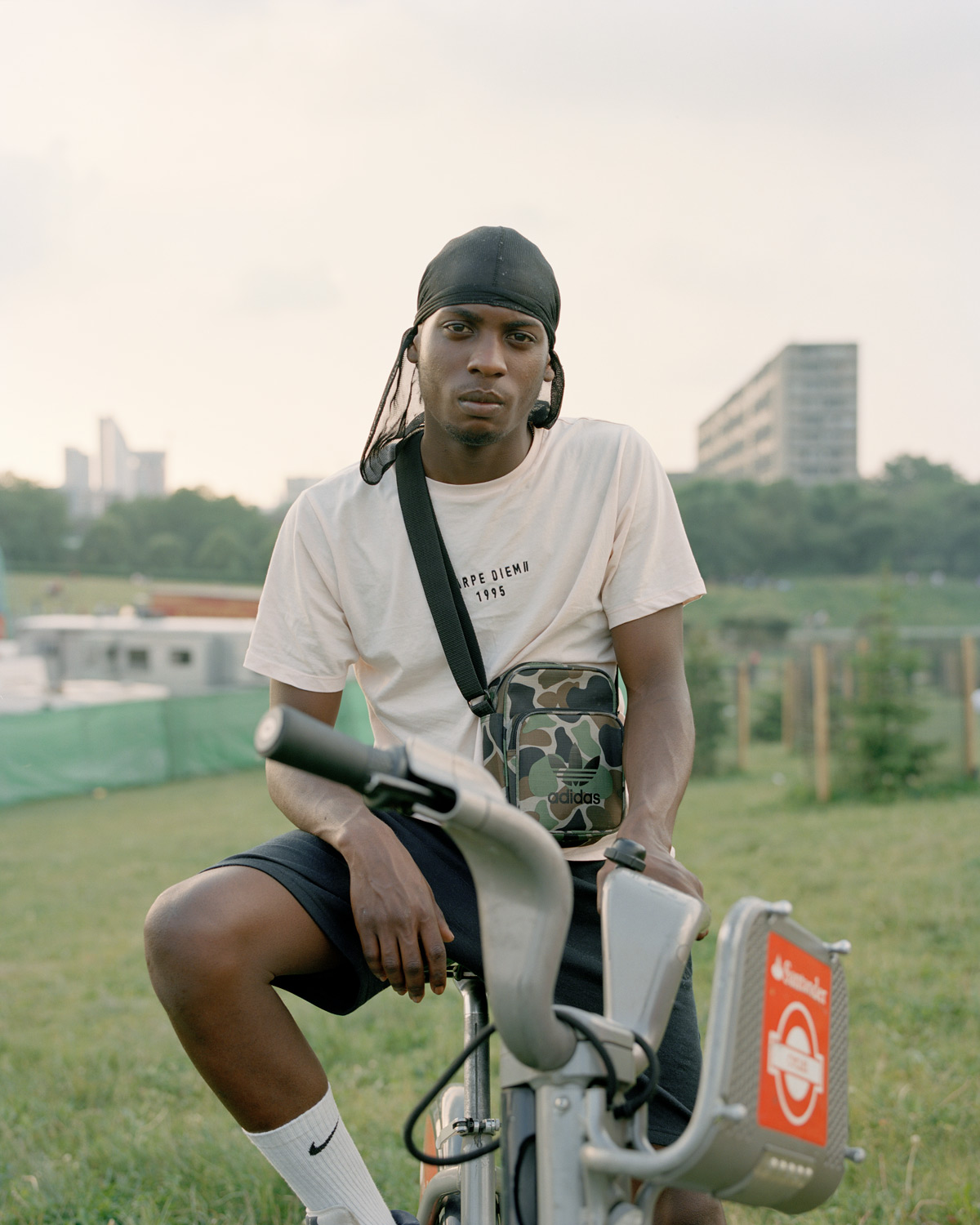 Lewis Khan, Soriano, 2019
South Londoner Lewis Khan first gained recognition for his series Love Time, where he examined the inner workings of the NHS, but he has been taking photos since he was a teenager, when he began experimenting with his dad's SLR camera. His fascination with his local area straddles an intersection of portraiture and landscape photography, as seen in this serene image. "To me this portrait has a sense of sincerity and tenderness," says Khan. "I think of the camera as a tool to connect with strangers and share in a creative process."
The setting, complete with semi-suburban grassland, engineering works and a block of flats on the horizon, is a familiar vista for plenty of Londoners who live well outside of Zone One. As for the subject himself, his intense stare offers a moment to pause, while his cumbersome choice of transport (a public-use docking cycle nicknamed the Boris bike) suggests someone who is on the move, yet still within the reaches of the inner city. This photograph is featured in Portrait of Britain Vol 2, published by Hoxton Mini Press, in collaboration with the British Journal of Photography.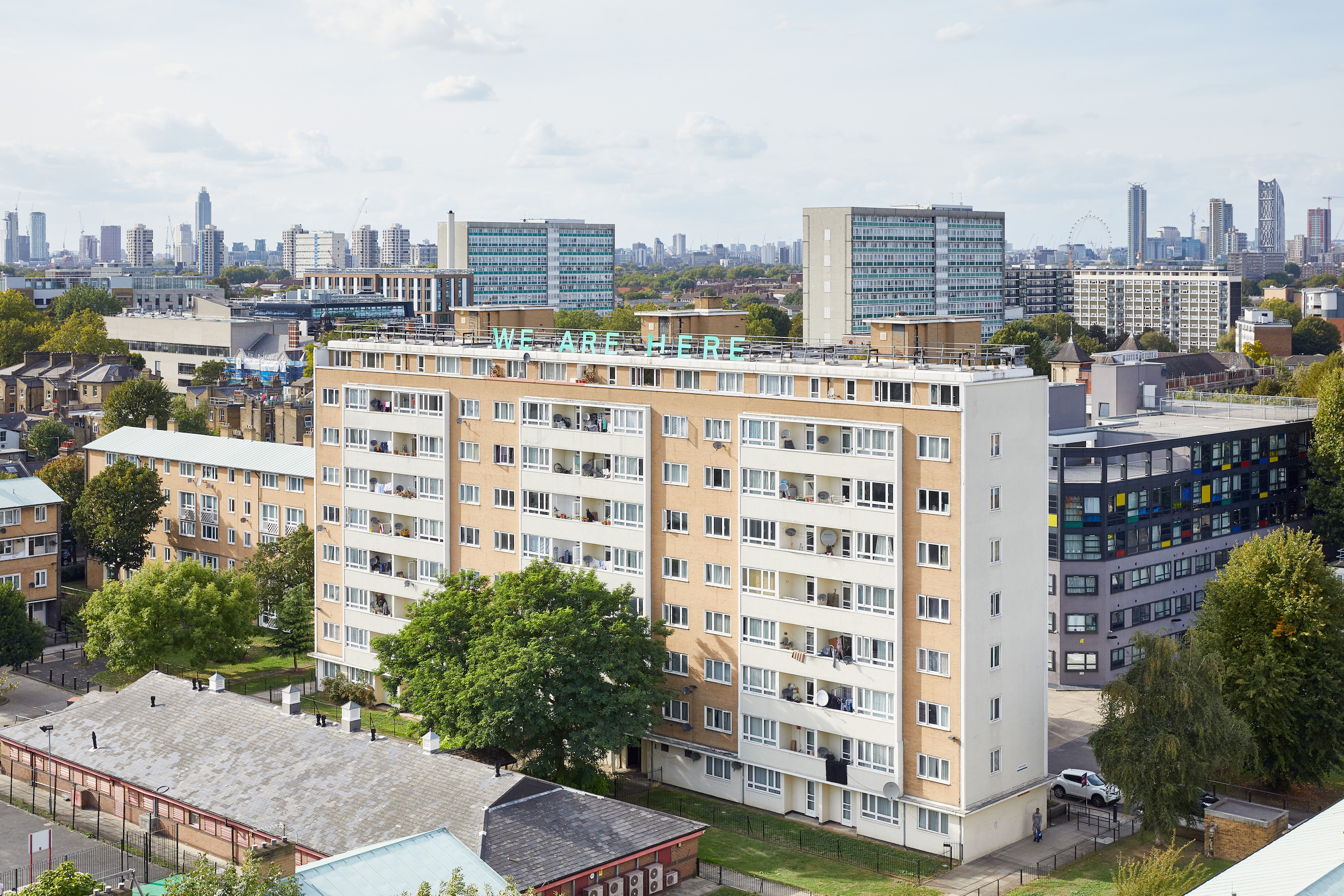 Jessie Brennan, We Are Here, 2018
The words "We Are Here" shout out defiantly from the roof of the Pelican Estate in Peckham. They were installed by Jessie Brennan at the culmination of her Your Words project, which aims to amplify the voices of council estate residents and question failing council infrastructure, the ever-creeping threat of gentrification, and the stigma surrounding social housing. Brennan began speaking to residents after being awarded the South London Gallery's inaugural Open Plan residency, an arts and education scheme set up in collaboration with the estate. The result was a series of interventions that capture the voices of various individuals, whether it be a graffitied statement such as "We need council housing but it's disappearing before our eyes" or the permanent sculpture that immortalises the words of Saloua, an exasperated resident who felt ignored and invisible.
From the luxury redevelopment of Balfron tower, to the tragedy of Grenfell and the demolition of famed sites such as the Heygate Estate, London's relationship with social housing is increasingly fraught, particularly as art initiatives are often accused of cultural whitewashing by the local communities. By placing residents' voices front and centre, Brennan at least approaches these complex issues head-on, and offers residents a platform that they feel is sorely missed elsewhere.
Denzil Forrester, Brixton Blue, 2018
Denzil Forrester's mural was recently unveiled at Brixton station as part of Art on the Underground's continual effort to bring contemporary art to London' transport network. The piece is inspired both by the famed Brixton murals, and one of his own seminal works, titled Three Wicked Men. This original painting (now in Tate's collection) depicts the vital energy of the city's reggae and dub scene in the 1980s, where Forrester would often sketch on-site. However, the image also evokes the racial tensions and police brutality that are still prevalent in British society to this day.
The "wicked men" are identified as a policeman, a politician and a businessman. The face of Winston Rose, a friend of the artist who died in police custody, also features. Forrester recalls the raw energy of the club scene: "In these clubs, city life is recreated in essence—sounds, lights, police sirens, bodies pushing and swaying back and forth and all in a smoke-filled room. Sometimes the atmosphere was momentarily broken by another group of people, dressed only in blue." For Brixton Blue, Forrester updated the frenetic scene to include new ubiquitous symbols, such as a young boy taking a photo on his smart phone, and grid-like lines that could allude to either a dance floor or yet another luxury development.
Spotlight on London
Our five-part series explores the British capital and its creative communities.
EXPLORE THE SERIES