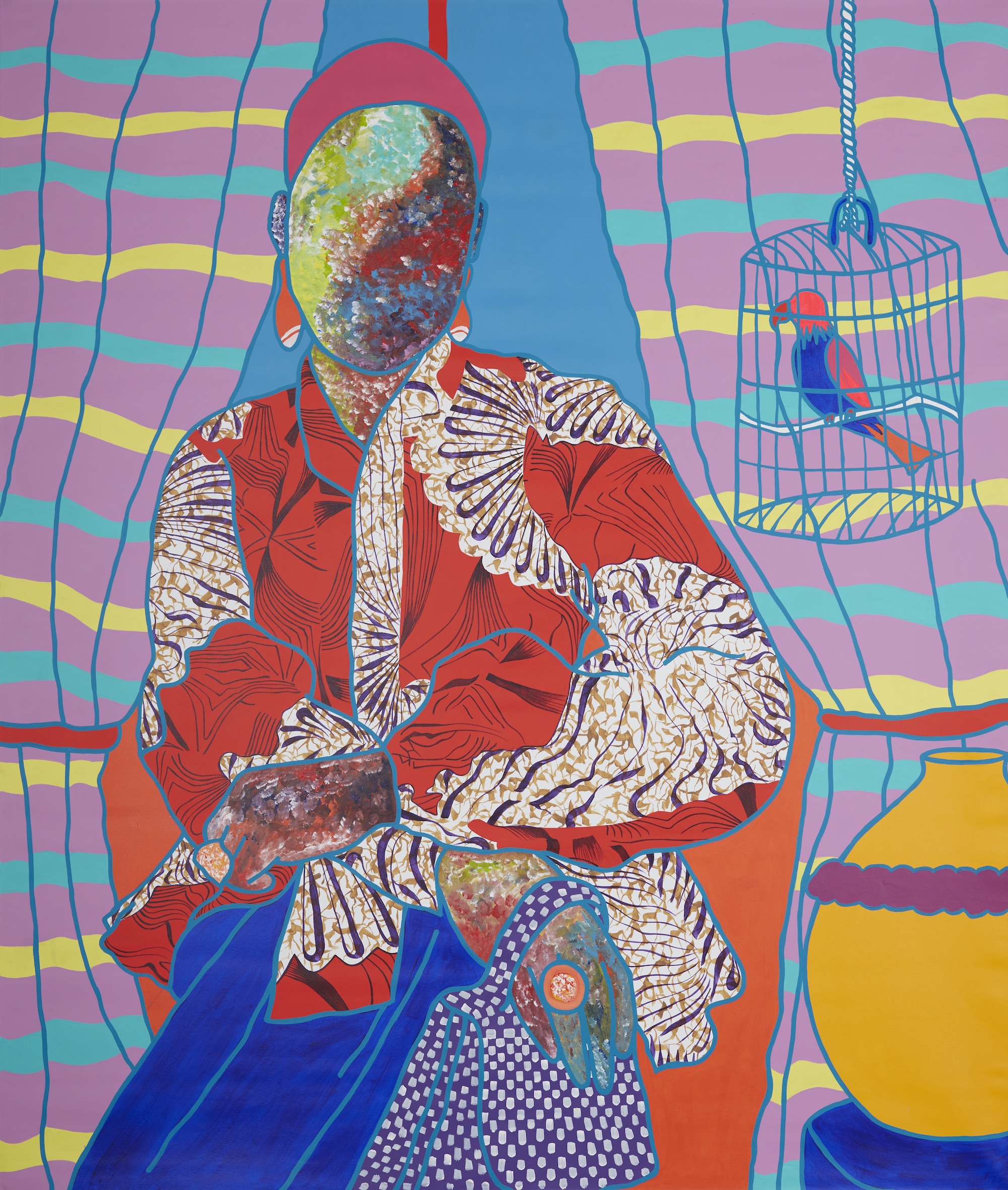 Dulwich Picture Gallery hosts a dance between freedom and containment this summer as it considers the enigmatic motif of the "woman in the window". Ranging from ancient pottery to paintings from the Dutch Golden Age, as well as contemporary photography and sculpture, Reframed: The Woman in the Window gathers together 40 artworks to reveal how this enduring image has been made and remade over time. Themes of closure and claustrophobia nestle alongside excitement and escape, while voyeurism and longing are never far away, in an exhibition that casts new light on the act of looking.
"This show will allow visitors to discover why the 'woman in the window' has been so important to different cultures at different times," says Jennifer Sliwka, curator at the south London gallery. "It will provide insight into the ways artists have taken up the device of the window as a kind of 'portal' between two realms: the real and the imagined, the sacred and the profane, between this life and the afterlife or between the public and the private." Here are our highlights.
Rembrandt Harmensz van Rijn, Girl at a Window, 1645
A prized possession in the picture gallery's permanent collection, Rembrandt's Girl at a Window serves as the cornerstone of this exhibition. Seeming to protrude from the frame in the trompe-l'œil tradition, Rembrandt's subject has endeared herself to viewers for centuries with her mesmeric gaze, and frustrated critics as they attempt to pin down her identity. But knotty debates over whether she's a bride, biblical figure, courtesan, servant, or the artist's own lover are not so relevant here: in this show, the painting's power lies in the inspirations and associations that spring from it.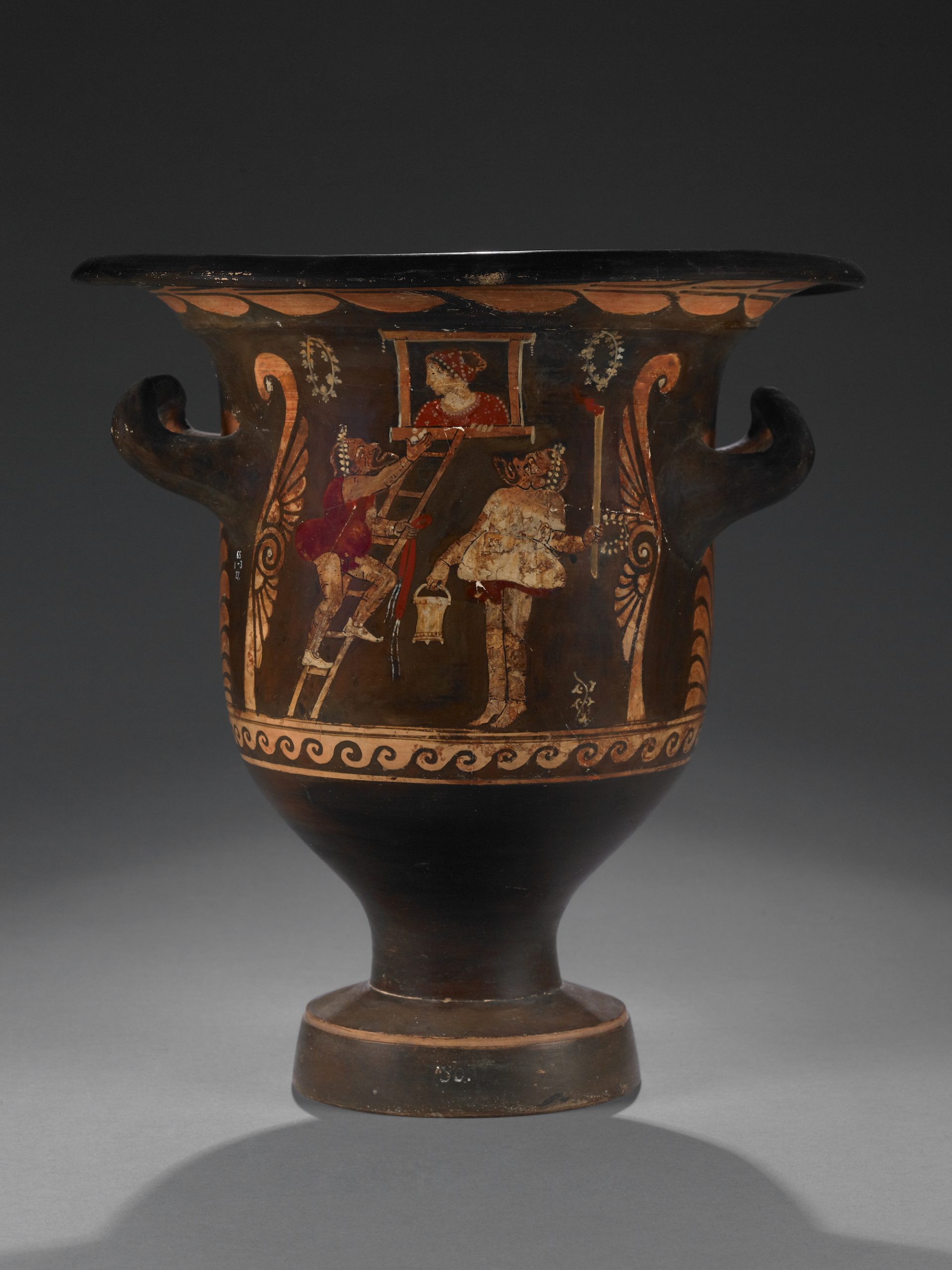 Bell Krater, Paestum, 360-340BC
This ancient wine bowl, on loan from The British Museum, displays the early history of the motif and its relation to seduction. Decorated with a scene from a Greek comedy, it depicts a rugged man paying a visit to a hetaera (a highly educated courtesan who also served as an artist, entertainer and speaker). The man ascends the ladder with fervour, holding up four apples as an offering. The window frames the hetaera like an object on display, almost a painting within a painting, though her elevated position also hints at power and perspective.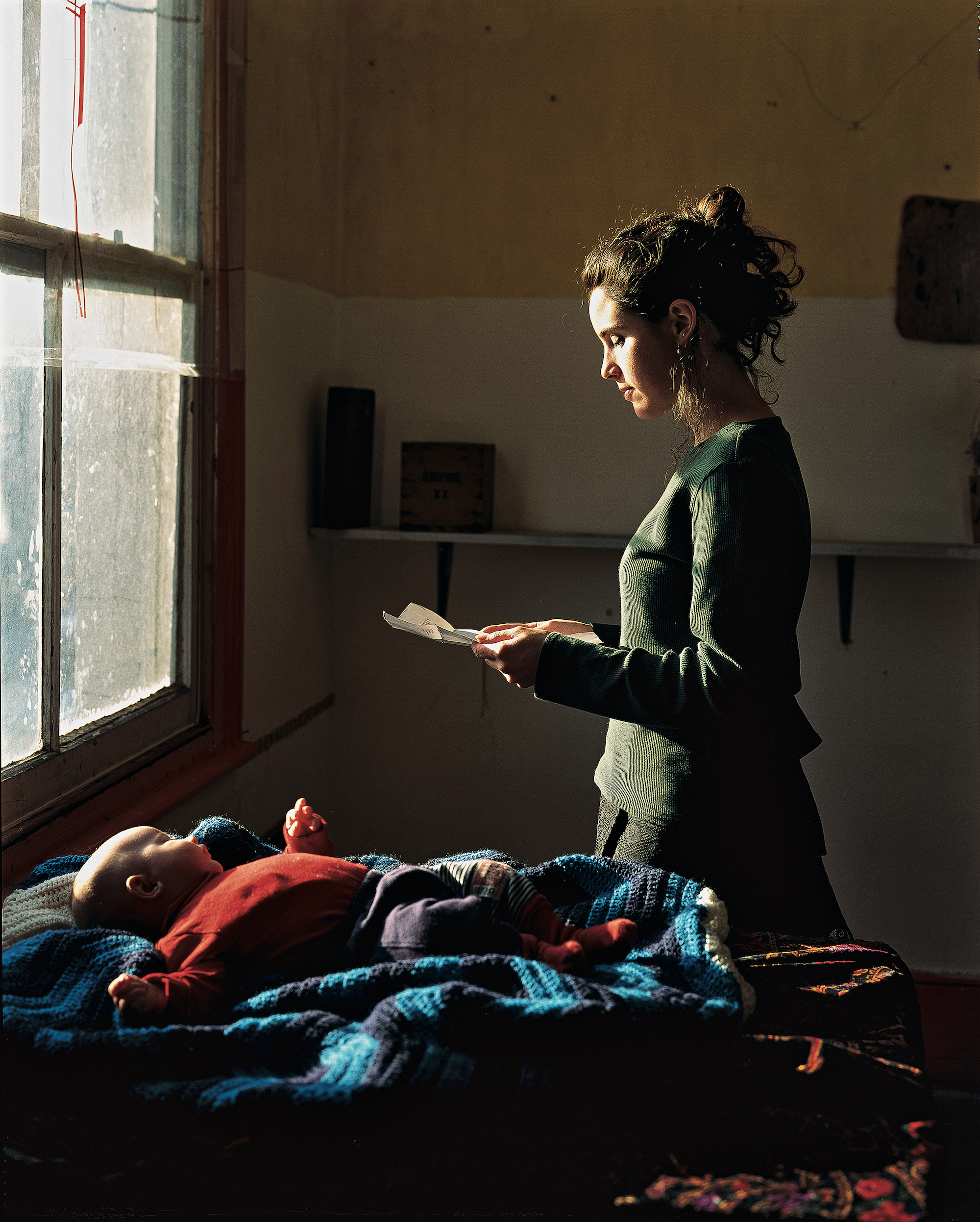 Tom Hunter, Woman Reading Possession Order, 1997
Like the show itself, Tom Hunter's award-winning photograph is a confluence of past and present. Captured in a squatter's community in Hackney in 1997, the image is a reimagining of Vermeer's painting Woman Reading a Letter at an Open Window (1657). The woman in question is Filipa, Hunter's neighbour at the time, who'd just given birth to her first baby. Instead of a love letter, there is an eviction notice in her hands. She remains composed, even serene, as the late winter sunlight washes over her face.
Pablo Picasso, La Femme à la fenêtre (Woman at the Window), 1952
Tension and claustrophobia are etched into Picasso's aquatint portrait of his partner, Françoise Gilot. He renders her in harsh intersecting lines, sharp angles, and shades of black, grey and white. Her hands press against the window pane, as though yearning to escape, from the room, his gaze, his presence? Picasso was an artist who, in the words of his granddaughter, "bled the women in his life dry", and Gilot was one of the few who eventually managed to extricate herself from him.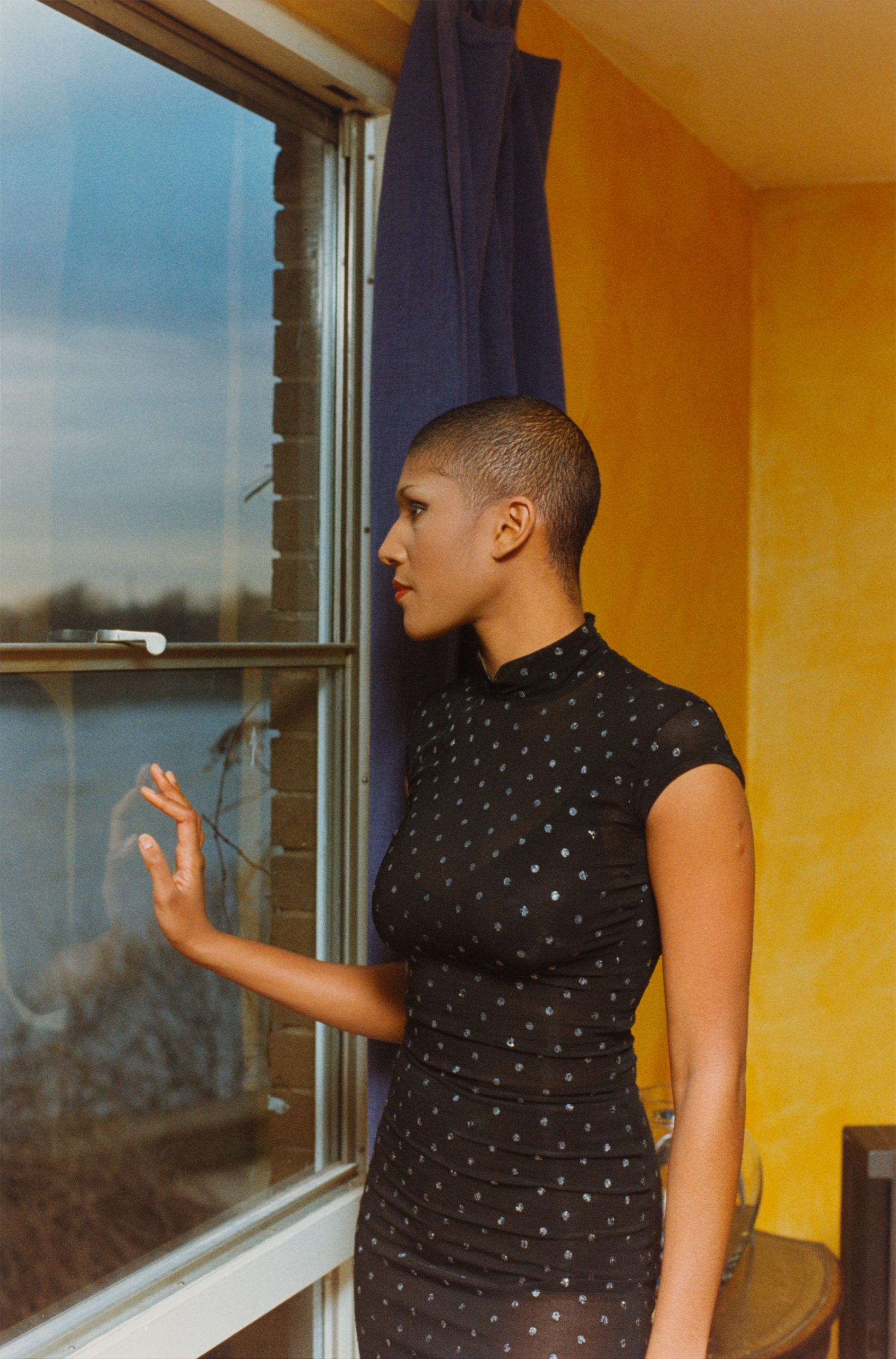 Wolfgang Tillmans, Smokin Jo, window, 1995
Another work that considers the relationship between artist and muse is Wolfgang Tillman's photographic portrait of British DJ and record producer Smokin' Jo. The staging echoes that of Picasso's print (the two hang side by side in the gallery), but Jo's fingertips press more gently against the glass. Her stance is self-assured, her gaze focussed yet calm. Gone is the urgency. Here is a woman at a window who possesses more agency over her framing.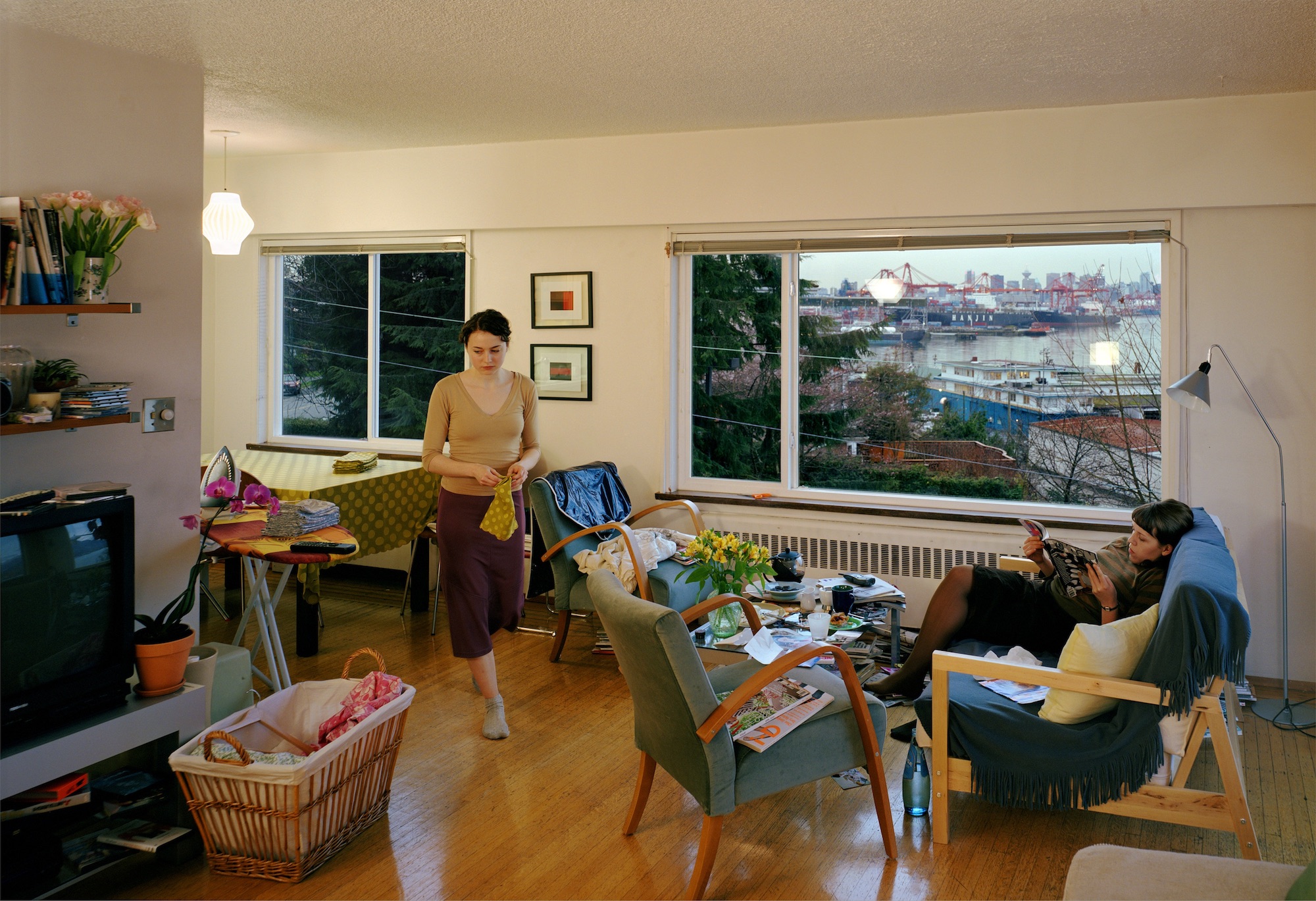 Jeff Wall, A View from an Apartment, 2004-2005
Inspired by the dramatic compositions of painters Velázquez and Goya, Canadian photographer Jeff Wall is renowned for creating vast, backlit tableaux. Tired of capturing interiors that were "quite closed in", Wall "wanted to do an interior that was open, that included an outside" for this specific photograph. The expansive window, with its view of Vancouver Harbour, invites a second pictorial world into the frame. But the atmosphere feels somewhat stifled, as the scene recalls one of the most prevalent uses of the motif: to depict women enclosed within the domestic realm.
Louise Bourgeois, My Blue Sky, 1989-2003
Louise Bourgeois' sensuous watercolour is framed by a real window, salvaged from her home in Manhattan. Created in the later years of her life, when she had confined herself to her house, the window represents a vital point of connection to the outside world. The view is a landscape composed of breast-like forms, soft curves and fleshy tones. Red peaks ("the colour of blood and insistence") rise up towards a blue sky, a shade that stood for peace, meditation and escape for Bourgeois, as her own woman in the window is abstracted and absorbed into nature.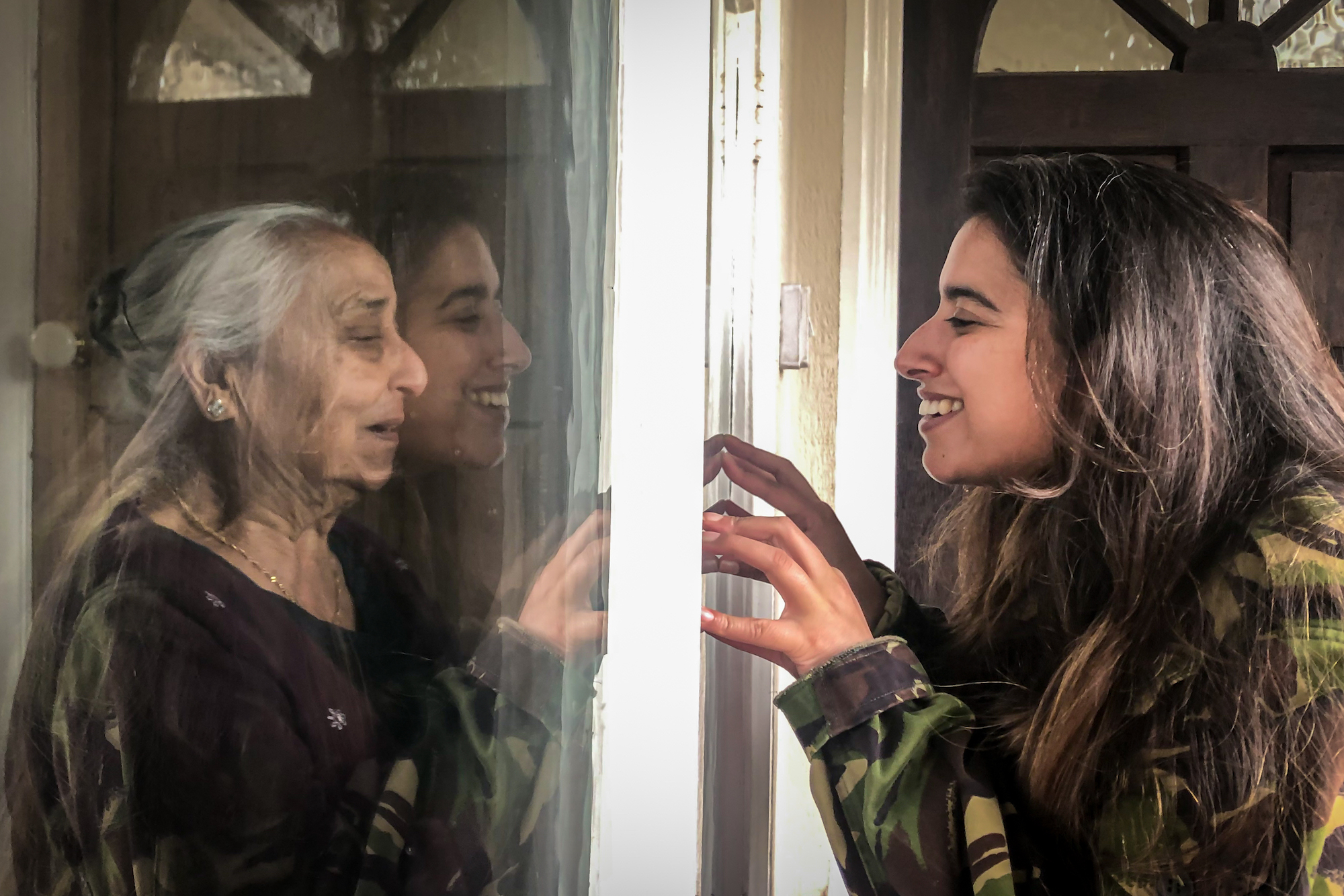 Simran Janjua, Dadi's Love, 2020
The show's epilogue is devoted to works created during national lockdowns, a period in which the window became a site of connection and communication like never before. This poignant photograph was shot in June 2020 by Simran Janjua. "It shows my sister-in-law with her grandmother (Dadi in Punjabi) meeting after months of being apart," Janjua says. "In this moment, I felt the depth of love they feel for each other, captured by both the joy and longing in their eyes. Separated by a window but connected by love."
Madeleine Pollard is a Berlin-based journalist specialising in culture and current affairs
Reframed: The Woman in the Window is at Dulwich Picture Gallery until 4 September
Enjoy virtual tours of the most striking new exhibitions
READ MORE