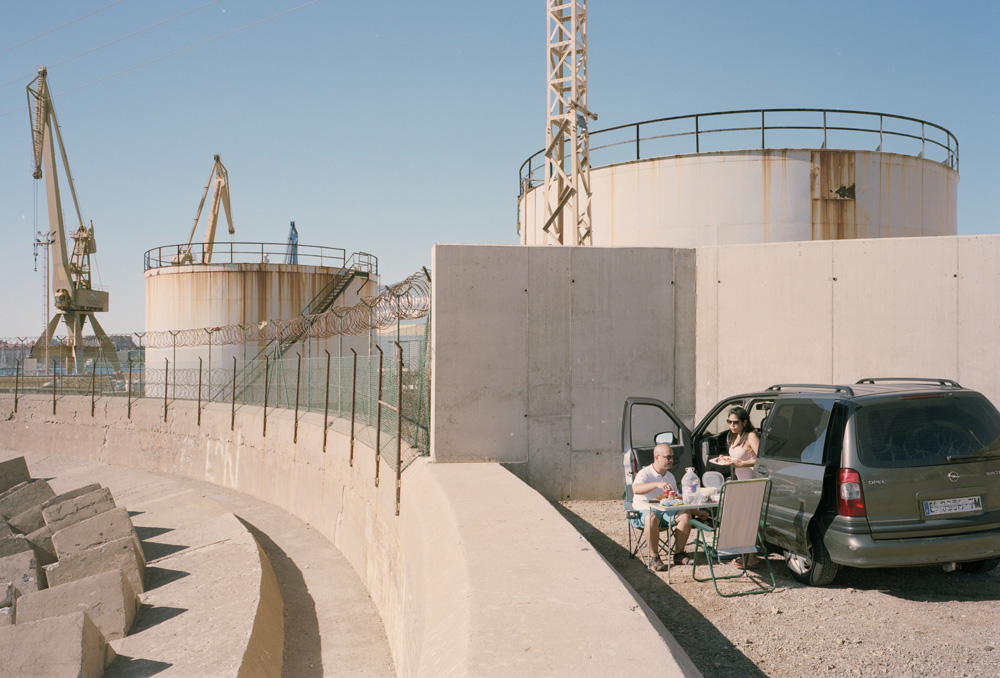 When I think of a traditional summer holiday, I often see visions of sun, sea and sand. But in Txema Salvans' series Perfect Day, Spanish holiday-makers are captured bathing in the sun and playing in the sand, and the sea makes no appearance at all. 
This is intentional, as Salvans aims to capture the Mediterranean coast in its post-industrial form. With his lens turned away from the cerulean waves that draw us to these "beauty" spots, he instead focuses on the encroaching nature of industry in sea-encased areas.
"The contrast between these man-made environments and the sunbathers is surreal"
Throughout the series, which has just been published as a book by MACK Books, sun-seekers set up camp in car parks, swimming pools appear as mini oases in a desert of grey concrete, and cranes and cooling towers loom awkwardly over beaches. The contrast between these built up, human-made environments and the sunbathers, who appear minute in scale, is amusingly surreal and highlights our subservience towards industry, housing developments and superstores.
The sea is the draw for Salvans' subjects to these appropriated spaces, and it's clear that the sun-dwellers are happy to turn their back on the blots on the landscape that tower over them. But Salvans turns our gaze back with full force, and his images act as a reminder that it's easy to ignore things when they don't interrupt our view, or impact us directly. 
The way these people have slotted themselves awkwardly between these unnatural structures also alludes to the sense of isolation that has slowly seeped through society, even pre-Covid-19. Everyone featured is either on their own or in a tight cluster, as though the concrete high-rises and cooling towers are physically cutting them off from their fellow humans.
"The sun-dwellers are happy to turn their back on these blots on the landscape that tower over them"
Though irony is a big part of Salvans photography, he's careful for these images not to appear mocking, and he achieves this through the distance he places between himself and his subjects. He's not concerned with close-up crops or documenting who these people are; instead, the focus is on their relationship with the environment around them.
Perfect Day has been a fifteen-year labour of love, and Salvans has captured our dogged pursuit of leisure and our ability to adapt, no matter how hard these messy landscapes try and interrupt the view.