If there was a prize for enduring social awkwardness, Pilvi Takala would surely be in the running for it. The Finnish artist's performance works (mostly exhibited as videos) often document social experiments: uncomfortable moments in which the seemingly intangible rules of interacting in public spaces are suddenly revealed to be rock-solid.
She frequently pokes a humorous stick at the way workplaces function. In The Trainee, 2008, Takala took a month-long internship at the accounting firm Deloitte, where she proceeded to do… absolutely nothing. But not the kind of nothing that most people do when avoiding work in offices: instead of scrolling social media, Takala openly and performatively made it clear to her colleagues that she wasn't accomplishing anything, riding the lifts for hours at a time, or just sitting, staring into space.
For a more recent work, The Stroker (2018), she posed as a "wellness consultant" at an East London co-working space. There she provided "touching services", greeting and gently stroking coworkers in the hallways. In both works, the non-confrontational but confused reactions of those she interacts with are what give the work its humorous bite. Who wrote the rules of these public workspaces ("Look busy!" "Don't invade personal space!") and why are they so unclear that no one can voice their disapproval directly?
Pilvi Takala, Close Watch, 2022 (still). Multi-channel video installation. Courtesy Carlos/Ishikawa, Helsinki Contemporary, and Stigter van Doesburg
Given her appetite for staring down sticky situations, I am not quite sure what to expect when I meet Takala in the Giardini of the 2022 Venice Biennale, where she is representing Finland. We slosh through the rain to find somewhere quiet to talk, but despite the umbrellas and endless downpour, people keep recognising her: four different people stop to say hi. Some of them, she recognises (like Tomo Savić-Gecan, who is representing Croatia, and invites her to the pavilion's cocktail reception next door). Others, she doesn't, and tells them so without a trace of embarrassment.
"Takala became embedded in the community of guards, and was forced to think about her stereotypes about who takes these jobs"
But then, being spotted by strangers comes with the territory when your face is on view in a video work just around the corner. This year at Venice, she performs in the multi-channel video exhibition Close Watch, For this, her interest in public spaces turned to those whose job it is to enforce the rules, by going undercover as a security guard in a mall for six months.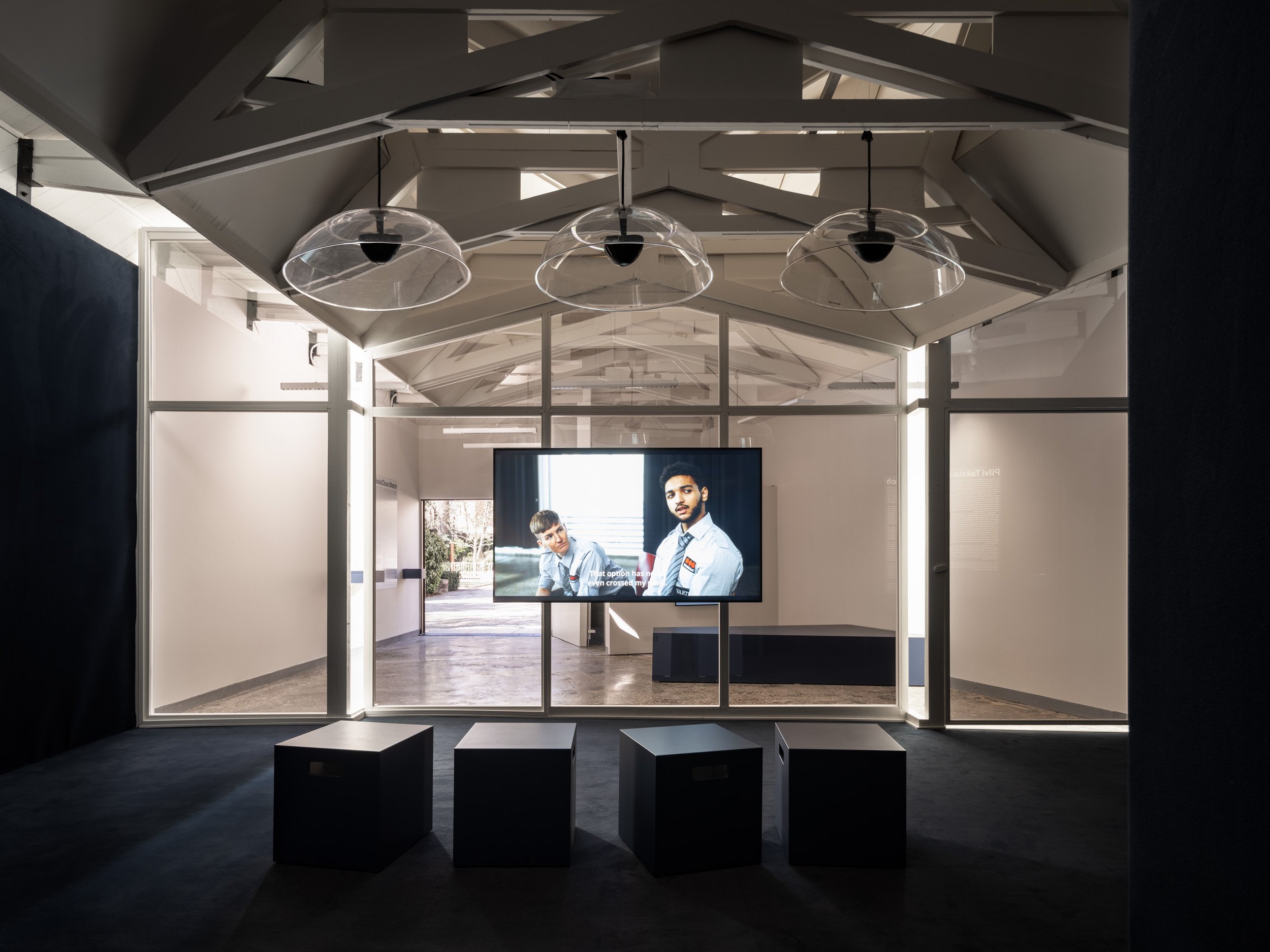 "The job is kind of easy to get," she says. After just four weeks of training where she mostly learned about the law, as well as some fire safety and first aid, she had the job. "But there is very little practical training." As long as she completed the course, Securitas were happy for her to carry out her artistic research by working for them. It was only her colleagues at the mall who didn't know the truth.
Confronting the difficulty of the work, both physically and ethically, Takala became embedded in the community of guards, and was forced to think about her stereotypes about who takes these jobs: "I thought that most guards were power hungry: authoritative and conservative," she says. But what stuck with her the most was how her coworkers went about creating a culture of trust amongst themselves, telling exaggerated stories of interactions, boasting about the force they used in interacting with the public, in order to create camaraderie.