When I meet Allison Gildersleeve she is just finishing a one-month Liquitex residency in West London, transforming her oil- and canvas-based practice with the use of paper and acrylic paint. She is preparing for a show at Mass MoCA in Massachusetts (which has just opened at the time of publication), experimenting with medium-sized paintings—which also include elements of drawing and collage—for a sprawling work she will create back in the States. She describes a desire to create works people can almost "step inside", and the works she has hanging on the walls of her temporary residency studio totally rethink space—containing moments of architectural accuracy and moments where the form is almost lost to abstraction; somewhat akin to our memory of a space, which is razor sharp at points, and utterly fuzzy at others.
Can you tell me a little about the work you've been doing on this residency?
I've been working on many different levels. I do a lot of these smaller drawings, it's my way to work out imagery and I do this a lot at home before moving onto the bigger painting. My process at home is oil on canvas, and while I was here I wanted to work in this way [the smaller drawings] on a bigger scale.
I'm doing a show in the fall at Mass MoCA and that space is more interactive. You arrive and work for a week within an interactive community while you install the show. What I wanted to do is take this different imagery I have and put it together, so I'll do a big wall painting based on the imagery in the drawings.
"There are these two places that I go to every year and they're full of family and history. For me, place has all this activity and emotion in it"
I grew up in New England and in this little house from the Colonial times, so lots of history. My parents lived in the same house for forty years, and we're still very connected with the area. There's also this cabin on the Canadian border that was my great grandfather's on my mother side. So there are these two places that I go to every year and they're full of family and history. For me, place has all this activity and emotion in it, so I'm thinking about that. I'm thinking about how we pay attention to spaces, and filtering it all through and combining that.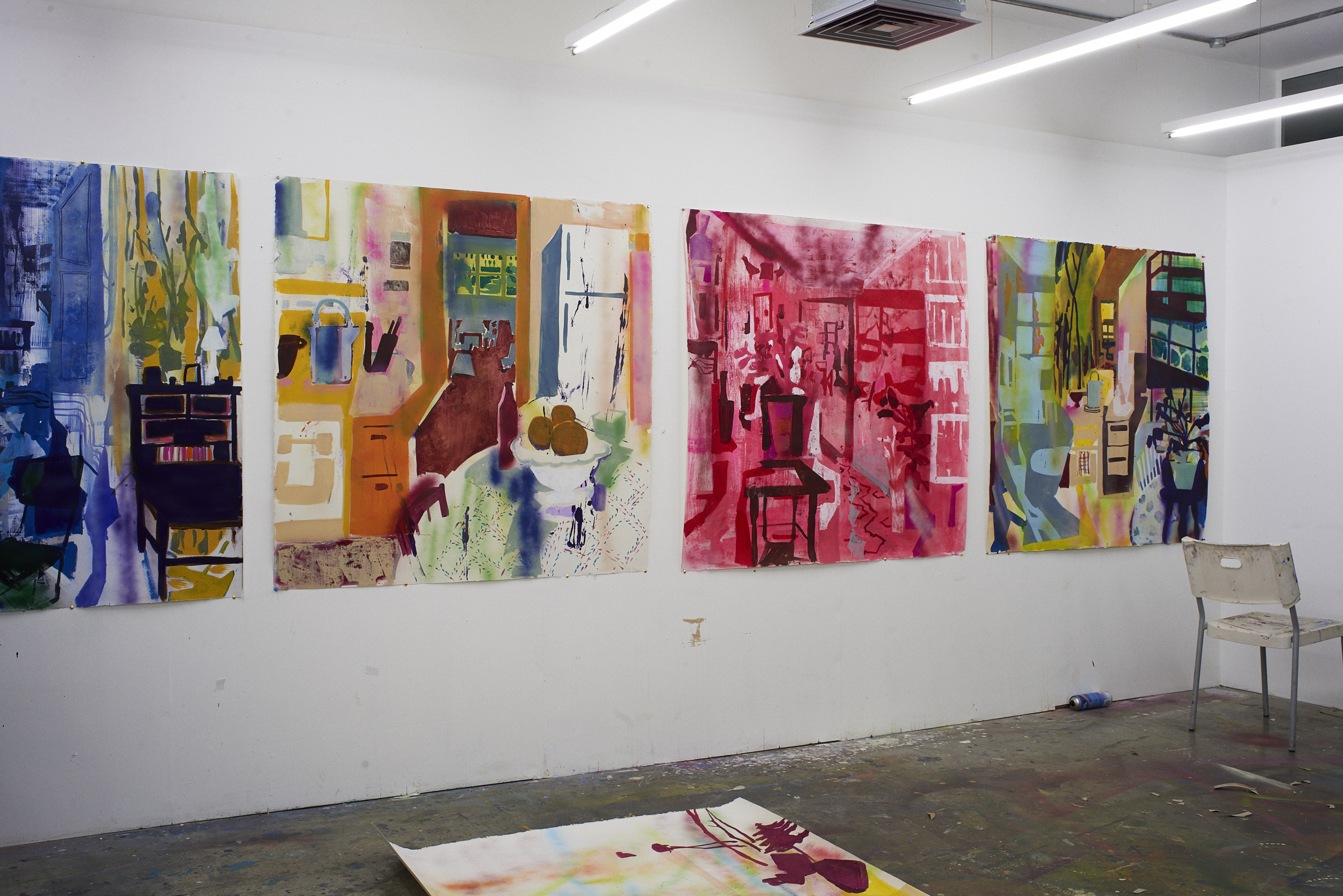 And are you focusing specifically on individual spaces in each work, or are these each a conglomeration of different places?
I grew up around the woods, and for me they were just as much inside as outside—it's where we built our forts. So for me it's not this separation of nature. I am thinking about forts in the woods and places you can crawl, I want to make an abstract painting you can crawl up inside. The woods is a little more forgiving, you can invent that. Previously when I was painting an interior, I did it in a small format and it was always one specific place. What I wanted to do was create interiors that weren't one specific space, that had that sort of freedom for me in painting that exteriors did.
"I didn't want to make oil paintings out of acrylic, I wanted to see what I could do with acrylic"
Do you create these works from memory of the spaces you're painting, or are you working a lot from imagery too?
I take a lot of pictures. I have different files on my computer which are full of pictures and I draw from those—but I'm not drawing exactly. I don't want to have a picture right next to it. So I set up my studio like a visual sketchbook and have everything where I can see it and then I make my work from it. It's like how a writer would hang up their notes. It's about keep revisiting the same subject and changing it every time.
Have you felt the influence of London on this body of work?
I think being without my family and having all this uninterrupted time has been huge. All this stuff has been in my work for years, but it's really given me time to put this all together. I went on an art tour one weekend, and it was great to see things like the Victoria & Albert Museum—I spent an hour just in the jewellery section—and then to Saatchi, and all the London gardens. New York is so much more congested and, at least where I live, a lot more industrial. 
Do you feel like you came with quite a set idea of where this body of work was going?
No. I knew I was going to work on paper, in acrylic, which was already a different format for me. I wanted to experiment with the different mediums and see what I could get out of it. Things can get very flat and graphic with acrylic, and I didn't want to make oil paintings out of acrylic, I wanted to see what I could do with acrylic.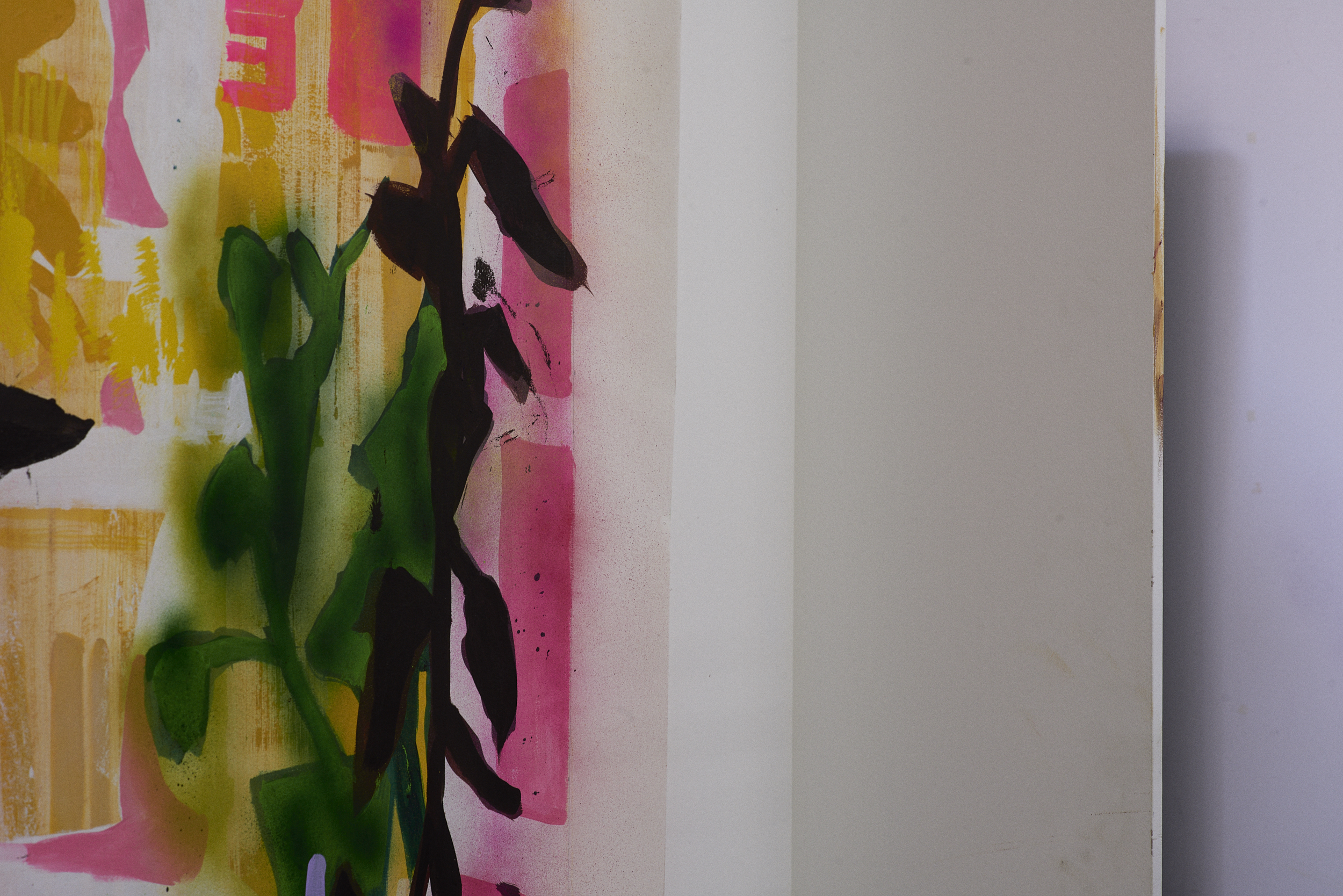 What has come out of using these materials? Have there been any surprises?
When I was first here I went to see Beatriz Milhazes at White Cube, she's someone whose work I've always really liked. I sat and watched the whole film of hers. One of the things she does is paints on plastic and lets that dry and then glues it to the canvas. She's making collage out of her own marks. I was experimenting a lot with collage before coming here, because it's a way to break up the space and make things happen. It's not contrived. I took her practice back and I've been doing that. I like to have a sense of things feeling familiar but strange, because you see the same thing repeated throughout.  
Were you working with Liquitex paint before?
A little bit. I was doing the drawings in ink and I used some acrylic but not as much. Whenever I'm stuck in my work in general, my first thing to do is change the materials—or something; the size, the colour. It's been really nice to experiment. At the beginning I had this whole table just covered in materials, it was this big smorgasbord of paint. And each has its own identity.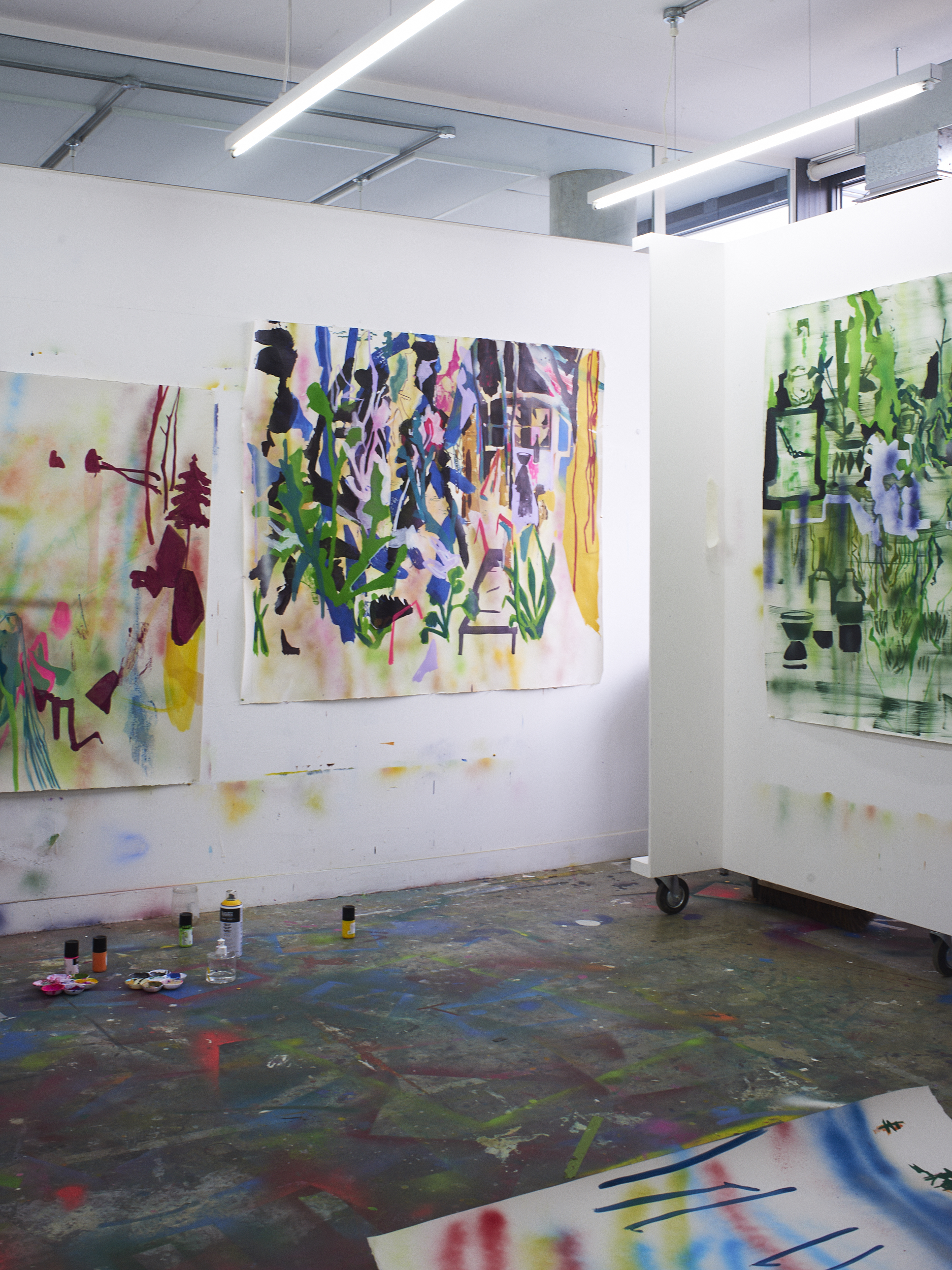 I was always very scared of working with oil when I was studying, I feel much more at home with acrylic…
For me, oil's what I learned with, and I was really scared to switch to acrylic when I have this whole arsenal in oil and all this investment in oil. Here I had my oil studio, but in acrylic. All the choice, all the range. Now I'm hooked and I've figured out how to get these things to happen. You can't get fluorescents in oil—and there's something very contemporary about acrylic because it's plastic.
Into the Retelling
Until November 3 at Mass MoCA, Massachusetts
VISIT WEBSITE