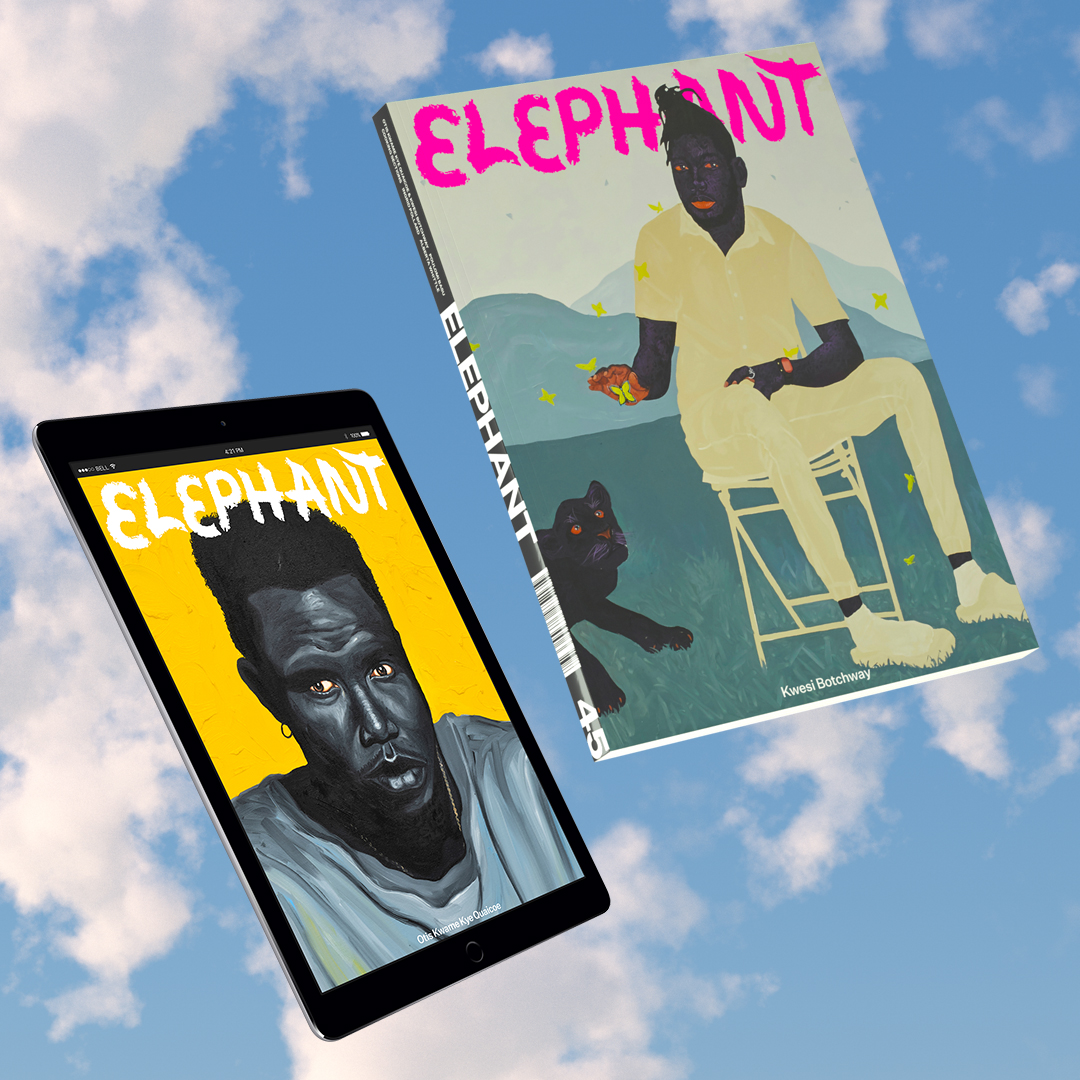 Elephant's editorial website and print magazine has explored contemporary culture through the lens of the visual arts for more than a decade. The editorial team publishes daily stories online and we have just relaunched our print magazine in biannual format. Our audience is based all over the world, and we champion a diversity of voices.
We also run Elephant Academy, offering engaging online art classes for students of all abilities, and Elephant Kiosk, a shop for exclusive artist collaborations and art and design products.
Our readership is growing fast, and we are seeking freelancers with experience working commercially to generate content ideas and sales in the art, lifestyle or fashion industries to join our growing team.
We are looking for proactive, assertive candidates, who have previously worked within a commercial role at an editorial platform. Successful candidates would collaborate closely with the editorial team to develop ideas for individual pieces of content and bigger projects, and then take those ideas to suitable commercial contacts for partnership or sponsorship. We are looking for candidates who already have a strong existing base of contacts within the relevant fields and a nuanced understanding of the digital landscape. This is not an entry-level role and proven specialist experience is essential.
Applicants can be based anywhere in the world—the position offers remote working with flexible hours. This position is fast-paced and target driven, and we are looking for self-starting candidates who are not afraid take the initiative.
You will:
Work with the Editor and Commercial Manager to expand Elephant's digital offering, focusing on sponsored content, partnerships and social media collaborations
Work closely with the editorial team to generate sellable content ideas across digital, print and social media platforms, and take them to potential partners
Develop new contacts within your market and build Elephant's existing advertising pool, with a focus on elephant.art and our social channels
Work closely with the Editor to liaise between the editorial and sales team, ensuring leads are followed up and current partners are retained
Attend a remote weekly meeting with the sales team to discuss new leads
You have:
A proven track record working for an editorial platform in a commercial role
A nuanced understanding of commercial trends on digital editorial platforms and social media
A strong base of contacts within your specialist market: fashion, lifestyle or art
A good level of written English
To apply:
Please send a CV and maximum 200-word cover letter to [email protected] with the subject line "Elephant Commercial Team [+ your name]". The closing date for applications is midnight on 15th July 2021. Interviews will take place in late July.
This role will be part-time and remote, with flexible working hours. It will be remunerated with a monthly retainer and commission structure, to be discussed at interview.
Elephant is committed to creating a diverse environment and is proud to be an equal opportunity employer.