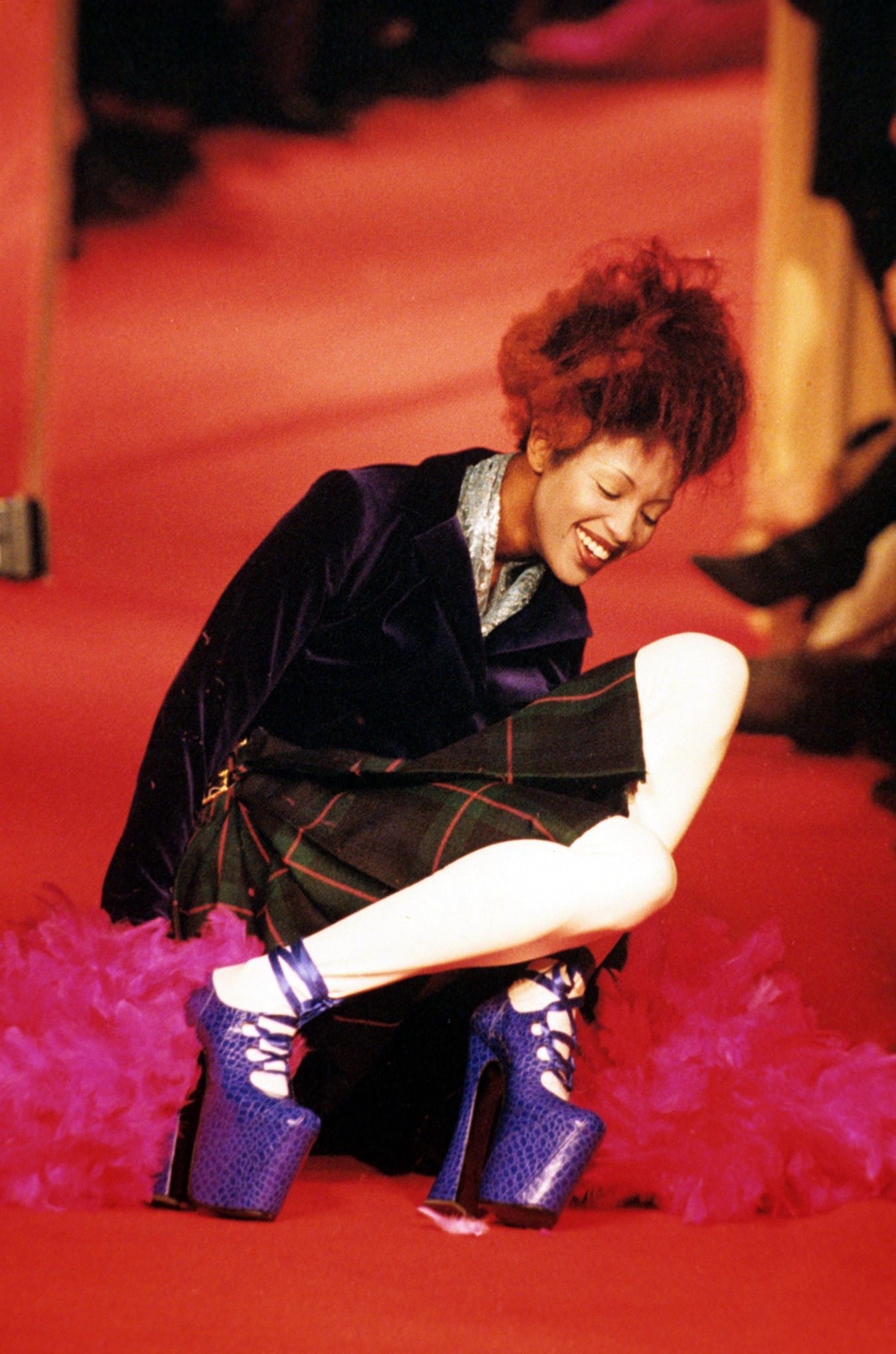 The well-worn trope of a woman anxiously up-ending her overflowing wardrobe while proclaiming "I've got nothing to wear!" might be an overly reductive cliché, but it does distil the surreal mania that typifies the multi-billion-dollar fashion industry. Historically dress has been used as a means of social-climbing and political wrangling, as well as igniting scandal and twisting bodies (particularly female ones) into unimaginable contortions.
Nowadays, the catwalk is seen as a space to create fantasies that are as likely to embody angst and unease as they are reverie, and the never-ending cycle of international fashion weeks—not to mention the terror of a fashion editor's withering glare—are enough to make anyone's head spin. With that in mind, here are six of the most angsty incidents to befall the fashion industry in recent history.
Alexander McQueen's Asylum
If you ask anyone to name a designer who manifests anxiety, chances are they'll say Alexander McQueen. The angst-ridden genius created twisted fantasies of beauty and horror, which were unsettling and enigmatic in equal measure. He emblazoned garments with war reportage by Don McCullin; produced ballgowns made from decaying flowers; and envisaged an underwater, sci-fi dystopia; but his most shocking and disturbing production was undoubtedly Voss. The Spring 2001 show took place in a manufactured asylum, where models stalked a padded cell wearing clothing made from razor clam shells, horns and even taxidermied birds. As the pulsating soundtrack faltered and flatlined, a mysterious cube opened to reveal fetish writer Michelle Olley reclining nude while wearing a gas mask, in an homage to Joel-Peter Witkin's Sanitarium (1983). The terrifying scene concluded with every model pushing themselves against the cell's glass, as if they were trapped in a perpetual couture nightmare.
Carrie's Epic Catwalk Fail
The fear of falling over is all too real for anyone who enjoys skyscraper heels, but the humiliation is tenfold when it happens on the catwalk. Naomi Campbell managed to force a jovial grimace when she stacked it in the infamous Vivienne Westwood purple platforms, but the internet is full of gut-wrenching clips where people try to right themselves while simultaneously realizing the full horror of their impending doom.
The most angst-inducing humiliation undoubtedly belongs to Sex and the City's Carrie Bradshaw, whose mortification at becoming "fashion roadkill" on the Dolce & Gabbana runway is somewhat redeemed by an interior monologue about "real people who get back up again" and an ensuing, hobbled, one-shoe strut.
Viktor & Rolf's Unstable Scaffolding
The Dutch duo shocked the fashion crowd with their Fall 2007 ready-to-wear collection, not with their modest button-up blouses, folk skirts and stiletto clogs, but the fact that every model shouldered their own lighting rig and speaker system. These massive steel frames seemed almost sadistic, not only in the way they alluded to themes of anxious isolation, but the fact that these women seemed to crumple under the weight of the huge structures. Some of the outfits appeared pinned to the frames, likening their wearers to helpless dolls or puppets, all of whom wore expressions of stoic concentration.
William Klein's Who Are You, Polly Maggoo?
William Klein takes a satirical stab at the fashion industry in his iconic black-and-white 1960s feature, which parodies the relative absurdities of his time at American Vogue. The most memorable scene features Miss Maxwell (a magazine editor based on the formidable Diana Vreeland) flanked by the great and the good of Parisian society, at a couture show comprised exclusively of clothes made from aluminium sheets. The fevered energy of Maxwell's entrance is palpable backstage, as women are riveted into ever-more outlandish creations—one poor victim slices her arm open before being pushed on stage.
The ensuing praise seems at odds with these completely impractical and violent costumes, as Maxwell proclaims that the designer has "recreated woman!". His reply, that he had to "reimagine woman for the nuclear age", is a prescient reminder of the amalgamation of fear and optimism that typified the Swinging Sixties.
Vetements's Ugly Couture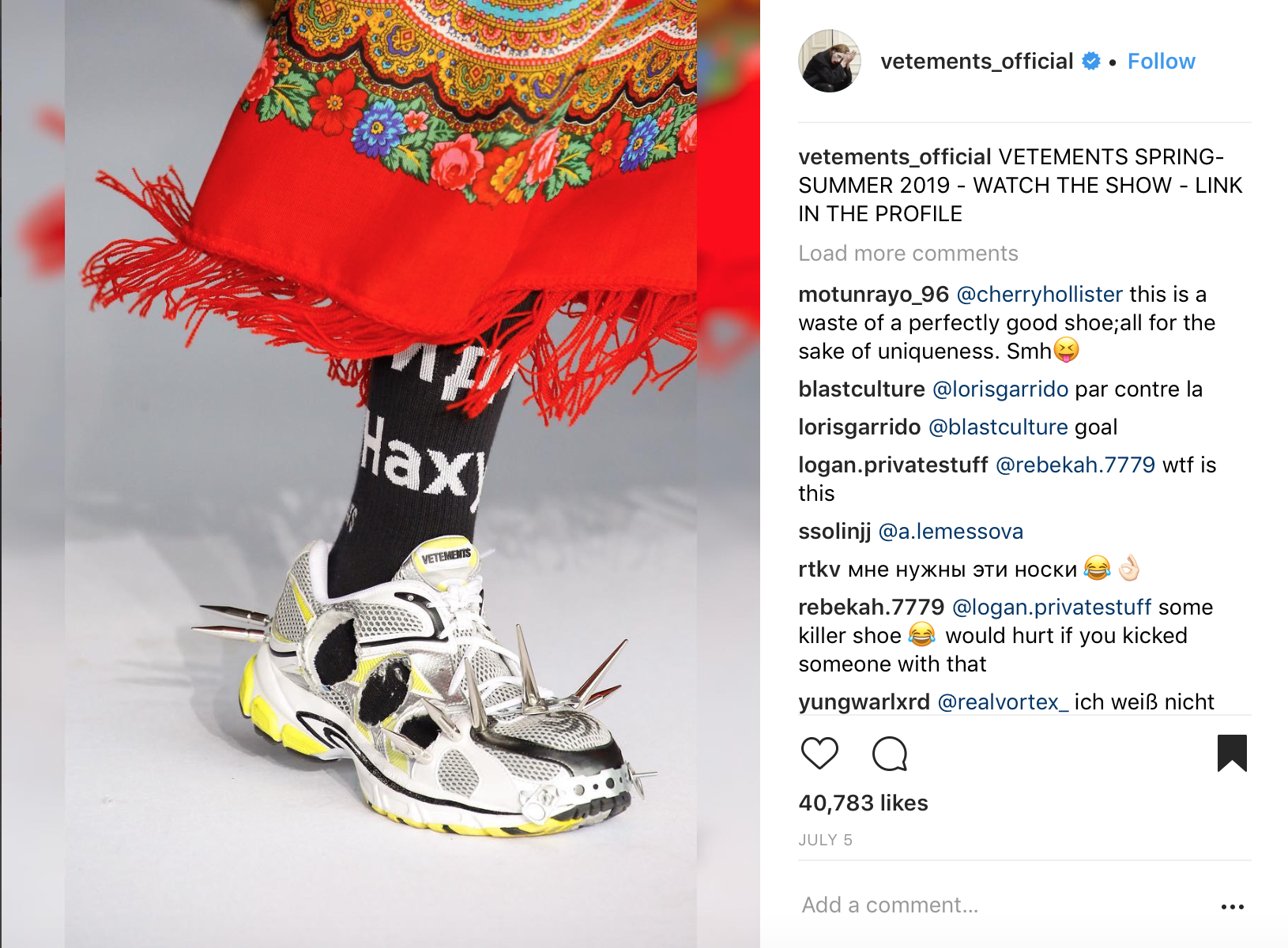 Demna Gvasalia's anti-fashion brand burst into mainstream consciousness when it debuted the £185 DHL T-shirt back in 2015. This elevation of the ugly and the everyday is baffling to some and utterly compelling to others, and the notion that "you don't get it" sent much of the fashion pack into a self-doubting spiral disguised by blanket praise, which shows little sign of abating. The collective anxiety around Vetements's cool credentials is the perfect distillation of millennial culture, where ironic selfies and memes cannibalize themselves to spawn new in-jokes faster than you can double tap (it's worth noting that the parody brand Vetememes is now a coveted label in its own right). How exactly Reebok trainers covered in metal spikes fit Gvasalia's mission statement of "wearable couture", still remains a mystery.