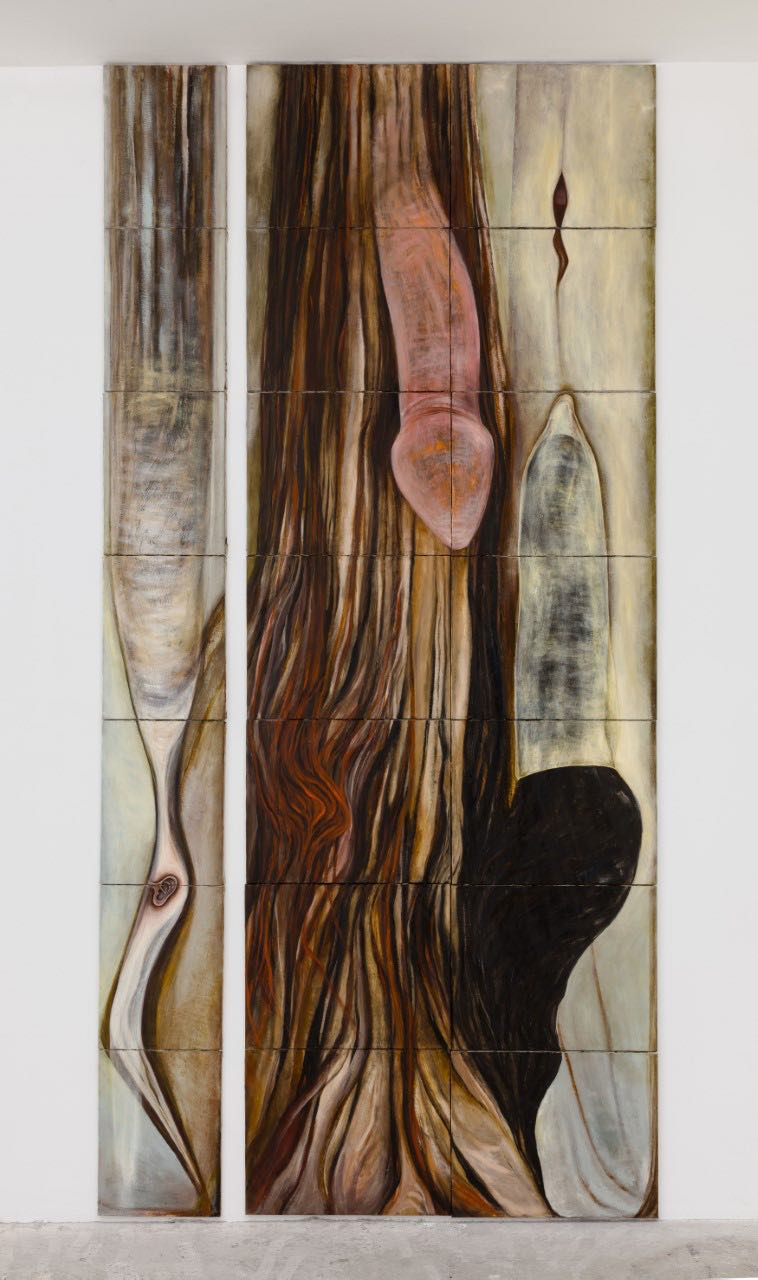 There's usually a smattering of sex at art fairs. Frieze New York is no exception, but the most interesting sex-themed works on show this week typically have a dark undercurrent. Louise Bourgeois (Cheim & Read) and Tracey Emin (Xavier Hufkens) set the scene with couplings born out of angst. Tom of Finland's explicit, celebratory and increasingly celebrated drawings (David Kordansky) now represent the prelapsarian world before Aids. Los Carpinteros's film Skin (Peter Kilchmann) connects sex and death with ingenious directness by showing what seems to be one couple ageing progressively during ten minutes of making love. Here are seven works in which the sex is more than a little complicated.
Mira Schor, Dicks or The Impregnation of the Universe, 1988 (top)
The Spotlight section is dedicated to solo artist presentations of work made in the twentieth century, with an emphasis on rediscovery. Mira Schor's Dick paintings from 1988-93 have never been exhibited before, but in the gallery's words "with a self-professed groper in the White House, Schor's paintings of limp members and receptive ears feel searingly relevant". So much so, perhaps, that Schor (born in New York in 1950) has returned to the theme in new work made after Trump's election. This huge work (ten feet high) is built up of twenty-one small canvases, suggesting both diminution of phallic pretension and the possibility of more healthy approaches to intimacy.
Lyles & King, New York
Anthony Iacono, Rose, 2017
New York artist Anthony Iacono trained as a sculptor, which is evident in the treatment of his crisp images, collages made from painted paper which is cut and assembled with the intricate precision of parquetry. Iacono uses the technique to make observations about sexual mores, balancing a sort of detachment, which could be read as boredom, with a sense of fascination, which could be seen as desire. Here I am reminded that roses have thorns, even as I recall Morrissey's predilection for singing with gladioli stuffed down the back of his trousers.
P·P·O·W, New York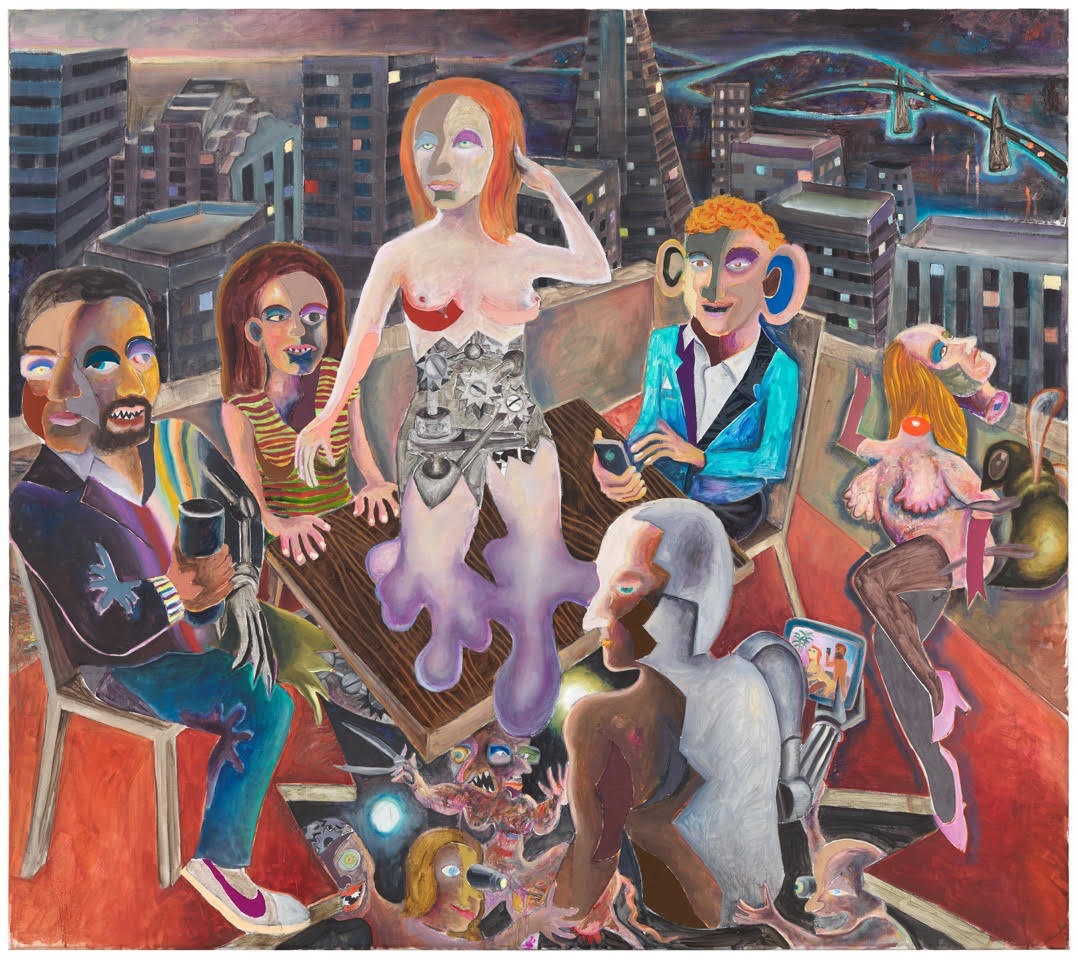 Armin Boehm, Mountain View, 2018
German painter Armin Boehm's complex painting shows politicians alongside tech world leaders such as Sundar Pichai of Google, Sheryl Sandberg and Mark Zuckerberg. I take it to critique how technology alters the way in which people see themselves and what they might become. A woman seemingly obsessed with self-presentation is melting like a semi-mechanical figure into a table, under which the floor is torn apart to reveal a glimpse into another world where a cyborg is being constructed. It, in turn, holds a tablet displaying a pornographic scene: will even robots be affected by the modern excess of sexual images?
Galerie Peter Kilchmann, Zurich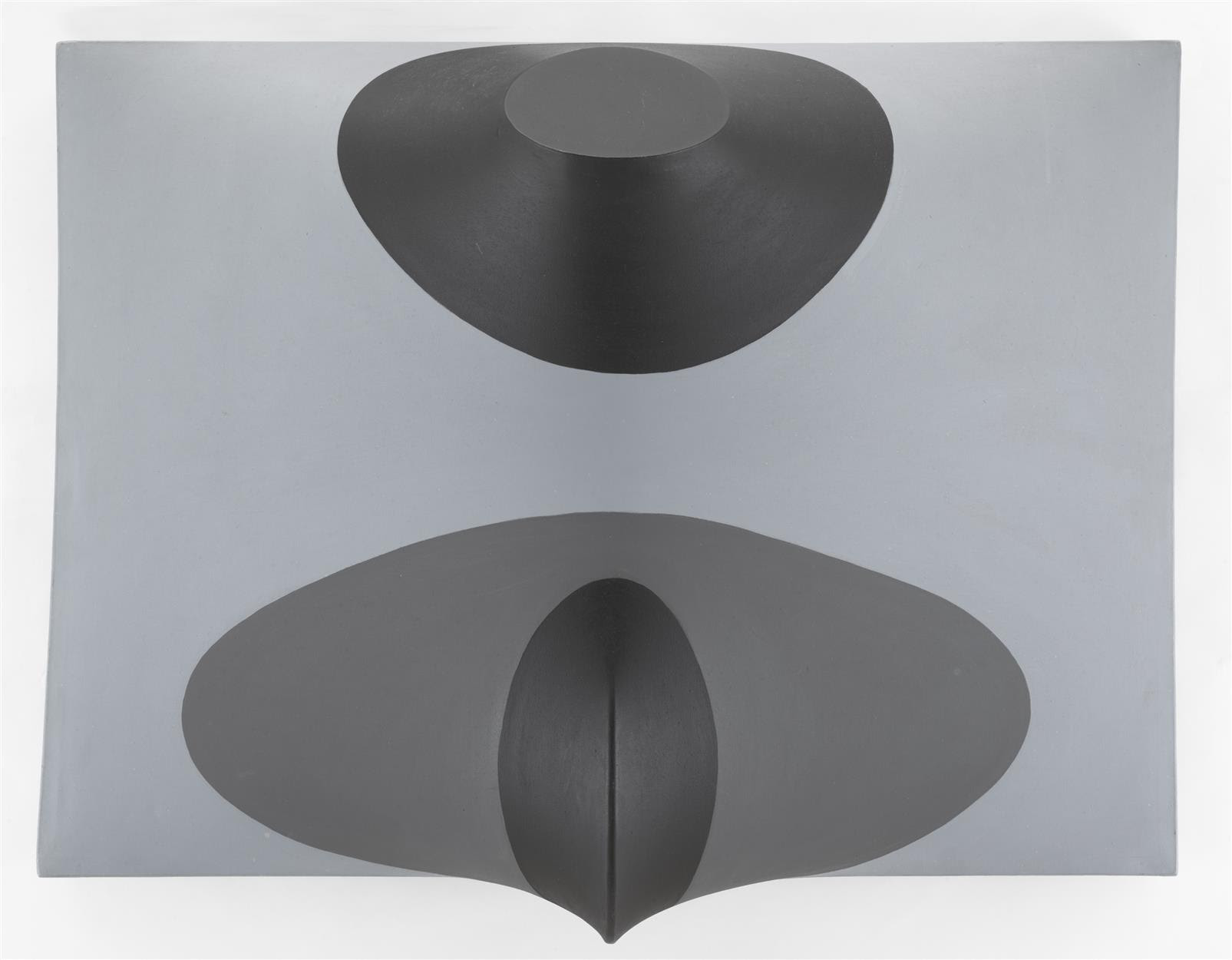 Zilia Sánchez, Topología Eróticas, 1982
Cuban-born Zilia Sánchez, now ninety-two, lived in Havana, New York and Madrid before settling in Puerto Rico in the early 1970s. Her work, though formally abstract, has a bodily sensuality, especially in the undulating shaped canvases she's been stretching over hand-molded wooden armatures for over fifty years. That undercurrent is emphasized by the title of "erotic topography", but the typically dark and muted tonality and a suggestion of decapitation takes this some way from a straightforward invocation of pleasure.
Galerie Lelong, Paris / New York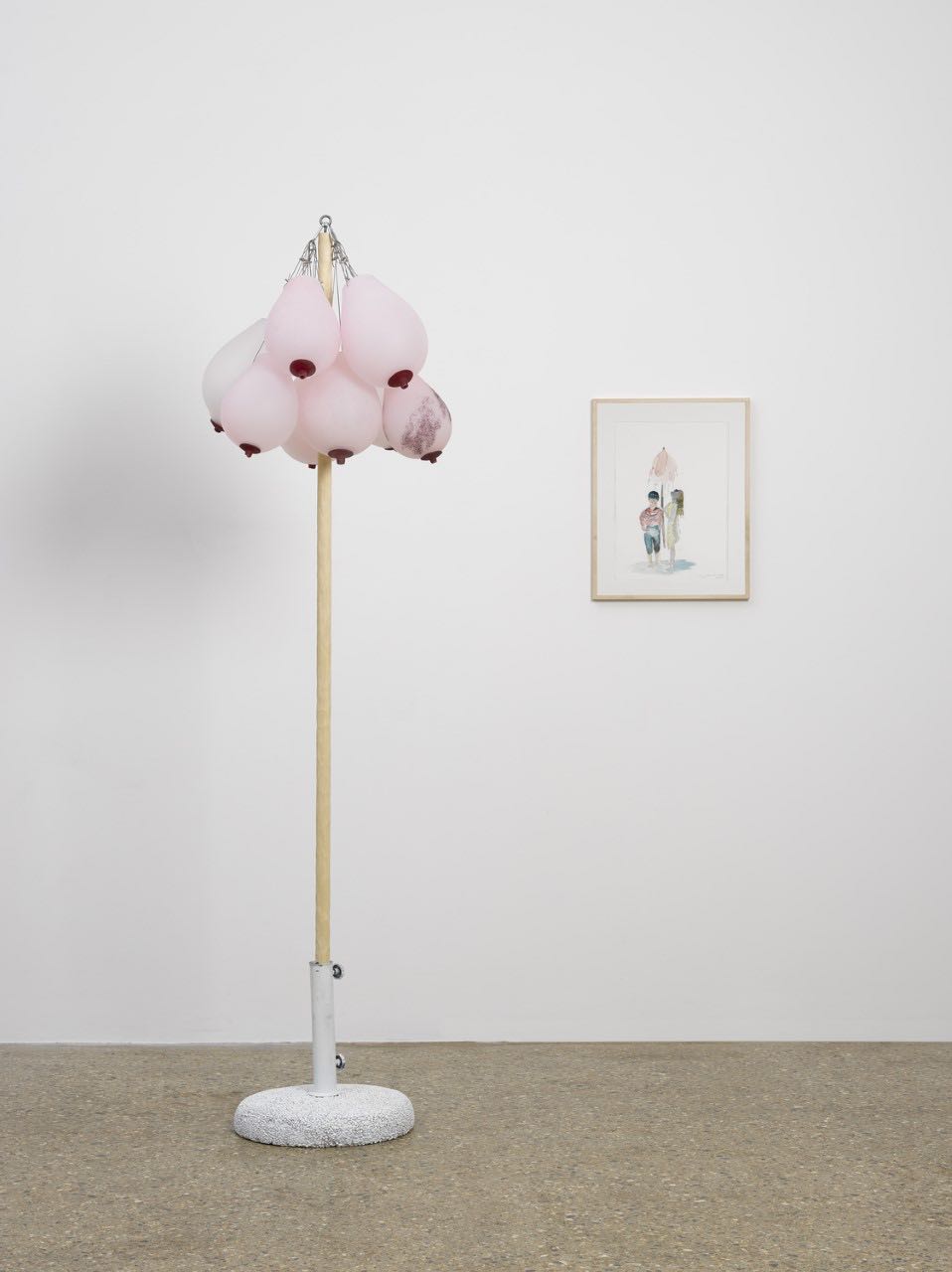 Laure Prouvost, Cooling System (for Global Warming), 2017
Lisson's newest signing, 2013 Turner Prize winner Laure Prouvost comes up with a typically quirky and sexually provocative answer to global warming. The individually blown breasts—glass, not balloons—provide a means of mothering the world through cooling. Temperatures soared unseasonably high during the fair, which was too much for the air conditioning, and rather made me wish Prouvost's proposal had reached the stage of a working prototype.
Lisson Gallery, London / New York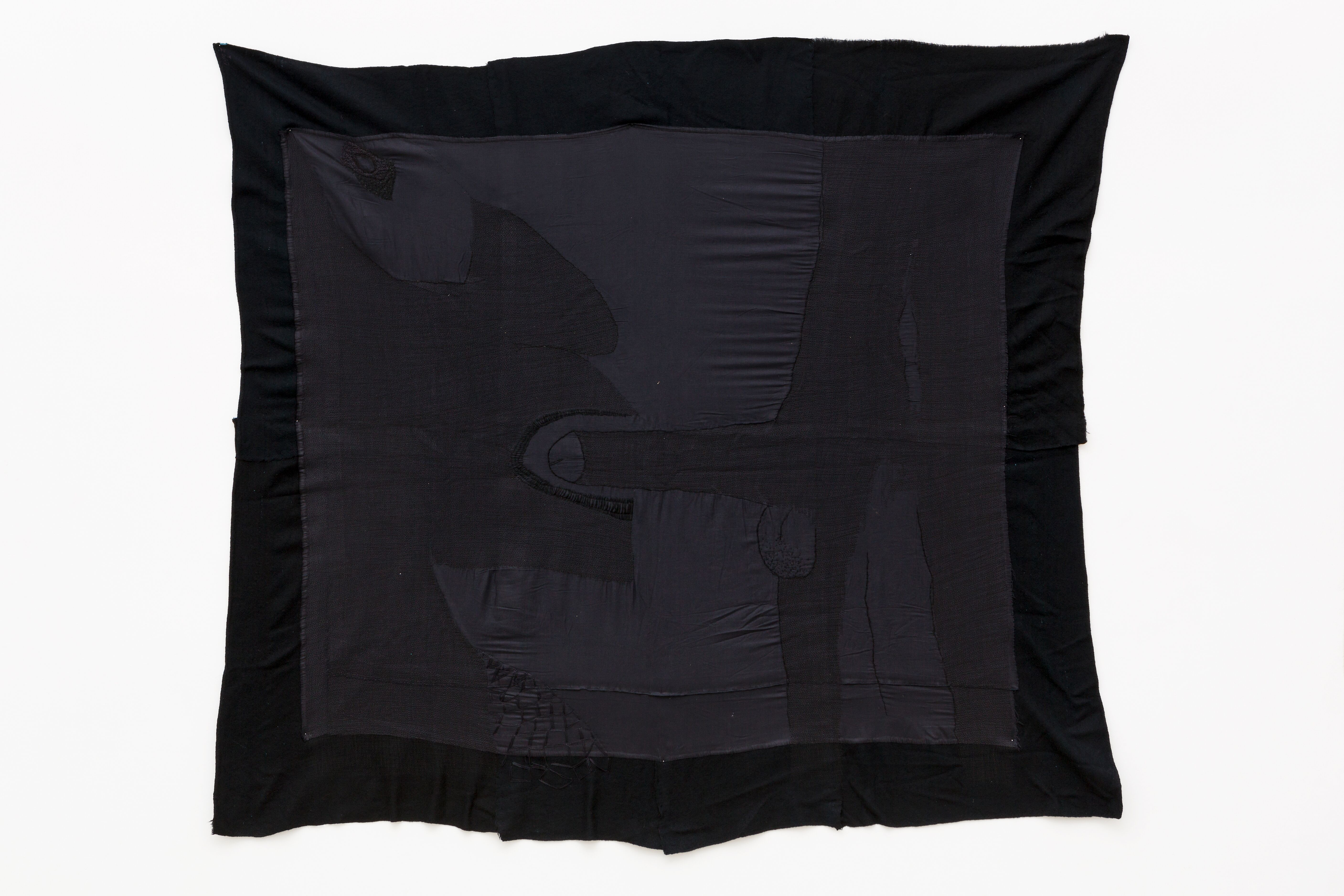 F.marquespenteado, Butched In from the series Identifique as Palavras do Vernáculo Das Prisões, 2012  
Portugal-based Brazilian-born artist F.marquespenteado does not align with a specific gender. Their use of embroidery links clothing accessories, books and found objects in complex scenarios, which often explore the performance of gender. This beautifully sewn black on black example literalizes the darkness in drawings by Jean Cocteau which depict sex in prisons, so applying a tradition often seen as feminine to male relationships, in circumstances in which power and violence are in play.
Mendes Wood, Sao Paulo / Brussels
You can buy Elephant issue 34 here
All images © the artist, courtesy the gallery unless otherwise specified
SaveSave
Frieze New York
Until 6 May at Randall's Island Park, New York
VISIT WEBSITE