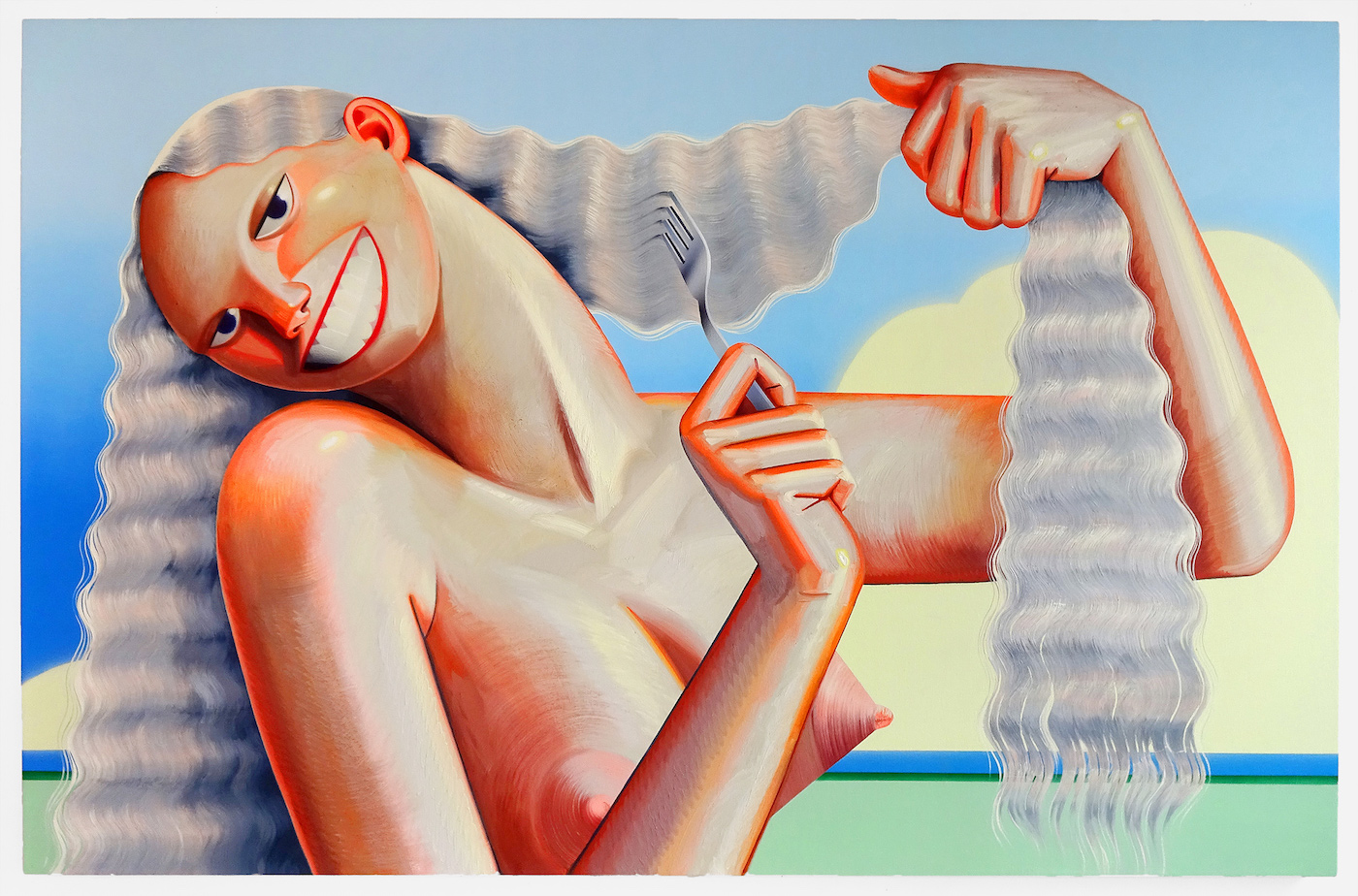 Robin F Williams, Because You're Worth It, 2018
Various Small Fires' booth this year is themed around hair. But it's more about the feeling you get when you fish hair out of the plughole than when you watch a Pantene advert—and that's exactly the kind of thing we want from our contemporary art. Robin F Williams's Because You're Worth It is a reimagining of the loathsome L'Oreal ad campaigns. We all know we're worth it, but we don't need to spend a penny buying tons of treatments and cosmetics to achieve it. I'll be combing my hair with a fork henceforth.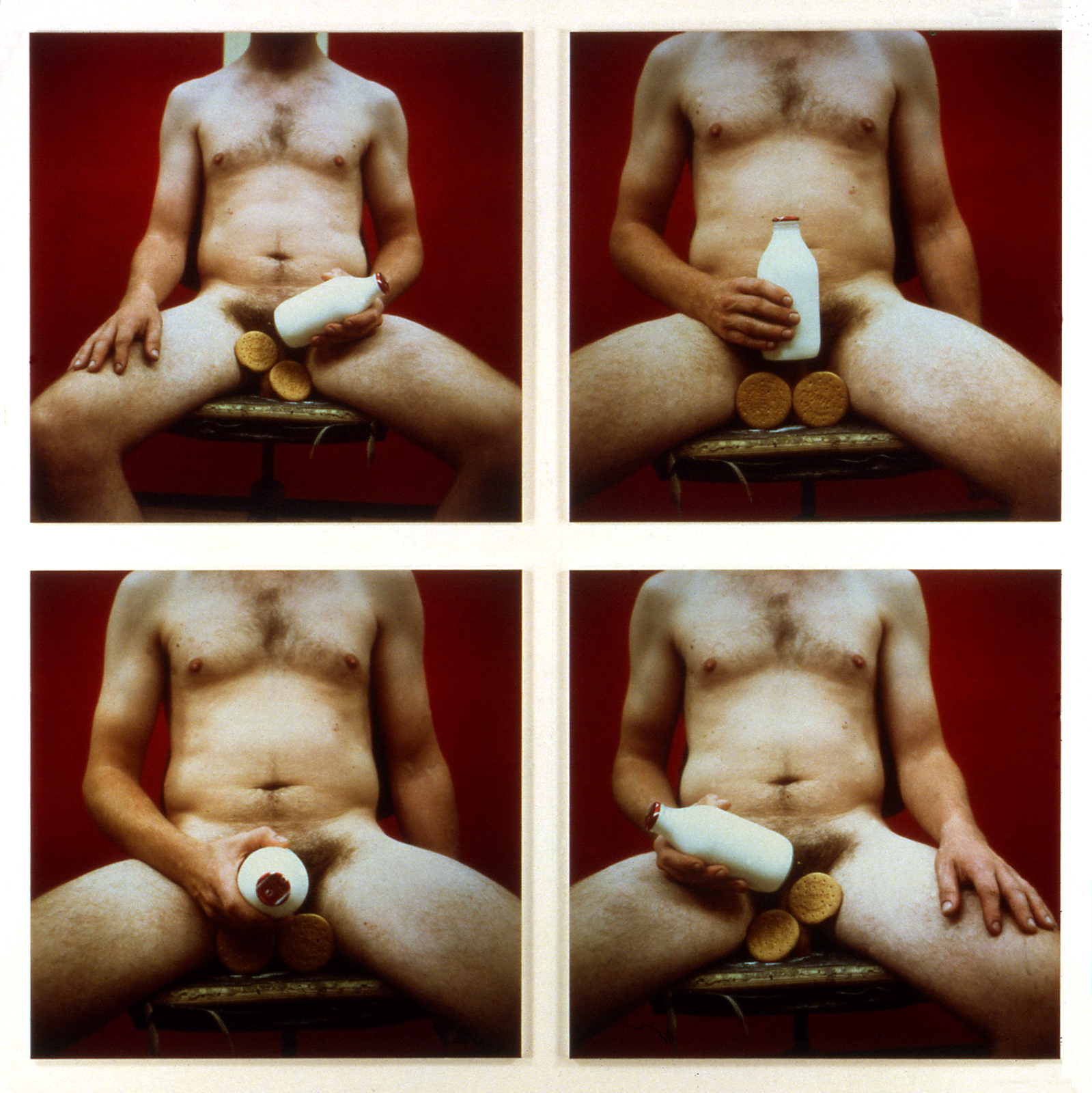 Sarah Lucas, Get Off Your Horse and Drink Your Milk, 1994
Sadie Coles's stand is the first booths you'll end up in at Frieze London (it's directly across from one of the entrances to the fair) where you'll encounter "trash feminist" Sarah Lucas's instantly recognizable sexual food puns. This four-part photographic work, Get Off Your Horse and Drink Your Milk, from 1994, is only dated by the glass, foiled-capped milk bottle  (don't you miss those). The title refers to a John Wayne catchphrase, and the image is classic Lucas, with her irreverent gaze on the naked male body, head chopped out of the frame, biscuits for balls and a full bottle for a penis. There's no feminist artist who can make a joke the way Lucas can, and this gaze on the male nude reminds us we need to see more of how women see men.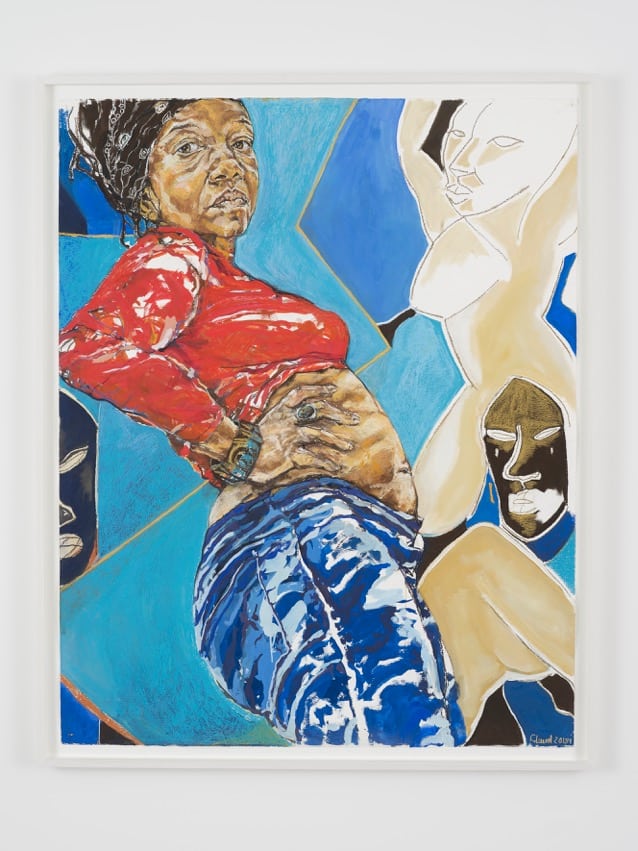 Claudette Johnson, Standing Figure with African Masks, 2018
What's great about our time is that we have space for the vision of young artists who have grown up in a (slightly) more open and equal environment while also celebrating the artists who paved the way for that. This is not only the time for artists in their twenties and thirties, but also for those in their forties, fifties, sixties, seventies, eighties, nineties, who didn't have the same opportunities in their younger days. Claudette Johnson was a core member of the BLK Art Group that formed at the end of the seventies in Wolverhampton—it was movement whose role has only recently been identified as a pivotal moment in British history. Johnson's work has always challenged art history, and it's significant that this week, this work has become part of the Tate collection. At fifty-nine, Johnson is still making work as good as it ever was, as this 2018 portrait—a woman whose gaze is both weary and proud—proves. The African masks in the background point to modernism's appropriation of African art making.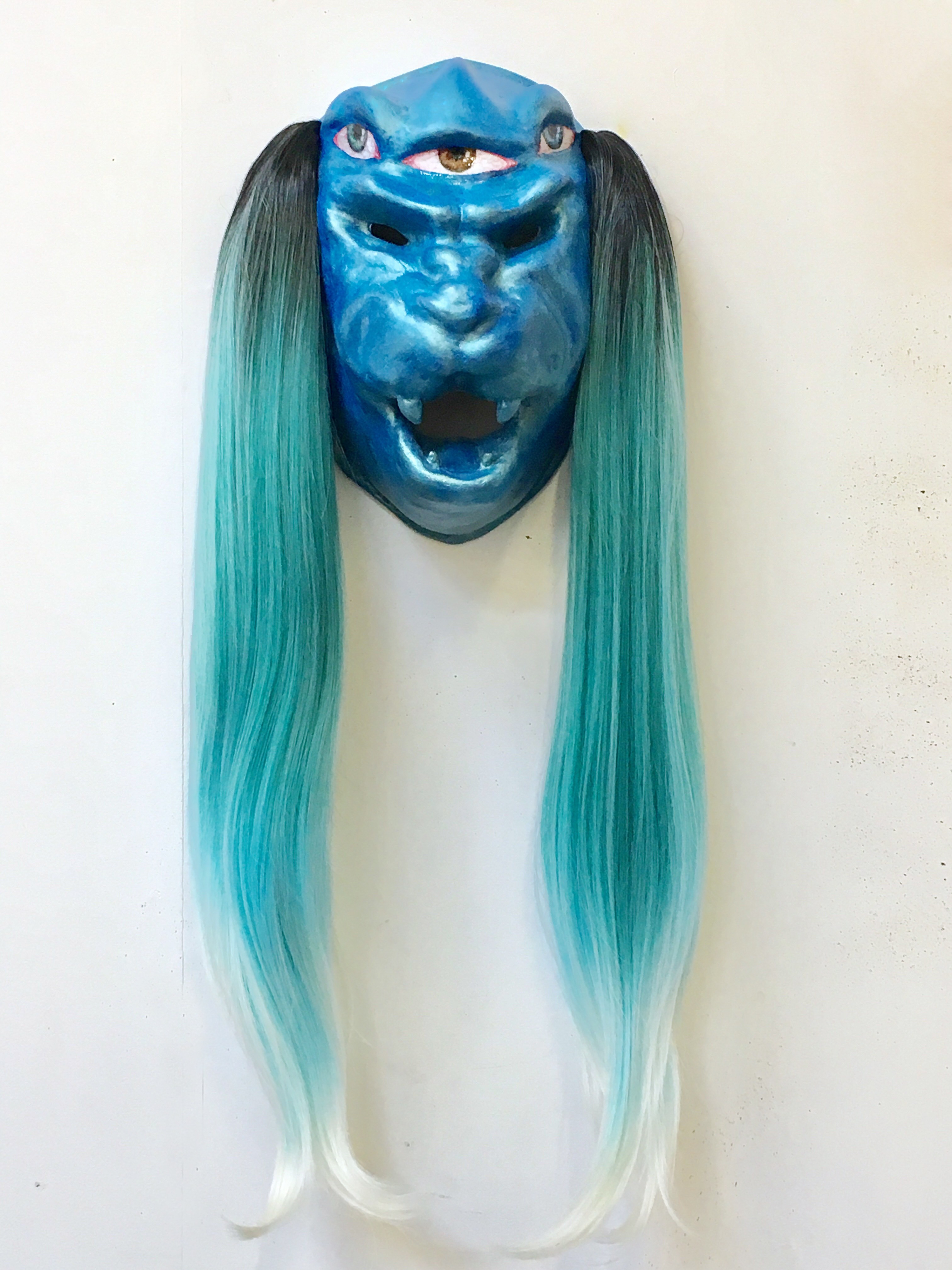 Zadie Xa, Hot as Nando's Black Sauce, 2018
Young gun Zadie Xa has piqued everyone's interest at Frieze Focus this year with her presentation at Union Pacific. The Canadian RCA graduate takes on representations of the other, exoticism and fetishism in the West, and approaches to art and traditions in the East, in fantastical hybrid paintings, trippy video works and, more recently, sculptures. She mashes into her own cultural background some hip-hop aesthetics and contemporary stereotypes. At Frieze, blue-skinned, mermaid-haired, multi-eyed sculptures, inspired by Korean masks, blur gender, race and sexuality, and evoke questions about transnational identity and taste. That's about as 2018 as it comes.
Camille Henrot, Bad Dad and Beyond, Enough Is Enough, Ded Moroz, Guilt Tripping, Dawg Shaming, 2018
Camille Henrot's Live commission takes centre stage at Frieze 2018. Bad Dad and Beyond, Enough Is Enough, Ded Moroz, Guilt Tripping, Dawg Shaming is a work that will leave you as frustrated as you will be trying to navigate your way through the maze of the fair under the strip lights. Henrot's telephones, installed around the fair, are hotlines to nowhere, leaving listeners with the familiar feeling of being stuck on hold to a robot who can't help you with your bills or your broken belongings. We're always looking for the answers to life—we even look for them in contemporary art—but as Henrot's work unhelpfully reminds us, we will won't be getting them anytime soon.