Janet Currier graduated from her MFA course at Goldsmiths in the summer of 2017 before becoming Elephant's first resident artist. She completed her three-month residency earlier this year, working closely alongside the Griffin Gallery in West London. The scientists at the lab develop new products and refine existing ones, working closely with artists to see what new innovations they might be looking for.
I visited Currier during her last week on the residency, finding the walls of her studio covered in A4-sized close-ups of growths and bacteria—presented in a way that is unexpectedly subtle, gentle and visually appealing. As well as these works, which are created spontaneously and inspired by photographic source material, Currier has also produced some large-scale paintings, focusing on sections of clinical, patterned, everyday scenes that we might otherwise miss: an unidentified spill on a neatly tiled floor; the bottom of a blue hospital curtain, as though viewed from a bed.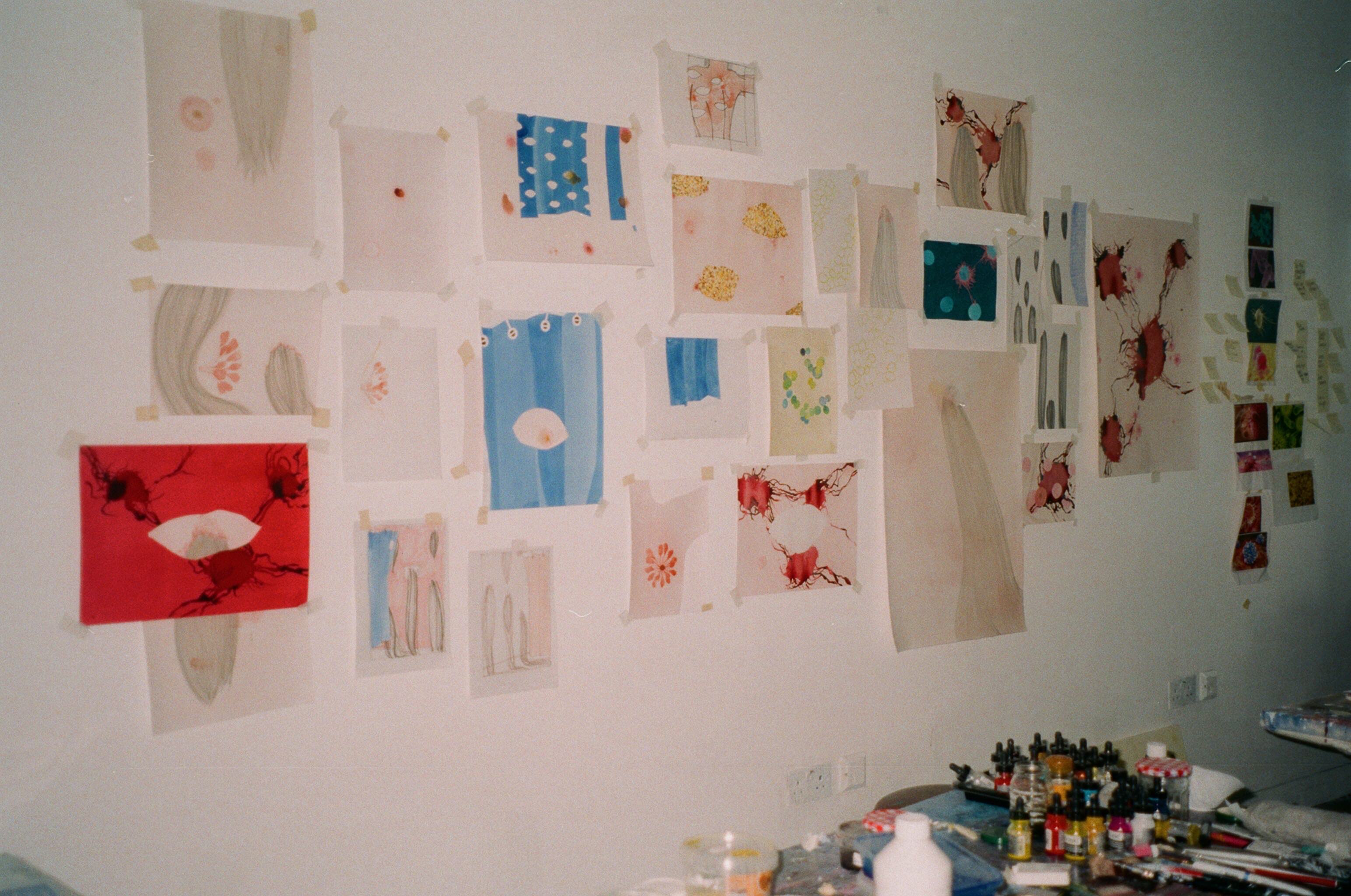 How has your initial plan for the residency developed while you've been here?
I came with a project in mind that was quite specific, and I didn't really stick to that! But I have sort of come around to it in the end. One of the things that has really happened is that I've spent lots of time drawing. They're a quicker thing to create and they go where they go.
How do you start on the smaller works? Do you begin by sketching shapes and planning them out or do you go straight in?
I go straight into them. There are some where I will plan out and try to compose a painting, but those are a different kind of work—most of them are things in their own right; it tends to be just going for it and seeing where it goes. Lots of them come from pictures of bacteria, pockets of festering black… Before I came in for the residency I was looking at all these drawings of mastectomies and lumpectomies.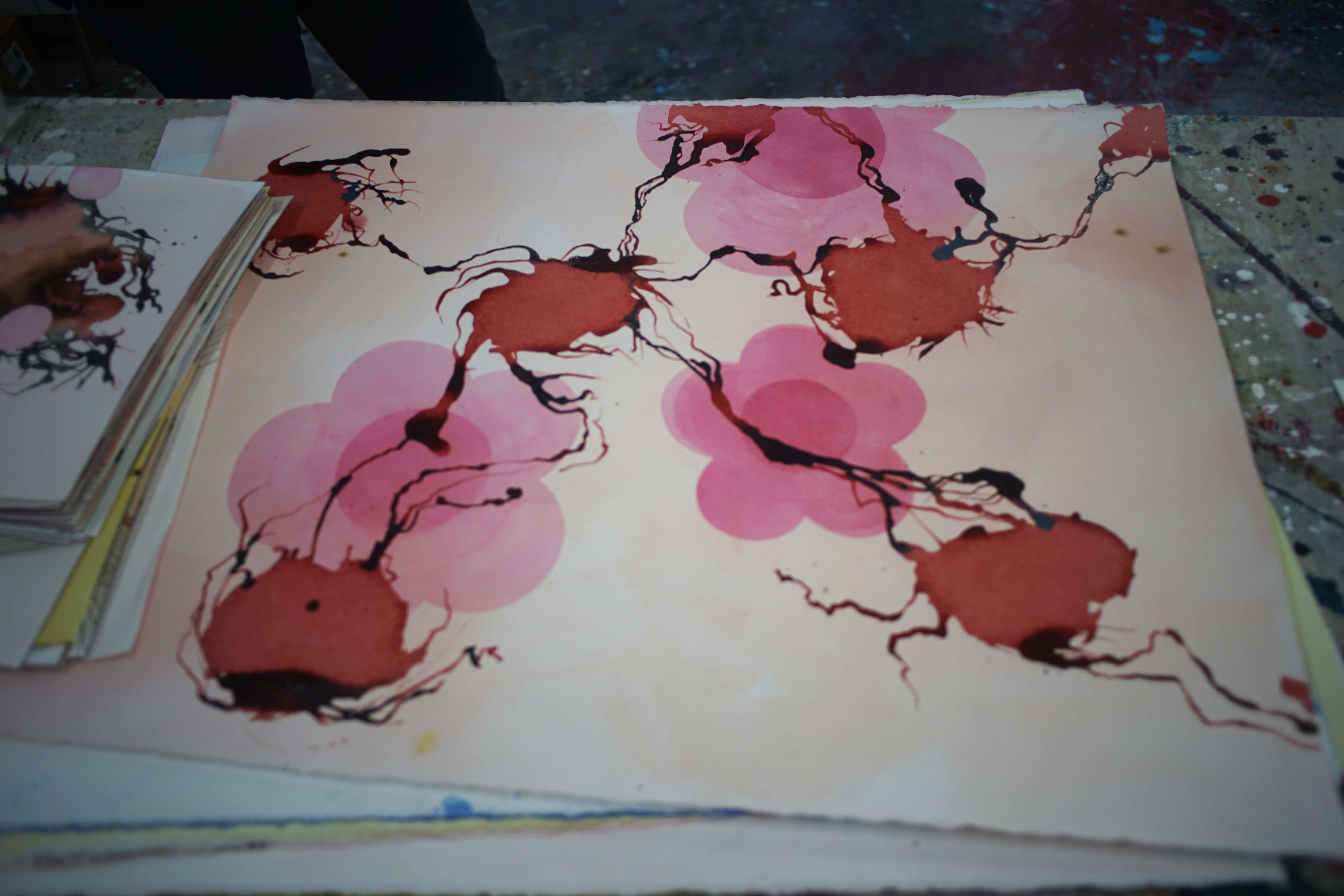 "There is loads of stuff about the body and cancer and treatment that's been coming out"
There's something really visually appealing about your work but also an off-putting element—I think even more than with the pieces in your degree show it feels as though there is a jostle between the appealing and repulsive parts, and it's hard to know which element is winning out.
When I came here loads of the scientists in the lab were talking to me and I started getting into this microbiology thing that had been in my work before. People were saying to go and look at electron microscope pictures—and that's taken me to a source material that's been really great: bacteria, teeth plaque… There is loads of stuff about the body and cancer and treatment that's been coming out. Some were quite explicit, but I've ended up with something that's not quite so explicit, and that feels much better. There's also one which looks at the hospital cubicle curtain.
I've been all round the houses with this body of work, but it's been really good and, again, that thing about the repetitive marks is coming through, which is something that's really important to me as it's about labour. There's also something about scale which I am finding really interesting—are you looking at a tiny tile in close up, or a bigger tile? You can really go down to the micro-organism level. I think that's interesting to play around with. I've been thinking a lot about narrative also and trying to be on that edge between something formal and something in terms of content, and maybe being a bit more abstract. I think that brings it back to the language of painting again.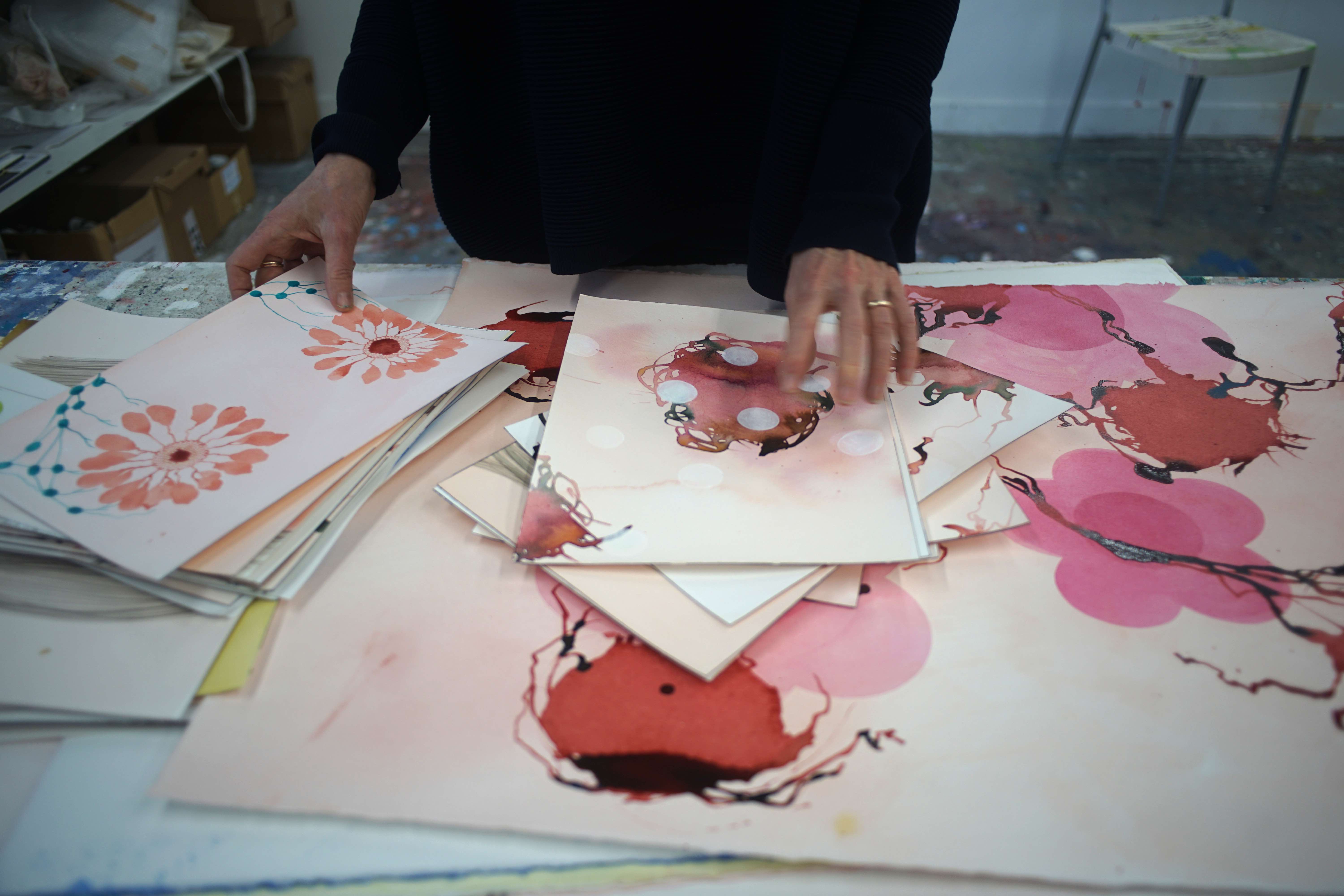 How have you worked over the three months, has it felt quite experimental?
It's felt like I've been decompressing from Goldsmiths. The work has been in my head for quite some time and it came out in another way in the degree show, but it felt like I'd been doing it for so long; it has been great to be in a new environment. Working towards your MA show is a big deal in London, and you're very much focused on that rather than thinking about the process so much. It's been really nice to have the space to be speculative—even just having paper and the chance to be honest, to think, "I'll explore this today", and just go with it. I've been doing a thirty-five-hour week in the studio and it's been great for me.
Also, with the work I made for my show there was a lot of anxiety in it in terms of the relationship with the materials. The thing that's been really nice here is to start out and then get somewhere else, there's a relationship going on with the materials and with the process.
"It's been really nice to have the space to be speculative"
How have you found it working with the lab?
It's really exciting. They're really appreciative too. Coming to the end is really difficult. I had been used to working at home and it's very slow and contemplative, so it was a shock when I first came in: I'd meditate a lot in the morning to focus! But the team have been in a lot and they've given me a lot of advice and been really interested. People have spoken to me about canvases, different products. I've had various visits from people which has been really nice. Marker pens have also been a big revelation working here, I've got really into using them—especially with the drawings.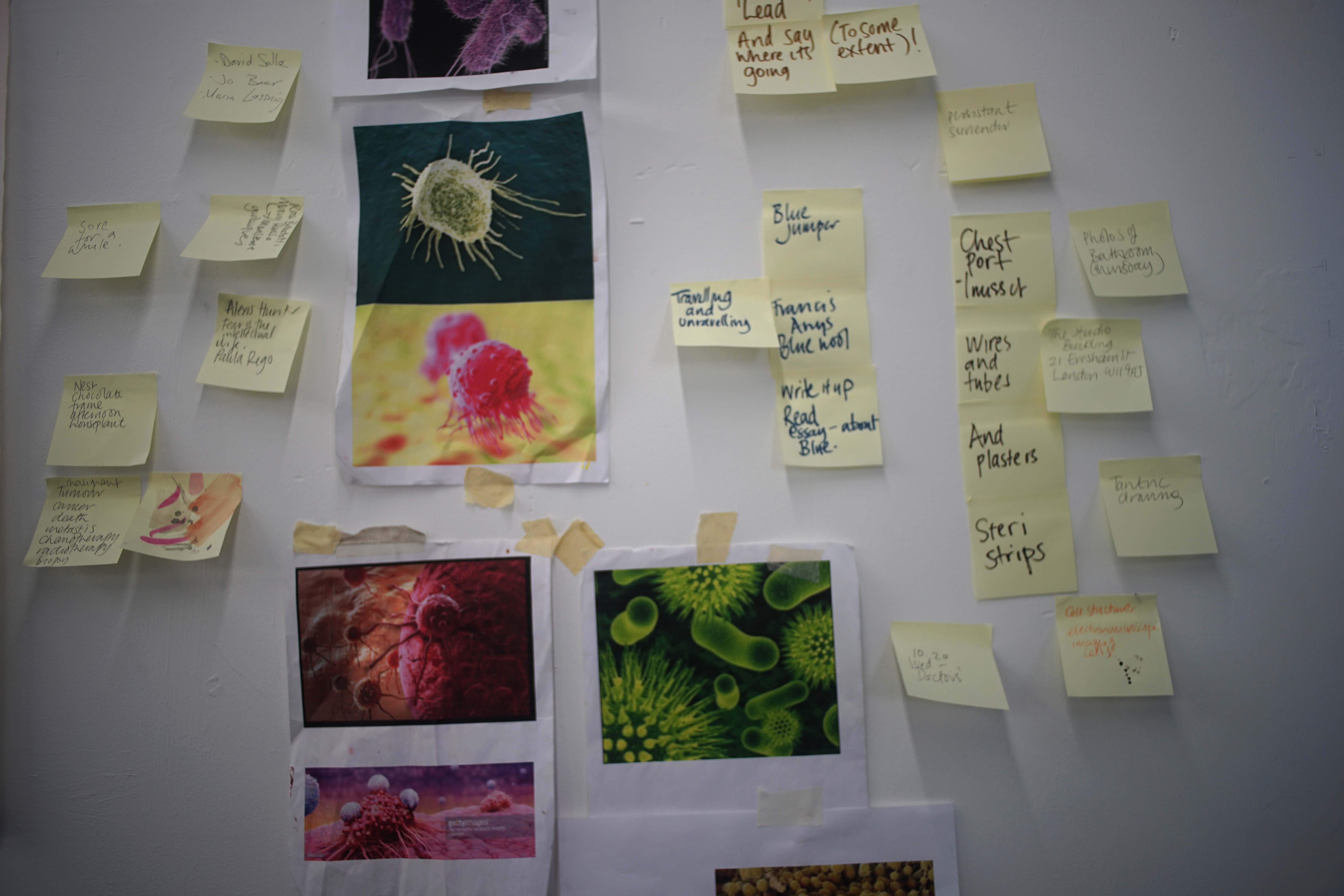 Have you always looked on yourself as painter?
Painting is more challenging for me, so I've always been really strong on drawing, especially at college. With drawing I felt like I'd cracked it, but actually I've been drawing in a really different way. There was an important shift halfway through college. I had a tutorial with Mark Leckey, and he was talking about things being imminent, meaning that it's all in you. At Goldsmiths there's a thing about contextualization and critical theory and how you link that with your practice; there's always this rubbing between the two, which I like. I'd get into the theory and then I'd want to illustrate that in my painting.
Painting is a really non-verbal thing and when I saw Mark and mentioned wanting to speak about maternal subjects in my work and being a mother, he said, "Well that's imminent." It's in me. I took those paintings that I had in my residency proposal to him, and I didn't know what it all meant at the time. He said, "Just rinse it out!" Which means, just do it. It all comes through you and it will all come out. It stayed with me.
Janet Currier is featured in Issue 35, out now
BUY NOW