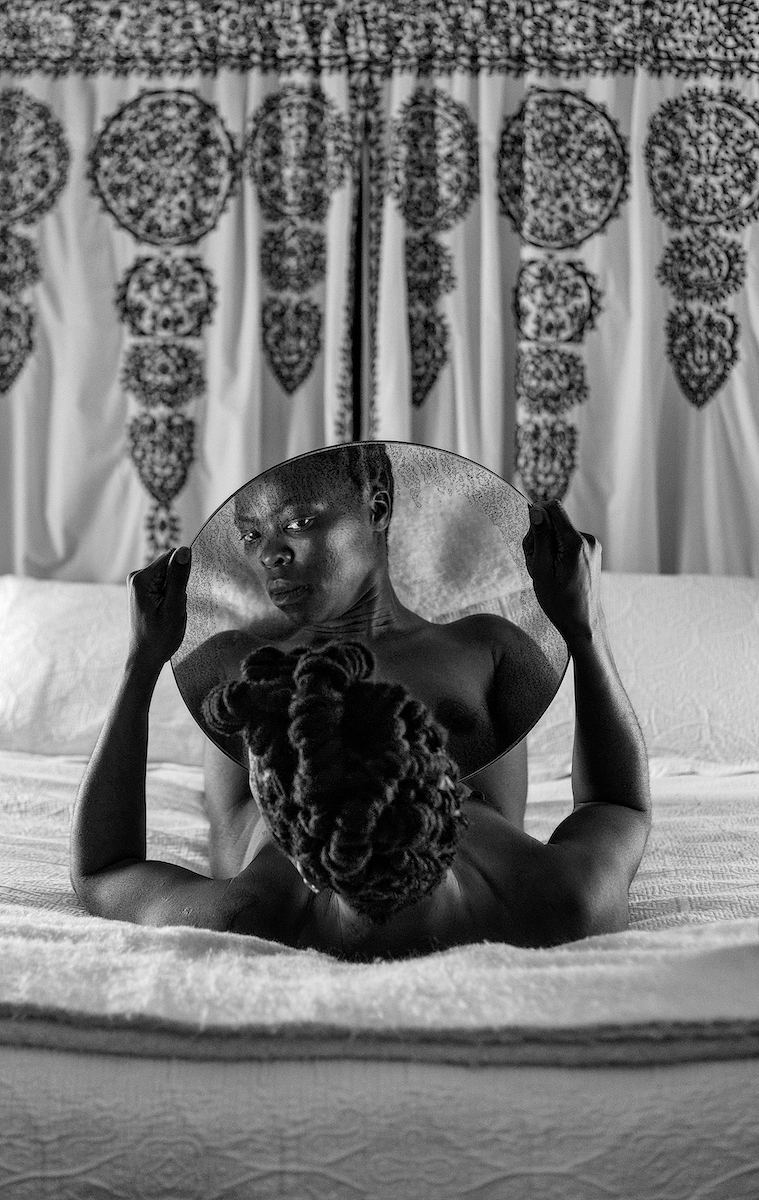 Reflections have a long history of symbolism in art, the most common of which is arguably Narcissus, who gazed into a lake and fell in love with his own likeness, a scene that has been recreated by everyone from Caravaggio to Salvador Dalí. The mirror, too, is found in countless paintings as a means of expressing the evils of vanity (something predominantly attributed as female folly) or to carry hidden messages, such as the vanitas hidden within the background of the Arnolfini Portrait.
In more contemporary terms, the mirror has been used not as a form of allegory, but as a way of looking inward, and to grapple with complex ideas of identity and the gaze. Take, for example, Zanele Muholi, an artist known for powerful self-portraiture that questions the politics of race and representation. One of the most arresting images from the Somnyama Ngonyama series (on show at Seattle Art Museum until 3 November) is titled Bona, Charlottesville. It breaks the format found in most of the sixty-strong collection by resituating the artist's penetrating outward gaze away from the viewer and into a large circular mirror.
Suddenly, they do not appear isolated and alone, but are instead preoccupied with their own reflected twin. The act of looking, on the part of the audience, becomes almost clandestine, and forces us to question why we are examining this person, and consider how and why they are scrutinizing in their own image.
Issues of the gaze are also felt keenly in Juno Calypso's seductive, yet sinister, images taken in an American honeymoon hotel. They present her alter-ego Joyce, who is examining herself in a 360 mirror while sat in a heart-shaped hot tub. The continuous refractions of her body—seen in slightly different iterations­—is dizzying and unsettling, while her eyeline, which refuses to connect with the viewer, adds to a sense of voyeurism.
Tokyo Rumando utilizes mirrors in a similar way in her self-portraiture, to scrutinize fetishistic portrayals of women and touch on the fantastical opportunities that gazing into a reflection can afford. Her incongruous narratives, where the "real" Rumando and her mirrored counterpart look entirely different, play on the idea of mirrors revealing our true and imagined selves—a cinematic device that has been used by everyone from Jean-Luc Godard to Disney.
"The mirror moves from the singular realm of symbolism, to become an interactive object that allows viewers to become temporarily part of the work"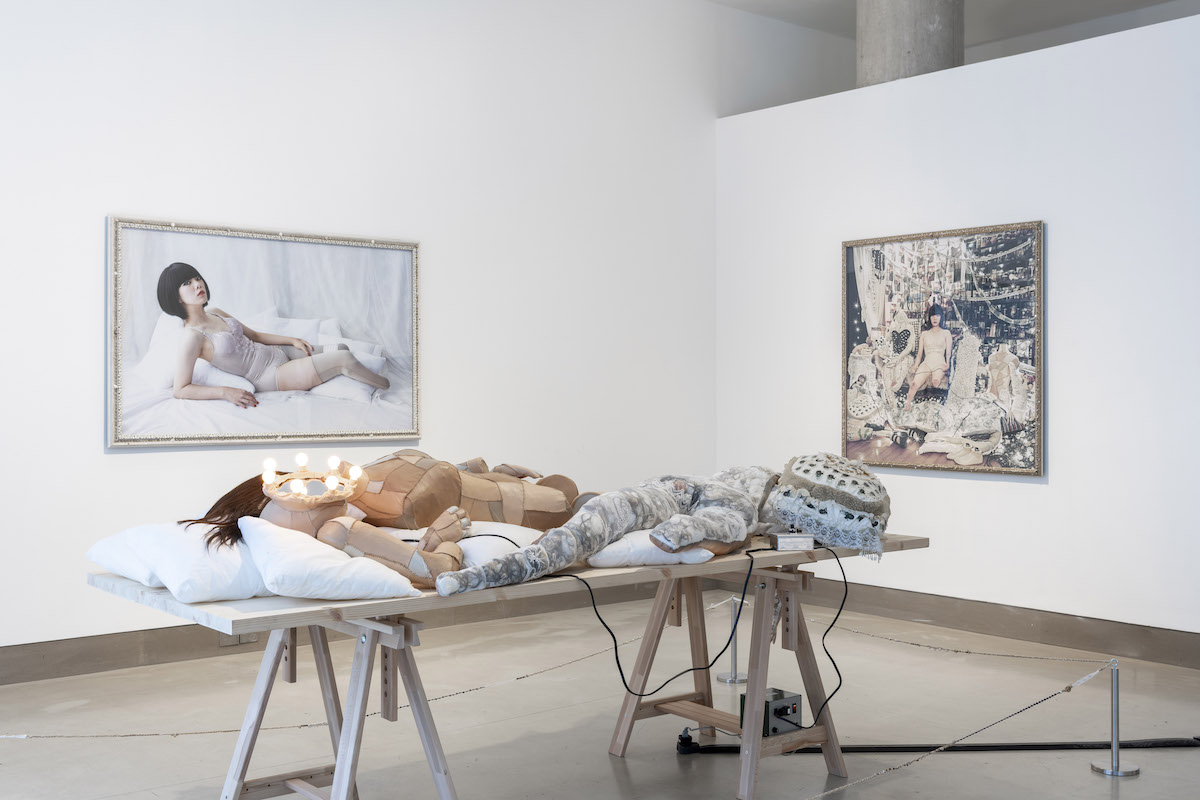 Louise Bourgeois took a similar view on the penetrating power of the mirror. In an interview with Robert Storr she claimed that, "The mirror means the acceptance of the self. So, I have lived in a house without mirrors because I couldn't stand, I couldn't accept myself. So, the mirror was an enemy." She began exorcizing her demons with her Cell works, which present found mirrors and doors housed within an enclosed space that holds a pair of dull, black marble eyeballs at the centre. By using physical mirrors within a sculptural installation, Bourgeois creates multiple perspectives and reflections that not only refract the rest of the piece, but the audience themselves. In this sense, the mirror moves from the singular realm of symbolism, to become an interactive object that allows viewers to become temporarily part of the work.
Mari Katayama also uses mirrors in her installations, as a way of inviting the audience into her world and making them feel a part of her experience. She uses one in place of a face, atop a textile mannequin. "This body, which is somewhat torn apart, finally becomes a complete piece when people look into the mirror," Katayama explains. "In that way it is made up of all these different individuals. When mirrors are facing each other there is a message of eternity, an infinite loop. That's how I see the coexistence between human beings."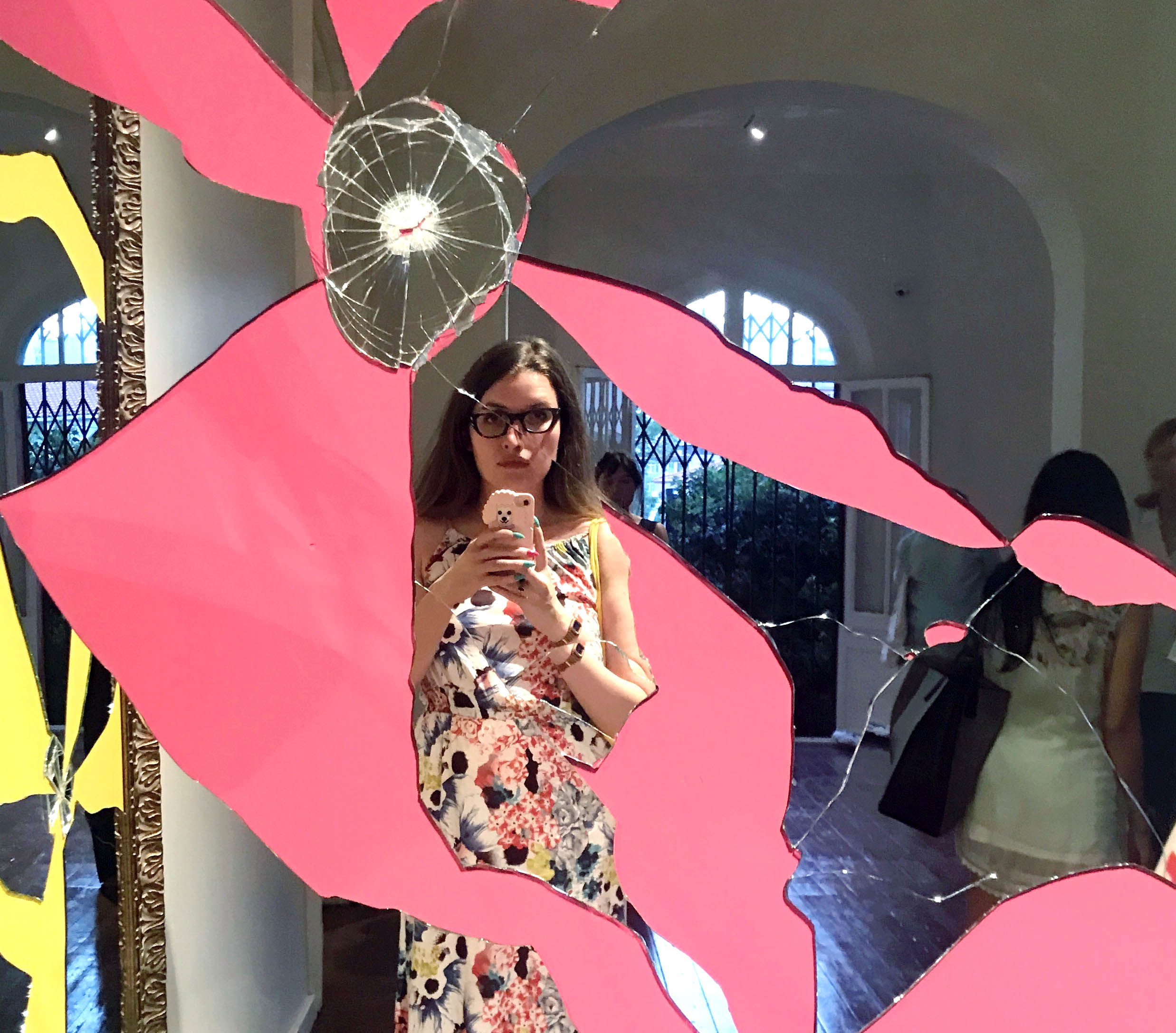 The mirror, of course, holds cultural significance in plenty of different guises, particularly the superstition that breaking one gives you seven years bad luck. The notion of a fractured mirror also speaks to a world of insecurities; of pain and internal suffering (once again, cinema has used the act of smashing to relay a multitude of ills).
Michelangelo Pistoletto has always held mirrors as central to his practice, as a way of examining not only the self but wider society. He began by painting onto reflective surfaces, in an investigation of time, space and photographic processes. Later, he picked up a sledge hammer and began smashing these large, framed objects, the destruction of which points to the interconnectedness of society and the power that a reflection holds. No matter how many shards a mirror shatters into, it will always reflect back.