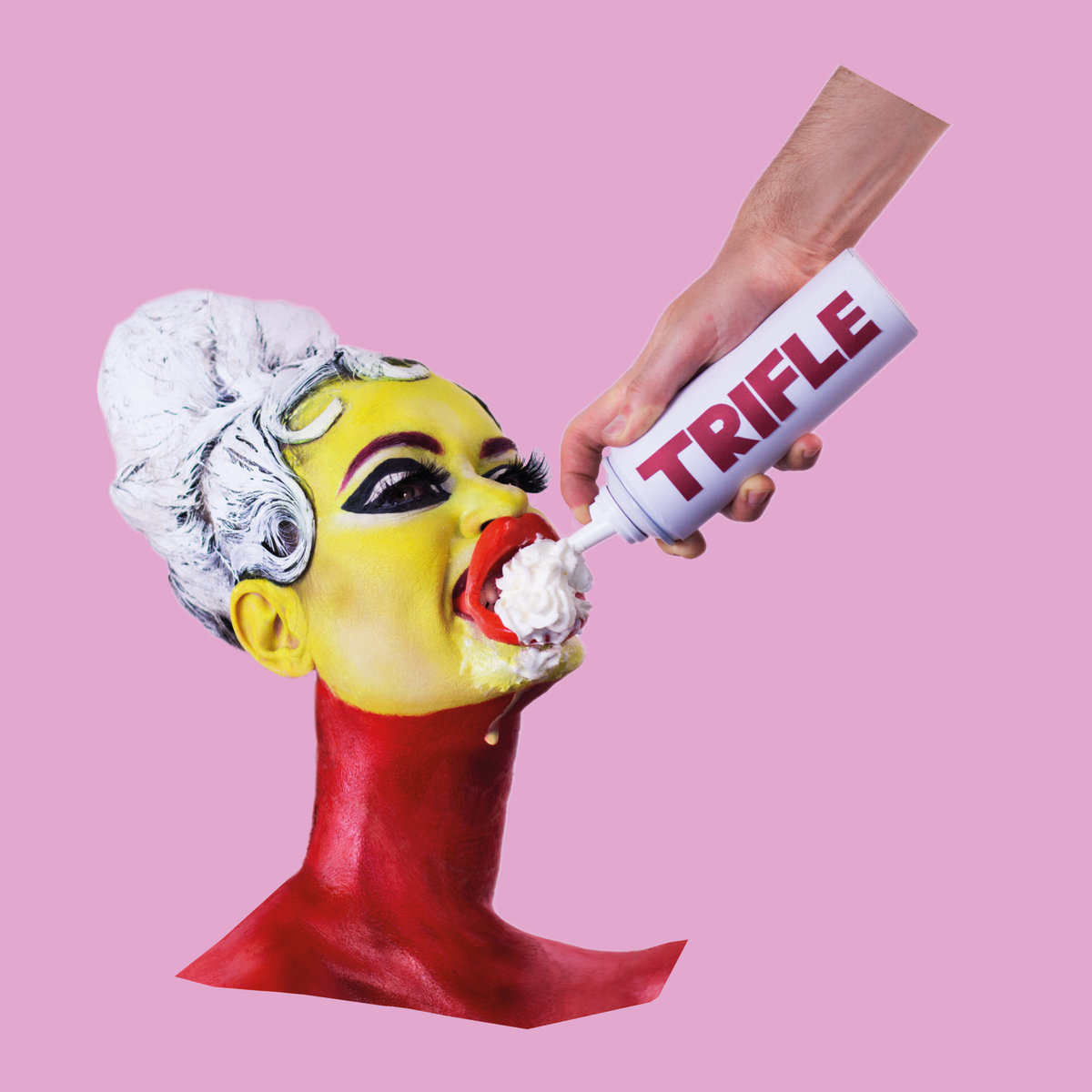 You'll find them sellotaping bricks to their feet; or perhaps surrounded by a grotesquerie of sex-doll-mouthed sumo figures. They might be in a cave, or adorned in red sportswear, astride a hobby horse. This is an electrifying new wave of performers that embody a sort of contemporary Gesamtkunstwerk ("total work of art"), where costumes, sets, imagery, video and—crucially—sound, form a holistic new entity that delights in weirdness and a deliciously visceral audiovisual assault. And most of them are women.
The notion of musician as being so much more than sound is, of course, nothing new. Many of these artists call to mind the likes of Cosey Fanni Tutti, co-founder of Throbbing Gristle. Working under the mantra "my life is my art, my art is my life", since the early 1970s, Cosey's music has nestled alongside her visual art and performance work, which in her early career drew on her own experiences working with sex magazines and films, glamour-modelling and stripping. In the 1976 now-infamous Prostitution show at London's ICA, Cosey "occupied multiple roles; artist, model, musician, and herself," exemplifying how her ongoing explorations of sounds are used "scientifically, politically, commercially and as a means of physical pleasure or pain."
Over in New York around the same time as Prostitution, queen of the Dada-leaning No-Wave scene Lydia Lunch, founder of Teenage Jesus and the Jerks, was noisily, defiantly helping to rewrite what it meant to be in a band. She became not just singer and discordant guitarist but actor, spoken word artist and writer too, playing a dominatrix in the 1978 no-wave film Black Box, directed by Beth B and Scott B—among other projects.
A more recent, but perhaps the most visually obvious, antecedent of this current wave of artists is Peaches: the potty mouthed, body-haired, ludicrously sexual icon that brought us the likes of Fuck the Pain Away, Lovertits and Operate. Her stage antics and sets are flamboyantly suggestive, to say the least. Dildos are frequent props, and her backing dancers have long been dressed as enormous vulvas (long, long before that Janelle Monae video). Taking cues from the likes of John Waters (she toured with him in 2002), Cindy Sherman and Paul McCarthy, her work has long been a glorious audio visual "fuck you" to conservatism and pretty much anyone without a sense of humour.
The following women are just some of the artists pushing the boundaries of contemporary niceties, throwing out the rulebook while upholding the lineage of their trailblazing creative predecessors. Keep your eyes and ears peeled for them.
Lone Taxidermist—known to her mum and the taxman as Natalie Sharp—has been championed by the music press for a while now, and anyone who's seen her perform live will know exactly why. The Cumbrian-born artist works across music, costume design, "skin decoration" and pretty much anything that makes for strange and hilarious imagery, recently based around the concept "trifle".
Her debut album, released in 2017, takes Trifle as its title, and her videos and accompanying visual output have been, naturally, a sticky, gloopy marriage of jelly, cream and fruit with knowing nods to post-internet culture, cake—replete with latex-based fetish cues and the body-as-canvas tradition of performance art.
It's a total mess and a total joy, with her live shows enforcing mass participation (or ritual, depending on how you look at it): sex becomes as weird and messy as we should all accept it really is, food becomes ludicrous and fun (a bit like sex, really), and music is shown to be a vessel for an entirely new surreal universe that you'd be mad not to want to inhabit. The album closer is a song called Hammered in Homebase. What's not to love?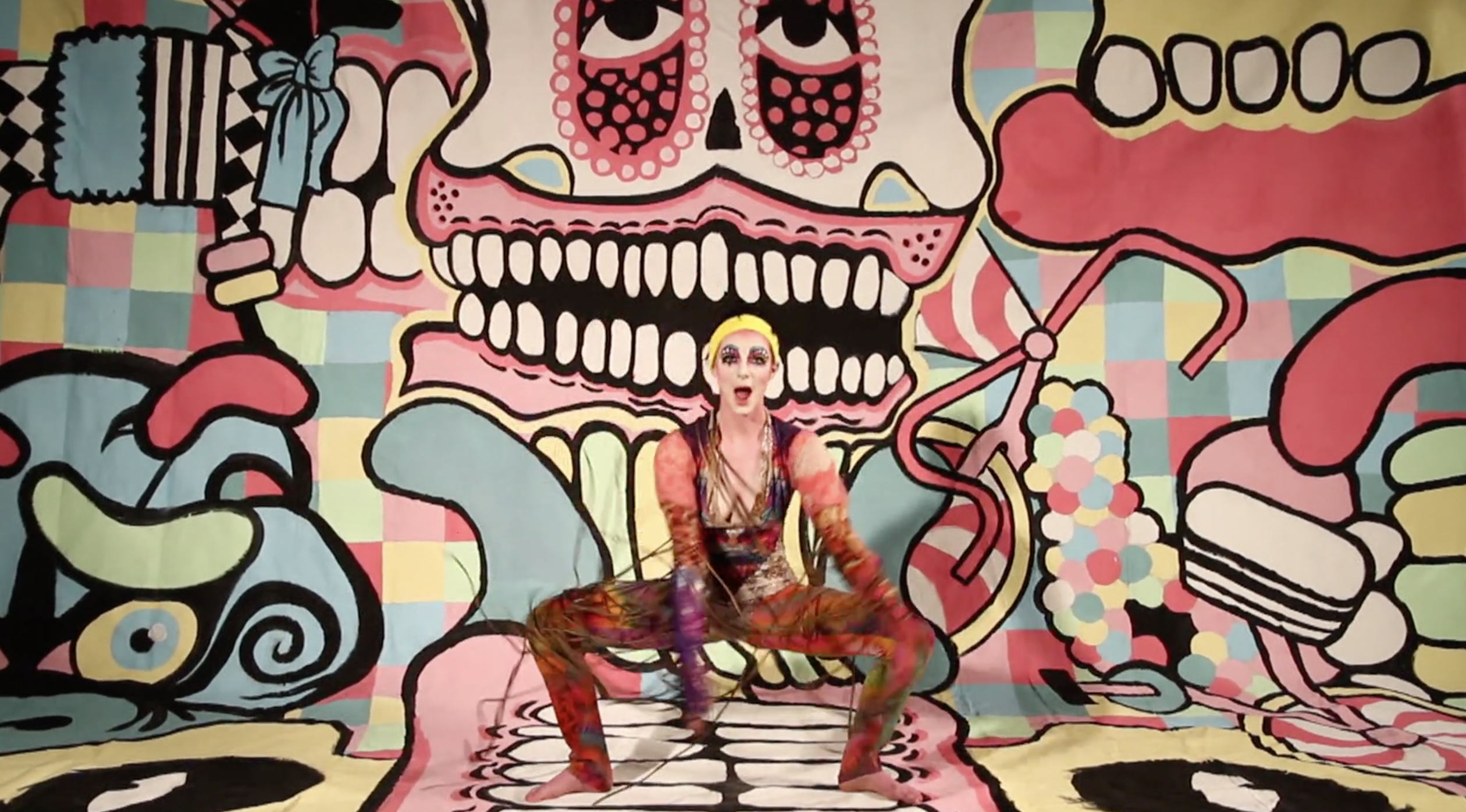 I first encountered AJA supporting Lone Taxidermist at east London's Red Gallery, and was totally blown away by this small but exceptionally noisy barrage of strobes, not to mention audience engagement so strong she's literally tying it up in a microphone cord. It appears that catharsis wears a fringed-sleeved leotard.
AJA is among Elephant's Artists to Watch for 2019, described as "part noise artist; part living, writhing, screaming sculpture", an artist with a predilection for performances that are "brutally confrontational and dreamily transcendent in equal measure.
The Nottingham-based artist released her self-titled debut album on Opal Tapes in 2018, and works on her increasingly bonkers costumes with Berlin-based designer Lu La Loop. Alongside her performance work, AJA runs sound workshops to help promote more women in electronic music, often working with young people and within the LGBTQ community.
Aja performing at the Room of Eyes, photography by Flyn Vibert
The Seer came to me at The Room of Eyes, a Berlin-based sonic performance art event run by Alice Colley (a musician and artist herself); and made me totally rethink what it means to be a "music act". This felt like it was about something else—it pretty much moved me to tears, though I wasn't sure why (was it the cello? The darkness? The strange sweet relief at the end when a barefoot bearded man in robe solemnly threw down hundreds of bang snaps?) The Seer describe themselves as "mystical anarcho feminist sound art performance". Perhaps that's because the act is nigh-on impossible to distill into words, instead dealing in rural folk horror, memory, myth sadness, beauty and pretty much everything in-between. The group is an ever-shifting thing in its line-up of performers and the manifestation of its pieces—both in terms of scale and medium (everything from video or sound installations to improvised spoken word and choral pieces).
The works are site specific and "budget dependent", as The Seer's founder of sorts, artist Conny Prantera, puts it, adding that the group is "happy to stay as somewhat anonymous." They are comprised mostly of female-identifying musicians, alongside visual artists, sculptors and performers, occasionally adding "some token men!"
"The works are a mix of narrative, poetry, internet ramblings and delirious mantras, which express a sort of admonishment of our ecological decline, the victimisation of women through history and a hymn to the reemergence of a matriarchal society or a new earth. It's confused and confusing, like an oracle…" Prantera adds.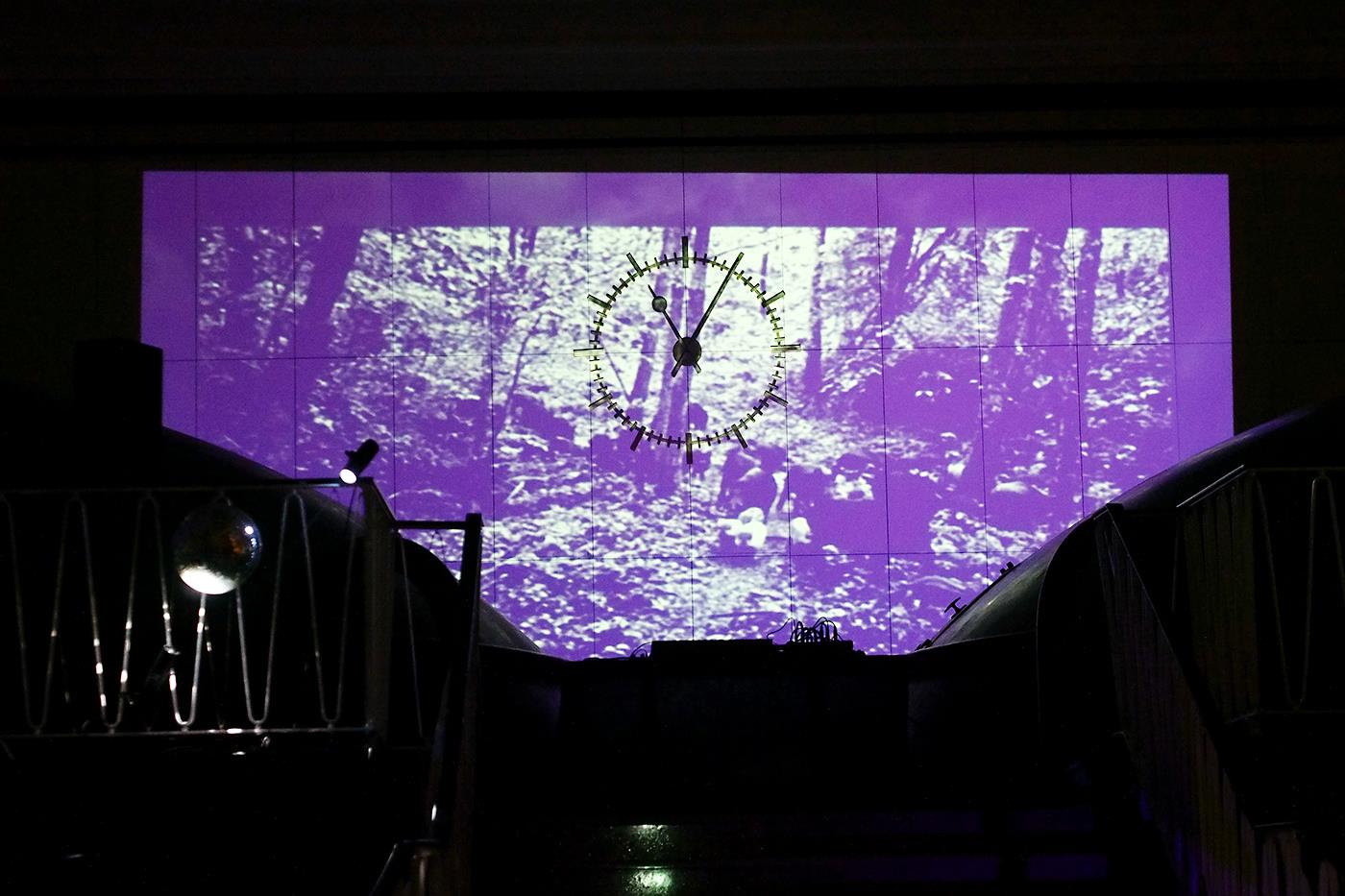 Fittingly dubbed a "techno tormentor" by The Guardian, Gazelle Twin is the alias of musician Elizabeth Bernholz. Her 2018 album Pastoral takes a central theme and visual conceit that's since been brought to life in her live shows, creating an instantly recognizable identity as an all-red, sinister kind of athleisure jester. She certainly seems to know a thing or two about branding: designer to David Bowie, the Occupy movement and AdBusters magazine Jonathan Barnbrook was brought in to design the record and its typography, and it's likely the pair's sensibilities align when you consider the themes of the record.
Brutal, noise-laden, abstract lamentations around Brexit, wealth inequality and xenophobia loom large; with the record's lead single Hobby Horse acting as a visual expression of what seemed to many to have led to the event—a faux-nostalgia for a St George Cross flag-laden, "Best of British", "so much better in my day" yesteryear. The Hobby Horse character she adopts is, naturally, red and white; hinting at "a bit of Punch and Judy," she's said—an archetype that's terrifying, yet eerily familiar.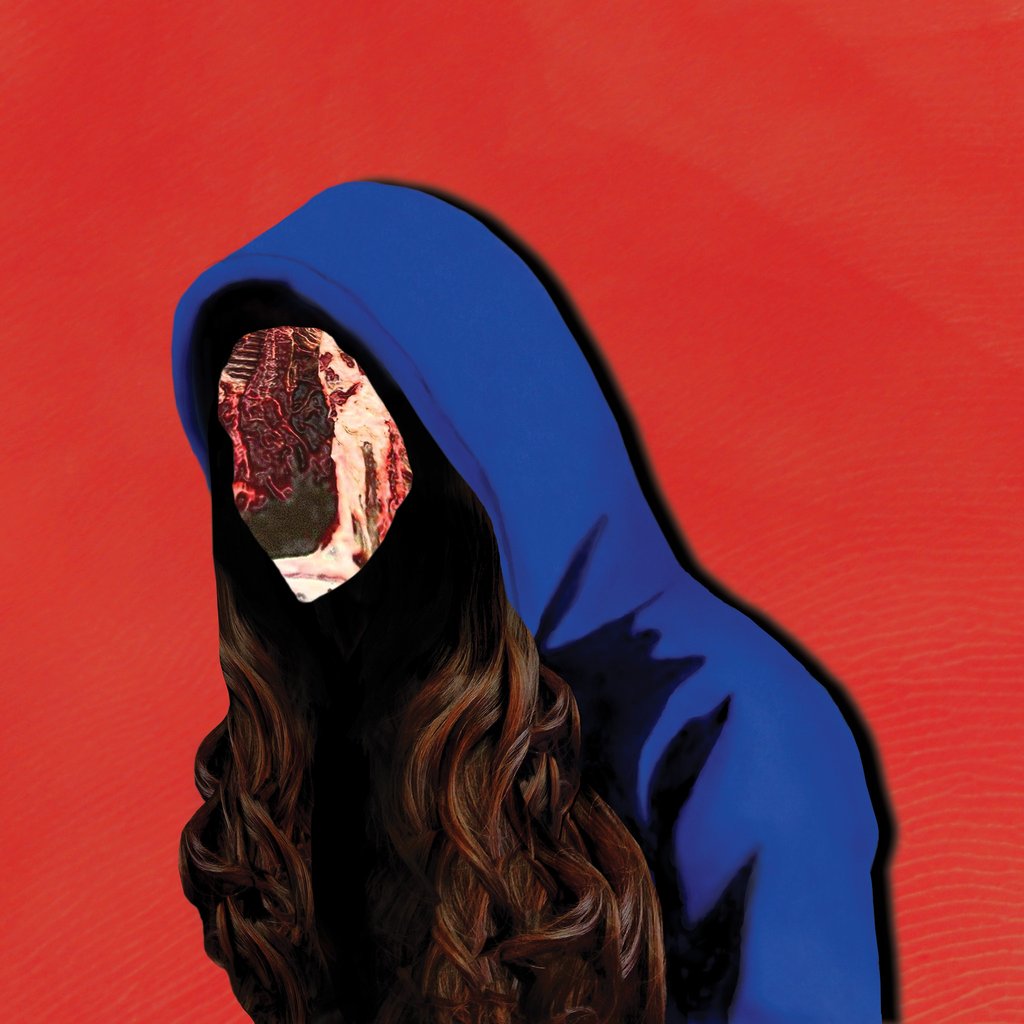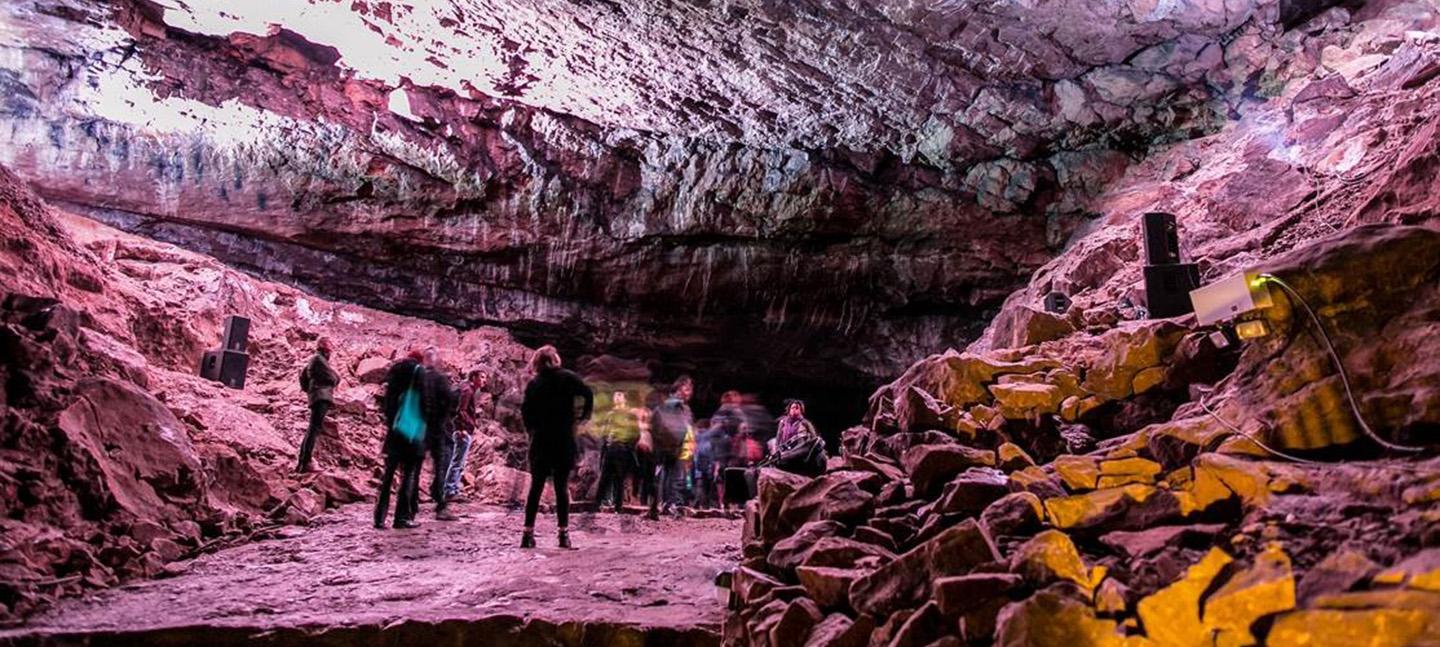 Beatrice Dillon is an unassuming figure compared to the rest of the bunch—no custard or latex here—but her work constantly interrogates how sound interacts with space, and her career has been almost as much about the gallery as the production studio. Dillon has worked with the likes of Boomkat Editions, Hessle Audio, and PAN (she also has a show on NTS which is well worth checking out); and has performed at the Barbican, Atonal Berlin and Documenta Athens, among others.
Following her 2016 residency at Wysing Arts Centre, she took up residence at Somerset House, and created the stunning Taut Line installation in the venue's chilling (literally, it's freezing down there) Deadhouse, a rarely accessible underground tunnel running beneath building bearing 17th century headstones from a chapel that formerly stood at the site. The piece was, at times, ferociously loud, with sound being used to map out the space; and the movements of visitors altering the way the waves moved through the pitch-black, cavernous tunnel. 
Next month will see Dillon's collaboration with artist Keith Harrison, Ecstatic Material, tour the UK. The pair describe the show's centrepiece as a "play-doh pumping soundsystem" created from malleable plastic materials, coloured lighting and multi-channel audio.