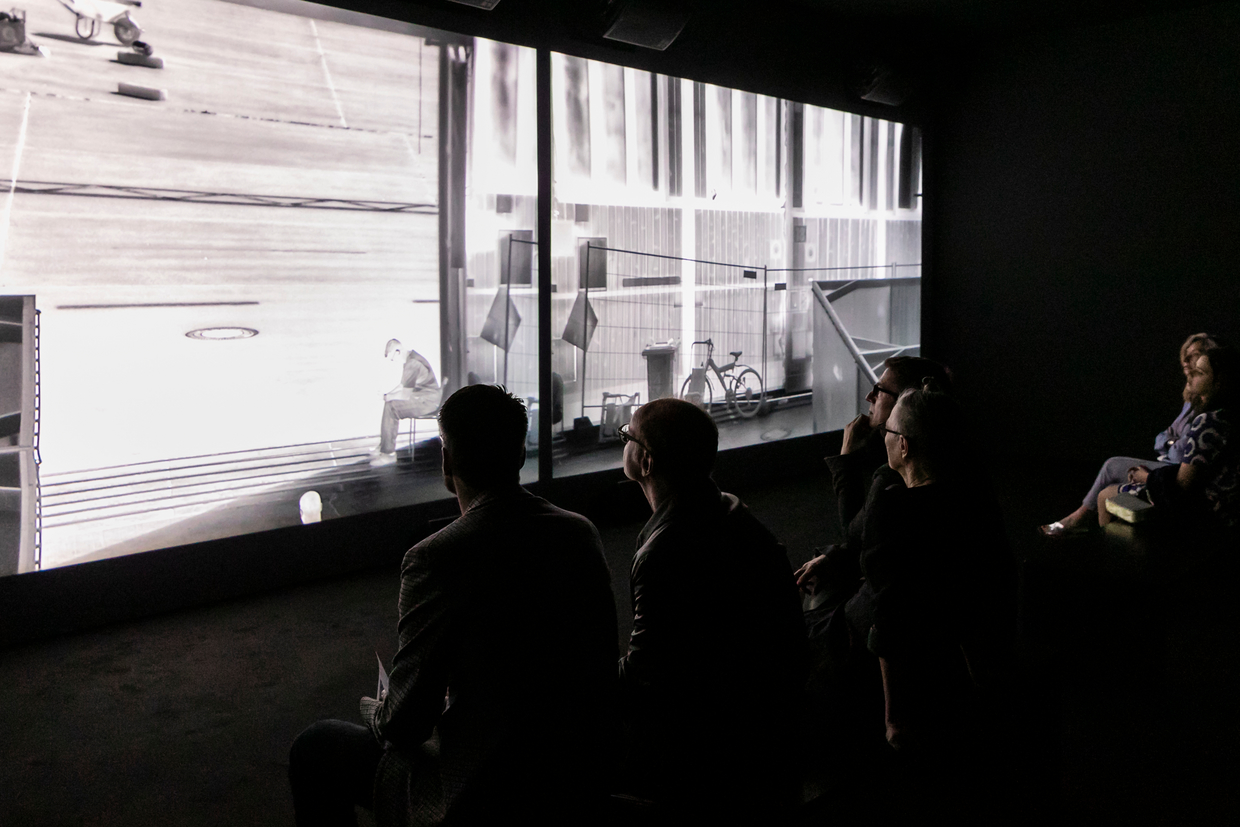 Art fairs, especially those as enormous as Art Basel, seem to offer two options to visitors: race around at breakneck speed, guzzling in every artwork in sight with a sense of simply ticking things off the list (naturally, it ends up being a pretty empty task) or pick and choose some pieces to really dive into. This is easier said than done, as fairs offer just as many opportunities to converse, meet and greet as they do to spend time with artworks—whatever you happen to be doing at any given time, it feels as though you really should be doing or seeing ten other things.
At this week's Art Basel it was the various video works which left the biggest impression on me. Video can often be hard to manage at fairs, where limited space means viewers feel the need to move on quickly to allow others to get a good line of sight. The video works at Art Basel are mostly housed in their own space within the Unlimited section, which allows for total engagement and an opportunity to sink into oneself and be with the work more wholly—not to mention, the chance to sit in the dark for a moment: something which becomes more and more appealing as the week progresses.
Interestingly, where virtual reality (a form that can also be difficult to manage democratically with large crowds) was a strong component of Art Basel in Hong Kong earlier this year, many of the media presentations at the Swiss edition use a more traditional format. Jon Rafman, who has brought VR to numerous fairs in recent years, goes for a more egalitarian approach here with his Dream Journal 2016-2017. In this space, a large crowd can stand, sit or lie on the floor for the full 45-minute entirety of the video (if they so dare). Horrifically violent yet also oddly familiar to a fellow bad dreamer, the characteristically Rafman extra element here is the seats—of which there are around ten—which look not unlike semen-soaked sun loungers, and which vibrate and thud throughout the video. It's pretty difficult to drag oneself away.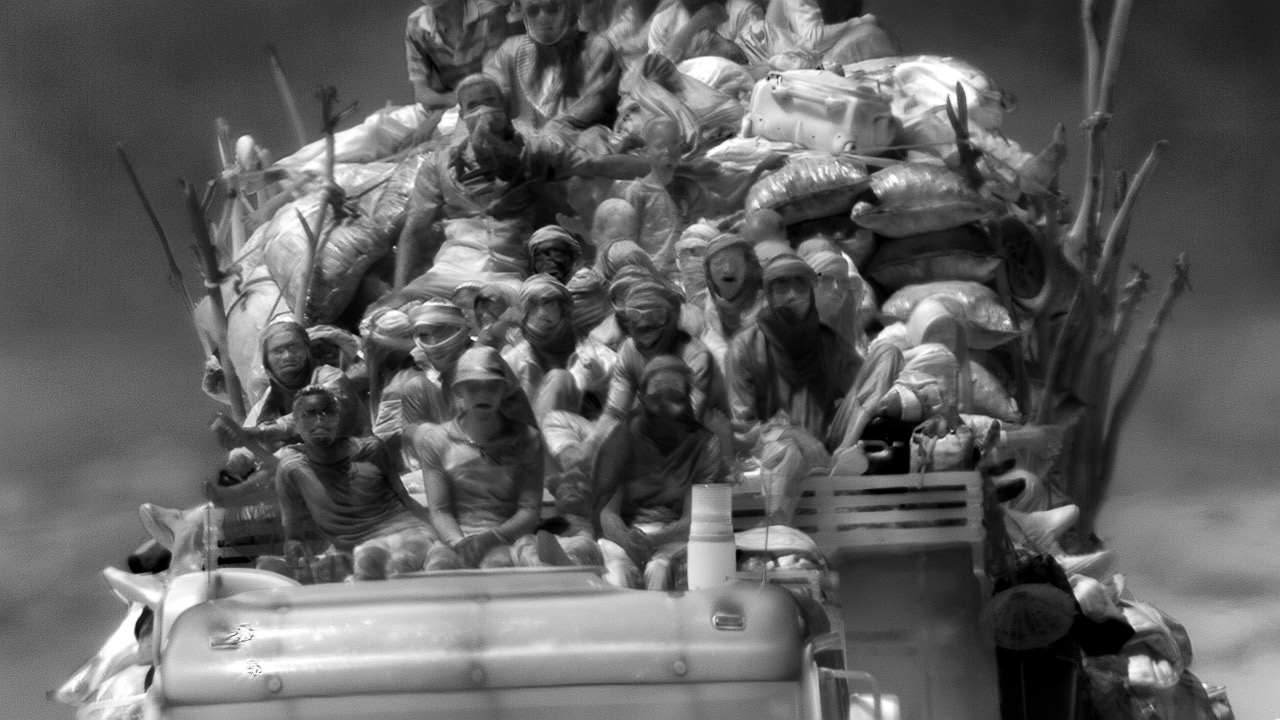 I find myself having a strange moment wandering into Bruce Conner's Breakaway, without first checking the name of the artist: for a second I presume I am standing in a piece which addresses the female gaze. The 1966, black and white, five-minute video has a pulsating soundtrack booming out of enormous speakers which are placed painting-like along the side walls, while an underwear-clad Toni Basil dances. The cutting of the film is frenetic, an assault of light and movement on the eyes. Have things really have come this full circle on the female gaze, or has art fair delirium simply set in?
The space of Unlimited allows for certain videos to be shown at truly gargantuan scale—something which greatly benefits Richard Mosse's Incoming (2016). The three-channel video installation spans so wide across the walls that it's impossible to get a full line of sight on it, and the action darts between the screens—sometimes taking up all three, sometimes only one. At the point I enter the space, the camera is tracking a surgical procedure in slow motion and extreme close up. Gloved hands pass surgical tools to one another, and in one eye-watering moment a circular, spinning blade slices through what looks like bone. The whole film is shot using "weaponized photographic technologies"—namely, "a military thermal camera that can detect human body heat from a distance of more than 30 km", which Mosse uses to capture the journey of refugees and to comment on the migration crisis across the Middle East, North Africa and Europe. The technique here adds a strangely peaceful aspect to the most brutal moments, as faces, bodies and blood are abstracted. Yet in so doing they are also dehumanized—of course, linking back to the most troubling aspects of the technology he uses. 
Candice Breitz's TLDR (2017) feels especially self-contained within the wider Unlimited space. The work is housed in two rooms and the one on the right-hand side, if approached from the main entrance, shuns the classic blacked-out cinema-like installation for walls lashed in bright orange and TV monitors around all four walls, each paired with a bench and three sets of headphones. The headphones give the work an intimate feel, as visitors listen to the testimonies of members of the SWEAT (Sex Workers Education & Advocacy Taskforce) community through a private channel. Hearing all the speakers in their entirety is a seemingly impossible task, hence the title, and the sense of tuning in and out of conversations in moving from one to the next inevitably highlights our willingness to listen, or not, to the lived experience of others. The content ranges from violent and painful to humorous and powerful—further highlighting the complexity of experience from one person to another, where we often look to group together and in doing so write people off in simple categories. In the room opposite, the same work takes on a different form, shown across three screens and running every hour, on the hour. Here the white saviour complex is addressed, as the film references the actions of celebrities and even the artist in speaking for another. You can read more about the work in our interview with Breitz in issue 34.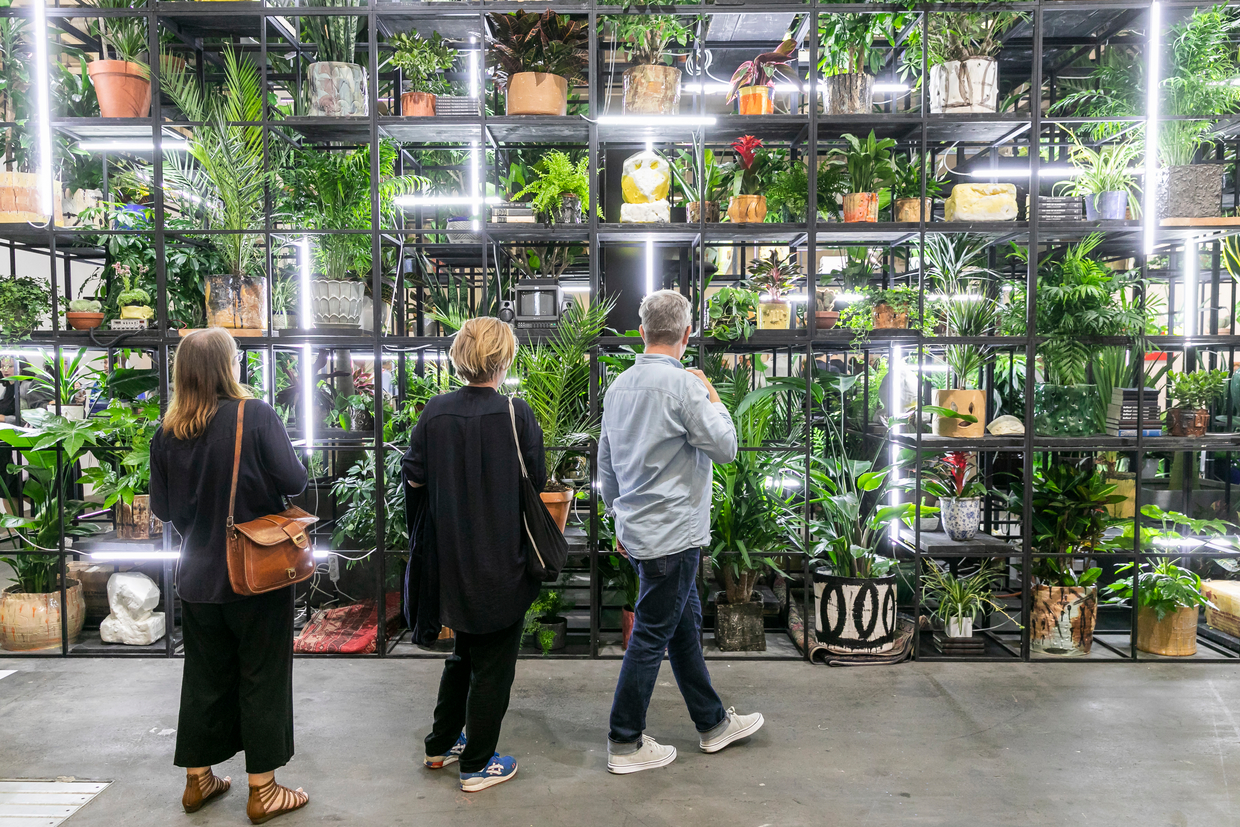 Rashid Johnson's Unlimited piece, Antoine's Organ (2016), holds video in an unexpected manner, where small monitors appear throughout a giant grid installation covered with live plants, books, busts made of shea butter, ornate rugs and neon strip lights. Beautiful piano music emanates from inside the structure, spilling out into the hall around it. It took me a while to spot the man inside, sitting high up playing the piano. As with much of Johnson's work, the first impression of this piece is joyful and peaceful—a feeling that slowly breaks down as one hones in on the various faces of the artist's "anxious men" on the surfaces of the pots, and his choice of books, not least Kierkegaard's The Concept of Anxiety. Right on theme with our "Summertime Angst" issue. 
All images courtesy and © Art Basel
SaveSave
SaveSave
SaveSave
SaveSave
SaveSave
SaveSave
SaveSave
SaveSave
SaveSave
SaveSave
SaveSave
SaveSave