As far as familial relationships go, the bond between sisters can be a particularly impassioned one, stretching from ferocious loyalty to out-and-out warfare, sometimes all in the same day. This volatile narrative has been somewhat fetishized in popular culture, as the binary of jealous competitiveness versus selfless compassion magnifies some fairly reductive stereotyping around female behaviour. The reality, of course, is much more complicated, and Sophie Harris-Taylor wanted to reflect on her own "tempestuous" history with her sister by photographing a variety of relationships throughout Britain.
The resulting publication is an intimate compendium of women of different ages, ethnicities and life experiences, who each share a unique story with their sororal kin. Harris-Taylor shows couples, trios and even sextets situated in their various living-rooms, bedrooms or gardens; some in tight embraces, while others maintain a more formal distance. Each photo is accompanied by the sitters' names––which have been typeset to mimic the image's composition in a joyful little flourish––and a short quote or conversation that reveals a tiny insight into the sisters' lives.
Mimi, Coco
Flo, Millie, Clara, Oki, Cecily, Bea
Lizzie, Flo
These snippets of memories or banal squabbling (the first entry consists entirely of three girls arguing about the relative "uptightness" of the youngest) compound the emotive power of Harris-Taylor's shots. She manages to combine her prevailing obsession with natural light (used with dazzling effect in several frames) with a much more imperceptible ability to capture the essence of each connection.
For example, nine-year-old Coco seems poised and at ease as she rests her head on a sofa and places a protective arm around Mimi, a shy four-year-old who obscures her face. Meanwhile, Grace and Eve, who grew up in a commune and detested each other as children, show a splinter of jostling tension as they stand in a doorway. Eve, the eldest, tentatively shies away from her sister, but their accompanying statement reveals her age-appropriate dominance when it comes to keeping secrets: "And I would be like 'You're not allowed to tell anyone I'm having a cigarette, and if you tell mum, I'll kill you'."
"I find myself identifying our relationship in every casual handhold, hug or furtive glance."
In her introduction, Harris-Taylor states that her photographs might resonate more "if you have a sister, but I would hope that any viewer will find some aspect meaningful." As an older sister myself, I am implicitly biased, but I definitely share a visceral connection to these images and interviews alike. I have always been ferociously protective of my "little sis" who, at seven years my junior, has enjoyed and endured my quasi-maternal instincts in equal measure, and I find myself identifying our relationship in every casual handhold, hug or furtive glance depicted in this book.
Rochelle, Sabrina
Rhianna, Anaya, Sienna, Kianna
Anna, Kate
One overwhelming sentiment that permeates this collection is a sense of serene power, relayed in part by Harris-Taylor's somewhat ethereal aesthetic. There is a stillness in these images that manages to condense the mania of childhood, in some cases, and the flawed bond that is navigated after a lifetime of make-ups and break-ups, in others. The volume ends with more contextual stories that relay the ages of each sitter and their background. Some of these are rewardingly enlightening. For example, Anne and Meng, born a year apart, experienced different upbringings in their native Malaysia because Anne was a "mini-skirt-wearing rebel" who was sent to boarding school to straighten out while Meng stayed home and took on domestic duties. Apparently, their contrast has remained, and it is immediately obvious that Anne dominates just from looking at her defiant pose, while Meng's head rests on her shoulder.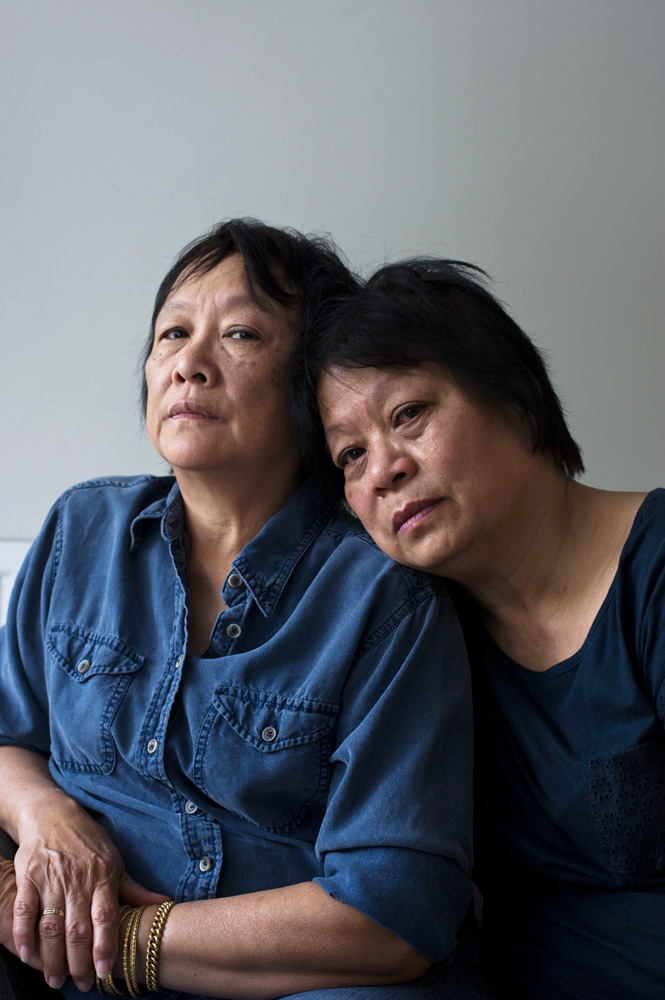 At this point, I realise that the sitters' ages are only revealed in the latter half of the book, but I had already drawn my associations somewhat reactively, thus demonstrating the power of this portraiture. More often than not, sibling rivalries and power dynamics reveal themselves in the natural and relaxed formations each woman rests in, which are then compounded by each accompanying interview.
This balance allows us to see the physical likeness and gestural similarities between these women, while their own voices reveal a new layer, including frustrating and amusing statements such as the revelation that each sister envies another for the same reasons. They also show the overwhelmingly positive endurance of sisterhood, perhaps best described by the text that accompanies Michelle, who hugs her pregnant sister from behind and considers her own future children: "[My husband] says 'I don't mind one girl', and I've always said, 'No, you would have to have more than one girl, because every girl needs a sister'."
All images © Sophie Harris-Taylor, courtesy Hoxton Mini Press
Sisters by Sophie Harris-Taylor
Published by Hoxton Mini Press
VISIT WEBSITE